News & Activity Report for the Month of August 2017
Sivananda Ashram, Ahmedabad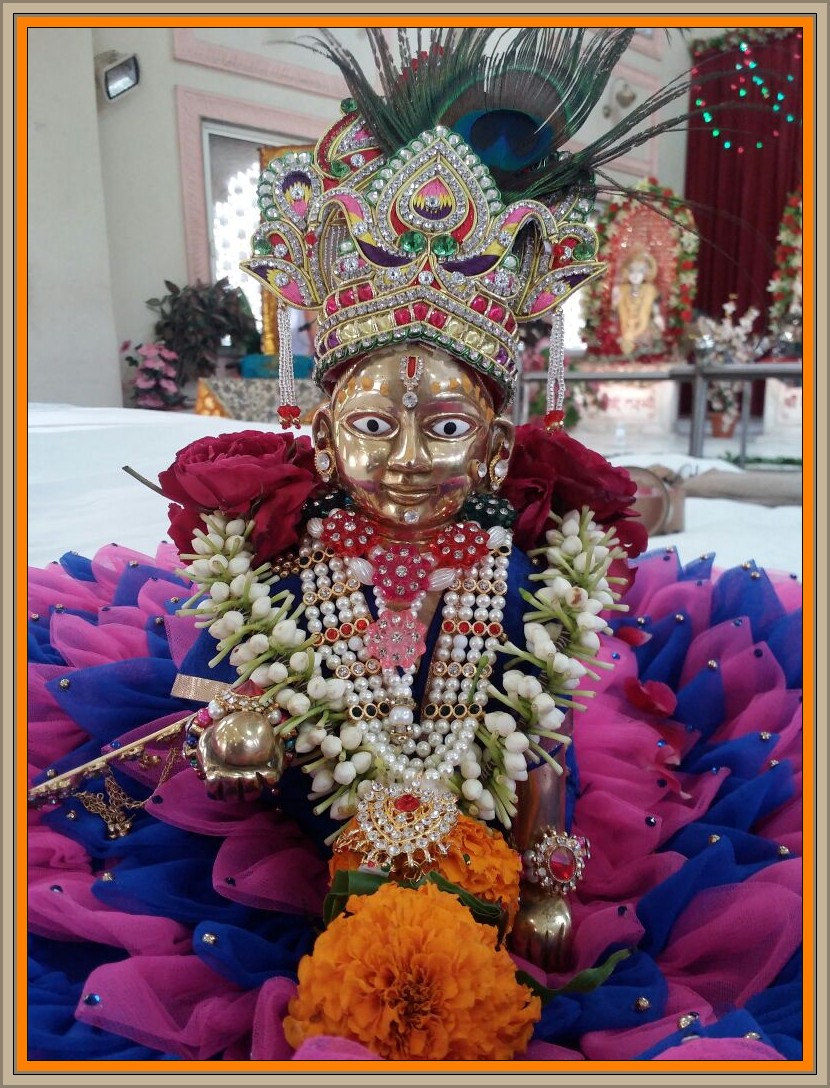 Sri Lallaji Maharaj's Shringar on Krishna Janmotsav
Flood relief operation: Ashram's contribution to Flood relief work, Narayana Seva to flood affected families by serving them cooked food continued from last week of July till the first week of August 2017. Continuous heavy rain and flood have affected lives of people and animals in Banaskantha district. Both people and animals were starving for the food and shelter. There was a dire need to extend help to them at the earliest. To cater to their immediate needs, Ashram team decided to involve more people for this noble cause. We motivated the students of different schools to contribute grains like rice & lentils. Accordingly, students brought minimum 1 kg of food material from their homes. More than ten schools actively participated and 3.2 tons (3200 kgs ) of rice and lentils were collected. Yog-shala located on Science City road contributed 1410 kgs of wheat flour. Other people also donated 400 kgs of wheat floor. In all, total 130 people contributed wheat flour. Over and above, NSS volunteers from L. D. Engineering college were also actively associated with Sivananda Ashram. They collected 1500 kgs. of food material like Sweets( sukhdi), snacks (khakhra) etc. Clothes were also collected. About 2900 students participated in this karma yoga. all the collected material were sent to Deesa in Banaskantha district, where Samast Mahajan team has its coordination centre, They distributed the above donated foods & cloths to the flood affected people.
Sivananda Ashram supplied 39500 kgs of dry fodder to animals in the most affected Gaushalas and Animal shelters. Our associate NGO, Samast Mahajan had already supplied 300 trucks of fodder ( green and dry) with 700 kgs more to go. Even today, the workers of this NGO are actively serving round the clock in the affected areas.
71 st independence day celebrations: Independence day was graciously celebrated in Sivananda Ashram, Ahmedabad. Flag hoisting was done at 6.45 a.m. by Revered Shri Madhusudan Shastriji Maharaj. About 200 people participated in the event.

Krishna Janmotsav (Aug 15, 2017): Sri Krishna Janmashtami was celebrated with great devotion. Lord Sri Krishna's Prakatya Ustav was celebrated with great enthusiasm at Sri Ashta Lakshmi Adi Shakti Peeth. Bhakti Sangeet by Dr. Sri Vasavda ji's Gunjan hatkesh group from 9 pm to 12 am filled Ashram's air with Divine vibrations just before Sri Lalaji's pragtya at midnight followed maha aarati in Sri Ashtalaxmi Bhavan, which was packed with the devotees. All the devotees had Darshan of Sri Lalaji in the decorated cradle.
9 th Mahasamadhi day of Guru Maharaj Sri Swami Chidanandaji Maharaj (Aug 19, 2017) - a especial satsang was held in the evening from 6.00pm - 8.00pm and paduka pujan performed by devotees.
Holy Shravan Month Celebration - Holy Shravana month was celebrated with great enthusiasm and devotion in the worship of Lord Shiva at Sri Vishvanath Mahadev temple here at the Ashram. During this month Rudrabhishek and special Pooja were performed. Devotees participated in Savalkshya Bilva patras Archna, Abhishekatmak Laghurudras performed at Holy Shrine on each Monday during the Shravan month.
Sri Shiv Puran Katha by Revered Shri Madhusudan Shastri Maharaj during Shravan Month, Daily 5:00 PM to 7:00 PM at Sri Ashta Lakshmi-Adishakti Peeth and attended by large number of devotees. Shiv Puran Katha was concluded ceremoniously on Aug 21, 2017 which was followed with next day Homatmak Laghurudra, Bhasma aarati and Bhandara. About eight hundred devotees were served Mahaprasad. Narayan Seva was done by serving food to about three hundred people.
Adhyatma Tour 2017 of H.H. Swami Adhyatmanandaji (June 27, 2017 - August 31, 2017) to USA, Canada & UK

Adhyatma Tour 2017 to USA, Canada & UK (June 27, 2017 - Aug 30, 2017) of Pujya Swami Adhyatmanandaji Maharaj commenced from Chicago on June 27, 2017. It took Him to Toronto, Charlotte, Tampa, Atlanta, Houston, Pennsylvania, New Jersey, Toledo (OH), Troy (MI), San Jose area, Madison, Milwaukee & Chicago. It continued to UK from August 10, 2017 to August 31, 2017

Highlight of UK Tour : Gita Gyan Yajana ( from Aug 10, 2017 - Aug 20, 2017) at Anoopam Mission, Stay & Satsang at holy abode; "Satsang Sudha, ( named by Gurumaharaj Sri Swami Chidanandaji Maharaj) of Smt. Hemaben & Sri Jagdishbhai, Weekend spiritual retreat at "Indian Hindu Welfare Organization" (IHWO) at Northampton (UK), Prayer meeting for the departed soul of Revered Chandramaniben Tailor, (who was an ardent devotee of Gurumaharaj) at her son's home in Bristol.

With that Adhyatma Tour 2017 of Pujya Swamiji concluded and Pujya Swamiji is back to the Ashram on Sept 2, 2017. Pujya Swamiji's divine satsang and yoga teaching have brought joy, peace & bliss to countless spiritual aspirants and yoga enthusiasts in the West. HE received warm welcome everywhere He went. It is all the grace & blessings of Holy Master Sri Swami Sivanandaji Maharaj & Gurumaharaj Sri Swami Chidanandaji Maharaj.

Pujya Swamiji expressed thanks to all the organizers & devotee groups who, joined HIM in HIS mission of service to Humanity. HE conveys His love & Pranams to all and advise us to strictly adhere to daily spiritual shadhana, while fulfilling Grihstha duty.

Here are a few glimpses of the core feelings of the devotees & organizers......

"It is always a joy to receive Sri Swami Adhyatmananda ji Maharaj at Anoopam Mission. To see Him and Revered Sahebdada is to see conflations of holy rivers Ganga and Yamuna. We have never felt that he comes from different organization. He is very much " Anoopam". We wish for his visits to AMUK again and again to inspire us Sadhus' and devotees to live and lead the pious life to the very core." - Himmat Swami

"Detroit, Michigan Community Benefited from Swami Ji's Guidance on Yoga, Scriptures, and "Art of Saatvik Living". We all feel very blessed with Swami Ji's presences & guidance, and look forward to many more such opportunities." -Anil Lal, President of DJSS, USA

"We are fortunate and grateful to have Swamiji in our midst to "recharge" our mind/body/spirit and look forward to his next visit." - Sri Rajesh Laugani ,Toledo (OH)

" Sri Swamiji's ecstatic kirtan at the Bhajan satsang was indeed a blessed experience for all. It was the best time for devotees of Indian Hindu Welfare organization (IHWO) of Northampton (UK ). Every one is very happy and keen to invite him at his earliest with much longer stay" - Sri Guarang Patel (UK)

" At Sanatan Siv Shakti Mandir (Houston) H. H. Swamiji addressed the devotees on the subject of sixteenth chapter of Srimad Bhagwad Gita - "Divine & Demonic Natures". It was a nectar outpouring by Pujya Swamiji. It was indeed a blessed experience for all" - Sri Dhaval Trivedi, Houston

"Our time with Swamiji during his visit this year was full of blessings, so many it is impossible to count. Everyone at Kula Kamala Yoga Ashram were overjoyed by their time with Swamiji and hold His powerful words and His Presence in their heart. Hari OM" - Sharon Alitt. (Reading, PA)

A devotee shared a special gift that she received from Pujya Swamiji, a poem composition (lyrics & audio), " Mogara ni Mala" ( garland of Jasmin flowers) in response to her flowers offering.
<<Read Complete Report >>

Om Shanti !