News & Activity Report for the Month of April 2010
Sivananda Ashram, Ahmedabad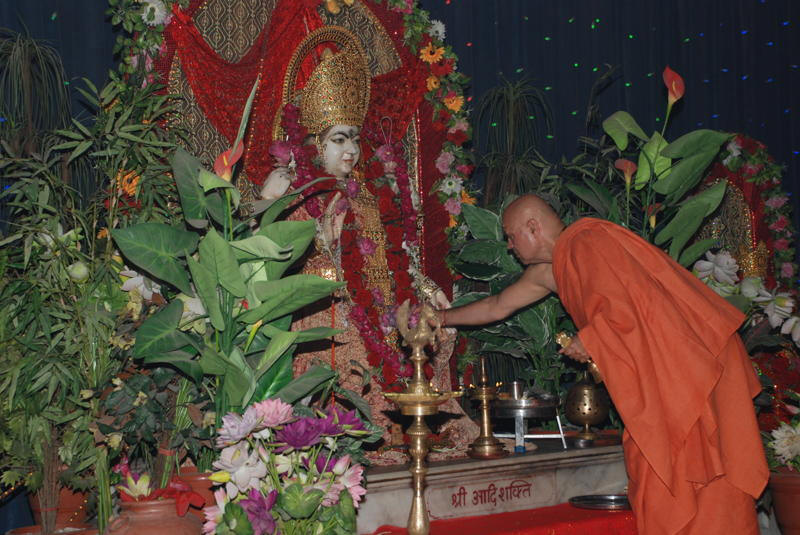 Sri Sri Sri Maa Ashtalaxmi Darshan at Sivananda Ashram, Ahmedabad
Jnana Yajana on the occasion of 10th Anniversary of Sri Ashtalaxmi Bhavan & Chidananda Dhyan Mandir ( April 25, 2010 - May 3, 2010 )
66th Birthday Celebration of Pujya Swami Adhyatmanandaji Maharaj
It was special worship and satsang time for devotees at the Ashram from April 25, 2010 to May 3, 2010. A Jnana Yajana was organized on the auspicious occasion of 10th anniversary day of Sri Sri Sri Ashtalaxmi Bhavan & Sri Chidananda Dhyana Mandir. One after another holy satsang kept on refreshing devotees with cool & peaceful breeze of Divine even in hot scorching days of April. It culminated on May 3, 2010 with Pujya Swami Adhyatmanandaji's Praktya Utsav (Birthday celebration). Devotees were overjoyed to receive satsang and blessings of so many Mahatmas during these nine days.
Highlighting the events during nine days…..
It commenced with group chanting of Mahamrutyanjaya Chanting for world peace on April 25, 2010 and continued every morning and evening during all nine days. There were three mega yoga sessions conducted by Pujya Swami Adhyatmanandaji on April 4, 2010, April 25, 2010 and May 3, 2010 for Yoga group run at different locations. It was arranged for the benefits of more people to avail Swamiji's Yoga teaching.
On April 25, 2010 evening satsang began with Bhajans by Shri Dhaivat Shukla. Sri Swami Adhyatmanandaji in his inaugural speech stressed the importance of "Daily Sadhana"; He said that Sadhana is must. Life is series of experiences and struggle towards the perfection. Be true to thy own Self. We have Guru Krupa, we have Shashtra Krupa, what we need is Atma Krupa to follow spiritual disciplines. Bhagavatacharya Sri Swami Pranavanandaji, a disciple of Bhagavatacharya and Vedantacharya, late Sri Swami Akhandanandaji Maharaj laid importance of purity and Truthfulness to incorporate in your daily transaction to achieve success in Sadhana. Sri Madhavprasadji of Swaminarayan Gurukul talked about root cause of sufferings is living the life of untruthfulness, unrighteousness and delusion. He stressed the importance purity, honesty and truthfulness to achieve peace while following Jivan-Sadhna.
On April 26, 2010 evening satsang started with devotional bhajan by Smt. Mayurikaben Oza. Brahmacharini Chaitanya Mataji of Sivananda Ashram, Kendrapada (Orissa) and Bhagavatacharya Shri Kanaiyalaji of Maninagar, Ahmedabad spoke on the subjects of Divya Jivan Sadhna and Dhyan-sadhana. Revered Mataji stressed the need for service, love, charity, meditation, purity and self realization base of Yoga of Synthesis laid out by Holy Master Sri Swami Sivanandaji Maharaj. She summarized that salvation is possible only through Karma, Bhakti and Jnana. Pujya Sri Kanaiyalaji conducted guided meditation.
On April 27, 2010 evening satsang began with melodious singing of Dr. Smt. Bansariben Bhatt. H. H. Sri Swami Viditanandaji Maharaj of Tatvatirth shared words of wisdom of Vedanta Sadhana. He shared practical tips to live Vedanta in daily life. It was inspiring to hear Him.
On April 28, 2010 the play on life and teachings of Sri Adi Shankaracharya was stage at Town Hall, Ahmedabad. It was written by Swamini Vidhya Prakashananda Mataji and directed by Dr. Vikram Panchal. Artists of Tatvatirth acted on the stage. The hall was packed to its highest capacities. Among those who remained present to grace the occasion were Acharya Sri Swami Vishwesaranandaji Maharaj of Sri Mahanirvani Akhada, Mahamandleshwar Sri Vishwambhar Bharatiji of Panchdashnam Juna Akhada, Mahamandleswar Sri Kalyanand Bharatiji, Sri Swami Satyanandaji, the newly appointed Mahamandleshwar of Gita Mandir, Ahmedabad, Sadhvi Sri Rutambharaji and Pujya Swami Adhyatmanandaji Maharaj.
On April 29, 2009 Brahmotsava of Sri Sri Sri Ashta Laxmi Bhavan and Sri Swami Chidananda Yoga– Dhyan Mandir was celebrated with early morning Sri Yantra Pooja by Shri Jitubhai Chauhan and Sri Swami Gurusevanandaji Maharaj together with Pujya Swami Adhyatmanandaji Maharaj, Sri Navchandi Yajna and recitation of sacred Sri Durga Saptapati, in praise of God as Mother during the day. In the evening Sri Swami Adhyatmanandaji Maharaj offered final oblation in the sacred fire. It concluded with Aarati at Sri Sri Sri Ashta Lakshmi Bhavan and Maha prasad. Devotional singing by Dr. Rajal Shukla and Sri Yogendra Vora group at night was attended by large number of devotees.
On April 30, 2010 evening satsang started with Miss Himali's Bhakti-Sangeet. Sri Swami Adhyatmanandaji enlightened devotees on Japa Sadhna for spiritual up liftment in life. Continuous Japa can bring the experience of super consciousness and ultimately salvation was the theme of His discourse.
On May 1, 2010 is a Golden Jubilee year of Gujarat state. There was a grand celebration organized by state government. But people did not miss to attend the satsng at Sivananda Ashram. Sri Swami Parmatmanandaji Maharaj of Arsha Vidya Mandir, Munjaka, Rajkot, and also the General Secretary of National Acharya Parishad made thought-provoking speech on the subject of Jnana-Sadhana. Miss Himali's Bhakti Sangeet charmed the people, as always. Sri Swami Parmatmanandaji enlightened the deathless, decay less and imperishable nature of the SELF. The realization of the SELF is achieved through self enquiry, surrender to Guru and daily Sadhana was the essence of His talk.
On May 2, 2010 evening satsang began with Bhakti Sangeet by family of Shri Devesh Dave. The thoughts on very practical subject of "Atitude Sadhana,' so important in day to day living was shared by Sri Mukeshbhai Patel, who has gathered a wide variety of experiences as a successful entrepreneur. One can achieve highest realities of life" Aham Brahmasmi "with right attitude to start with and conscious efforts in right direction, was the spirit behind his words. Sri Mukeshbhai has served as president of Ahmedabad Management Association, president of Gujarat chamber of commerce in the past. He is a well known columnist on income-tax for leading news-papers. He is a President of Gujarat Red Cross Society.
On May 3, 2010 with great devotion and enthusiasm devotees at Sivananda Ashram, Ahmedabad, celebrated 66th the birthday of Pujya Sri Swami Adhyatmanandaji Maharaj. As always, it was celebrated in a spiritual way in the holy presence learned Saints. The day began with group prayer and meditation in Brahmamuhurta during Yoga session conducted by Pujya Swamiji, After paying homage at the Shrine of Sri Gurudev at Chidananda Dhyan Mandir, Sri Sri Ashta Laxmi Bhawan, Sri Rama- Hanuman Temple, & Sri Vishwanath Temple, Sri Swamiji Maharaj joined the devotees in "Aayushya Homam" which continued till mid-day. At mid-day a delicious lunch was served to hundreds of the Daridranarayana in their colony. At the ashram hundreds of devotees took maha-prasad (bhandara).
Evening Satsang was a special one today. It started with Bhakti –Sangeet and graced by many Revered Saints from all over. Among them were Pujya 1008 Maha Mandleshwar Sri Swami Avdheshanand Giriji Maharaj, Pujya Sri Swami Manglanandaji Maharaj, former head of Atal Pith and head of Akhil Bharatiya Sadhu Samaj and also head of Geeta Mandir, Sri Swami Satyanandaji Maharaj, Sri Swami Vishwambhar Bharatji Maharaj, Mahamandleshwar of Sri Panchdash Juna Akhada, Sri Swami Kalyananandji Maharaj, Mahant Sri Ram Swaroop Puriji Maharaj (Niranjan Akhada) and Pujya Sri Jashbhai Saheb of Anoopam Mission. Out of love, reverence and regards for Pujya Swamiji, even from their busy program schedule, they all made it to this special occasion and showered their blessings.
It was a joy indeed for Pujya Swamiji and all the devotees to receive grace and blessings of so many Saints on this special day. Pujya Sri Swami Adhyatmanandaji was felicitated for his simple, loving, helpful nature and His Gurubhakti by all the Saints. His contribution to society through yoga teachings is unspeakable. Devotees expressed their love, reverence and gratitude to Sri Swami Maharaj in so many different ways & in different words for his praiseworthy work of creating Sivananda Ashram, Ahmedabad a blossoming spiritual center that provides the field to spiritual aspirant to evolve in their spiritual journey Forward, Onward & Godward.
On this occasion books were released namely Sri "Vishnu Sahasranam", "Bhaj Govindam", "Rudram" and "Nectar of Geeta" Of these, the book "Nectar of Geeta" is an English translation of the Gujarati book "Geeta Navnitam" of Sri Swami Adhyatmanandaji. The book has received 'Maharshi Arvind Gold Medal' award from Gujarati Sahitya Parishad.
Dr. Mrs. Monikaben Shah, founder of Aradhana Sangeet Academy was honored a title of "Sangeet Ratna" and Yogacharya Shri Dushyant Modi of Vadodara was honored a title of "Yoga Prachar Ratna" on this occasion.
Sri Arunbhai Oza, Vice-President & Trustee of the Ashram worked towards making 66 new life-members for 'Divya Jivan', Gujarati spiritual journal as a true gift of service on the occasion of 66th Birthday of Pujya Sri Swami Adhyatmanandaji and the goal was accomplished with SIVA's blessing. There were new subscription; 57 of life members and 9 patron members thus made it to sixty six during a utasav time in a day or so. The joy was not to collect the money from the new subscription but satisfaction of 66 new people will get benefits of Sivananda's spiritual literature.
A new project of Gujarat Divya Jivan Sangh of distributing note –books to under privileged children in rural area is going in full swing. Last year about 22,000 note books were distributed but this year it has been planned to distribute about one lakh note –books to students in Dang, Sabarkantha, Banaskantha districts of Gujarat. Donation for this noble work is pouring with GuruMaharaj's Grace and Blessings. That is a mere joy to witness His subtle presence.
Devotees in their overwhelming love and devotion offered traditional worship and honored Pujya Swamiji Maharaj but Swamiji with all humility expressed his core feelings that Gurudev Sri Swami Sivanandaji Maharaj is getting honored here through Adhyatmanandaji. Holy Master is the Root of a Giant "Divya Jivan Tree". Its branches have spread all over the world and whole humanity is getting benefited through HIS spiritual literature. Swami Adhyatmananda is a little flower of the Giant Tree, it will perish but Root will stay for Eternity. So, let us all worship Holy Master and work for the Root only.
The mammoth gathering had gala time with food and devotional music by Sri Ajay Yagnikji at evening function. The evening function continued in joyous mood and culminated in guided meditation by Sri Swami Adhyatmanandaji Maharaj at midnight. Devotees received Prasad booklet of "Rudram "and eatables at the end. Thus the whole day's celebrations concluded very late at night.
Thanks to Smt. Rupaben Manish. Majmudar and so many helping hands to meticulously and devotedly working during nine days of Jnana Yajana.
Other News
Chuda-: On April 6, 2010 Sri Swami Adhyatmanandaji visited Chuda village to attend the conducting session of Sri Ram katha. He paid homage to the temple of Soni-Mahajan and accepted Prasad and blessed them.
Haridwar-: On April 14, 2010 Sri Swamiji joined in a ceremonial bath of Kumbha Mela at Haridwar. Swamiji had a darshan and satsang with Pujya Sri Swami Satyamitranandaji Maharaj, who was onVyasa Pith of 'MahaBharat Katha'.
Rishikesh-: Srimad Bhagavat Katha was organised at Sri Jayram Anna-Kshetra at Triveni Ghat from April 16,2010 to April 22, 2010. Pujya Sri Swamiji was on the Vyas pith. Before commencing the katha Sri Swamiji visited Sivananda Ashram in the early morning and had darshan at Samadhi shrine and offered Puja at Sri Vishwanath Temple. Many of the devotees and saints from Sivananda Ashram attended Katha took part in Bhandara offered on the occasion.
Bhimpura-: On April 23, 2010 Sri Swamiji attended the 16th Day of Mahasamadhi(Sodashi) of Late Sri Swami Bhaskaranandaji an ardent disciple of Sri Maa Anandmayee Maa.
Latest Additions.........