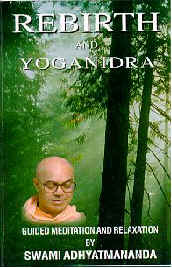 Rebirth & Yoganidra - Audio cassette - 90 minutes

To recognize the need, the importance, the indispensable necessity of awakening the light within, of banishing the darkness of little "I", which is the prolific source of all problems. Here is a guided meditation technique to realize that "I am in the light and the light is within me", and slowly, gradually and finally we realize the real state of the absolute that "I am the Light".

Yoganidra is a prolonged Shavasan that leads to relaxation and finally establishes in deep meditation. Swami Adhyatmanandaji's expertise has guided many seekers and this cassette will be a boon to those who are seeking a soul within themselves.