<![if !vml]>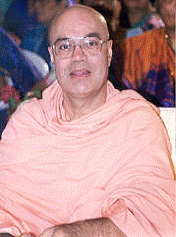 <![endif]>††† YOGASAN SHIBIR AND DISCOURSES
8th September to 16th September 2008
H.H. Swami Adhyatmanandaji Maharaj
President of

Sivananda

Ashram,

Ahmedabad

, India, beloved disciple of most Revered Worshipful
H. H. Sri Swami

Chidanandaji

Maharaj
(late)
former International President of The Divine Life Society,

Rishikesh

, India.
He is a magnificent orator, a melodious singer and an erudite scholar. He has conducted 700 Yoga, Pranayam and Meditation Camps to date, all over the world and inspired a number of people to seek higher goal ††††††
through spirituality and selfless service.
All are cordially invited to attend the following program, please inform your family and friends.
Program at Gur Mandir

207 Queens Plate Drive, Toronto, Ontario M9W 6Z7 Tel.: 416 840 7677

DATE

TIME

SUBJECT

September 8 (Monday)

7.00 to 8.00 PM

Guru Paduka Pujan, Swami Shivanandaji Maharaj.

Welcome to Swami Adhyatmanandaji Maharaj

September 9 to 16

7.00 to 8.00 AM

Yogasana Shibir

September 14

4.30 to 6.00

Yoga and Itís benefits on physical and spiritual plane

Program at

Shri

Vaisnodevi

Temple

3259 Regional Road #25, Oakville, Ontario, Canada† Tel.: 905 825 4202

DATE

TIME

SUBJECT

September 9 to 16

6.00 to 8.15 PM

Yogasana Shibir followed by Discourse on Gita

Program at Devi

Mandir

2590 Brock Road, Pickering, Ontario L1V 2P8 Tel.:905 686 8534

DATE

TIME

SUBJECT

September 14 (Sunday)

10.00 to 12.30 PM

Discourse for Youth

Program at

Ganesh

Temple

10945 Bayview Avenue, Richmond Hill, On, M4A 2N9 Tel.:905 883 9109

DATE

TIME

SUBJECT

September 13 and 14

3.00 to 4.00

Vedic Living in Modern Life
Contacts: Kamlesh Dave (North York) 416-444-6013, Ram Gogia (Mississauga) 905-276-6698, Anjali Shah (Vaughn) 6474308511, Mayur Upadhyay (Scarborough) 416-519-0801 to invite Swamiji at your Home/office and for Yoga Shibir Registration.†
Learn more about Swamiji at http://www.divyajivan.org