H. H. Sri. Swami Adhyatmanandji's Shashti Poorti Celebration
(60th Birthday Anniversary) (May 2004-May 2005)
[../fr_header_page.htm]
Divine Festivity ( April 21, 2005 - May 3, 2005)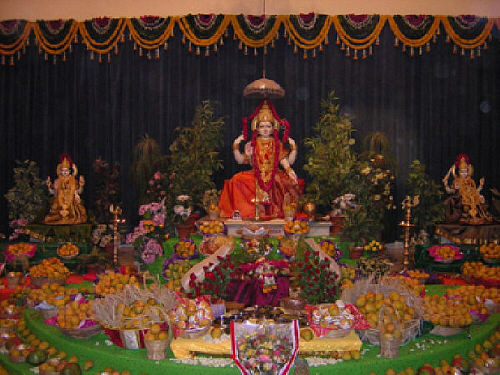 Annakoot Darshan
Offering of Mangos in all different varieties later on distributed as a Prasad to Narayanas in underprivileged area of the Town
Shiv Puran Katha ( April 21, 2005 – April 29, 2005 )
Nine days long Shiv Puran katha in the form a divine musical recitation by Sri. Dayagiri Bapu, a renowned kathakar was organized at Sivananda Ashram, Ahmedabad. It was concluded on April 29, 2005, fourth Anniversary of
Sri. Sri. Sri. Ashtlaxmi Bhavan of Sivananda Ashram, A'bad.
4th Annual day of Sri. Ashtlaxmi Bhavan & Sri Chidananda Dhyan Mandir( April 29, 2005
The sacred worship started with Sri. Yantra Pooja in the hours of dawn.
"Sri Yantra" Worship - What is Sri Yantra?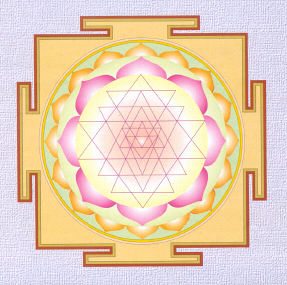 Sri Yantra - Hymns of Mantras of Goddess Lakshami
Sri. Ynatra is Yantra of Bhagawati Sundri. It is called "Yantraraja". It is Hyms of Mantras of Sri Lakshmi. Its each mantra has been sanctified and established. This body of Yantra or Yantra chakra contains Bindu (point), Rekha(line), Trikona (triangle) and Vritt( circle). They have been placed according to certain rules considering it as the body of a man with nine doors. Yantra is taken as the body of Ashta-Devata.
Yantra consists of one 0 in the center. Above the point, there are 4 triangles with face down and below the points 5 triangles with face upwards. This central point is the seat of "Bhagawati Tripura Sundri". It is called "Manidvipa also. In the body, it is called "Hritpundarika" on which meditation of Ishta-devata is made. Thus, Sri Yantra contains nine triangles. They indicte nine Mool-Pravittis of formless Shiva. On the combinations of these triangles, 43 small triangles are formed . An Ashta Kamal Lotus with eight petals (Bhoomi, Jala, Anala, Vayu, Akasha, Mana, Buddhi and Ahankara) , Ashta-Lakshmi is shown encircling these triangles in the diagram. Outside this Lotus, there is another Lotus with 16 petals indicating 16 Matrukas. Outside this external Lotus, there is a three lines boundary-called "Bhoopr-(Chaturastra) chakra. Final part is a square of thick lines, which has four doors in four directions. On its corners Gods and Siddhis like Anima are placed.
In this Yantra reside many Gods (96) and Goddesses(2816).They satisfy desires of Devotees regarding their Bhoga and Moksha on its darshan and Puja (Worship) with faith and reverence.
The sacred worship started with Sri. Yantra Pooja in the hours of dawn which followed by Kanya pooja, Navchandi Yajna and feeding to the poor, which continued up to late afternoon. In the evening, Holy Sri. Shiv Puran katha 's concluding was done at.Then started traditional worship of Mother Goddess, Sri Asthlakshmi in the form of singing and dancing in her praise (Garba) by devotees. People from all around the community thronged at the ashram and joined up to late night.
Diamond Jubilee Celebration
Divine festivity from April 30, 2005 to May 3, 2005 was the culmination of Diamond Jubilee celebration of H. H. Swami Adhyatmanandaji Maharaj. Each day commenced with Sacred Yajna (Holy Fire Worship). As per our holy scripture, Agni ( Fire) is the deity that represents all the other deities. Agni is said to be the mouth of the Gods and known as the messenger of the Gods.Whatever man has to say to the gods, to the higher powers, he conveys it through Agni. Agni is the link with the Supreme Lord of all the worlds. Agnihotra or Havan is a primary and fundamental rite during the performance of which oblations to the Supreme are offered in the consecrated fire.
In the Bhagavad Gita (Ch.7, Verse 9), the Lord says: "I am the brilliance in the fire."
"By pouring libations on the sacred fire, sin is burnt"- The Mahabharata, Santi Parva,
All the Yajnas, namely Sri. Ganapati Homam, Sri. Sudarshan Yajna, Sri. Pavman Yajna and finally Ayush Homam on May 3rd were performed most traditionally by very learned Pandits from south India. Devotees in large numbers joined in the Yajna worship each day.

Evening satsangs agoged with devotional music, classical prayer dances and the holy darshan and satsang of mahatmas including Sri. Jinchandraji Maharaj of Bandha Triputi of Tithal Shanti Niketan, Valsad, Sri Haribhai Kothari (Mumbai), Sri.Bhageyesh Jha (IAS) Dist.Collector( Vadodra), Sri. Jashbhai Saheb of Anoopam Mission (Mogari), H. H. Swami Madhavpriyanandaji Maharaj of Internantional Swami Narayana Gurukul (A'bad), Shashtri Sri. Bhagavan Prasadji and on May 3, 2005 H. E.Governor of Gujarat Sri. Nawal kishorji Sharma with Mahamandleshwar 1008 Sri. Swami Vishwadevanandji Maharaj, Mahamandleshwar and president of Akhil Bharat Sadhu Samaj 1008 Sri. Swami Magalanandaji Maharaj with Sadhu Sri. Ishwarchandasji Maharaj from Sri.Swami Narayan temple of Sri.Sri.Sri.Pramukh Swamiji Maharaj.
Ashram administration is highly thankful to Sri. Purushottam Upadhyaya and Hansaben Dave, Sri. Asit Desai and Smt. Hema Desai, Sri. Chandan Thakor of Nritya Bharati and Smt. Kashmira Trivedi for their valuable contribution in the night satsang for singing and performing their respected arts.
Pujya Swamiji's Birthday (May 3, 2005)
Finally arrived the day, all were waiting for, Beloved Swamiji's birthday May 3, 2005 . The day commenced with Sahanai vadan by famous Gaiekwad brothers from Vadodra. It created very serene atmosphere, just right for morning meditation. Then followed candle light meditation which filled already charged atmosphere with divine vibrations. Ceremonial bath was given to H. H. Sri. Swami Adhyatmanandaji Maharaj with flowers and garland. Swamiji did Padukapuja of Gurumaharaj, later on devotees worshiped his feet too. Felicitation function followed by Sadhu Bhojan and offerings to sixty one Sadhu Mahatma's.
Evening satsang was highlighted by release of
Diamond Jubilee memorial Souvenir

Hindi translation of "Gita Navneetam (Gujarati)"

English version of "Yoga and Swasthya (Gujarati)" named "Yoga for better leaving".
The day's function was concluded with meditation and prayers for world peace at (0 hour). A melodious sahnai in the background added a special spark in the atmosphere.
A grand prasad of Alphonso Mangos was offered at Sri. Ashtalaxmi Temple, which were distributed to the devotees and Daridranarayans in the underprivileged area of the town on the next day.
>>>>>>>>>>>>>>>>>>>>>>>>>>>>>>>>>>>>>>>>>>>>>>>>>>>>>
H. H. Sri Swami Adhyatmanandaji Maharaj's
Diamond Jubilee Satsang Program
(Thursday, April 21 2005 - Tuesday, May 3 2005)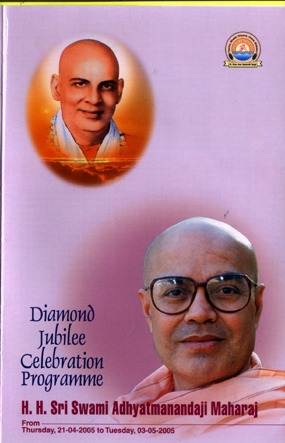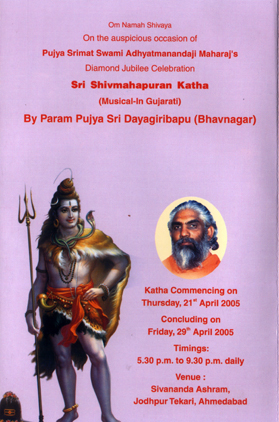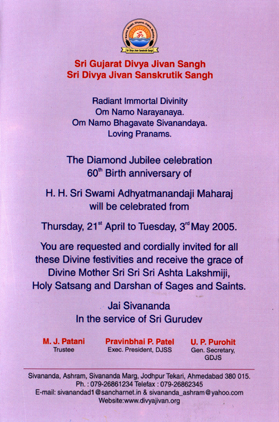 Gujarat Divya Jivan Sangh and Divya Jivan Sanskrutik Sangh feels honored and privileged to invite you all to the celebration of Beloved and Worshipful Sri Swami Adhyatmanandaji Maharaj's Shashti-Poorti Satsang (60th birth anniversary) at Sivananda Ashram, Ahmedabad. It is a culmination of whole year activities planned during Swamiji's Diamond Jubilee Year towards the Mission of Holy Master Sri. Swami Sivanandaji Maharaj. As always, Rev. Swamiji Maharaj has worked relentlessly during the entire year ( May 3, 2004 - May 3, 2005 ).
Reluctant at first, about the Diamond Jubilee Celebration, respecting the overwhelming feelings of devotees, Pujya Swamiji has gone along with it, not the usual way with bell, bouquet and candle, but in a very unique way. As you know, during the Diamond Jubilee year (May 3, 2004 - May 3, 2005) many Philanthropic activities such as food distributions to underprivileged children, helping handicapped people, yoga camps in public schools and school for blinds, Tree plantation (57,000 trees so far), Blood donation drives (220 drives with collection of 85, 542 pints of blood), youth activities and many more have been carried out. Also Spiritual activities like Spiritual Retreats, Srimad Mahabharat Katha, Shiv Puran Katha, Ram Katha, Likhit Japa Yajana, Satsangs with Mahatmas, Publication and distribution of spiritual literature of Gurudev Swami Sivanandaji Maharaj and Gurumaharaj Swami Chidanandaji Maharaj, Spiritual Tours in India, USA, UK, Europe & Canada have been accomplished.
We pray to the Almighty Lord, Gurudev Sri Swami Sivanandaji Maharaj and Gurumaharaj Sri Swami Chidanandaji Maharaj for Pujya Swamiji's good health and long life so that He could be a beacon light to Spiritual aspirants all over.
Sri Shiv Mahapuran Katha
Time: Daily 5.30 pm to 9.30 pm
Sri Sri Sri Ashta Lakshmi Bhavan and Sri Swami Chidananda Dhyana Mandir's fourth Brahmotsava ( April 29, 2005)
Sri Yantra Pooja : 7.30 am to 9.00 am
Sri Navchandi Yajna : 10.00 am to 5.30 pm
Sri Shiv Mahapuran Katha Purnahuti ( conclusion) at evening 6.00 pm to 9.30 pm Garaba 9.30pm-12.00pm
Sri Ganapati Homam( April 30, 2005): 7 am to 12 noon
Devotional Music : 6.30 pm to 7.00 pm by Smt. Monikaben Shah
Satsang : 8.00 pm to 9.00 pm Munisri Jinchandraji Maharaj, Sri Haribhai Kothari
Cultural Program: 9.00 pm onwards Sugam Sangeet by Sri Purshottambhai Upadhyay
Sri Purushukta Homam, Maha Narayan Yajna : (May 1, 2005) 7 am to 12.00 noon
Devotional Music : 7.30 pm to 8.00 pm by Sri.Narayan pancholi
Satsang : 8.00 pm to 9.00 pm by Pujya Sri. Jashbhai Saheb (Anoopam Mission) and Sri. Bhagyesh Jha (I.A.S) (Dist.Collector, Vadodara)
Cultural Program: 9.00 pm onwards Sri Krushna Mahaprashthan, directed by Sri Chandan Thakore, Nrutya Bharati, Ahmedabad.
Krushnayajurvediya Pavaman Homam : (May 2, 2005) 7.00 am to 12.00 noon
Devotional Music :7.30 pm to 8.00 pm by Sri.Krishnakantbhai Parikh
Satsang : 8.00 pm to 9.00 pm Maha Mandleshwar 1008 Srimat Swami Satyamitranandaji Maharaj (Founder: Sri Bharat Mata Mandir, Haridwar), H. H. H. Sri Swami Madhavpriyadasji maharaj (Swaminarayan Gurukul, Chharodi) Cultural Program: 9.00 pm onwards : Smt. Hemaben & Sri Ashitbhai Desai's Vocal Music
Ayushya Homam, Kumbhaabhishekam : (May 3, 2005) (5.30am-7.00am) Brahma Muhrat Prayer & Meditation. Shanai Vadan & Jaltarang juggle Bandi by Gaekwad brothers, Vadodara
(7.00 am to 12.00 noon) Aayushya Homam & Kumbhaahishekam
(12.00 noon) Samashthi Bhandara
(4.30 pm- 11.30 pm) Annakoot Darshan Sri.Sri. Sri. Ashta Lakshmi Bhavan
Evening Satsang ( May 3, 2005)
(7.30 pm - 8.00 pm) Bhakti Sangeet by Smt.Vibhaben and Sri. Rasbihari Desai
(7 .40 pm) H. E Governor of Gujarat Sri.Nawal Kishor Sharmaji arrives on the Dias
(8.00pm- 8.15pm) Address by Sri. Pravinkumar Laheri, IAS Chirman & Managing Director Sadar Sarovar Narmada Nigam Ltd.
(8.15pm-8.25pm) Release of Books, Cassette and CD Felicitation of H. H. Sri. swami Adhyatmanandaji Maharaj
(8.25pm-8.45pm) Address by H. E. Governor of Gujarat
(8.45pm- 9.00pm) Blessings by Maha Mandleshwar 1008 Srimat Swami Mangalanandji Maharaj (Gita Mandir, Ahmedabad)
(9.00pm-9.15pm) Blessings by Acharya Maha Mandleshwar 1008 Srimat Swami Vishwadevanandaji Maharaj (Sanyas ashram, Ahmedabad)
(9.15pm-9.30pm)Blessings by Maha Mandleshwar 1008 Srimat Swami Satyamitranandaji Maharaj(Founder Chairman Samanvay Seva Trust and Sri. Bharat Mata Mandir, Haridwar)
(9.30 pm-onwards) "Sri. Rama Lilamrutam" Bharatnatyam Dance by SargamNartan Academy Directed by Smt. Kasmiraben Trivedi
Wednesday May 4, 2005 Narayana Seva (Feeding the underprivileged)
Regular Activities and Services at the Holy Sivananda Ashra
[../fr_footer_page.htm]