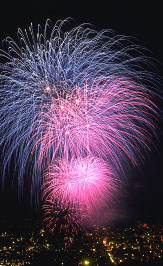 Dussera Celebrations :

Dussera marks the day on which Lord Rama, a reincarnation of Lord Vishnu, liberated his wife Sita who had been abducted by Ravana, the king of Lanka.

This festival, celebrated throughout India, culminates with the setting fire to an effigy of Ravana, thus signifying the end of evil.
There are some great tribal events in eastern Gujarat.

For the Sivananda Ashram, Ahmedabad, it is also of special significance because on this auspicious day, Rev. Guru Maharaj Visited us and held a memorable grand public function. That was His only visit to Ahmedabad.