New Year's Message ( Jan 1, 2011)

"By the command of the Indestructible Being, minutes, hours, days and nights, stand apart. By the command of the Immortal Brahman, months, years, seasons and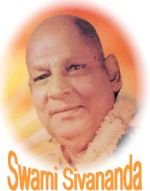 solstices stand apart. He who knows this Indestructible Being is a liberated sage or Jivanmukta.
Time rolls on. New becomes old and old becomes new again. Today is the most auspicious New Yearís day. God has given you another chance this year to enable you to strive for your salvation. Today man is. Tomorrow he is not. Therefore avail yourself of this golden opportunity, struggle hard and reach the goal of life. Make the best use of every moment of this New Year. Unfold all latent faculties. Here is a chance to begin life anew, to grow and evolve and become a superhuman or a great dynamic Yogi.
Know the value of time. Time is most precious. Utilise every second profitably. Live every moment of your life for the realisation of your ideal and goal. Do not procrastinate. That "tomorrow" will never come. Now or never. Abandon idle gossiping. Kill egoism, laziness and inertia. Forget the past. A glorious and brilliant future is awaiting you." - Swami Sivananda << More>>

Early Morning Meditation Talks from Ponder These Truths by Sri Swami Chidananda
God's grace and Human Effort
"Divine grace must be matched, must be responded to, must be augmented by human endeavor and effort. Godís grace and human effort bring about divine experience."

"" Purushartha, sadhana and abhyasa are all one. They are the great need. In the Gita, Lord Krishna plainly states that that which is seemingly impossible is possible. Sadhana must become second nature. It should also be progressive.
" Purushartha is undertaken fully realising the magnitude of Godís compassionate grace, the magnitude of Godís love and blessedness and with a feeling of constant gratefulness. Thus, in a state of extreme humility one resolutely should undertake purushartha. Then purushartha will not give a false sense of kartritva abhimana (pride of doership). You will strive manfully, diligently, resolutely, determinedly, but with humility, with simplicity of heart, recognising that it is a gift of God. May God bless you all!" - Swami Chidananda << More>>
New Year Greetings - Swami Adhyatmananda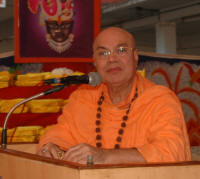 " .... Prayers, Best wishes and Greetings for New Year 2011. May Almighty Lord and Sri Gurudev Swami Sivanandaji Maharajís Grace be ever upon you all. May you all rejoice everlasting peace and supreme blessedness.

Remember that peace is your real nature. If you are yearning for peace, you will abide in peace. Initially you may experience it outside of you, may be at your place of prayer and meditation. Finally peace will become your very nature. So seek peace. Your divine self will become an embodiment of peace, unfading peace, Eternal peace and Absolute peace....." -Swami Adhyatmananda << More>>


New release prasad booklets - Atam Mahek ( Gujarati) / Flower Fragrance ( English) - Swami Adhyatmananda


Updating Upcoming Program





News & Activity Report for the month of December 2010


Divya Jivan Gujarati / November 2010 (SIVA Special)/ December 2010


Quotes of Swami Vivekananda


"Seek ye first the kingdom of God, and everything shall be added unto you." This is the one great duty, this is renunciation. Live for an ideal, and leave no place in the mind for anything else. Let us put forth all our energies to acquire that which never fails--our spiritual perfection. If we have true yearning for realization, we must struggle, and through struggle growth will come. We shall make mistakes, but they may be angels unawares."





ďAll that is real in me is God; all that is real in God is I. The gulf between God and human beings is thus bridged. Thus we find how, by knowing God, we find the kingdom of heaven within us.Ē

"Do not go for glass beads leaving the mine of diamonds. This life is a great chance. What, seekest thou the pleasures of the world? He is the fountain of all bliss. See for the highest, aim at that highest, and you shall reach the highest."

"Learn to feel yourself in other bodies, to know that we are all one. Throw all other nonsense to the winds. Spit out your actions, good or bad, and never think of them again. What is done is done. Throw off superstition. Have no weakness even in the face of death. Be free."

"Meditation means the mind is turned back upon itself. The mind stops all the thought-waves and the world stops. Your consciousness expands. Every time you meditate you will keep your growth."

"In this external world, which is full of finite things, it is impossible to see and find the Infinite. The Infinite must be sought in that alone which is infinite, and the only thing infinite about us is that which is within us, our own soul. Neither the body, nor the mind, nor even our thoughts, nor the world we see around us, is infinite."

"Realize your true nature. That is all there is to do. Know yourself as you areóinfinite spirit. That is practical religion. Everything else is impractical, for everything else will perish."

Vivekananda Jayanti ( January 12, 2011)
Gurudevarpanamstu!