Upcoming Event March - April 2014
Chaitra Navaratri Sadhana (March 31, 2014 - April 7, 2014) Sri Ramcharit Manas Parayana & Navanha Parayan
Sri Ramnavmi Utsav (April 8, 2014) Satsang 10 am -12 pm Navanha Parayan Purnahuti, Sri Ram Janmotsav, Aarti & archana
Sri Hanuman Jayanti (April 15, 2014) Maruti Yajna 9.00 am to 12.00pm

April 21, 2014 - May 2, 2014 Morning Discourses on Kenopanishad by Sri Swami Umeshvardev of Kailas Ashram Rishikesh
Jnana Yajna ( April 21, 2014 to April 26, 2014 ) Evening discourses
6.30 pm -8.00 pm Sri Swami Umeshverdev on Kenopanishad
8.00 pm -9.00pm by Pujya Swami Adhyatmanandaji on Srimad Bhagawat Gita, Chapter 6
Annual gathering of Gujarat Divya Jivan Sangh (April 27, 2014) 9.00am -12pm & 3.00pm -6.00pm
13th Patotsav of Sri Maa Ashtalaxmi Adishakti Peeth Utsav (April 29, 2014)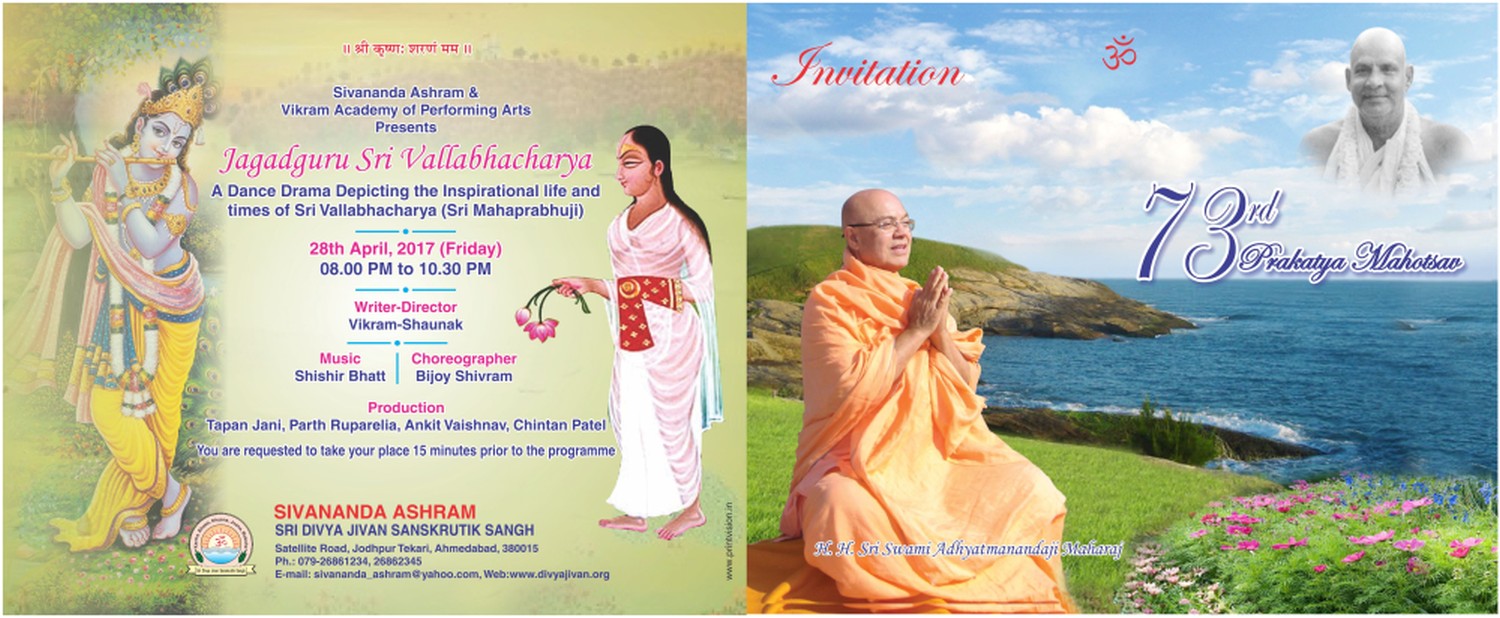 70 th Birthday Celebration of H. H. Pujya Sri Swami Adhyatmanandaji ( May 3, 2014): Ayushya Homam (8.00am - 11.30am) We pray to the Almighty Lord, Gurudev Sri Swami Sivanandaji Maharaj and Gurumaharaj Sri Swami Chidanandaji Maharaj's Blessings for Pujya Swamiji Maharaj's good health and long life so that He could be a guiding force to seekers all over in the path of Yoga way of Living.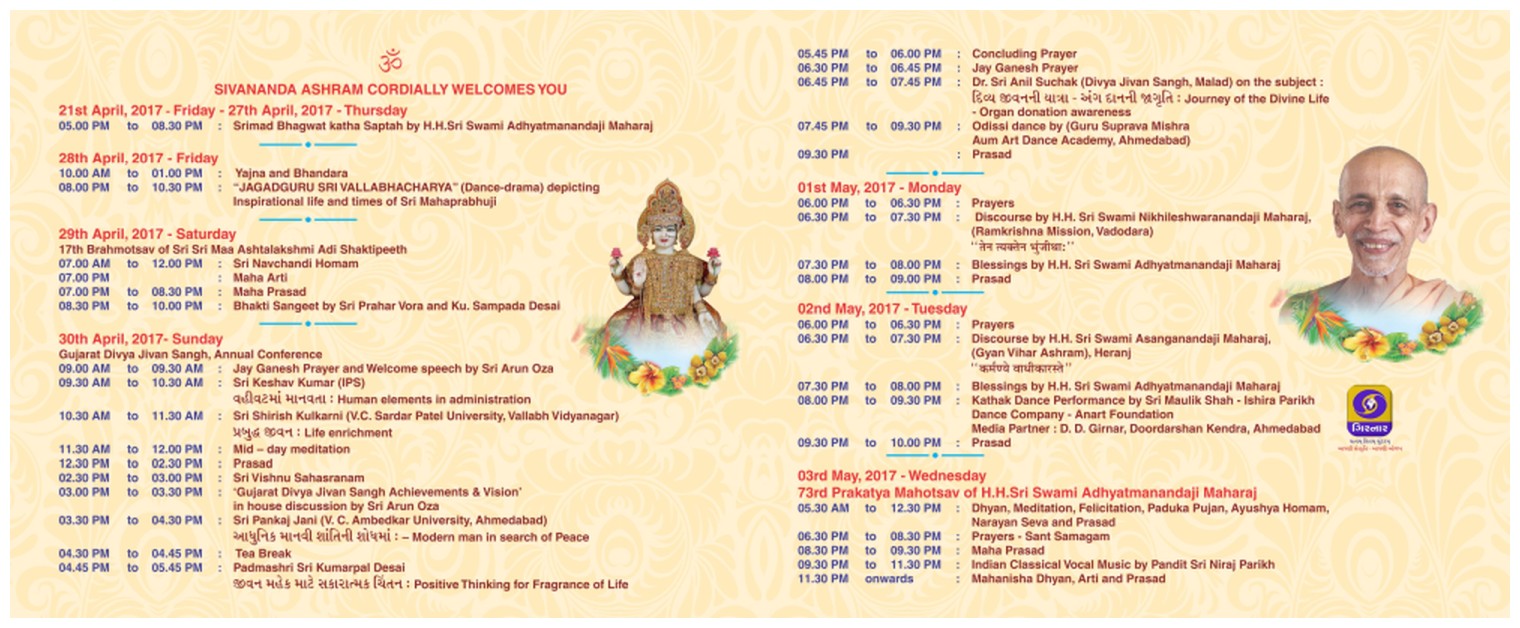 32 nd Yoga Teachers Training Course (YTTC ) May 11, 2014 - May 30, 2014 Download registration Form
Enhance your skill in Yoga, be a teacher and spread the knowledge to others. You can accomplish all that by joining YTTC at Sivananda Ashram, Ahmedabad. It is organized under the guidance & leadership of H. H. Sri Swami Adhyartmanandaji, who has conducted over 650 Yoga camps in the East & the West. Ashram's holy atmosphere is ideal for enhancing your spiritual growth as well as the skill in the field of science of Yoga.
On completion of three weeks residential YTTC and successfully passing the test including theory and practical, the graduate will receive a diploma certificate recognized by Gujarat University and will be able to teach Yogasana and pranayama to others. During your stay at the Ashram, you will be provided a comfortable room and yogic diet ( three meals / day). The donation for the course is Rs. 10,000/ $ 350.

>>>>>>>>>>>>>>>>>>>>>>>>>>>>>>>>>>>>>
Regular Activities and their Schedule at the Holy Sivananda Ashram
Activity

Schedule

Time

Prayers & Aarti

Daily Morning & Evening

7 am. & 7 pm

Special Satsang

Every Sunday

9 am

Gurupaduka Puja

Every Thursday

8.30 am

Chidananda Spiritual Library and Reading Hall

Everyday

11 am to 6 pm

Sri Sivananda Medical Clinic

Monday to Friday every week

9.30 am to 11.00 am

Yoga Treatment

Wednesday & Friday

7.30 pm to 8.80pm

Yoga Classes - for the Beginner students

Every Month
1st through 10th
&
15th through25th

5.30am- 7.00am


6.30pm- 7.45pm

Yoga Classes- for Advanced Yoga Students

Everyday
except Sunday

5.30 am to 6.45 am

6.00am-7.00am
7.ooam- 8.00am
10.30 am to 11.30 am 6.00 pm to 7.00 pm

Yoga Classes for Women
(This class is taken by women instructor)

Monday to Friday

4.00 to 5.00 p.m.

In nine different Parts of city- four days/ week

5.00 pm to 7.00 pm

Sri Viswanath Seva Kendra - Distribute free grains to needy & feeding children

Second Sunday every month & 3rd of every month

Please check timings

Gayatri Yajna

First Sunday of every month

7.15 am

At least one day every month for Level I and Level II. Please check the schedule on Upcoming Events Page

Yoga Treatment Center

Tuesday & Thursday every week

6.30 pm to 7.30 pm

Night Satsang

Every day

9.00 pm. to 9.30 pm.

Continuous Maha Mrutyunjaya Mantra Chanting

Every Sundays & 3rd of every month

From 7.00 am. to 5.00 pm.

Ashram's book stall timings

Every day

7.00am to 12.00pm and 4.30pm to 8.30 pm.
BE GOOD, DO GOOD,
---------------------------------------------

Divya Jivan (Gujarati) / Aug-Sept 2012 (SIVA Special)

Sivananda International Vedanta & Yoga Academy ("SIVA")

Note:- Donation given to Divya Jivan Sanskrutik Sangh is exempted under IT Act 80(G).

Annual Events of Sivananda Ashram
| | |
| --- | --- |
| | New Year Day Special Satsang ( Kartiki Sud Ekam) |
| | |
| | |
| | |
| | Birthday Of Sri Swami Adhyatmanandaji Maharaj (3rd May) |
| | Sri Vishwanath Mahadev Patotsav (Brahmotsav) (20th May) |
| | |
| | Sadhana Sapthah |
| | Aradhana Day (Punyatithi of Sadgurudev Sri Swami Sivanandaji Maharaj) |
| | Celebration Of Holy Month of Shravana. |
| | |
| | Shravani Amavasya Celebration |
| | Birthday of Sri Swami Sivanandaji Maharaj (8th Sep.) |
| | Birthday of Sri Swami Chidanandaji Maharaj (24th Sep.) |
| | Navaratri Celebration - Anushthana |
| | Dussera Celebration |
| | Diwali |
| | Yogasana Shibirs at least thrice in a year |
| | Residential camp for children & youth |
| | Special Yoga-teachers' Training course |

Please subscribe to Divyajivan Mailing List. We will update you with new uploads of spiritual literature on the web of Holy Master Sri Swami Sivanandaji Maharaj, saints of his lineage and other saints. We will also update you about the Sivananda Ashram, Ahmedabad website and facilitate communication with Sri Swami Adhyatmanandaji Maharaj.


Please enter your email address and click Subscribe button

To manage your subscription, please visit Subscription Page. You can also subscribe and unsubscribe from this page. You may unsubscribe by yourself anytime you wish. You will be required to send confirmation link that you will get in your e-mail to complete this subscription.