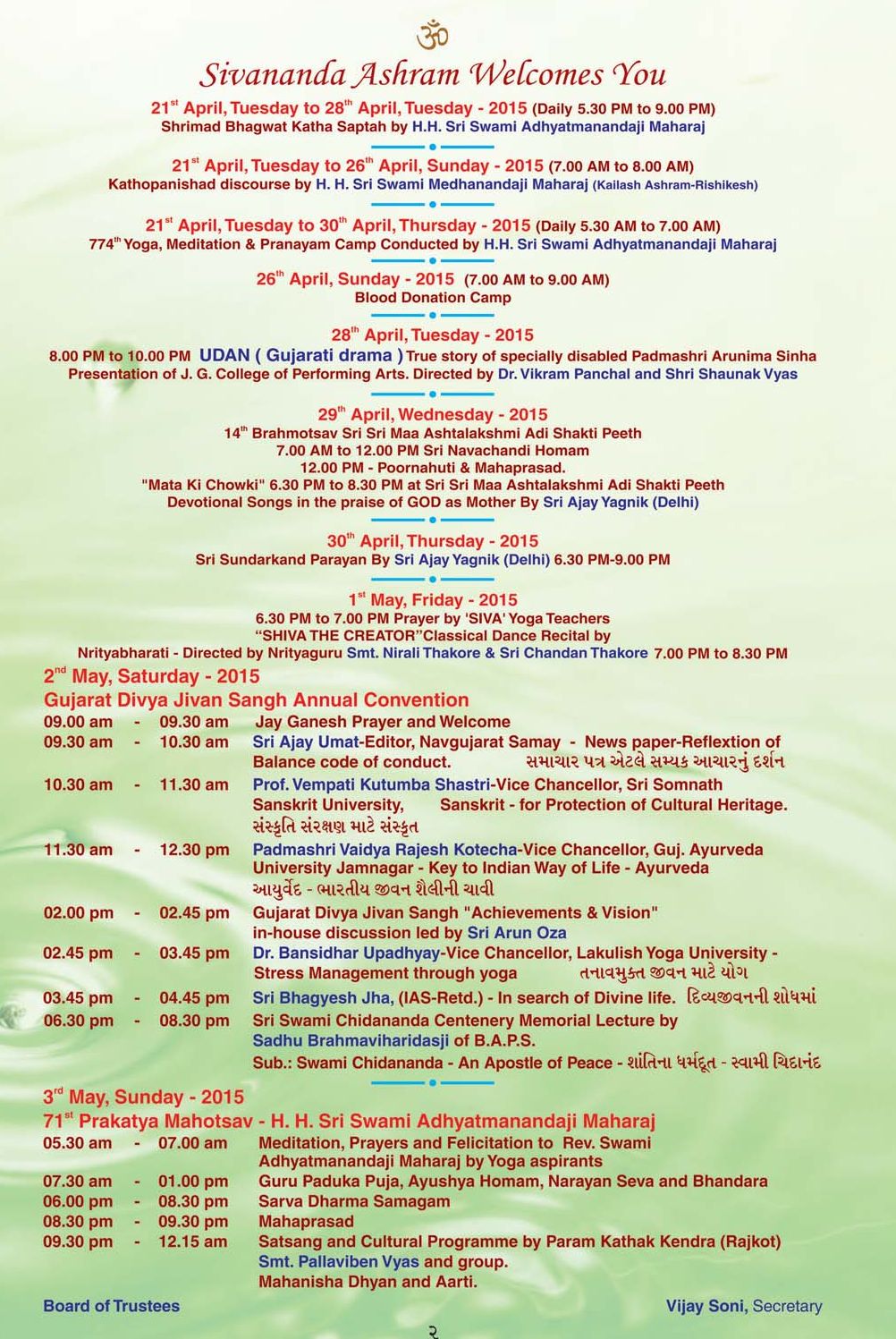 15th Patotsav of Sri Maa Ashtalaxmi Adishakti Peeth Utsav (April 29, 2015)
71 sth Birthday Celebration of H. H. Pujya Sri Swami Adhyatmanandaji ( May 3, 2015): Ayushya Homam (8.00am - 11.30am) We pray to the Almighty Lord, Gurudev Sri Swami Sivanandaji Maharaj and Gurumaharaj Sri Swami Chidanandaji Maharaj's Blessings for Pujya Swamiji Maharaj's good health and long life so that He could be a guiding force to seekers all over in the path of Yoga way of Living.
34th YTTC Yoga Teachers Training Course ( May 11, 2015 - May 30, 2015)
SIVA ( Sivananda Institute of Vendanta -Yoga Academy)
Yoga Teacher Certification Course (YTTC) at Sivananda Ashram, Ahmedabad is organized under the guidance and leadership of Yogacharya H. H .Swami Adhyatmanandaji, who has been teaching Yoga over thirty years and has conducted over 760 Yogasana Camps over the globe. Swamiji is beloved disciple of H. H. Sri Swami Chidanandaji Maharaj, present President of a great institute, Divine Life Society founded by a Holy Master H. H. Sri Swami Sivanandji Maharaj. Swamiji was initiated in the Holy order of Sanyasa in the year 1974. Ever since then, as per his worshipful Gurudev's instructions, he is continuously spreading the message of sages of the yore and sharing the knowledge of ancient cultural and scientific heritage of ancient India through Yoga, Pranayama, and Meditation. It is design to develop yoga student's skill in the science of Yoga and prepare them to teach yoga to others. <, More>>
Daily Teaching Schedule During YTTC

5:00 AM : Good Morning (Wake up, bath)

5:30 – 7: 00 AM : Prayer, Pranayam, Meditation & Yogasana Postures

7:00 – 8:00 AM : Application of Yoga in Modern Medical Science

8:00 – 9:30 AM : Break fast & free time for Yogasana practice
9:30 – 11:00 AM : Bhagavad-Gita & Yoga

11:00 – 12:00 PM : Education Psychology

12:00 – 2:00 PM : Lunch & Free time for study

2:00 – 3:00 PM : Application of Yoga in Traditional Medical Science

3:00 – 4:00 PM : Dieting & Nutrients in normal day to day life for healthy life

4:00 – 4:30 PM : Tea Break

4:30 – 5:30 PM : Patanjal Yoga Darshan

5:30 – 5:45 PM : Recreation time

5:45 – 7:00 PM : Yogasana Practical

7:00 – 7:30 PM : Meditation

7:30 – 8:30 PM : Dinner

8.30 – 9:30 PM : Satsang (prayer and chanting of Mantra's)

9:30 – 10:00 PM :
>>>>>>>>>>>>>>>>>>>>>>>>>>>>>>>>>>>>>>>
Regular Activities and their Schedule at the Holy Sivananda Ashram
Activity

Schedule

Time

Prayers & Aarti

Daily Morning & Evening

7 am. & 7 pm

Special Satsang

Every Sunday

9 am

Gurupaduka Puja

Every Thursday

8.30 am

Chidananda Spiritual Library and Reading Hall

Everyday

11 am to 6 pm

Sri Sivananda Medical Clinic

Monday to Friday every week

9.30 am to 11.00 am

Yoga Treatment

Wednesday & Friday

7.30 pm to 8.80pm

Yoga Classes - for the Beginner students

Every Month
1st through 10th
&
15th through25th

5.30am- 7.00am


6.30pm- 7.45pm

Yoga Classes- for Advanced Yoga Students

Everyday
except Sunday

5.30 am to 6.45 am

6.00am-7.00am
7.ooam- 8.00am
10.30 am to 11.30 am 6.00 pm to 7.00 pm

Yoga Classes for Women
(This class is taken by women instructor)

Monday to Friday

4.00 to 5.00 p.m.

In nine different Parts of city- four days/ week

5.00 pm to 7.00 pm

Sri Viswanath Seva Kendra - Distribute free grains to needy & feeding children

Second Sunday every month & 3rd of every month

Please check timings

Gayatri Yajna

First Sunday of every month

7.15 am

At least one day every month for Level I and Level II. Please check the schedule on Upcoming Events Page

Yoga Treatment Center

Tuesday & Thursday every week

6.30 pm to 7.30 pm

Night Satsang

Every day

9.00 pm. to 9.30 pm.

Continuous Maha Mrutyunjaya Mantra Chanting

Every Sundays & 3rd of every month

From 7.00 am. to 5.00 pm.

Ashram's book stall timings

Every day

7.00am to 12.00pm and 4.30pm to 8.30 pm.
BE GOOD, DO GOOD,
---------------------------------------------
Divya Jivan (Gujarati) / Aug-Sept 2012 (SIVA Special)

Sivananda Institute of Vedanta-Yoga Academy ("SIVA")
Note:- Donation given to Divya Jivan Sanskrutik Sangh is exempted under IT Act 80(G).
Annual Events of Sivananda Ashram
| | |
| --- | --- |
| | New Year Day Special Satsang ( Kartiki Sud Ekam) |
| | |
| | |
| | |
| | Birthday Of Sri Swami Adhyatmanandaji Maharaj (3rd May) |
| | Sri Vishwanath Mahadev Patotsav (Brahmotsav) (20th May) |
| | |
| | Sadhana Sapthah |
| | Aradhana Day (Punyatithi of Sadgurudev Sri Swami Sivanandaji Maharaj) |
| | Celebration Of Holy Month of Shravana. |
| | |
| | Shravani Amavasya Celebration |
| | Birthday of Sri Swami Sivanandaji Maharaj (8th Sep.) |
| | Birthday of Sri Swami Chidanandaji Maharaj (24th Sep.) |
| | Navaratri Celebration - Anushthana |
| | Dussera Celebration |
| | Diwali |
| | Yogasana Shibirs at least thrice in a year |
| | Residential camp for children & youth |
| | Special Yoga-teachers' Training course |

Please subscribe to Divyajivan Mailing List. We will update you with new uploads of spiritual literature on the web of Holy Master Sri Swami Sivanandaji Maharaj, saints of his lineage and other saints. We will also update you about the Sivananda Ashram, Ahmedabad website and facilitate communication with Sri Swami Adhyatmanandaji Maharaj.

Please enter your email address and click Subscribe button
To manage your subscription, please visit Subscription Page. You can also subscribe and unsubscribe from this page. You may unsubscribe by yourself anytime you wish. You will be required to send confirmation link that you will get in your e-mail to complete this subscription.