Centenary Celebration of Revered Gurudev Sri Swami Chidanandaji Maharaj Sept 17, 2016 to Sept 24, 2016 Salutations & Prostration to Our beloved Gurumaharaj Sri Swami Chidanandaji Maharaj on 100th Birth Anniversary of HIS Holiness ( Sept 24, 2016)
All are humbly invited.....Be a part of this historic & memorable event and feel blessed!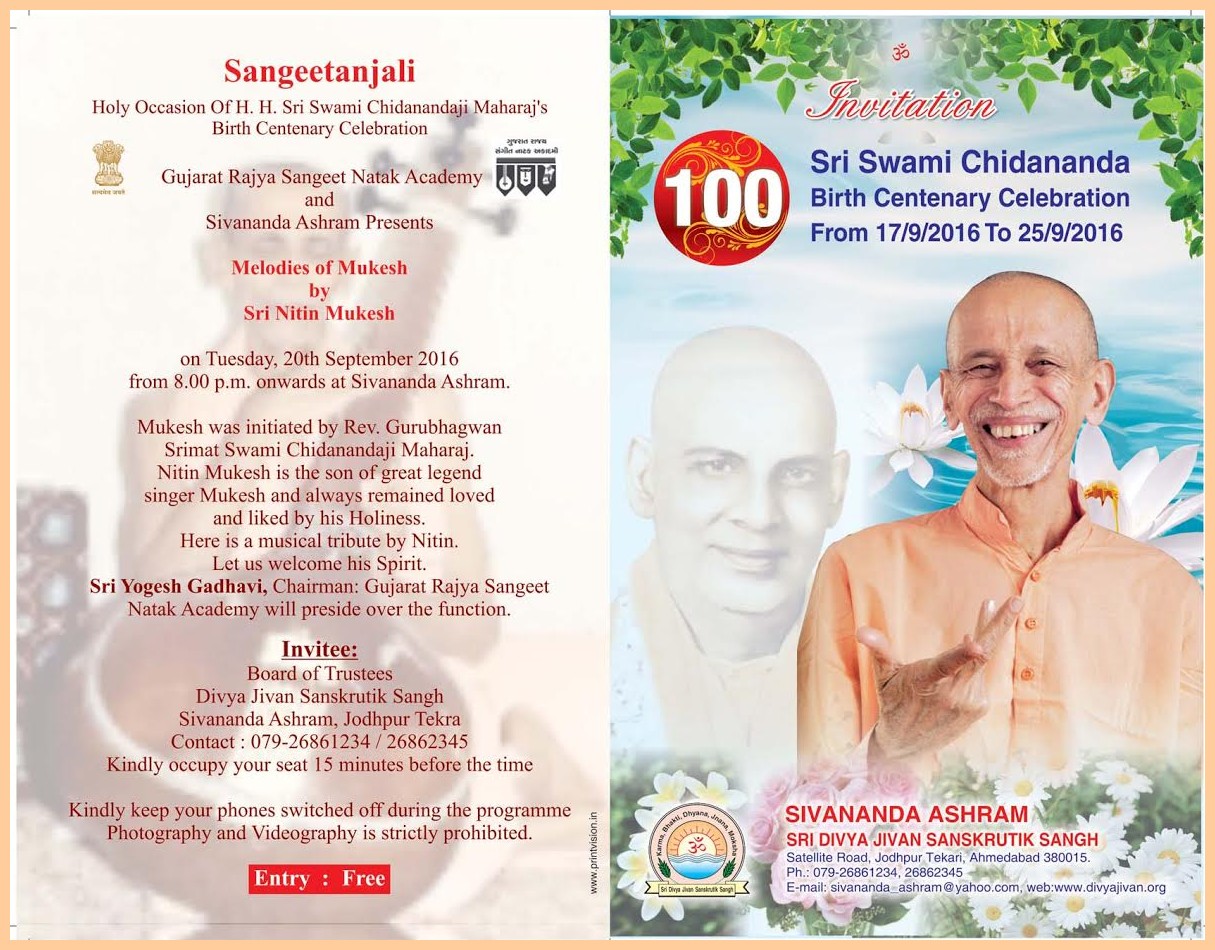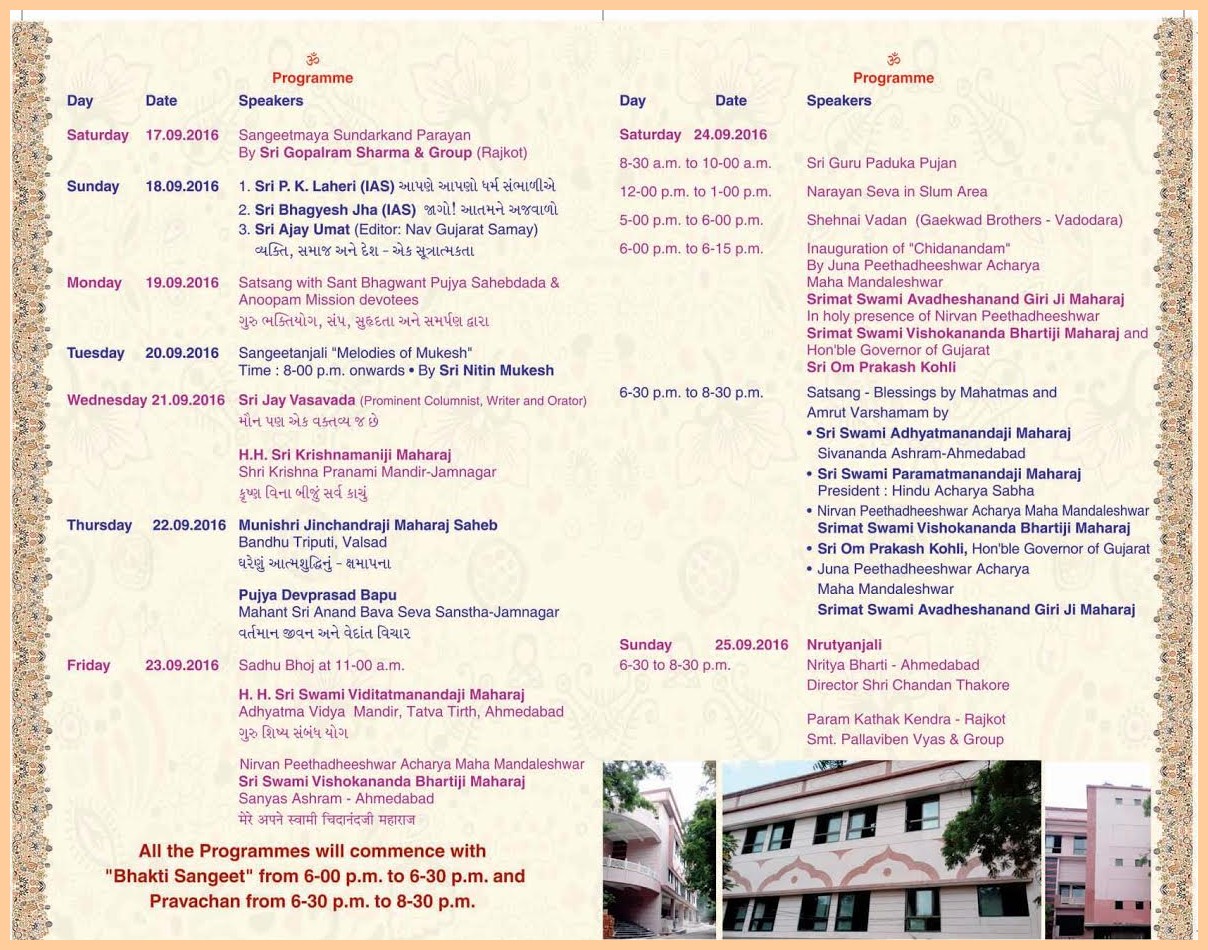 In the words of Holy Master Sri Swami Sivanandaji Maharaj ..............
"Celebration of Swami Chidanandaji's Birthday is really worship of God."
"During the celebrations of the Birthdays of great men you hear of their actions, their thoughts and their instructions, and the way in which they led their life. You imbibe several good qualities from their glorious example. You try to emulate them. You put those qualities into practice in your daily life. Frequent Birthday celebrations are necessary.".....
"Practise compassion, service, humility and other virtues. Then shine like our Chidanandaji. This is my fervent prayer ! Chidananda is a Jeevanmukta, a great saint, an ideal Yogi, a Para Bhakta and a great sage. Swami Chidananda is all this and much more".
Sri Swami Adhyatmananda on His Master " How fortunate we are! How blessed are we to be born in the same era! Glories to Gurumaharaj! In Bhagawad Gita Lord Sri Krishna has described the characteristics of "Sthitha Prajna", but it is rare to see & meet the one! but we have lived with the ONE. Hail Hail Chidananda!
Let us imbibe virtues and teachings from the Life Divine of GuruMaharaj and that is the Celebration of Chidananda Birth Centenary, in a True Sense".
And, listen to GuruMaharaj for HIS Adhyatm ...............(Video Clip). How Wonderful! What could be better time than now to cherish those blessed moments that got caught in the recording tool!
Upcoming Event ( July 2016 - Sept 2016 )
Lord Jagannathji Rath Yatra on July 6, 2016 (4.30 pm to 6.30 pm)
Holy Sri Gurupurnima Satsang and Sri Guru Paduka Poojan followed with Bhandara Mahaprasad (July 19, 2016)
Pooja Satsang (5.30 pm to 7.30 pm)
Bhandara Mahaprasad (7.30 pm to 8.30 pm)
Holy Aradhana day (Maha Samadhi Day) of H. H. Sri Swami Sivanandaji Maharaj on July 28, 2016. Satsang & Paduka Poojan (5.30pm -7.30pm)
Sri Krishna Janmotsav satsang on Aug 25, 2016 (9.00 pm to 12.00 midnight) Kirtan & Bhajan concluding with Sri Lallaji's Janmotsav.Sri Janmashatmi Mahotsav
Holy Shravan Month (August 3, 2016 - Aug 31, 2016)
Shiv Puran Katha (Aug 3, 2016 -Aug 31, 2016 ) by H. H. Sri Swami Adhyatmanandaji Maharaj during holy Shravan month (5.30 pm to 7.00pm)
Puja & worship services at Lord Vishwanath Mahadev temple - please contact ashram office
Homatmak Lagu Rudra Yajana, Bhasma Aarti, prasad on concluding of Shravan Month ( Sept 1, 2016)
Mahaprasad in the evening after Bhasma Arati (6.45 pm - 8.30pm)
8th Punya Tithi of Srimat Swami Chidanandaji Maharaj (Aug 30, 2016) Sri Guru Paduka Pujan & Satsang 5.30 pm to 7.30pm
Holy Sri Ganesh Chaturthi Sept 5, 2016 Ganapati Homam 9.00 am to 11.30am in newly constructed Sri Swami Chidananda Centenary Yoga Bhavan.

Gita Asta Darshan Katha (Sept 5, 2016 to Sept 22, 2016)
Discourses on Srimad Bhagawad Gita (complete 18 Chapters) by Revered Sri Swami Adhyatmanandaji Maharaj Sept 1, 2016 on .....
5.30 pm to 7.00 pm.
Remembering 129th Birth Anniversary of Holy Master Swami Sivanandaji Maharaj (Sept 8, 2015 )- Satsang & Paduka Pujan. (6.00 pm -8.00 pm)
>>>>>>>>>>>>>>>>>>>>>>>>>>
Sivananda Yoga DVD - Sri Chidananda Birth Centenary Yoga DVD is a creation of Divya Jivan Sanskrutik Sangh to commemorate Birth Centenary celebration of Guru Maharaj Sri Swami Chidanandaji Maharaj. It is a complete guide for the beginners as well as experts. It contains 84 Yoga postures. It is like Yoga Teacher comes to your home.

It is filled with systemic, scientific and yet simple methods of yoga teaching by H.H. Swami Adhyamanandaji, who has been teaching yoga for over last four decades and has conducted more than 770 Yoga camps around the globe. Pujya Swamiji has trained thousands of students in Yoga, Pranayam and Meditation through yoga Camps and Yoga Teachers Training Course (YTTC) through SIVA (Sivananda Institute of Vendanta -Yoga Academy), who themselves are teaching others. Swamiji is a born teacher of international repute and author of many books on Yoga. A "must possess" treasure for not only Yoga lovers but for everyone.

Satsang with H. H. Sri Swami Adhyatmanandaji (Audio)

Please subscribe to Divyajivan Mailing List. We will update you with new uploads of spiritual literature on the web of Holy Master Sri Swami Sivanandaji Maharaj, saints of his lineage and other saints. We will also update you about the Sivananda Ashram, Ahmedabad website and facilitate communication with Sri Swami Adhyatmanandaji Maharaj.

Please enter your email address and click Subscribe button
To manage your subscription, please visit Subscription Page. You can also subscribe and unsubscribe from this page. You may unsubscribe by yourself anytime you wish. You will be required to send confirmation link that you will get in your e-mail to complete this subscription.