Golden Jubilee Celebration of Holy Master Sri Swami Sivanandaji Maharaj's Visit to Ahmedabad and
Silver Jubilee Celebration of Sivananda Ashram, Ahmedabad
Programs:
Holy Padukaji Related Programs
Date and Day

Time

Program

Place and Contact Information

Nov 1, 2000, Wednesday

5.30 PM to 6.15 PM.

Arrival & Welcome Satsang

Gita Mandir

6.45 PM
Welcome in Sivananda Ashram, Aarati at Sri Vishwanath Mandir

Sivananda Ashram

7.15 PM to 8.15 PM

Devotional Music ­ Dance ­ Satsang & Meditation

Sivananda Ashram Lawn

8.30 PM to 10.00 PM

Paduka Pujan, Satsang, Dinner

Sri Shivcharan Bhatiyaji,
Bhatiya farm, Nr. Mahamamdpura bus stand, Bopal Road,
Ahmedabad 380054.

Ph.: 079-6741699, Mobil: 98250 49916

10-00 PM to 10.30 PM

Padharamani

Smt. Lataben Acharya's Residence

Nov 2, 2000, Thursday

5.00 AM to 5.45

AM

Prayer & Meditation

Sivananda Ashram Lawn.

6.45 AM to 7.30

AM

Paduka Pujan for all devotees and general public

Sivananda Ashram Lawn

8.00 AM to 9.00 AM

Paduka Pujan, Satsang

Sanyas Ashram, Ahmedabad.

9.00 AM to 10.00

AM

Paduka Pujan, Satsang

Dr. Varshben and Sri Marutbhai Dave,
Sivananda ­ Chidananda Maternity Home,
Above Jahanvi Restaurant, Radhakrishna Marg, Ahmedabad 380015
Ph.: 079-6301040

10.30 AM to 11.30 AM

.Paduka Pujan, Satsang

Sri Jitubhai
JADE BLUE, Parishima Complex, C.G. Road,
Ahmedabad 380006
Ph: 079-6467273, 6468800, Mobil: 98240 53388

11.30 AM to 1.00

PM

Paduka Pujan, Satsang, Lunch

Sri Pursottamdas Somabhai Patel (Daskaka Family)
Bhakti Bunglow, Dr. Vanikar Lane, Mithakhli,
Ahmedabad 380006
Ph: 079-6446090

3.00 PM to 4.00

PM

Proposed Visit to Akashvani

6.30 PM to 8.00 PM

Satsang & Meditation

Sivananda Ashram Lawn

9.00 PM to 9.20 PM

Padharamani

Sri Jayantbhai D. Mankodi
1, Kunal Apartment, Nararayan Society,
Maninagar, Ahmedabad 380008
Ph: 079-5465380

9.30 PM to 9.45 PM

Padharamani

Sri Kanubhai Pandya
New Vageshvari Society, Cenal Road, Ghodasar,
Ahmedabad 380050
Ph.: 079-5397014

9.50 PM to 10.05 PM

Padharamani
Sri Jyotindrabhai Pandya
B-92, Ghanshyam Park, Cenal Road,
Ghodasar, Ahmedabad 380050
Phone: 079-5395621
10.10 PM to 10.25 PM
Padharamani
Sri Ashokbhai Pandya
B-92, Ghanshyam Park, Cenal Road,
Ghodasar, Ahmedabad 380050
Phone: 079-5380098
10.35 PM to 11.00 PM
Padharamani

Dr. Bakulbhai J. Vaishnav,
1, Nirmal Society, Ishanpur,
Ahmedabad 380050
Ph: 079-5350747

Nov 3, 2000, Friday
5.00 AM to 5.45 AM

Prayer & Meditation

Sivananda Ashram Lawn.

7.15 AM to 7.45 AM
Padharamani
Sri Manishbhai & Smt. Rupaben Majmudar
37, RM.S. (Srinathji) Society
Near Memnagar Water-Tank
Memnagar, Ahmedabad 38003
Phone: 079-7492812
8.00 AM to 8.45 AM.
Paduka Pujan and Satsang

Sivananda Yoga Kendra
C/o. Dr. C.C. Raval
7, vidhyanagar society
Ushmanpura, Ahmedabad 380013
Ph: 079-7550336

9.00 AM to 11.00

AM

Satsanga ­ Tree plantation

Holy Sri Sabarmati Ashram of Mahatma Gandhi

11.30 AM to 1.00 PM

Paduka Pujan ­ Satsang ­ Lunch

Sri Prakashbhai Soni,
13-B, Hindu Colony,
Ahmedabad 380009
Ph: 079-6463839, 6464864

4.00 PM.

The Group of Saints with Holy Padukaji depart for Jaipur

Sri Swami Adhyatmanandaji Maharaj Inaugurated the Seminar for First year Students of Nirma Institute of Management at Tagor Hall on 24th November 2000


As you probably remember, this camp was for patients of diabetes only. The Yoga Camp was a great success. This camp was a unique one, as it was organized in association with Dr. Mayur Patel, President of all India Diabetes Association. The camp was commenced on the International Diabetes Day to promote awareness about this very common and leading cause of mortality and morbidity not only in India but through out the world. The comprehensive and holistic approach to combat this dreaded disease was reinforced by proper patient education. This is a preventable disease and with proper care and discipline and even after it having been manifested, it can be controlled. Dr. Kirtibhai Patel, a leading Oncologist (cancer specialist), inaugurated the camp. Dr. Mayur Patel coordinated the latest advances in the treatment of the disease and importance of diet and medical care along with regular yoga exercises. On 21st and 22nd Nov. 2000, a special Diet Exhibition of more than 1000 food items was organized in the Chidananda Dhyana Bhavan from 7.00 a.m. to 11.00 a.m. and 5.30 p.m. to 8.30 p.m. The event was covered in details by the Times of India, Gujarat Samachar, Doordarshan, Zee TV, Tara Gujarati Channel and Sandesh. We hope to bring the articles and clips to you as they are made available.
| | | |
| --- | --- | --- |
| | | |
| Yoga Shibir 570, Candle Light Morning Meditation | Another view of Yoga Shibir 570, Candle Light Morning Meditation | Practical Pavan Muktasana during the Yoga Shibir 570 |
| | |
| --- | --- |
| | |
| Indian Medical Association state president Dr Kirit Patel lights a lamp to inaugurate a 10-day Yoga camp for diabetics at Sivananda Ashram in Ahmedabad, on the occasion of World Diabetes Day on Tuesday, as Swami Adhyatmananda looks on. Nearly 1,000 diabetes patients are attending the camp organised by Dr Mayur Patel and Dr Ina Patel who have been spreading awareness about the positive effect of Yoga in controlling blood sugar. This is a clip from Times of India. | Diabetic Diet Exhibition at the Sivananda Ashram, Ahmedabad. Visitors viewing the samples of food items displayed. This is a clip from Times of India. |

Golden Jubilee Celebration of Sadgurudev Sri Swami Sivanandaji Maharaj's Visit to Ahmedabad
What happened 50 years ago
Founder President of the International Institution of the Divine Life Society, Sri Swami Sivanandaji Majaraj went on quick sixty days All India and Sri Lanka Tour in the year 1950 from 8th September to 8th November. He commenced his memorable journey from Rishikesh and went to Lucknow, Varanashi, Patna, Calcutta, Bhuvaneshwar, Andhra Pradesh, Tamil Nadu, Colombo (Sri Lanka), Kerala, Karnataka, Maharashtra, Gujarat, Rajasthan and via Delhi went back to Rishikesh. During this historical tour, he was received enthusiastically by huge assembly everywhere. His message was broadcasted by practically all the stations of All India Radio. He was warmly welcomed by leading and prominent citizens, leaders and Maharajas including Nizam of Hyderabad.
During his visit to Ahmedabad, Sri Swami Sivanandaji Maharaj was accorded a grand public reception on the 1st November 1950 at the Premabhai Hall, where he was warmly received by an enormous gathering of elite and common people. The reception committee was formed of prominent and notable dignitaries such as Shri N.B. Thakor, Swami Sivananda of Gita Mandir, Mr. Nandalal C. Bodiwala - Principal Editor of daily "Sandesh" at that time, Sri Shantialal Mehta, Swami Madhavtirtha, Shri Chimanlal Thakor and Mrs. Kevalram P. Chalaramani under the Chairmanship of Shri Haridas Acharatlal. Late Sri Swami Vidyananandaji Maharaj of the Gita Mandir organized two more largely attended satsang gatherings in the Gita Mandir to honor Swamiji.
Holy Master Sri Swami Sivanandaji Maharaj visited the Sabarmati Ashram of Mahatma Gandhi where Sri Pratapbhai, chief organizer of the Ashram, welcomed him. Swamiji immediately recognized him and then commented, " We met each other on the bank of Ganga first and now you have drawn me on the bank of Sabarmati." When Swami Sivananda was approaching podium to speak, someone requested him to speak in Hindi." Swami Sivananda humorously responded, "Oh.. Ji! I know only three words in Gujarati, Khem Cho?...Gahnoo Saroo Che... Theek Che.. and only a little bit of broken Hindi." Needless to say, the entire audience burst forth into Laughter.
He emphasized the importance of sadhana and affirmed, "You have heard many lectures but do not think that someone else will do the sadhana for you. Do not imagine that a drop of water from the kamandal of a Mahatma will give you an instant samadhi. Just as the thirsty man has to drink water by himself to quench his thirst and the hungry has to eat food himself to thwart his hunger, you will have to practice sadhana yourself if you want to attain God-Realization. You have to place your foot on every rung of the ladder of Yoga yourself. Yoga, no one else can do it for you."
He further remarked, "There is a lot of material wealth in Ahmedabad. You should acquire the inexhaustible spiritual wealth also. Seek the truth, purity and character. Work hard, selflessly and ceaselessly. Love the Nation - Love Mother India. Be true to thy own-self. You will shine and prosper. You will attain Immortality. God bless you all. "
Ku. Haribala R. Dave sang the Lords name beautifully in the public meeting assembled to honor Shri Swami Sivananda. Sri Ramlaxman Acharya paid a glowing tribute to Siva by saying, " Today is the most blessed day in our life; for today we have amidst us a Maha-Vibhuti of the Lord Himself."
Reminiscing the Events after 50 Years
Replicating the tour of Holy Master Sri Swami Sivanandaji Maharaj, now his devotees and monks headed by Sri Swami Gurusevanandaji commenced their All India Tour with the Holy Padukas (Sandal) of Swami Sivanandaji Maharaj, started from Rishikesh on 8th September,. 2000 and just following the same time schedule and places as their Revered Holy Master did, after visiting U.P., Bihar, Bengal, Orissa, etc. entered in Gujarat. The team visited Valsad, Amalsad, Kachholi, Surat, Bharuch, Baroda and arrived Ahmedabad on November 1, 2000. Just as their Master fifty years ago, His Paduka along with the team were received again at the Gita Mandir by the present Chief of the Temple and head of Akhil Bharat Sadhu Samaj, M.M. Sri Swami Mangalanandaji Maharaj.
Mrs. Haribala R. Dave, now septuagenarian, sang the same devotional hymns that she sang for the Holy Master Sri Swami Sivanandaji Maharaj fifty years ago, this time for the touring party along with the Master's paduka, once again in the program attended by a huge audience at the Sivananda Ashram. In the evening, the party was received with soothing sound of the temple orchestra from famous Sri Hatkesh Temple of Jamnagar, a thrilling performance of the world famous Ras-Mandali of Maldhari Yuvak Mandal Shakti Para Surendranagar, a prayer dance, "Dev Dev Sivananda Dinbandhu Pahimam..." in Bharat-Natyam style by a group of disciples of Ms. Dolly Desai and a warm welcome address was rendered on behalf of the citizens of Ahmedabad and the Government of Gujarat by Mr. Bharat Barot, the Minister of Higher Education.
The Visiting Swamijis and Devotees sang a novel Kirtan;
Serve, Love, Give, Purify, Meditate, Realise
Enquire - Who am I, Know Thyself and Be Free
Be Good, Do Good, Be Kind, Be Compassionate
Practise Non-Injury, Truth and Purity
Adjust, Adopt, Accommodate,
Bear Insult & Bear Injury,
This is the highest Sadhana.
Swamiji further elaborated, "Even one harsh word upsets you and brings about bloodshot eyes and you at once react to it. You are not able to control yourself in spite of your education and training. You should learn to bear insult and injury with equanimity. This demands the perfect pulverization of the ego. Every word is nothing but sound vibrations in the ether. You should inquire, "Who am I? Who is abused? By whom?" Thus utilize every occasion when you are insulted as a very good opportunity for introspection, enquiry and spiritual progress. Remember, nothing exists, nothing belongs to you, you are neither mind nor body. Immortal self you are..." The program was concluded with candle light meditation and prayers for the peace of the world.
The Sivananda Ashram, Ahmedabad was established on November 1, 1975 and had its Bhumipooja done by the present head of The Divine Life Society, H.H. Sri Swami Chidanandaji Maharaj in the worthy presence of the Mr. K.K. Vishvanathan, then the governor of Gujarat. The ashram is now providing valuable services to the community under the able leadership of Sri Swami Adhyatmanandaji Maharaj. The ashram is celebrating its Silver Jubilee with program such as 569th Yogasan and Meditation Camp (from 5.00 a.m. to 7.00 a.m.) for general public and discourses on Sunderkanda (from 6.30 to 8.00p.m.) by him in the evening up to Nov. 8th 2000. As an extension to this festivity, Sri Swami Adhyatmanandaji Maharaj, a well known Yoga Exponent is organizing 570th Yoga Pranayama and Meditation Camp (Nov. 14th to Nov 23rd 2000) only for diabetic patients in association with the leading diabetes specialist, Dr. Mayur Patel to commemorate The International Diabetes Day.

News Media Coverage of the Golden Jubilee


Photo Gallery of Events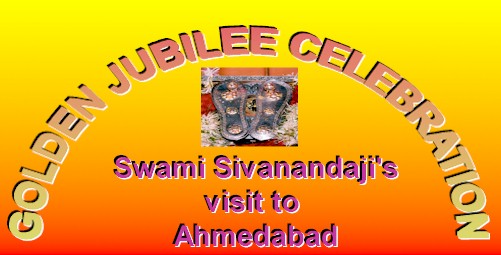 | | | | |
| --- | --- | --- | --- |
| | | | |
| Grand Reception at the Sivananda Ashram | Sri Swami Gurusevanadaji Addresses the assembly, Also present is Mr. Bharat Barot, Education Minister of Gujarat | Holy Padukaji received at Shri Gita Mandir, welcome address is being given by Sri Swami Mangalanandaji Maharaj, Head of Akhil Bharat Sadhu Samaj. | Welcome Satsang at Shri Gita Mandir, From left to right are Swami Gurusevanandaji, Swami Adhyatmanandaji and Swami Mangalanandaji |
| | | | |
| Holy Padukaji at the Sabarmati Ashram of Pujya Gandhi Bapu | Sri Swami Shivchidanandaji carrying Sri Holy Padukaji | Tree Plantation at the Sabarmati Ashram | Sri Swami Adhyatmanandaji carrying Holy Padukaji at Holy Jagannath Temple |
| | | |
| --- | --- | --- |
| | | |
| Holy Padukaji with Lord Jagannath | Holy Padukaji's "Gaja Yatra" | Gaja Yatra |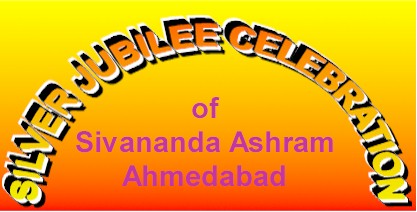 | | | |
| --- | --- | --- |
| | | |
| Sadhak Kutir illuminated on the occasion of Silver Jubilee of the Sivananda Ashram, Ahmedabad | Disciple at the Master's feet | Grand Flower Welcome in the lobby of Sadhak Kutir |
| | |
| --- | --- |
| | |
| Mr. Mukesh Patel, on behalf of Lions Club, donating a cheque of Rs. 100,000 for the project of Shri AshtaLakshmi Bhavan | Mr. Mahendra Trivedi, Minister of Youth and Cultural Affairs, Government of Gujarat, releasing calendar for 2001 |