News and Activity Report
Sivananda Ashram, Ahmedabad
August - 2005
Holy month of Shravan celebration
The holy month of "Shravan" has special significance for worshiping Lord Siva. It was celebrated with great zeal and devotion at Sivananda Asharm, A'bad. Devotees participated in special worship services at the Ashram's Lord Vishavanath temple. Evening discourses on "Srimad Bhagavatam" by Rev. Sri Swami Adhyatmanandaji were held at the ashram and attended by large number of devotees during the entire month of Shravan. Also five hundred trees were planted at the ashram courtyard and thousand more were planted at other educational institutes on inspiration of Swami Adhyatmanandaji . Swamiji said "Siva drank poison to save mankind and spared nectar for Gods and other divinities. Trees take carbandioxide and spare oxygen for all of us to survive. Nurturing the Tree is a form of Siva worship only. Tree plantations were done in Nutan Vidya Mandir, National Institute for Design, Sri Prabhudas Thakkar College for arts and commerce. On Rakshabadhan day hundreds of Brahmins joined for five hours long traditional renewing the thread ceremony at the ashram.
Visit to Indore & Ujjain.
Sri Swami Adhyatmanandaji Maharaj visited Indore and Ujjain. At Indore, he was invited for opening ceremony of Sri Vishvanath & Co. Rev. Swamiji addressed to students of the Shishukunj International School of learning. Plantation of tree was done in premises of institute. This is an international school having its branch in UK, USA, Kenya and Sweden. At Ujjain Sri Swamiji's public discourse was organized at the auditorium of famous Sri Mahakaleshwar Mahadev's temple and at the central prison.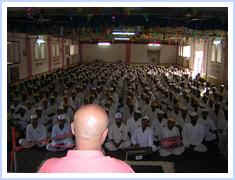 Visit to Vadodra
Sri Swamiji had a quick visit to Vadodra on a request of devotee. He visited ailing devotees in the hospital, who were hospitalized and bed ridden for few months
.
Janmashtmi Celebration (Aug 27,2005)
Several thousand devotees from all over gathered to celebrate Janmashtami at Sivananda ashram, A'bad on Saturday Aug 27, 2005. Attendees, celebrating the birthday of Lord Krishna enjoyed a devotional music presented by Smt. Sima Trivedi & Sri. Jayesh Naik from 9.00pm to 12.30 midnight. A mammoth gathering enjoyed and was overwhelmed by interpretation of each devotional song by Rev. Sri Swami Adhyatmanandaji Maharaj.
Exhibition of "Om" painting
A wonderful exhibition on "OM" painting with 108 in different sizes was organized at the ashram's Sri Ashta Lakshmi Bhavan. The same was thrown open by very prominent poet and artist Sri Madhav Ramanuj. Painter Mr. Brijesh Upadhyaya is B.E. (civil), but his liking for painting from his childhood has attracted him to frequent visits to faculty of fine arts at M.S. University, Baroda. More than 20,000 viewers visited this exhibition in five days.
Upcoming Yoga Teachers training Course (Dec 11, 2005- Dec 30, 2005)
Divya Jivan Sanskrutik Sangh, Ahmedabad will be organizing its 7th yoga teachers training course from Dec11, 2005 to Dec 30-2005 at Sivananda Ashram, Ahmedabad. Course will be conducted by leading medical practitioners, cardiologist, internist, general physician and yoga experts. The subjects to be covered during the course are yoga related anatomy and physiology with basic flexibilities, Yogasana, science of Pranayama, art of relaxation and meditation technique. Spiritual discourses on Bhagavad Gita, Patanjali yoga darshan and other philosophical discussion will be shared by learned speaker and Pujya Swamiji. Vegetarian meals will be served during the stay. Examination will be taken and certificates will be allotted to the worthy students upon the successful completion of the course. Sivananda Ashram's yoga teaching is being recognized by Gujarat University. Donation of Rs. five thousand to be paid by candidate for this intensive yoga teaching inclusive of lodging and boarding. Prior approval and registration are mandatory for the admission to the course.
Latest Additions.........

Please subscribe to Divyajivan Mailing List. We will update you with new uploads of spiritual literature on the web of Holy Master Sri Swami Sivanandaji Maharaj, saints of his lineage and other saints. We will also update you about the Sivananda Ashram, Ahmedabad website and facilitate communication with Sri Swami Adhyatmanandaji Maharaj.

Please enter your email address and click Subscribe button
To manage your subscription, please visit Subscription Page. You can also subscribe and unsubscribe from this page. You may unsubscribe by yourself anytime you wish. You will be required to send confirmation link that you will get in your e-mail to complete this subscription.

[ Home ] [ News ] [ Upcoming Events ] [ What's New? ] [ Services ] [ Swami Adhyatmananda ] [ Multimedia ] [ Publications ] [ Administration ] [Saints & Sages] [ Photo Gallery ] [ Contact ] [ Guestbook ] [ Important Links ]

Webmaster: webmaster@divyajivan.org