News and Activity Report (August 2008)
Sivananda Ashram, Ahmedabad
Our Beloved Gurumaharaj attained Mahasamadhi (August 28, 2008)

Most Worshipful and Revered Guru Bhagwan, Sri Swami Chidanandaji Maharaj has attained Mahasamadhi and merged into the Bliss Absolute at the age of 92 years on Thursday, 28th August 2008 at 8:12 PM.
Disciple and Successor of H H Sri Swami Sivanandaji Maharaj and President of the world renowned Divine Life Society for the last four decades, Sri Swami Chidanandaji Maharaj was working and serving the Divine Cause of Sri Gurudev's Mission tirelessly and spreading His Divine Life Message all over the world. He was an embodiment of humility, purity and kindness. He lived a life and ideals of a true renunciate. Service to lepers became His ideal and worship to Lord Narayana. He served them with tender love and compassion. He was inspirer of CHIPKO movement. His work for the protection of Himalaya and Ganges will be cherished for ages to come.
Revered Saint, Mother Teresa considered Him a Living Saint Francis of Assisi. For His own Guru, Sri Swami Sivanandaji Maharaj, He was an incarnation of Buddha.Whereas the entire Europe regarded Him an Uncrowned King. Sri Sri Maa Anandamayi saw in Him Lord Narayana Himself. Most Worshipful and Revered, Sri Pramukh Swamiji Maharaj of BAP'S, has seen in Him His own Guru Pujya Yogiji Maharaj's Holy Presence.
Linguist, perfectionist, full of serenity, divinity, absence of vanity, simplicity, equanimity, non-irritability, humility, integrity and nobility were His laudable virtues that earned Him reverence from the people of all four corners of the world. His service and sympathy to sick and downtrodden, poor and needy, birds and beasts were incomparable. He was oozing love from head to toe for known and unknown.
His mortal coil was brought to Rishikesh at 1:00 AM and was immersed in holy stream of Ganges before sunrise of 29th August, 2008.
In His will, He has expressed the desire not to make any monument in His name, not to be informed anyone of His passing away, not to organize even any feast and festival traditionally performed when a monk cast away the mortal coil. But in case, if devotees wish, they can feed the poor, sick and street beggars.

Though physically, Beloved & Worshipful Holy Master H H Sri Swami Chidanandaji Maharaj may not be with us, but through His Virat Swaroop, He will be inspiring, guiding and protecting His countless devotees and disciples who are busy serving the Mankind and struggling to achieve the realization of the absolute. OM Shanti !

Swami Adhyatmananda
Prarthnasabha - A Prayer Meeting (August 31, 2008)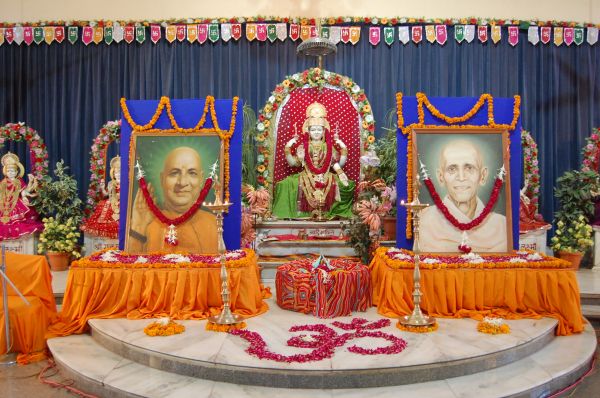 Mahasamadhi of our Beloved Gurumaharaj

A Disciple and a Successor of His Holymaster Sri Swami Sivanandaji Maharaj, the founder of International Divine Life Society, Most worshipful & Revered Sri Swami Chidanandaji Maharaj entered Maha Samadhi at Dehradun on August 28, 2008 and his mortal remains were immersed in the holy water of Ganges in the early morning of August 29, 2008.

On July 31, 2008 Divya Jivan Sanskrutik Sangh, arranged a Prarthanasabha, A prayer meeting at 10.00am at Sivananda Ashram, Ahmedabad at Sri Sri Sri Ashta Laxmi Bhawan to pay homage to our Beloved Gurumaharaj Sri Swami Chidanandaji Maharaj. The meeting began with chanting of Ashram's traditional prayer "Jay Ganesh Jay Ganesh………… by devotees. The meeting was conducted by Sri Arunbhai Oza, a Vice President and Trustee of Divya Jivan Sanskrutik Sangh, Ahmedabad. The meeting was attended by renowned saints and large number of devotees. Here are the Tributes from the Saints in their own words.

Sri Swami Atmanandaji Maharaj of Srimat Rajchandra Adhyatmik Kendra, Koba said, 'If you put together the qualities such as devotion to Guru, devotion to God, Universal Love, Service to World and Sadhana (Meditation in Solitude) you will find Sri Swami Chidanandaji Maharaj. It was Sri Swami Sivanandaji, who moulded Sri Swami Chidanandaji. In reality Sri Swami Sivanandaji Maharaj and Sri Swami Chidanandaji Maharaj were two separate physical bodies with one common soul.

Sri Swami Ishwarcharandasji Maharaj of Swaminarayan Sect (BAPS) mentioned that Sri Swami Chidanandaji Maharaj and Sri Pramukh Swamiji Maharaj were very good friends. In his presence one used to feel extreme serenity. Even an act of very minor importance was performed by Sri Swami Chidanandaji Maharaj with utmost patience and devotion.

Maha Mandleshwar Sri Swami Kalyanandaji Maharaj of Bharati Ashram Sarkhej, Ahmedabad said that it is indeed rare to find a saint who has merged himself with God. Sri Swami Chidanandaji Maharaj was one of such saints. His Holiness Sri Swami Chidanandaji Maharaj was blessed by his Guru Sri Swami Sivanandaji Maharaj. Such a favour from Guru is obtainable only through the grace of God. Swami Chidanandaji has resolved back into the cause (Brahman) from the effect (Jiva).

Swami Prashant Swaroop Anandaji of Sri Swami Narayan Gadi Sansthan, Maninagar, Ahmedabad recalled the past and said what Chidanandaji had ordered his own disciples years ago. Sri Swami Chidanandaji had said, 'Whenever you come across even a most juniour saint of Swami Narayan Sect you should bow down to him. This shows the humility of Sri Swami Chidanandaji. He also cited the example of Eklavya of Mahabharata fame and said that just as Eklavya acquired Knowledge of Archery by offering devotion to the idol of his Guru Dronacharya, one can attain knowledge by concentrating on the image of his Guru.

Sri Swami Brahma Vihari of B.A.P.S remembered various occasions during which he chanced to come in contact of Sri Swami Chidanandaji. He recalled Chidanandaji's various qualities such as humility, purity, simplicity, equanimity and said that Sri Swami Chidanandaji Maharaj will remain alive in our life so long as we wish him to remain so, with us and within us.

Sri Bhagavat Rishi from Bhagvat Vidhyapeeth Sola, Ahmedabad recalled how Swami Chidanandaji took care of him while he was a child and suffering from high fever. Sri Bhagavat Rishi was at Sivananda Ashram, Rishikesh as his father Sri Krishna Shankar Shashtriji was doing 'Bhagavat Parayan" there. He said one should always remember three things, Slok (Sacred name of God), Punyaslok (A person of Godly Nature) and Uttamslok (the God). Well, Sri Swami Chidanandaji was a 'Punyaslok'.

Sri Gopalbapa representative of Anoopam Mission, Mogri said, 'The real homage to Sri Swami Chidanandaji Maharaj lies in the fact that we tread the path shown by him and pray to him to sit in our heart and inspire us'.

Sri Swami Viditatmanandaji of Tatva Tirth, Ahmedabad opined that Swami Chidanandaji was a 'Realised Soul'. Once someone questioned Swami Chinmayanandaji "Who according to you are the living beings who have attained Realisation?' Swami Chinmayanandaji promptly replied 'Two, one is Swami Chidanandaji and the other is Sri Sri Sri Ma Anandamayee". Sri Swami Chidanandaji was a unique saint thoroughly straight forward, having transparent personality and an embodiment of devotion, knowledge, action and yoga.

Sri Piyushbhai of 'Wagh Bakri Tea' confessed that only after coming in the contact with Sri Swami Chidanandaji that he learned how to live a selfless life.

Honorable Shri Naval Kishor Sharmaji His Excellency, the Governor of Gujarat sent his message expressing deep grief.

Sri Swami Adhyatmanandaji Maharaj could not remain present in the meeting as he was away on his "Divya Tour" to the West. He is a direct disciple of Sri Swami Chidanandaji Maharaj. His message on the occasion today was conveyed through telephone and was heard by the audience. In his message Sri Swami Adhyatmanandaji narrated some incidents highlighting the greatness of Sri Swami Chidanandaji. Sri Swami Sivanandaji used to say, it is only due to the effect of past karmas that Sri Swami Chidanandaji is my disciple. Actually, he deserves to be my Guru. Sri Sri Sri Ma Anandamayee found in him Lord Narayan. She believed that Swami Chidanandaji has attained a state of perfection where one is no more subjected to birth and death. Sri Pramukh Swami experienced in him the presence of his Guru Sri Yogibapa. Such a highly evolved soul is hardly to be found only one in millions and trillions.

>>>>>>>>>>>>>>>>>>>>>>>>>>>>>>>>>>>>>>>>>>>>>>>>>>>>>>>>>>>>>>>>>>>>>>>>>>>>>>>>>>>>>>>>>>>>>>>>>>>>>>>>>>>>>>

Celebration of Holy Shravan Month :

With the beginning of August 2008 the holy Shravan month (Hindu month dedicated to the worship of Lord Shiva) also commenced from August 2nd and completed on August 30th 2008. In holy Shri Vishwanath temple of the ashram throughout the month Vedic chants and hymns from Namakam, Chamakam, Rudram, Shiva Mahimna and singing of sweet mantra "Om Namah Shivaya" which is specially dedicated to Lord Shiva were performed.Each evening was filled with discourses by very learned scholarly pandit, Sri Vinod Shastriji's exposition of Shri Vishnu Sahasra Nama. This series of discourses concluded on 29th August. On 30th August a grand Homatmaka Laghu Rudram was conducted at Shri Vishwanath temple premises, which was followed by a grand feast (Bhandara).

Sri Krishna Janmashtami Celebration ( August 23, 2008)

S
The holy Janmashtami festival was also celebrated on Sunday 24th August with great enthusiasm and deep devotion towards Lord Sri Krishna. Thousands of devotees flocked for the sweet darshan of the Lord and attended night satsang with Shri Krishna Lila, Bharatnatyam, Dance ballet directed by Smt. Ilakshiben Thakur and Sri Chandan Thakur's institution NrityaBharati. This was a very memorable night and devotees who gathered from all four corners of the city were enchanted with the singing of Sri Hari Nam.
The culmination of festivity was to receive a message from Swami Adhyatmaanndaji Maharaj live over the phone from Chicago showering blessings and inspiring all. People greatly applauded it. It was so clear and meaningful that people were spell bound and they appreciated it a lot. All felt Sri Swamiji Maharaj's presence amongst them.
Very elaborate worship was performed at midnight at the holy time of Shri Krishna's birth. Throughout the month, at holy Shri Ashta Lakshmi Bhavan, exhibition of paintings of Sri Mohsin Sheik was organized. Innumerable lovers of art enjoyed this exhibition.
On 15th August, the 61st Independence Day of India was celebrated with flag hoisting by Dr. A.K. Patel, a long-time Member of Parliament of the Government of India. Poor feeding and distribution of grains was done in most humble way to the needy and downtrodden.
>>>>>>>>>>>>>>>>>>>>>>>>>>>>>>>>>>>>>>>>>>>>>>>>>>>>>>>>>>>>>>>>>>>>>>>>>>>>>>>>>>>>>>>>>>>>>>>>>>>>>>>>>
Reports of "Divya Tour" 2008 of H. H. Sri Swami Adhyatmanandaji Maharaj
Divya Tour 2008 Report ( July 29, 2008 - August 30, 2008)
On July 28, 2008 devotees gathered at Sivanada Ashram to wish their beloved Swamiji Maharaj on the eve of his departure for Divya Tour to the West. Taditional Vedic puja at the temple was performed just before Swamiji Maharaj proceeded to the airport on July 29th. Also Swamiji paid his respect to Paduka of Guru Maharaj. Many devotees joined him to the airport to wish him safe journey.
At the arrival to UK Pujya Swamiji was received by Tailor's at their abode and welcome satsng was organized by Chandramaniben Tailor.Wallington: From August 1st to 10th, Sri Swamiji Maharaj conducted a number of Yoga classes organized by respected Yogacharya Sri Jogendrabhai Patel, an ardent disciple of worshipful and revered Shri Puneetacharya ji Maharaj of Girnar, India. A number of satsangs were organized at different organizations that are engaged in serving their love and need to the senior citizens not only Asian but white and black too. Such visits and discourses were organized at Highview, Scout Hall, Wallington, Apna Aashiana at Croydon, Milap center Kingstown, Sayer Center, Cricklewood, Vishwa Hindu Parishad, Thorton Heath, etc. Sri Swamiji Maharaj was invited for a special satsang on Sunday, August 3rd at the famous Sri SwamiNarayan temple (BAPS) at Neasden. A very cordial welcome was given to Swamiji and with warmth and great regards Swamiji Maharaj was requested for his heart-pouring discourse for the benefit of devotees at the famous Haveli of the temple. Sri Swamiji visited once again the same institution where word-renowned Yogacharya Sri Ramdev ji Maharaj was supposed to speak. The meeting of both Yoga experts was like a confluence of Ganga and Yamuna. Sri Yogvivek Swamiji Maharaj, the head of BAPS Neasden Temple honored Sri Swamiji Maharaj by presenting shawl and garland, etc. Over and all Sri Swamiji Maharaj very generously extended his love and gave a memorable satsang at various places in London like Purley, Balham, Coulsdon, Mitchm, Carshalton Peeches, Carlstown, Morden, South Showton, Uptown Park and of course at Wallington, Croydon and at Oxbridge. Sri Divya Jivan Sanskrutik Sangh and Sivananda Ashram Ahmedabad will be highly thankful and indebted to Sri Jogendrabhai Patel and all the members of his divine family, Mrs. Dharmista Patel, Mother Shantaba, Shri Viren Patel, Mrs Ila Patel and so on.
Oxbridge: Worshipful and revered Sri Swamiji Maharaj arrived at holy Sri Anoopam Mission on August 10th evening. From 11th to 16th August every day, a special Yoga camp (700th) was conducted at a Grand Marquee specially pitched and erected for this festivity. Sri Swamiji Maharaj was invited to share his expertise in the science of Yoga with other institutions also in different localities of Central London. 61st Independence Day was celebrated with great enthusiasm, pomp and show. Flag hoisting of United Kingdom and India were simultaneously done in the beautiful open lawns of Anoopam Mission. High Commissioner of India, Mayor of Oxbridge, Members of Senate of Oxbridge county, Mr Shaunak Rishi, head of department of Indian Philosophy and Myth at Oxford University, Mr. C.B .Patel, founder of leading Newspaper 'Gujaraj Samachar' from London. Shri Bhupendra Pandya, a well known Kathakar from Mumbai and most worshipful and revered H.H. Sri Jasbhai Saheb to mention a few, were present for the flag hoisting as well as patriotic discourses and dance ballet presented on the occasion.
Shri Shanti Bhai, Shri Hemanth Swamiji, Sri Satish Chatwaniji, Sri Venubhai Patel, Sri Ashwin Popat were the main devotees and organizers of the mission who made the entire function a grand success.
A very special Satsang was organized at "Tulsi" Indian restaurant where revered Sri Jasbhai Saheb, revered Swamiji, Sri Shanti Bhai and more than 200 devotees were invited to bless and grace this wonderful venture of devotees from India. A grand meal was served before the Satsang and Satsang poured blessings on the organizer of this immemorable venture. It was all organized by the owner of "Tulsi" restaurant, Shri Jatin Patel and members of his divine family.
Sri Swamiji flew to Chicago on 19th forenoon. Worshipful Swamiji is personally thankful to Sri Hemanth Swamiji, Mahant of Anoopam Mission, respected Kirtiben, Amisha, Jayendra Patel, Shri Kiranbhai, Bhanuben, and many more inmates of Shri Anoopam Mission, UK.
Most worshipful and revered Mrs. Yashoda and Dr. Snehal Amin of Sivananda Ashram Ahmedabad assisted Sri Swamiji Maharaj throughout the Yoga summer camp at Anoopam Mission Oxbridge. Sri Swamiji Maharaj is personally indebted for their general service and their kind gesture towards Sri Swami Sivanandaji Maharaj and his mission of Mankind.
USA Arrival - Chicago (August 19, 2008 )
Chicago: On August 19, 2008 Most worshipful & Revered Sri Swamiji Maharaj was received by Naik's at the airport and the holy abode at Oak Brook. A welcome Satsang was organized on the same evening at Sri Hindu Temple of Greater Chicago from 7.00pm-8:30 pm. Respected and worshipful President of the temple Sri Subramaniam Vemuriji welcomed Swamiji with a traditional Purna Kumbham and Sri Swamiji was led to the holy shrines of Shri Vinayaka, Shri Shiva, Shri Durga, Shri SitaRama, Shri Radha Krishna and Shri Balaji with the chants of Vedic lore, Purushasukta, etc. Weclome Satsang was organized in a grand centrally located auditorium of the temple. Upon the sincere request of sponsor of Shri Bhagvat Katha, Sri Swamiji Maharaj poured immemorable kirtan for an hour after welcome satsang.
Free morning Yoga, Pranayama and Meditation sessions were arranged at Hindu temple of Greater Chicago from Wednesday August 20th to Sunday Aug 24th from 6 am to 8 am very generously with coordination of Temple committee. Sri Swamiji Maharaj spared and shared a package of Pranayama, Flexibilities and some selected Asanas to get rid of or not to become victim of problems created by long time use of computer. Especially, exercise for fingers, wrists , scapula (shoulder joint), cervical spondilitis, hunch back pain, lumbo-sacral pain and dysfunction of lower range of spinal cord.
During his stay Sri Swamiji Maharaj was invited for house visits, bhiksha and satsang at a number of devotees' homes. Sri Swamiji's discourses were organized at Sri Aurobindo Center (Bhakti Yoga), Sri Jalaram temple (Japa Sadhana), Shri Swadhyay Parivar (Gita in Daily Life), Gilbert's (Glories of Nam Smaran), residence of Mrs. Hemalatha Patel (Yoga way of life), Skokie residence of Sangeeta and Hemanth Chandel (Lord Shri Krishna – Purna Avatara), Gayatri Mandir of Bhagini Kusumbai Patel (Glories of Lord Shri Krishna), at the residence of Smt Jayshree Tajporia (Forget and forgive), Gita Study Group (Daily Spiritual Sadhana) and Arya Samaj Mandir (Vedant Vichar in daily Living).
With special request of President and spiritual chairperson of Hindu Temple of Greater Chicago (HTGC), Sri Swamiji Maharaj joined for holy Shri Janmashtami festival celebration at HTGC from 10 pm to1 am. Swamiji's kirtan and discourses touched one and all those who joined for the grand immemorable feast. Sri Swamiji attended entire worship up to late hours of the night in the temple and retired practically next morning.
Sri Divya Jivan Sanskrutik Sangh, India and USA, Sivananda Ashram, Ahmedabad and particularly Sri Swami Adhyatmanandaji Maharaj are highly indebted and thankful to Smt. Minal & Sri Bharat Naik for their involvement and service towards Most Worshipful & Revered Guru Bhagvan Sri Swami Sivanandaji Maharaj and His Divine Mission to Mankind since more than12 years. It is for them only the entire Divya Tour 2008 now and earlier tours of US and Canada were organized because of their great efforts, sincere love, commitment, dedication and devotion towards the Most Worshipful and Revered Satgurudev Sri Swami Sivanandaji Maharaj and Pujya Sri Swami Adhyatmanandaji Maharaj. But in fact, they feel indebted to Pujya Sri Swami Adhyatmanandji Maharj to bring Holy Master Sri Swami Sivanandaji Maharaj & Guru Maharaj Sri Swami Chidanandaji Maharaj in their life. Ever since Swamiji Maharaj has brought them a life size photo of Holy Master and established His Living presence, it is HE who, organizes the Divya Tours, as per His Will, they feel. They joyfully witnesses HIS presence in every step of the way and have surrendered to His Will. They feel honored and privileged to get opportunity to be at His Holy FEET.
Milwaukee: Upon the sincere and earnest request of Smt. Aparna and Sri Hari Krishna Raghavacharlu, Sri Swami Adhyatmananda ji Maharaj visited Milwaukee from 24th August to 28th August. A welcome satsang was organized at their residence on Swamiji's arrival, which was followed by a grand Krishna Janma festivity at Hindu Temple of Wisconsin. The Krishna birthday festival and worship continued up to very late hours of August 24th. Sri Swamiji's heart-pouring singing and discourse from the holy text and song of God, Holy Bhagavata made all the devotees spell-bound. Of course a mini-India because here practically people of all languages were present. Swamiji sang the glory of the Lord in Hindi, Sanskrit, Telugu, Tamil and English too. A regular Yoga, Meditation camp with spiritual discourses were organized in these 3 days as a capsule course from 25th to 27th evening 6-8:30 pm at the Wisconsin Hindu temple. Devotees from far away came for Sri Swamiji's darshan at Sri Hari and Aparna's holy abode.
During his stay Sri Swamiji paid homage to the house where Most worshipful and revered Guru Bhagavan His Divine Holiness Sri Swami Chidanandaji Maharaj stayed in his first visit to United States in general and Milwaukee in particular. ("On 26th November 1959 Swamiji arrived at Milwaukee where he was warmly received by Mr. And Mrs. Coanda. On the arrival of this great Indian Yogi, Milwaukee Daily published the news that the spiritual ambassador of Sivananda had reached the States for propagation of Yoga and Vedanta" – from the book "Holy Stream" by Shri Sarath Chandra Behera). Sri Swami Chidanandaji Maharaj was here for two months and conducted various discourses as well as yoga, Meditation programs for the benefit of general public where hundreds of lovers of the Lord and seekers of Truth had worshipful Sri Swamiji's darshan and blessings.
Sri Swami Adhyatmananda ji Maharaj during his stay of Milwaukee visited Madison Hindu Temple also and of course was invited at devotees' houses to bless them for Satsang and lunch too.
During his spiritual discourses, Swamiji enlightend the audience on the topics of "Gita and Vedanta in daily life", "Science of Mantras and Japa Sadhana" and "True Goal of life and how to get there", as well as "Pranayam Sadhana for happy healthy and spiritual upliftment" at Madison.
Swamiji's exposure to Milwaukee temple simply astonished all devotees and guided one and all to the higher values of human life. At the same time he inspired all individuals towards spiritual upliftment. Entire program and visit of Milwaukee and Madison was organized planned and executed by very sincere and committed dedication of Smt. Aparna and Sri Hari Krishna Raghavacharlu. At the same time Divya Jivan Sanskrutik Sangh is thankful to the President Shri Kumud Prasad and Committee of Hindu Temple of Wisconsin and Dr. Nanda and Dr. Aggrawal of Spiritual Enrichment Program Milwaukee for sponsoring and hosting Sri Swamiji's 3-day Spiritual retreat.
New Jersey & Allentown: After Milwaukee program, Swamiji arrived at Philadelphia on August 28th where Sri Nick (Mahendra Karia) organized a Satsang for Sri Swamiji's welcome to this part of USA. Sri Swamiji Maharaj visited Sri Anoopam Mission USA on Saturday, 30th August for their evening Satsang, which was attended by a large number of devotees, where on behalf of Revered Shri Jasbai Saheb, Shri Jayeshbhai Shah and other devotees welcomed Sri Swamiji Maharaj. This was organized by courtesy of Smt Tejalben and Smt. Sonalben Shah, devotees of Shri Anoopam Mission at New Jersey.
Swamiji's presence at World Gujarat Conference organized by AIANA (Association of Indian Americans in North America) from 29th afternoon to 31st August was history in itself. Other than the main plenary session, Sri Swamiji Maharaj was moderator on August 30th at Shri K.M.Munshi hall on the subject of Call to the Youth and relevance of modern mind. Sri Swamiji was the speaker on two occasions on Sunday August 31st afternoon at Dr. Vikram Sarabhai Hall and Smt. Kasturba Gandhi Hall on the topics of (1) Need of spirituality in the 21st century and its proceedings from the cultural heritage of India and (2) Secrets of excellent health and protection from the doctors, hospitals and medical matters.
Whereas in this conference there were number of other speakers also like Dr. Sam Pitroda, Dr. Kamlesh Lulla, Dr. Haren Joshi, Dr. Manjul Joshipura, Dr. Amit Shah, Dr. Vijaya Desai, Sri Pankaj Udhas, Shri Subodh Saha, Nrs. Nisha Madhwani, Shri Praveen Seth, Sri Jay Gajjar, Sri Arun Bansali, Sri Minu Mathew, Sri Arvindbhai Shah, Mr. Devang Nanavati, Tejas Patel, Tirusha Dave, Ms. Preeti Sengupta, Jay Shah, R. D. Patel, Dr. Jayant Clerk, Ms. Panna Naik, Sonal Modi, Sister Chandru, Jay Merchant, Harry Shah, Sanjay Patel, Dinesh Gandhi, Jalendu Vaidya, Yogesh Joshi, Amit Shah, Bina Desai, Nipasha, Sri Sudhir Mankhad, Sri D.C. Anjaria, Ms. Sheetal Patel, Gary Pasricha, Dimple Trivedi and Arvind Shah on the different subjects of (1) use of technology as a bridge and Gujarat darshan from Antariksh. (2) Information and protection from Thalassemia (3) Gujarati Diaspora on a global canvas in Africa, America and Canada (4) Reconnecting with Vatan and NRG's contribution to humanitarian development of Gujarat (5) Fusion and confusion of Bi-cultural identities and also Women's empowerment is within you. (7) Vibrant Gujarat and what are the Financial and growth plans for Gujarat. (8) How can you invest and profit from these growth plans (9) How to be successful entrepreneur?
Other than this, a grand galaxy of singers, poets and worthy men of literature from Gujarat in particular and Mumbai as well as USA in general added on the conference.
Latest Additions.........

Please subscribe to Divyajivan Mailing List. We will update you with new uploads of spiritual literature on the web of Holy Master Sri Swami Sivanandaji Maharaj, saints of his lineage and other saints. We will also update you about the Sivananda Ashram, Ahmedabad website and facilitate communication with Sri Swami Adhyatmanandaji Maharaj.

Please enter your email address and click Subscribe button
To manage your subscription, please visit Subscription Page. You can also subscribe and unsubscribe from this page. You may unsubscribe by yourself anytime you wish. You will be required to send confirmation link that you will get in your e-mail to complete this subscription.

[ Home ] [ News ] [ Upcoming Events ] [ What's New? ] [ Services ] [ Swami Adhyatmananda ] [ Multimedia ] [ Publications ] [ Administration ] [Saints & Sages] [ Photo Gallery ] [ Contact ] [ Guestbook ] [ Important Links ]

Webmaster: webmaster@divyajivan.org