News and Activity Report
June - 2002
Anniversary of Sannyasa Diksha of Sri Gurudev
On the 1st June 1924, His Holiness Sri Swami Sivanandaji Maharaj entered the holy order of Sannyasa and was initiated on the lonely bank of Ganga in Rishikesh. This was indeed a memorable occasion for the devotees of the Holy Master. This sacred occasion was observed at the Headquarters of the Gujarat Divya Jivan Sangh and at the Divya Jivan Sanskrutik Sangh, Sivananda Ashram, Ahmedabad on the 1st June 2002 with a special function.
The programme included Sankirtan, Bhajan, Prayer and special worship. Sri Swami Adhyatmanandaji spoke on the occasion and described the picturesque life of Sri Gurudev as he heard, and also experienced by personal observation with many direct disciple of Sri Gurudev Swami Sivanandaji Maharaj. Sri Gurudev's life was indeed a life of exemplary austerity (Tapas), charity and compassion. In his speech, Swamiji classified the history of the Divine Life Society into four chapters: the period of germination, from the year 1924 to 1935; that of severe discipline, from 1936 to 1942; of expansion, from 1943 to 1963; and the work of society from 1963 onwards. Sri Gurudev was an embodiment of Self-control, heightened consciousness and unlimited charity. He brought spiritual realization and social service together into a single focus leading to the growth of the soul to Godhead.
Sannyasa Diksha Ceremony
There was Yajna and 'Viraja homam' for two candidates for Sannyasa Diksha of Respected Godavariben Ratani of Bhabhar (Banaskantha, Gujarat) and Sri Punjabhai Patel of Ramnagar-Kampa (Khedbrahma, North Gujarat). Traditionally Sannyasa Diksha was performed at Sri Dholeshwar Mahadev (Shiv Temple) of Sri NIRANJANI AKHARA on the holy bank of the river Sabarmati. Yogapat (monastic name) of Mother Godavariben Ratani's is now Sri Swami Gangananda Saraswati and that of Sri Punjabhai Patel is Sri Swami Gurukrupananda Saraswati. Virja homam and Pinda-dan kriya were performed at ashram's holy Sri Vishwanath Temple's Yajnashala at Sivananda Ashram, Ahmedabad.
Visit to Delhi, Jalandhar and Luthiana
Rev. Sri Swami Adhyatmanandaji Maharaj had a quick tour of Delhi, Jalandhar and Ludhiana (Punjab). At Jalandhar- On Sunday June 9th Sri Devendra Aroraji was awarded "Yoga Prachar Ratna" by Pujya Sri Swami Adhyatmanandaji, President, Divya Jivan Sanskrutik Sangh, Sivananda Ashram, Ahmedabad. By praising the Yoga Prachar work of Sri Devendraji, Swamiji said, he had also taught the Yoga to the deaf, dumb and mentally retarded people. For last eighteen years he had conducted series of Yoga camps throughout India and also through Door Darsan Television Programmes in Punjabi for its international channel. He specially arranged yoga camps for the workers of Singneari Coal Mines, Andhra Pradesh. This function had been arranged in the Park behind the Model Town Gurudwara in which Sri Vijay Chopraji, President of Hind Samachar group and Principal Editor of PUNJAB-KESHRI Daily Hindi, lighted the lamp. On this occasion Swami Adhyatmanandaji gave discourse "Stress management through Yoga", in which Swamiji mentioned that root cause of stress is mind. If we practice Yogasana, Pranayama and Dhyana everyday, we can get rid of stress from our life. Sri Surendra Seth, a well known orator and PDG. Rotary conducted the function. During thanks giving instead of Garlands or flower bouquet, green plants and saplings with colourful pots were presented to the all august guests and speakers by organizers.
On Monday June 10th early morning Rev. Sri Swamiji Maharaj addressed a large gathering at Arya Samaj, upon the theme of Meditation, it's theory and practice. Rev. Sri Swamiji Maharaj was invited for a valedictory function of 'Man making programme' organized at D.A.V. Police Public School. Later on All India Radio, recorded Sri Swamiji's interview upon "Problems of the youth and Yoga". In the evening Rev. Swamiji addressed Rotary-mid town club, then he left for Ludhiana.
On 11th and 12th morning and 11th night at famous 'Rakh Bagh' Rev. Swamiji Maharaj delivered three discourses upon" Yoga way of life".

Visit to Mumbai and Rajkot
June 28th Rev. Sri Swamiji Maharaj was invited at the office of the Accountant General (Mumbai- Maharstra). Mr. Bhavesh Ranjan Mandalji Accountant general, introduced Sri Swamiji Maharaj and told that he was fortunate to learn the Science of Yoga from Sri Swamiji during his training period at Sri Lal Bahadur Shastri National Academy of Administration, Mussoorie in the year 1975. Yoga Certificates were awarded to all the participants of yoga training those who had training from Mr. Mandalji during last one year. Sri Swamiji addressed two different gatherings in Mumbai and he also had recording at All India Radio, Mumbai.
June 29th and 30th Sri Swamiji Maharaj had a few other speaking engagements at Rajkot Divine Life Society as well as Gita Vidyalaya Rajkot. Rev. Swamiji visited and graced houses of number of devotees as well as addressed two public meetings at the school where Pujya Bapuji, Sri Mahatma Gandhiji had his preliminary education. This institution is known as Rastriya Shala. Medical Association Rajkot also invited Rev. Sri Swami Adhyatmanandaji Maharaj for a discourse. Sri Swamiji inaugurated Medical Camp for general public as well as distributed household items for rehabilitation of a number of leprosy patients.
Swamiji Maharaj arrived back to Ahmedabad, Sivananda Ashram in the silent night of 30th June.
Other Activities
· During this month two Satsangs were organized at the houses of the devotees.
· Meetings of the trustees, management committee and General Body meetings of the ashram were organized in this month and during all these meetings whole heartedly all the three houses unanimously decided new members of the board as well as that of working committee.
· Worship Services at Sri Lord Vishwanath Temple-This month fifty-five special worships and two Rudripaths were performed.
· Grains of 595 kilogram were distributed to thirty-seven needy families through Sri Vishwanath Seva Kendra.
1. Geeta Navaneetum by Sri Swami Adhyatmananda (Gujarati)
.
Preface - Swami Adhyatmananda
Forward by Sri Dr. Kishorbhai S. Dave (President, Sri Sadhana Mandir - Jamanagar)
2. Anteem Yatra, Gujarati Translation of the booklet "Ultimate Journey" published during the 2nd Global International Divine life Society Conference at Cuttack, Orissa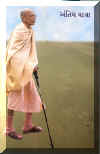 3. Adhyatmano Anand – Collection of letters of Sri Swami Adhyatmanandaji to Antani Family during the incurable sickness of their son. Many many thanks to Antani family for sharing their personal treasure in the form of compiling the book for benefit of sick and suffering.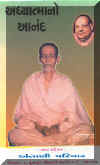 Latest Additions.........

Please subscribe to Divyajivan Mailing List. We will update you with new uploads of spiritual literature on the web of Holy Master Sri Swami Sivanandaji Maharaj, saints of his lineage and other saints. We will also update you about the Sivananda Ashram, Ahmedabad website and facilitate communication with Sri Swami Adhyatmanandaji Maharaj.

Please enter your email address and click Subscribe button
To manage your subscription, please visit Subscription Page. You can also subscribe and unsubscribe from this page. You may unsubscribe by yourself anytime you wish. You will be required to send confirmation link that you will get in your e-mail to complete this subscription.

[ Home ] [ News ] [ Upcoming Events ] [ What's New? ] [ Services ] [ Swami Adhyatmananda ] [ Multimedia ] [ Publications ] [ Administration ] [Saints & Sages] [ Photo Gallery ] [ Contact ] [ Guestbook ] [ Important Links ]

Webmaster: webmaster@divyajivan.org