News and Activity Report (October 2008)
Sivananda Ashram, Ahmedabad
Sivananda Ashram has been awarded a "Silver Star achiever blood donation institution" by Indian Red Cross Society, Ahmedabad. Honor goes to H. H. Sri Swami Adhyatmanandaji Maharaj who is the Back Bone and an Inspirer of this life saving activity. Swamiji, himself is an centurion blood donor (donated 117th times). Swamiji is on His Divya Tour to the West at present. In absence of Swamiji, the award was received by Ashram's Vice President and Trustee Sri Arun Oza and Secretary Smt. Poonam Thawani on Oct 1, 2008 on a special day " All India Voluntary Blood Function day" designated by Indian Red Cross Society. The function was held at Tagore Hall in august presence of H. E. Governor of Gujarat, Pandit Sri Nawal Kishore Sharmaji.

Indian Red Cross felicitated Sivananda Ashram, Ahmedabad
for organizing blood donation camps
"Navaratri"-Worship of God as a Mother (Sept 30, 2008 - Oct 9, 2008): Navaratri is traditionally time for Devi worship, a period of introspection and purification. It was an intense Sadhana time at the ashram during nine days of Navaratri. Many Sadhaks with residential Swamis' of the Ashram engaged in Devi worships. Each day early morning prayers & worship services offered to Sri Sri Sri Maa Aadi Shakti at Sri Sri Sri Maa Ashta Laxmi Bhawan by Pandit Sri Kamlesh Kumar Jha. Also Srimad Bhagavad Gita Parayan and Shree Durga Saptsati (Chandi Path) was organized where a great number of devotees participated as a part of the Navaratri Sadhna. Durga Saptashati is Devi Mahatmaya of seven hundred Mantras, considered very potent. It forms a part of the Markandeya Purana, one of the 18 important puranas of Hinduism. On Ashtami day, about two hundred Kanyas-Batuks were worshipped in Sri Ashta Laxmi Bhawan and were served with Prasad of , fruits, sweets, toys, biscuits, dakshina, saree etc. All children with their parents also were served Maha Prasad.
Ashtalaxmi Darshan - Navaratri Ashtami Yajana & Kanya-Batuk Pujan
Nights were rejoiced in the worship of Mother Durga in the form of traditional garba and dandia-ras through all nine days of Navratri. Sri Manish Majmudar and Smt. Pramaben Mankodi added a great flavor through their melodious singing and made the whole atmosphere vibrating. Several hundred devotees used to play garbas daily, some days it passed to thousands as other groups joined too, namely Soni Mahila Mandal, Samast Nagar Sankalan Samittee, Ahmedabad organized garba and more than thousand people participated in the Devi worship to Mother Jagdamba . Also about three hundred Senior Citizens from various Old Age Homes were arranged to be brought in this joyous festivity. Singer & devotee couple Sri Jayesh Nayak and Smt. Seema Trivedi along with their orchestra group provided vibrant rhythm for garbas for the crowd of about three thousand young & old all together. Sharad Poornima festival was celebrated once again with garba singing by Smt. Mayurikaben Oza.
Deepavali Blessings from H. H. Sri Swami Adhyatmanandaji Maharaj
Radiant Immortal Divinities! Most Beloved and Blessed Self
Hari Om! Om Namo Narayanaya!
Happy Diwali !

May this holy festival of Sri Sri Laxmipuja and Happy New Year bring you all inner satisfaction of the life.
May God-Gurudev bless you all with excellent health, long life, peace, joy, and illumination.
Diwali is the festivity of mutual love, mutual affection, and mutual reverence.
May we all rejoice harmony with the Self, with all the members of our family, and world at large.
My sincere prayer for the equilibrium of the global economy. May we see and experience balance again at earliest possible.

Victory be to Thee! Glory be to Thee! Peace be to Thee!
Jai Sivananda ! Glory to Swami Chidananda!
With lots of love and prayers for peace absolute,
Thy Own Self,
Swami Adhyatmananda
(Calgary, Canada Oct 24, 2008)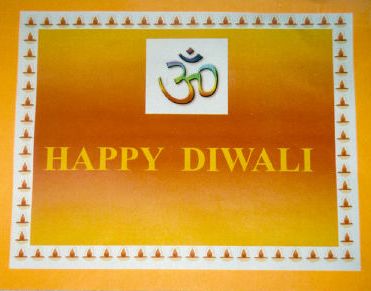 Laxmi Pujan & Deepavali Annkoot Darshan. (Oct 26, 2008 & Oct 28, 2008)
Sri Sri Sri Ashta Laxmi Bhavan and Ashram is getting decorated with lighting, rangoli, pushpamalla for upcoming Diwali celebrations. Devotees are busy preparing various food varieties for a grand Annakoot offering to Maa Shree Ashtalaxmi on Diwali day which marks the culmination of Diwali festival. On Dhanteras day (Oct 26th), a large number of devotees will be joining a group Yantra Pooja at Sri Sri Sri Maa Ashta Laxmi Bhawan. On the occasion of Golden Jubilee Celebration 'Shree Lunawada Nagar Mandal has organized to perform fifty one Kundi Gayatri Yajna on Oct 26th at the Ashram. On Diwali day (Oct 28th), Ashram is expecting several thousand people for Annakoot darshan and to receive the Lord's Blessings. It is a great time, a time to rejoice in the Lord, Thanks Giving time for one and all, Young and Old.
The Karmayoga in real sense begins after Diwali Annakoot, as all type of sweets, snacks, chocolates, cakes, fruits, offered to Maa gets packed up nicely in small packages by devotees during the night at the ashram to be distributed on next day, a New Year day to thousands of Daridranarayanas in slum area of the city.
Diwali Annkoot Darshan
(Post Script - photo inserted on Oct 29,2008)
News from Siva Yoga Center
Upcoming Yoga Teachers Training Course (YTTC) Dec 11, 2008 - Dec 30, 2008. Enhance your skill in Yoga, be a teacher and spread the knowledge to others.You can accomplish all that by systemically learning from a Master. Join YTTC at Sivananda Ashram, Ahmedabad. During your stay at the Ashram, you will be provided a comfortable room and yogic diet ( three meals / day). Ashram's holy atmosphere is ideal for enhancing your spiritual growth as well as the skill in the field of science of Yoga. On completion of three weeks residential YTTC and successfully passing the test including theory and practical, the graduate will receive a diploma certificate recognized by Gujarat University and will be able to teach Yogasana and pranayama to others.The donation for the course is Rs. 6000.00/ $ 200.
As always, during the month of October services provided through Reiki sessions, Yoga treatment , Acupressure treatment, Homeopathy clinic to the sick & needy.
Feeding to poor and Grain distribution to needy families were done in the month of October. Also ashram conducted regular prayers for peace, harmony and prosperity of the mankind.
Pujya Swami Adhyatmanandaji Maharaj's "Divya Tour 2008" Concludes in USA............................
Rome, Atlanta ( Sept 24, 2008 - Oct 29, 2008)
After morning worship and prayers on auspicious holy birthday of H. H Sri Swami Chidanandaji Maharaj on 24th September from Bloomington Indiana, Pujya Sri Swami Adhyatmandaji Maharaj arrived at Atlanta airport by late noon. Sri Ravi Ponanagi (editor, India tribune, Atlanta) and Sri Jekishan Patel received Sri Swamiji Maharaj and drove Him to Rome, Georgia.
At Sri Ram Mandir, Sri Swamiji's Spiritual discourses in the evening were organized from September 24th to Sept 28th evening. Sri Swamiji spoke elaborately on Spiritual Sadhana – Shiv Sadhana, Gyatri Mantra Sadhana, Mrutyunjaya Mantra Sadhana and Sadhana from the life and teachings of Sri Rama and Sri Krishna. From Sept 25th to Sept 29th Sri Swamiji conducted in the morning Yoga, Pranayam and Meditation classes. Devotees came to attend this program from far & wide. During His stay at Rome, Sri Swamiji visited Atlanta and had satang at the Global Mall of Mr. Shiv Gupta. A satsang with senior citizens was organized in a very large cafe area was a grand one. Swamiji with His ever charming personality brought joy & vigor to all. Also, Sri Swamiji visited newly constructed Sri Swaminarayan temple of famous BAP's organization.
Thanks to Sri Jekishanbhai and members of his divine family and Sri Ravi Poonangiji for organizing Sri Swamiji's visit to Atlanta, Georgia.On his way to Tampa Florida Sri Swamiji again visited Rome upon a very special request of Sri Jekishanbhai's revered mother to receive Pujya Swamiji's Blessings once again. She will be completing her life's sojourn of 100 year on February 18, 2009.
Charlotte, North Carolina (Sept 29, 2008 - Oct 1, 2008)
Upon sincere and loving invitation of Smt. Bhavani Sarkar, Sri Swamiji arrived at Charlotte on Sept 29th. It was a Navaratri worship time. During His stay at Charlotte, Swamiji conducted Durga pooja, Sri Satyanaryan pooja and satsang at various devotees' homes. Charlotte Indian association was to unveil the statue of Pujya Mahatama Gandhiji on Sunday, Oct 5th. But as, October 2nd happened to be Revered Gandhi Bapuji's actual birth date , before leaving charlotte Sri Swami Adhyatmandaji Maharaj worshiped Bapuji and conducted all religion prayer, which gave him heart content of peace & joy, because each year Swamiji leads all religion prayers at Gandhi Ashram, Sabaramati (Ahmedabad).
Birmingham (Alabama) (Oct 2, 2008- Oct 5, 2008)
" I had the wonderful pleasure of attending the yoga class conducted by Swami Adhyatmanada at the Hindu Temple & Cultural Center in Pelham. I practice yoga on a regular basis in the Birmingham (Alabama) area and getting to the opportunity to take a yoga class instructed by Swami Adhyatmanadaji has been one of the high points to this date. It had to describe in words but this will offer some insight. It was a wonderfully exhilarating, invigorating, and spiritually uplifting experience. WOW!" - Paul Wolff
Thanks to Sri Indra Soni, who was inspired for organizing Pujya Swamiji's Yoga & spiritual program at Hindu Temple of Pelham, Birmingham. Also, the executive committee welcomed and supported Swamiji's program, Yoga classes & evening discourses from Oct 2nd to Oct 5th. The Birmingham leading news paper interviewed Swamiji and brought out three full pages article, all about culture and heritage of India, idol worship, Navaratri, yoga etc…
Sri Indra Soni & his family felt blessed to get opportunity to host Pujya Swamiji Maharaj.
Tampa, Florida (Oct 6, 2008 – Oct 10, 2008)
Smt Rashmi & Sri Ram Jakhotiaji organized Sri Swami Adhyatmandaji Maharaj's program at Tampa. Sri Swamiji's yoga learning workshops were organized at India cultural Center. Sri Swamiji attended holy Durga pooja at Hindu temple also and visited devotees there and blessed them, upon their requests. Many thanks to Sri Ram Jakhotiaji for hosting and organizing Tampa program.
Corpus Christi (Texas) (Oct 10, 2008 – Oct 13, 2008)
Mrs. Bhakti Nadkarmi and Ms. Neela Patel organized Sri Swami Addyatmanandji's Corpus Christi visit. At Sri Vyanktesh Temple Sri Swamiji conducted yoga seminar in the morning and Spiritual discourses in the evening. Also group Satyanarayna pooja was performed in holy presence of Sri Swamiji Maharaj.
Sri Swamiji paid homage and went for holy darshan of Rev. Maniba (wife of late Sri Rambhai Patel). This family is blessed indeed, as they were fortunate to host H. H Sri Swami Chidanandaji Maharaj at corpus as well at London many times in the past.
Sri Swamiji and Divya Jivan Sanskurtik sang is highly indebted to Mrs. Bhakti and Mr. Govind Nandarki for their very generous and extra ordinary services to the Sivananda Ashram, Ahmeadabad. May almighty Lord and Sri Gurudev's grace be ever upon both of them and all the members of their divine family.
Ruidoso (New Mexico) (Oct 13, 2008 - Oct 15, 2008)
"Jai Shree Krishna! On Oct 13th I received Pujya Swamiji at Albuquerque airport. His flight arrived early, but I was already there. We drove about three & half hours to Ruidoso, during whole way back, I had a wonderful satsang with Swamiji and it was such a blessing for me. We had a wonderful class last night with almost thirty advanced Yoga students. We all welcomed Swamiji and presented Him with two garlands. And one student, Elliot Topper has offered to play sitar for Swamiji So, we will have short sitar concert on Oct 14th night after Swamiji's class. It was raining here & there might be snow on the mountains."

" Jai Shree Krishna! On Oct 14th, we had another wonderful day. We had yoga class in the morning and the second yoga class at night, with over thirty people. We also had a short sitar concert by candlelight. Swamiji had us sit in meditation and sink into the music. And as Swamiji said, we went into the Self, beyond cause and effect. I am so blessed to have him here. I am soaking up his presence and I feel so full. And I am happy to see my students having the same experience." ...........Myra Romero (Yoga Teacher)

Ruidoso is 7000 feet from sea level. Yogacharaya Mrs. Myra Romero invited Swami Addyatanadaji Maharaj second time to Ruidoso. Swamiji stayed in the town of mountains. Mrs. Myra's yoga students enjoyed and relished respected Sri Swamiji's presence teachings and guidance in meditation. Sri Swamiji guided candle light meditation, where Ellioot Topper played Sitar and brought a special fervor into already charged atmosphere filled with Divine vibrations.
Thanks to Mrs.Manjuben and Sri Hashmukhbhai for hosting Sri Swamiji maharaj and serve him with lots of love and reverence. God bless them all. Jai Sri Krishna
Tucson (Arizona) Oct 15, 2008 – Oct 17, 2008)
Honoring loving and pending (long standing) invitation by Smt. Neelam and Dr Gulshan Shetty, Sri Swami Adhyatmanandaji Maharaj visited Tucson the land of characters. Sri Swamiji's discourses on the subjects of "Gita in daily life" and "How to Bridge the gap between Science and Religion", were received applause by entire medical community of Tucson medical center.
Sri Swamiji was at Tucson during one of the best weather and best full moon day (Sharad Purnima) of the year. Sky was pure blue, Stars were shining with their all effulgence, temperature was just enchanting. Smt. Neelamji organized all together four function with great care and meticulous decoration of flowers; fauna and traditional custom. It was simply remarkable. Both days after Swamiji's discourses Dinner was served to all the guests.
Upon request of medical authorities, Sri Swamiji Maharaj visited new born nursery; especially those who were born very critically ill and prayed for them in the department as well in public meeting also.
One yoga workshop was conducted in the lawn and garden of Mrs. Peggy the regular host of H. H Sri Dalai Lama; and other workshop was conducted in the parking lot of Tucson medical centre to incorporate maximum number of yoga lovers. Thanks to Dr Gulshan and Mrs Neelam for their wonderful coordination and cooperation. God bless them all
Bakersfield (California) (Oct 17, 2008 –Oct 18, 2008)
On Oct 17,2008 from Tucson, Sri Swami Adhyatmandaji Maharaj arrived to Bakersfield at late night. Sri & Smt. Ashok Bhatt and Smt & Sri. Satish Desai organized Sri Swamij's visit and programs at Bakersfield. On Saturday, Oct 18th, Yoga &Meditation workshop was organized from 9.00am- 12.00 am at "Gokul", Chianmay Mission. Evening satsang was organized at Mrs.Varsha and Mr. Satish Desai's holy abode. In the afternoon Sri Swamiji visited Sri Ashok & Smt. Sudha Bhatt's home and blessed them. At late night Sri Swamiji were driven to Los Angles.
Los Angeles (California) (Oct 19, 2008 -Oct 21, 2008)
On Oct 18, 2008 Swamiji arrived at late night to the abode of Sri Vinod Rana & Smt. Kalpana Rana, a sincere devotee couple who has been organizing LA program and hosting Swamiji Maharaj during all Swamiji's Tours to USA. On Sunday, Oct 19th Sri Swamiji Maharaj visited newly constructed Haveli of BAP's organization. Sri Swamiji visited the site of temple under construction also. Most worshipful and revered Swami Sarvedarshanji Maharaj took round of entire coming of Mandir of BAP'S. Rev. Swami Sarvedarshan honored Swami Adhyatmanda with garland and Prasad, gift etc. Sri Swamiji had a glance of health care fair also before He left to attend Satsang at Sri Laxminarayan Temple.
At Sri Laxminarayan Temple Dr. Archana and Sri Akshayeji organized Sri Swamiji's discourse on the topic of Deepavali and Sri Laxmi Pooja, worship of Goddess of wealth. A grand publicity was done and hence the satsang Hall crowded. Satsang was followed by traditional Indian meal. Before proceeding for Hindu temples satsang Sri Swamiji visited Dr. Archana and Sri Akshayeji's blessed holy abode upon their sincere wish.
Evening satsang at Hindu Vally Temple was organized and planned very meticulously by Smt. Shaila Mehta & Dr. Surekha Vashi.Sri Swamiji spoke here on length on the subject of "Yoga in daily life" as well moderate diet for healthy living. Satsang was followed with grand dinner. Sri Pranav Desai, who was blessed by Pujya Swamiji Maharaj on his wedding two years ago, took charge of sale & distribution counter of Spiritual materials and offered a wonderful seva.
On Oct 20, 2008 Sri Swamiji Mahraj visited number of devotees home and blessed them. In the evening, Swamiji had wonderful satsang with Sri Shankracharya of Bhanupura Peeth (MP India), Srimat Divyananda Tirthji Maharaj at Sri Radha Krishna Temple Norwalk. Next day, Oct 21st Sri Swamiji left for Calgary early in the morning.
Calgary(Canada) (Oct 22, 2008 - Oct 28, 2008)
Sri Swami Adhyatmanadaji Maharaj's yoga learning and Meditation workshop were organized at Hindu Society of Calgary. During his stay, Sri Swami was invited to grace number of devotees home also. Smt. Jyoti and Sri Muni Bir's family were blessed with Swamiji's stay at their holy abode. Mr. Salil Nanda of the Calgary University with the courtesy of Hindu society of Calgary organized Sri Swamiji's Calgary visit.
Manitoba, Winnipeg (Canada) (Oct 28, 2008 - Nov 6, 2008)
Devotees at Manitoba, Winnipeg (Canada) will be fortunate to have Pujya Swamiji's holy presence during Joyous Deepavali festival. That is because of having sincere wish of Blessed Sri Surenbhai Mehta. They have planned for group Laxmi pujan & Deepavali dinner in august presence of Beloved Swamiji Maharaj. Also Morning Yoga & Spiritual discourses in the evening have been organized from Oct 28, 2008 to –Nov 6, 2008.
Swamiji 's "Divya Tour 2008" will conclude here in USA on Nov 14, 2008 and Swamiji will have one week stay in UK to be back to Holy Sivananda Ashram, Ahmedabad on Nov 22, 2008.
Sivananda Ashram, Ahmedabad is an organization established to disseminate message and wisdom teachings of Holy Master Sri Swami Sivanandaji Maharaj. It is managed by Sri Divya Jivan Sanskrutik Sangh. Brahmlin Sri Swami Pavitranandaji Maharaj, before sanyasa known as Sri Laxmikant Dave, had aspired to bring up an Ashram in Ahmedabad. He incessantly worked to acquire four acres of land, on which the ashram is established today, from government of Gujarat. Today the Ashram is well known for its multifaceted educational, socio-religious and spiritual activities.
Swami Sri Adhyatmanandaji Maharaj is the current Spiritual head of the ashram and under His leadership and Guidence, the ashram has blossomed into a marvelous spiritual and cultural center. People from all over the world have been highly impressed and inspired by his spiritual aura, charming multifaceted personality, boundless enthusiasm and unique efficiency. He is much sought after speaker and a spiritual preceptor over the Globe, East & West.
The organizers of His "Divya Tour 2008" feel highly honored & grateful to Swamiji Maharaj to grant the request of visit here in the West this summer for the benefits of people in the West.
Latest Additions.........

Please subscribe to Divyajivan Mailing List. We will update you with new uploads of spiritual literature on the web of Holy Master Sri Swami Sivanandaji Maharaj, saints of his lineage and other saints. We will also update you about the Sivananda Ashram, Ahmedabad website and facilitate communication with Sri Swami Adhyatmanandaji Maharaj.

Please enter your email address and click Subscribe button
To manage your subscription, please visit Subscription Page. You can also subscribe and unsubscribe from this page. You may unsubscribe by yourself anytime you wish. You will be required to send confirmation link that you will get in your e-mail to complete this subscription.

[ Home ] [ News ] [ Upcoming Events ] [ What's New? ] [ Services ] [ Swami Adhyatmananda ] [ Multimedia ] [ Publications ] [ Administration ] [Saints & Sages] [ Photo Gallery ] [ Contact ] [ Guestbook ] [ Important Links ]

Webmaster: webmaster@divyajivan.org