News and Activity Report (April 2008)
Sivananda Ashram, Ahmedabad
Entire month of April 2008 was a spiritual feast for devotees at Sivananda Ashram, Ahmedabad. One after another holy satsangs kept on refreshing devotees with cool & peaceful breeze of Divine even in hot scorching days of April .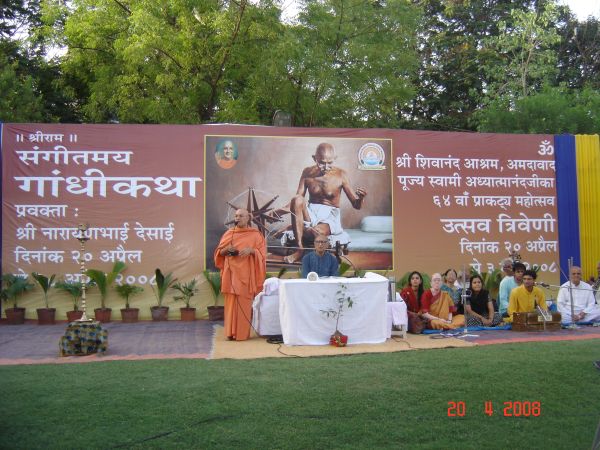 Utsav Triveni - follow up
Srimad Bhagvat Katha (April 5, 2008- April 12, 2008) A week long Srimad Bhagvat Saptah was organized at holy Sri Ashtalaxmi Bhavan. To listen to Srimad Bhagvata Katha itself is a great fortune and that too, from H. H. Sri Swami Adhyatmanandaji Maharaj is indeed a spiritual feast for a blessed soul. Holy Sri Bhagavat Saptah began with a colorful procession, called Shobha Yatra with Sri Lalaji (cute little Baby Krishna) with hundreds of devotees rejoicing and dancing Hari Nam Sankirtan. All the devotees had a wonderful experience listening to the glories of the Lord Sri Krishna. Concluding of Bhagvat Katha was also great with Mahaprasad serve to all.
Sri Ramjanmotsav (April 14, 2008) Twenty four hours Akhand Ramcharitramans Parayana was held from 9.30am on April 13, 2008 to 9.30am April 14, 2008. That culminated in grand Havan & prasad on Sri Ramnavami day. About three hundred devotees participated in this sacred festivity.
Hanuman Jayanti (April 20, 2008). A Maruti Yajana was performed on Hunuman Jayanti day (April l2, 2008) at the Ashram.
Gandhi Katha (April 20, 2008 - April 28, 2008) It was a unique & thrilling experience for one and all, who were fortunate to listen to "Gandhi Katha", life of a GOD MAN, Mahatma Gandhiji by Sri Narayan Desai of "Sampurna Kranti Vidyalaya" at village Vedchhi. Sri Narayan Desai is a son of late Sri Mahadev Desai, who was the personal secretary of Revered Mahatma Gandhiji. Sri Naryanbhai, now 87 years old has many sweet childhood memories of being in company of Pujya Bapuji, even had played in his lap. He was fortunate to get opportunity to serve Gandhiji up to twenty seven years of his age. Narration of Gandhi katha was simply beautiful and full of his personal experiences. He brought it out in such a manner that each one, who attended these discourses experienced very nearness to Gandhiji for all nine days.
H. E Governor of Gujarat at Sivananda Ashram, Ahmedabad
concluding of Gandhi Katha by Sri Narayanbhai Desai
The Gandhi festivity continued for nine days and concluded on April 28, 2008. The concluding session describing Mahatma Gandhiji's assassination was very emotional and made every one shade tears. H. E. Governor of Gujarat Pandit Sri Nawal Kishor Sharmaji graced the concluding session. He honored Sri Narayanbhai Desai with the title of "Gandhi Prachar Ratna". Sri Narayanbhai Desai is presently a vice-chancellor of Gujarat Vidhyapeeth, established by Pujya Mahatma Gandhiji. He was also honored a prestigious "Murtidevi" award for his great work 'My Life Is My Message'.
The highlight of the evening was honoring and awarding a few select group of individuals by H. E. Governor of Gujarat Sri Sharmaji for their selfless services dedicated to humanity. Fortunate and blessed such awardees were,1)Sri Narayanbhai Desai was honored a title of "Gandhi Prachar Ratna".2) Sri Mahendra Shoroff, president The Divine Life Society, Bharuch branch was awarded for his medical services, blood banks, eye banks for tribe's of Bharuch district. He is engaged in this noble service since last three decades. He was honored with title of "Seva Ratna"3) Sri Nandan Mehta, founder of Saptak, Institute of Indian classical music teaching and very reputed Tabla maestro. He was honored with the title "Sangeet Ratna Chudamani". He has been awarded by Bharatiya Sangeet Academy a title of "Gujarat Gaurav" also. 4) Gujarat Divya Jivan Sangh, Sivananda Ashram and H. E. Governor of Gujarat had a great pleasure to honor Master Sufiyan Mohsin Seikh (17 years), who had great courage to swim nine oceans around the globe including English Channel.
Sri Mishraji said that these awards and honors presentation to the deserving personalities by Sivananda Ashram is simply wonderful service, to inspire many more citizen to serve the nation with pure character, truth and non violence.
7th Sri Ashtalaxmi Bhavan & Sri Chidananda Dhyana Mandir Patotsav (April 29, 2008)
7th Patotsav of holy Sri Sri Sri Ashta Lakshmi Bhavan & Sri Chidananda Dhyana Mandir at Sivananda ashram was celebrated by group "Sri Yantra" Pooja at early dawn at the holy shrine. Holy Navchandi Havan was performed from early forenoon to late afternoon. Concluding oblation was performed by H. H. Sri Swami Adhyatmanandaji Maharaj. Maha Aarati at the holy shrine concluded the entire day grand worship. Mahaprasad was served to hundreds of devotees.
Pandit Sri Krishna Kant Parikh and his divine family's other member Pandit Vikas and Pandit Matang's vocal devotional music at Sri Sri Sri Ashta Lakshmi Bhavan at night from 9.30pm to 12 mid-night received applause from the audience. People from all over India participated in this sacred festivity. From the beginning of the festival, everyday early morning prayers from 5.30 to 6.30am, Mantra Japa from 9.00 to 11.00 in chorus and afternoon satsang through video film with Sri Sadgurudev Swami Chidanandaji Maharaj brought a special fervor to devotees.
Sri Ram Katha - Pandit Ajay Yajnikji (Delhi) commenced Sri Ram Katha from April 30, 2008 evening onwards which will continue till May 3, 2008 mid night.
Regular activities at the ashram Prayers, Reiki sessions, acupressure, Yoga Teaching, service to poor & sick, Worship services at the temple, Sunderkand Parayan, Sri Satya Narayan Pooja, Paduka Poojan continued as usual throughout the month.
Tours & program of H. H. Sri Swami Adhyatmanandaji Maharaj during the month of April 2008
Jamnagar -On April 13, 2008, holy Vaisakhi day H. H. Sri Swami Adhyatmanandaji Maharaj visited Jamnagar for a special ceremony of laying the foundation stone for 'Swar Ganga", institute of Indian classical music, dancing, painting and other fine arts. Sri Swamiji remembered Pandit Adityaramji and Pandit Baldev Bhattji, who were great musician, vocalist and instrumental maestro of the Jamnagar on this occasion.
Virnagar- Revered Sri Swami Adhyatmanandji Maharaj, accompanied by Sri Swami Narayan Swaroopanandaji Maharaj and Dr. Amish Kshatriya paid homage to the holy Samadhi Shrine of Brahmleen Sri Swami Yajnavalkyanandaji Maharaj (Sivananda Adhvaryooji). They visited Pujya Bapuji's Smriti Mandir, a Memorial Museum also. They were given very cordial welcome by Rev. Sri Pranbhai Mehta, Dr. Verma (CMO) and other chief executives of the Sivananda parivar, Virnagar.
Bhavnagar - Honoring invitation of Dr. Naren Joshi, president of Divine Life Society, Amerli. Revered Sri Swamiji Maharaj visited Bhavnagar for laying the foundation stone of his "Chidambaram". Sri Vidya Upsak Mandal organised a function were one hundred learned Vidya Upasak (Spiritual Seekers of Tantra) were honoured by worthy hands of Sri Swami Maharaj. He enlightened them with his words of wisdom.
Sarangpur - On the eve of happy birthday of Sri Sriji Maharaj, Bhagavan Sri Swami Narayan, Sri Swami Adhyatmanandaji and his team paid homage to H. H. Sri Pramukh Swamiji Maharaj on April 13, 2008 night. All felt Blessed to attend this sacred occasion.
Delhi - April 14, 2008 on holy Sri Ram Navami day a special satsang was organized by Tondon's family in holy presence of Sri Swami Adhyatmanandaji Maharaj at Delhi.
Lucknow - (April l5, 2008 to April 17, 2008) All India Bhojpuri federation, Lucknow invited Sri Swami Adhyatmanandaji to inaugurate their annual conference. Famous Bhojpuri singer Mr. Manoj Tiwari was felicitated by Rev. Swamiji, as he was the only fortunate one to have his postal stamp released at Netherland worth of Rs 35/- in Indian cost. Sri Subodh Kant Sahay, minister of Government of India also graced the occasion. Hundred thousand of Bhojpuri had gathered for three days long conference.
Mumbai - On April 18, 2008 All India Nagar Parishad organized their Centenary celebration in august presence of Revered Sri Swami Maharaj at Mumbai.
Latest Additions.........

Please subscribe to Divyajivan Mailing List. We will update you with new uploads of spiritual literature on the web of Holy Master Sri Swami Sivanandaji Maharaj, saints of his lineage and other saints. We will also update you about the Sivananda Ashram, Ahmedabad website and facilitate communication with Sri Swami Adhyatmanandaji Maharaj.

Please enter your email address and click Subscribe button
To manage your subscription, please visit Subscription Page. You can also subscribe and unsubscribe from this page. You may unsubscribe by yourself anytime you wish. You will be required to send confirmation link that you will get in your e-mail to complete this subscription.

[ Home ] [ News ] [ Upcoming Events ] [ What's New? ] [ Services ] [ Swami Adhyatmananda ] [ Multimedia ] [ Publications ] [ Administration ] [Saints & Sages] [ Photo Gallery ] [ Contact ] [ Guestbook ] [ Important Links ]

Webmaster: webmaster@divyajivan.org