News and Activity Report
December - 2004
Back to India
On Dec 4, 2004 Sri. Swami Adhyatmanandaji Maharaj landed back to Ahmedabad after his three months tour to the west. A large number of devotees came to receive their beloved Swamiji Maharaj at the airport.They welcomed him with Sri Harinam Sankirtan and International Airport Lawn turned into a holy satsang place. All of them joined him to the Ashram, had prasad and lunch together.
On Dec 5, 2004 Sri Swamiji Maharaj visited and paid homage to late Sri Narandasji Maharaj of famous Sri Santram Mandir Nadiad, who breath his last when Sri Swamiji was on his tour abroad.
633rd Yoga Camp at Vadodara (Dec 6, 2004 - Dec 12, 2004)
Gujarat Divya Jivan Sangh organised Sri Swamiji's week long Yoga, Meditation camp at Vadodara. Evening discourses on the Subject of "Gita in Daily Life" was held at the Diwane - Khas auditorium of Sri Sayaji Rao Medical College, Baroda.The camp was organized by a team of dedicated and hard working people, including Sri Upendra Purohit, Sri Diwakar Trivedi, Sri Prabhudas Patel, Sri K. M. Swadia and others.Yoga instructors Sri Mehul Shah, Sri Harit Swadia and Sri Pancholimama of Surendranagar assisted Swamiji in the morning yoga sessions. Dr. Kamal Pathak, a dean and superintendent of S. S. G. Medical College, Sri Bhagyesh Iha (IAS), collector of Baroda dist. and H. H. Sri Swami Brahmatmanandaji Maharaj also attended the morning yoga classes and evening discourses. Smt. Prema and Dr. Mrugank Merchant hosted Swamiji Maharaj and served him with great reverence.
633 th Yogasana Camp - Vadodra
Inauguration at "Diwane Khas" auditorium by Sri. Bhagyesh Jha (IAS)
During his stay at Vadodara, Swamiji was invited for lectures and satsangs by Gujarat State Fertilizer company, Indian Petrol Chemical Ltd, Paramount Industries, Baroda Education Society, Rotary and Lions Club and various schools run by Lions Club. Also special satsang with senior citizen was arranged.They discussed the problems and obstacles in daily spiritual sadhana and how to overcome them.Tree plantation was done at various places. All India Radio, Vadodara recorded and broadcasted his discourses for the benefits of people at large. On his way to Vadodara Swamiji visited Sri Hari Dham Sokhada upon the invitation of H. H. Sri Hari Prasadji Maharaj of Sri Swami Narayan order.
Spiritual Retreat at Matheran
A four days spiritual Retreat was organized at Mtheran on the theam of "Inner Awakening" by Brahmajyoti, Mogri.On morning of Dec 16, 2004 Swamiji left for Matheran, where enthusiastic crowd of five hundrad youth between eighteen to forty years of age welcomed him with loud cheers. Sri Jashbhai Saheb, Sri Santhibhai, Sri Ashwinbhai, Dr.Jayesh Patel from cancer hospital Baroda, Sri Tushar Shukla, assistant director of All India Radio, Ahmedabad brought the spotlight upon the theme of "Inner Awakening" at night satsang. A cultural program by youth was a big attraction each day. It was a great experience for all, who attended the retreat.
" Gita Navnitam"- received an Mahrishi Aurobinda Gold Medal Award
Swamiji Adhyatmanadaji was recognized by Gujarati Sahitya Parishad for his book "Gita Navnitam" (Gujarati). It is a compilation of his discourses on chapter sixteen of Bhagwad Gita. It is a Master Piece, a practical guide to enrich your life by cultivating virtues and eradicating vices. The knowledge and wisdom teachings described in the book can be lived and assimilated in day to day life to live and lead Life Divine.
Preface - Swami Adhyatmananda
Forward by Sri Dr. Kishorbhai S. Dave (President, Sri Sadhana Mandir - Jamanagar)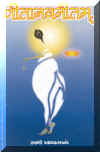 Award ceremony was organized at Sri Sardar Vallabhbhai Patel University, Vallabh Vidhyanagar (Ananda) and Mahrishi Aurobindo Gold Medal was presented to Sri Swami Maharaj.
634th Yoga Camp at Sananda, Gujarat (Dec 21, 2004 - Dec3, 2004)
Lion's Club, Sanand branch organized a ten-day long Yogasana & Meditation camp. Sri Swamiji Maharaj was invited by number of devotees for home satsnag and home visit during the time he was there.
634th Yogasana Camp Sanada, by Lions Club
Dattatreya Jayanti ( Dec 26, 2004)
On Dec 26, the holy Dattatreya Janyanti day, Rev. Swamiji Maharaj attended conclusion ceremony of Lord Sri. Dattatreya Jayanti, which was arranged by devotee group of Guru Dattatreya on conclusion of 1008 "Dattabavani chanting" at Maninagar. "Dattabavani" is a prayer poem of fifty two verses composed by Brahmleen Saint Sri. Sri. Sri. Rang Avadhut Maharaj of Nareshvar in praise of Guru Sri. Dattatreya.
Other News
Visit to Mumbai - On Dec 22, 2004 Rev. Swamiji blessed the music and art school "Thumari" upon the humble and sincere request of the director Smt. Bijur Bhatt and Smt. Kavita Bhavsar.Swamiji was invited to fund raising program, organized by Sri. Vadnagar Nagar Mandal, Mumbai for the benefits of poor and needy children's educational aid. Sri Ashit Desai and Smt. Hema Desai, a very famous music masters presented the devotional songs of Saint. Narasih Mehta. Also a famous writer and poet of Gujarati literature, Sri. Suresh Dalal attended the function.

Swamiji with writer Dr.Suresh Dalal, Ashit Desai, Hema Desai
on the occasion of fund raising program of Vadnagara Nagar Mandal, Mumbai
On Dec 11, 2004 H. H. 1008 Sri Swami PariPurnanandaji Maharaj of Parmarth Niketan, Rishikesh graced the ashram and blessed with the words of wisdom on the subject of "Kundalini Jagruti and Meditation"

Swami Paripurnanandaji Maharaj of Parmarth Niketan, Rishikesh

at inauguration function of "JADEBLUE" showroom
On Dec 31, 2004 a group of 48 yoga students from International China yoga Association arrived at the Ashram. Three days special advanced yoga course was planned for the group.

Sivananda Ashram, Ahmedabad celebrated 61st Anniversary of Maha Mantra Kirtan and Brahmotsavam of Sri Vishwanath Temple at Sivananda Ashram, HQ of the Divine Life Society, Rishikesh.

This year Ashram is celebrating Shashthipurti year of Rev. Sri Swami Adhyatmanandaji and a various activities have being organized.Yogasana Camp were held for the children of Ahmedabad Municipal school from Dec 1, 2004 - Dec 11, more than 2000 students of Grade 6th & from Dec 14, 2004 to Dec24, 2004 more than 1000 student of Grade 6 th were taught simple Yogasna. On Dec 19, students from more than six hundreds school participated in Essay competition and Debate competition. Debate competition was on the subject of "Important of Religion in Solution to Present Problems of Life

Regular Yoga classes and feeding to poor and needy is being done every Friday and 3rd of the month.
Om Shanti!
Highlights of the programs for the Month of January- 2005.
Latest Additions.........

Please subscribe to Divyajivan Mailing List. We will update you with new uploads of spiritual literature on the web of Holy Master Sri Swami Sivanandaji Maharaj, saints of his lineage and other saints. We will also update you about the Sivananda Ashram, Ahmedabad website and facilitate communication with Sri Swami Adhyatmanandaji Maharaj.

Please enter your email address and click Subscribe button
To manage your subscription, please visit Subscription Page. You can also subscribe and unsubscribe from this page. You may unsubscribe by yourself anytime you wish. You will be required to send confirmation link that you will get in your e-mail to complete this subscription.

[ Home ] [ News ] [ Upcoming Events ] [ What's New? ] [ Services ] [ Swami Adhyatmananda ] [ Multimedia ] [ Publications ] [ Administration ] [Saints & Sages] [ Photo Gallery ] [ Contact ] [ Guestbook ] [ Important Links ]

Webmaster: webmaster@divyajivan.org