News and Activity Report
Sivananda Ashram ( A'bad), November - 2007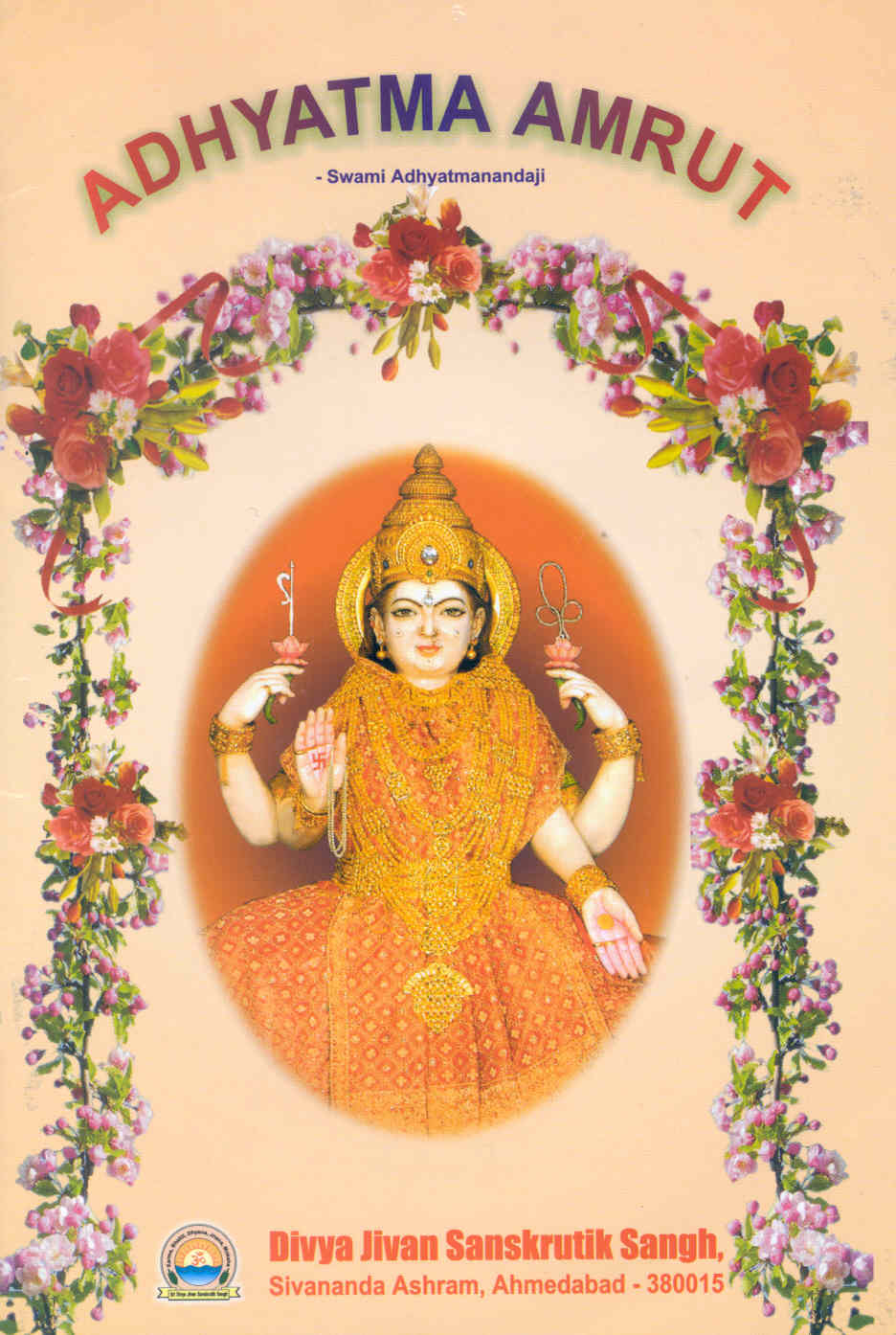 Deepavali Celebration at Sivananda Ashram, Ahmedabad (Nov 7, 2007- Nov 9, 2007) - While devotees received "Adhyatama- Amrut", a Diwali gift; Prasad booklet containing spiritual thoughts & Blessings of H. H. Sri Swami Adhyatmanandji Maharaj, families in underprivileged area of the town received "Diwali Annakoot prasad" of Maa Sri Ashtalaxmi from Sivananda Ashram, Ahmedabad. One thousand and fifty Prasad packages, each containing about three pound of sweets were distributed on New Year day to poor families.

Deepavali Annakoot Offering, November- 2007
Deepavali, a festival of light, joy & illumination was celebrated in true Sivanandic spirit of sharing, caring, loving and purifying at Sivananda Ashram, A'bad. On Dhanteras day (Nov 7, 2007), collective Laxmi Poojan by large numbers of devotees was performed at Sri Sri Ashta Laxmi Bhavan. A few weeks of planning and preparations of hundreds of food varieties by so many devotees culminated in Grand Annakoot offering to Sri Ashtalaxmi Maa on Deepavali day (Nov 9, 2007). Entire day, over thousands of people came to the ashram for the Holy Darshan and to receive the grace of Sri Sri Sri Ashtalakshmi Maa. Worshipful and Revered Doctor Swamiji Maharaj of BAPS graced the occasion. Late in the evening Aarti was performed by Sri Swami Adhyatmanandaji Maharaj which was followed by Diwali Annakoot dinner to about eight hundred devotees and distribution of one thousand and fifty packages, each containing three pounds of sweets and likes to under privilege people.
News from Siva Yoga Center
Yoga Teachers Training Course (YTTC) starting from Dec 11, 2007 - Dec 30, 2007 - On completion of three weeks residential YTTC and successfully passing the test including theory and practical, the graduate will receive a diploma certificate recognized by Gujarat University and will be able to teach Yogasana and Pranayama to others. During your stay at the Ashram, you will be provided a comfortable accommodation and yogic diet ( three meals / day). Ashram's holy atmosphere is ideal for enhancing your spiritual growth as well as the skill in the field of science of Yoga.The donation for the course is Rs. 6000.00/ $ 200.
You can still enroll. Please Download the Registration Form. If you need any help in transportation to & from the airport / train station etc, contact directly. Ashram phone # 079- 26861234 / Sivananda_ashram@yahoo.com
Regular Yoga activities, mainly monthly yoga classes, yogic consultation and Reiki sessions went on as usual during the month of November 2007.
Divya Jivan (December 2007 (Gujarati) - With appreciation from our Gujarati readers and their sincere thanks inspire us to continue bringing "Divya Jivan" complete issues on Website. As you know, for the past fifty years it has been serving Gujarati speaking and reading community by bringing spiritual treasure of Holy Master Swami Sivanandaji Maharaj and other saints and sages.
Other News
On Nov 18, 2007 Sivananda Yoga Kendra, Usmanpura branch held Deepavali gathering in holy presence of Sri Swami Adhyatmanandaji Maharaj.
Revered Swamiji humbly accepted invitation of Diamond Jubilee function of Sri Harmish Shah & Platinum Jubilee function of Dr. T.N. Jasani. He blessed them both on the important milestones of their earthly sojourn.
Sri Swamiji honored an invitation of Dr. Nitin Vora (director of E.S.T, Gov. of Gujarat) on the occasion of house warming and blessed them.
Grain & Grocery distributed to poor and needy as always during the month of November 2007.
Tours & Spiritual programs of H. H. Sri Swami Adhyatmanandaji
Lucknow (Nov 15, 2007- Nov 17, 2007) -Sri Swamiji Maharaj was invited to a special occasion of "Surya Puja" (Sun worship) organized by Bhojpuri Sammelan. Rev. Swamiji enlightened the gathering with his words of wisdom. The gathering was attended by the speaker and ministers of Uttar Pradesh along with one hundred thousands devotees of Bhojpuri (Dialect) speaking congregation.
On Nov 15, 2007 get together of Sivananda families of Lucknow was organized in the evening in the holy presence of Sri Swami Adhyatmanandaji Maharaj. On Nov 16, 2007 & Nov 17, 2007 yoga meditation camp and free medical camp was also organized.
Delhi- Devotees at Delhi have a special privilege for satsang and darshan of Sri Swami Maharaj. On his way to Lucknow (Nov 15th) and back to Ahmedabad (Nov17th) as well as on Nov 24th & Nov 25th Sri Swamiji's satsang were held at different places in Delhi & vicinity area. A discourse was organized at Hotel Kutub on Nov 25, 2007.
Haridwar (Nov 18, 2007- Nov 24, 2007) Sri Sri Maa Anandamayee was a Great Mystic Saint of India. At 58th Annual Samyam Saptah, (Spiritual Retreat) was organized at Maa's Ashram. From 19th early dawn onwards Swami Adhyatmanandaji joined the sessions. Sri Swamiji Maharaj was honored to be asked to speak of His reminiscence of Sri Sri Sri 'MAA' each day from 5:00pm to 5:30pm.
Also during his stay at Haridwar Sri Swamiji's discourses were organized at Vedanta Sammelan of Sri Paramananda Bhandar and for the employees of BHEL (Bharat Heavy Electrical Ltd). It was on the subject of 'Unity in Diversity" and were well received by all.
Panipat Sri Swami's satsang was organized at Sri Ram Sharnam.Sri Swamiji's visit to sick mother Smt. Usha Paramananda Monacha brought a solace to the family. She is a very old devotee of Most Worshipful Gurudev Sri Swami Sivanandaji Maharaj.
Karnal - A public meeting was organized at Sri Raghunath Mandir, Shobha Bhavan and at Sadar Bazaar. Devotees here are always ready and eager for Sri Swami Maharaj's visit. Sri Swamiji brought a spot light on 'The need of Spirituality in Human Life'. H. H. Saint Sri Amrikdevji Maharaj presided over the function.
During Swamiji's stay at Karnal, He visited Liberty shoe works and some more Industrial places. Also honored many devotees request and had home satangs. Entire visit to Karnal was organized by Sri Raghunath Temple together with Sri Karna Yoga Association.
Yamunanagar (Nov 28, 2007)- On Nov 28, 2007 Sri Swamiji visited Yamunanagar and program were arranged at various places including Rotary Club Yamuna Nagar, Vedanta Sabha and Sri Dayananda College of Science & Arts.
Ludhiana (Nov 29, 2007 & Nov 30, 2007) -At Ludhiana, Sri Swami Adhyatmanandaji Maharaj was supposed to have two days of rest and time in silence, a little break from His busy program schedule, but it did not go as planned. His kind heart would not displease devotee's wish. A number of devotees came for darshan & satsang in the morning and in the evening. Also open Prayer and Meditation meeting was held at Rakh Bagh. Sri Swami Adhyatmanandaji's visit to Rakh Bagh, Ludhiana is always cherished like Deepavali and Dusshera festivities.
Latest Additions.........

Please subscribe to Divyajivan Mailing List. We will update you with new uploads of spiritual literature on the web of Holy Master Sri Swami Sivanandaji Maharaj, saints of his lineage and other saints. We will also update you about the Sivananda Ashram, Ahmedabad website and facilitate communication with Sri Swami Adhyatmanandaji Maharaj.

Please enter your email address and click Subscribe button
To manage your subscription, please visit Subscription Page. You can also subscribe and unsubscribe from this page. You may unsubscribe by yourself anytime you wish. You will be required to send confirmation link that you will get in your e-mail to complete this subscription.

[ Home ] [ News ] [ Upcoming Events ] [ What's New? ] [ Services ] [ Swami Adhyatmananda ] [ Multimedia ] [ Publications ] [ Administration ] [Saints & Sages] [ Photo Gallery ] [ Contact ] [ Guestbook ] [ Important Links ]

Webmaster: webmaster@divyajivan.org