News and Activity Report
Sivananda Ashram, Ahmedabad
December- 2005
Yoga Teacher's Training Course (Dec 11, 2005 – Dec 30, 2005)
All together sixteen advanced Yoga students from various places including Indian Army, Air force, UK, Mumbai, Bhavnagar, Jamangar and Ahmedabad attended and successfully completed Yoga Teachers Training Course, which was inaugurated by Dr. Mayur Patel, a leading Diabetologist on Dec 11, 2005.
Dr. Mayur Patel arranged a slide show and incorporated yoga science and its utilities in the treatment of Diabetes. Swami Adhyatmanandaji introduced members of the faculty including Dr. Swetang Pancholi (cardiologist), Dr. Ina Patel (Pathologist), Dr. Versha Dave (Gynecologist), Dr. Amish Kshatriya (Orthopedic surgeon) Dr. Snehal Amin (Family Physician), Mrs. Chidrupini Kshatriya (Dietitian), Mrs. Rupa Majmudar (Reiki Master), Mr. Suresh Patel and Ms. Sangeeta Thawani. On Dec 30, 2005 midday 9th yoga teacher training camp was concluded with distribution of certificates to the students, who attended the course.
Yoga, Pranayama & Meditation Shibir (Dec12, 2005 - Dec 21, 2005)
About eleven hundred people attended 649th Yogasana Camp which was organized at Sivananda Ashram, under the guidance of Swami Adhyatmanandaji. It was concluded with potluck dinner enjoyed by families and yoga candidates, who attended the Shibir.
On Dec 25, Sankha Prakshalan, Kunjal Kriya, Jalneti etc were taught to hundred and four participants. This is total cleansing of gastro enteric canal. Ms. Sangeeta Thawani and Sri Tapan Mankodi arranged necessary preparations. These Yogic Kriyas supposed to help in the chronic diseases like asthma, chronic sinusitis, chronic constipation and irritable bowel syndrome.
On Dec 10, 2005 Holy Gita Jayanti was celebrated at ashram with chants of Srimad Bhagavad Gita as well as Sri Vishnusahasranam.
Sri Ramana Jayanti (Dec 18, 2005)
On Dec 18, 2005 a special satsang was held to celebrate126th Birth Anniversary of Sri Ramana Maharshiji. Laksharchana at Sri Vishwanath temple, distribution of food to daridranarayana was performed.
A Special satsang and book release " Divine Grace" (Dec 27, 2005)
On Dec 27, 2005 the Most Worshipful & Revered H. H. Sri Swami Satyamitranandaji Maharaj (Founder of Bharat Mata Mandir and President of Samanvay trust, Haridwar) graced the ashram. H. H. Sri Swami Viditatmanandaji Maharaj also graced the occasion. Large number of devotees attended the satsang at Sri Ashta Laxmi Bhavan and received the Blessings of Mahatmas. A booklet with teachings and Sri Sadgurudev Swami Chidanandaji Maharaja's own handwritings were released by Maha Mandleshwar Sri Swami Satyamitranandaji Maharaj on this occasion.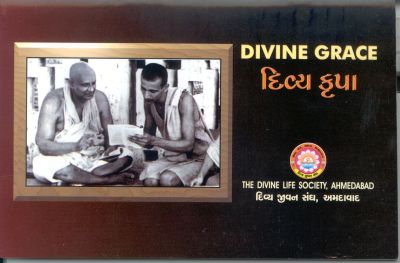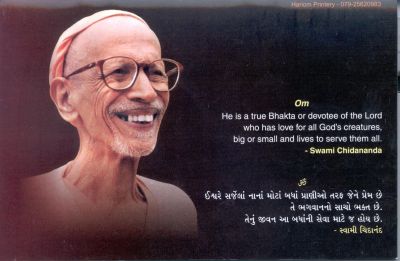 Sahasradeep Gayatri Mantra Yajana (Dec 31, 2005)
On New year eve Dec 31,2005 a grand Gayatri Mantra Japa Yajna with Thousands lamp was performed to welcome year 2006 at Sri Ashta Lakshmi Bhavan.Large numbers of devotees joined in this Sahasradeep Aradhana from Sri Gayatri Upasana group of satellite area.
Other news
On Dec 1, 2005 Swamiji attended the funeral of Dr. Akshey Gupta at Panchkula, Chandigadh. He and his family were known to Sri Gurudev Swami Sivanandaji Maharaj and devoted to Rev. Gurudev Sri Swami Chidanandaji Maharaj since 1947. Dr. Akshey Guptaji was renowned scientist and known for his work in the field of Genetic Science. He was head of the department of Genetic Science in Punjab Agriculture University, Ludhiana. He retired as an executive director of central science Research Institute, Palampur (Himachalpradesh)
On Dec 2, 2005 Sri T. S. Srivastavaji and his a family celebrated a family gathering at their home" Dwarka " in Delhi in holy presence of Swami Adhyatmanandaji.
Swamiji Maharaj was invited to preside over as a guest of honor at Nehru Foundation research Auditorium for Musical evening.
On Dec 4, 2005 Rev. Sri Swamiji iinaugurated a special event on World Disabled Day. A state level sports festival at C. N. Vidyalaya sports ground Rev. Swamiji hoisted the flag and observed march-past.
Rev. Swamiji was invited for the valedictory function of mega medical camp, at sardar Patel stadium, organized by past students of "Indian Sainik School".
On Dec 4, 2005 forenoon Sri Swamiji Maharaj lit the lamp for grand "Koti Namam Pooja of Sri Aaiyappa". A grand celebration was organsied by "Astik Samajam" at Sri Chinmaya Mission, Ahmedabad.
Yagnopavit ceremony (thread ceremony) of Vishal, son of Sri Harish Oza (North Carolina, USA) was held at Sri Ashta Lakshmi Bhavan. Sri Swami Adhyatmanandaji initiated this young Brahmachari in Gayatri Upasana. Evening was made beautiful by Sahenai and Jaltarang recital and dinner in honor of newly initiate. A few dignitaries including Mr. Amit Shah, Home Minister; Govt. of Gujarat and few Judges, lawyers and police heads attended the function.
On Dec 5, 2005 Swamiji graced Navchandi Yajna at Kansara family new home
Visit to Bhavnagar (Dec 7, 2005 – Dec 9, 2005) - Swamiji visited Bhavnagar upon invitation of Dr. Narendra Joshi, trustee Gujarat Divya Jivan Sangh. Swamiji's satsang were organized at District Jail, Sri Dhan Laxmi High School and Sri Yashwant Natyagruha and at the residence of famous Prince Studio.
On Dec 10, 2005 Swamiji addressed a large group of senior citizen at "Manekbag", Ahmedabad.
Sri Swamiji spent half day at Tatwa Tirth of H. H. Sri Swami Viditatmanandaji Maharaj on the occasion of silver jubilee function of Swami Viditanandji Maharaj, a learned Vedantin.
Daily yoga classes, feeding to poor, distribution of grocery to needy and poor, free medical treatment and service to one and all is a essential part of Ashram activities and to participate in these activities is a joy for the inmates of ashram. Om Shanti.
Upcoming events
VEDANT COURSE (Jan 23, 2006- Mar 23, 2006)
H. H. Sri Swami Pranavananda Bharatiji of Pranav Foundation, Bangalore has organized a two months Vedanta Teaching Course. It will be held at Sivananda Ashram, Ahmedabad. There will be morning and evening classes from 7.00 am- 8.00am and 7.00 pm- 8.00 pm .The two months course will be concluded with examination at the end. Pranav Bharati Foundation has decided the fees for the course of Rs. 200 for these Vedant teachings.
A Grand & Mega 653rd Yoga Camp (Jan 26, 2006 – Feb1, 2006)
653rd yoga camp will be organized on a grand scale at Sardar Patel stadium, Ahmedabad as a part of celebration of Ahmedabad Festival. This is planned and organised by Mr. Narendra Modi Chief Minister of Gujarat. H. H. Sri Swami Adhyatmanandaji Maharaj will be leading the Yajna. It is open to all and free. Over ten thousand people are expected to attend. Registration is required.
Latest Additions.........

Please subscribe to Divyajivan Mailing List. We will update you with new uploads of spiritual literature on the web of Holy Master Sri Swami Sivanandaji Maharaj, saints of his lineage and other saints. We will also update you about the Sivananda Ashram, Ahmedabad website and facilitate communication with Sri Swami Adhyatmanandaji Maharaj.

Please enter your email address and click Subscribe button
To manage your subscription, please visit Subscription Page. You can also subscribe and unsubscribe from this page. You may unsubscribe by yourself anytime you wish. You will be required to send confirmation link that you will get in your e-mail to complete this subscription.

[ Home ] [ News ] [ Upcoming Events ] [ What's New? ] [ Services ] [ Swami Adhyatmananda ] [ Multimedia ] [ Publications ] [ Administration ] [Saints & Sages] [ Photo Gallery ] [ Contact ] [ Guestbook ] [ Important Links ]

Webmaster: webmaster@divyajivan.org