News and Activity Report
January - 2004
609 Dhyan Yoga Shibir & Jana Yajna at Bharuch: ( Jan 5, 2004 - Jan 13, 2004 )
Gujarat Divya Jivan Sangh, Bharuch organized a Dhyan Yoga Shibir from Jan 5, 2004 to Jan13, 2004. The camp was organized under guidance of Sri Swami Adhyatmanandanji Maharaj for the benefit of Sivananda Hospital , Bharuch, managed by Divya Jivan Sangh, Bharuch. More than three hundred people attended the morning classes. Evening discourses on text "Bhaj Govindam" of Sri Adi Sankaracharya were also well attended and appreciated.
The camp was inaugurated by Sri Swami Tadroopanandaji Maharaj, the president and founder of Manan Institute. On this occasion in his speech Swami Tadroopanandaji Maharaj said "Human birth, desire for liberation (Mumukshatvam) and company of saintly people (satsang) are rare gifts to have. Swamij Adhyatmanandaji Maharaj is a great thinker and a personification of selfless service. Devotees are fortunate to have opportunity to listen to the enlightening discourses on text of "Moha Mudgara" for seven days by Swamiji. Prominent people of the town including the president of Municipality of Bharuch (Bharuch Nagar Palika), assembly member, Sri Rameshbhai Mistry and Sri Vasiaji (former minister of Gujarat state) were present in this Yoga Camp & Jnana Yajna.
Rev. Swamiji Maharaj gave a lecture on "Self Management" organised by Narmada college of Management at Bharuch. Another lecture in Hindi on "Yoga for better Living" jointly organized by Bharuch District (Jhilla) Management Association and Gujarat Narmada Fertilizer Corporation also was well received by people.
Rev. Swamiji Maharaj went for the last Darshan of 98 years old Mahant Sri Ramlakhandasji Maharaj of well-known Gumandev Hanuman Mandir at Bharuch.
Swamiji Maharaj inaugurated Saraswati Sangeet Vidhyalaya Jhadeshwar and visited many devotee's home during his visit to Bharuch.
Members of Gujarat Divya Jivan Sangh, Bharuch were thankful to Pujya Swamiji for His visit to Bharuch and imparting spiritual knowledge and promoting spiritual activities.
Trip to Ambaji Temple & vicinity towns (Khedbrhma District)
On Jan 14, 2004 on the occasion of festival of Makarsankranti, Pujya Sri Swami Adhyatmanandaji Maharaj, Srimat Swami Bhajananandaji Maharaj of Sivananda Ashram, Palghat, Kerala, Brahmachari Manas of Sivananda Ashram, Rishikesh and forty devotees from the Ashram including Sri Marutbhai Dave, Vice President of Divya Jivan Sanskrutik Sangh, joint secretary Smt. Poonam Thawani and Sri Murlidhar Thawaniji., joined Swamiji Maharaj for a short pilgrimage to Ambaji Temple in Khedbrahma District.
On their way to Ambaji, the group came to Rojanta Kampa, farmland of Sri Pujakaka, where Cow worship was performed. Fifteen hundred cows were garlanded by Pujya Swamiji. The whole group had satsang and light refreshment on the farm before proceeding to Darshan of Holy Mother Ambaji.
Ramnagar Kampa: Sri Swami Gurukrupanandaji Maharaj organized a gathering of Saints from Sabarkantha district. People from near by twenty seven villages join the event satsang. Pujya Swami Adhyatmanandji gave a talk and Prasad (dinner) was served to all
Rev. Swamiji Maharaj along with saints and devotee group also visited Sri Sarneshwar temple. It is 500 years old temple in dilapidated condition. They also had darshan of Sri Vireshwar Mahadev where Guptganga flows from under a tree.
Pujya Swamiji conducted one more satsang on the way at Kadiyadara where about 500 village people participated.
The group proceeded to Himatnagar, where Pujya Swamiji gave discourse on "Stress in daily life and Yoga" at Shri Nalinkant Gandhi memorial Town Hall, which was filled to the capacity. Yogasana demonstration was performed for the benefit of the audience.
Visit to Bhuj & Adipur (Jan 16, 2004): During Swamiji's visit to Bhuj, all India Radio Bhuj center recorded six talks of Swamiji on the subject of "Bhajgovindam"of Sri Adi Shankeracharya.
The last stop of this trip was Adipur. Pujya Swamiji inaugurated the function of Dada Dukhayal Sangeet Sabha, Dada Dukhayal Remembrance Exhibition and his life work. Dada Dukhayal was a freedom fighter, a writer, a singer and had been beaten and imprisoned by police on many occasions during resettlement of displaced Sindhi community after partition of the country. At Adipur- Gandhidham, Pujya Swamiji sang bhajan in Sindhi, performed a puja and placed the pot containing ashes of Dada Dukhayal in the pit where his Samadhi (Statue) will be built. Swamiji also visited ailing Dr. Gajwaniji and prayed for his good health and speedy recovery.
610th Yogasan Shibir at Rakhiyal, Ahmedabad
(Jan18, 2004 - Jan26, 2004)
It was organized by the doctor group of Rakhial (east side of Ahmedabad). This area is inhabited by underprivileged. Former minister Shri Gordhanbhai Zarkiya and. Dr. Mayaben Kodnani, (present M.L.A) were also present during the camp.
On Jan 26, National flag day Pujya Swamiji attended ceremony at Rakhial Camp, Sri Narayana Guru Vidhyalaya and Sivananda Ashram.
...............................................................................................................
Spiritual Discourses by Mahamandleshwar Shrimat Swami Satyamitranandaji Maharaj ( Jan 27, 2004 - Jan 31, 2004 )
Sivananda Ashram, Ahmedabad had distinct honor to host 1008 Mahamandleshwar Srimat Swami Satyamitranandaji Maharaj, founder of Shri Bharatmata Mandir, Haridwar. Spiritual discourses on the Subject of "Geeta Jivan Darshan" by His Holiness daily for five days were attended by a large numbers of devotees. Also devotees at large viewed through TV medium, as whole program was telecasted live by the local TV channel. Every day before the start of the discourse, well known singers provided Bhajan – Sangeet filled the atmosphere with divine vibrations. Among them were Smt. Nayanbhai Pancholi, Smt. Monikaben Shah, Shri Jayeshbhai Naik & Smt. Seema Trivedi, Smt. Harishidaben & Sri Janardanbhai Rawal, Smt. Mayurikaben Oza, Sri RashBihari Desai and group, Sri Krishanakantbhai Parikh along with Pandit Sri Nirajchandra Parikh. Also students of Sri Narayan guru Vidhyalaya sang the "Sahid Sainik Satak" written by H. H. Sri Swami Satyamitranandagiriji Maharaj.

Mahamandleshwar 1008, Sri Swami SatyaMitranandji Maharaj, graced Sivananda Ashram, A'bad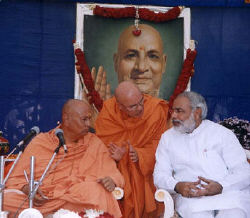 Distinguished Guest, Chief Minister of Guajrat Sri Narendrabhai Modi at the Ashram
Chief Minister of Gujarat, Sri Narendrabhai Modi visits the Ashram ( Jan 31, 2004 )
This program concluded on Sunday Jan 31, 2004 in the august presence of a distinguished guest Sri Narendrabhai Modi, chief minister of Gujarat . Sri Modi Saheb also visited Sri Ashta Lakshmi Bhavan and Sri Swami Chidananda Dhayna Mandir
......................................................................................................
Other News
Sri Narayan guru cultural mission celebrated their annual day Jan 4, 2004 in holy presence of Rev. Sri Swami Adhyatmanandaji Maharaj.
This month, satsang was arranged at Dr. Snehal Amin's home on auspicious Vasant Panchami day in Holy presence of Pujya Swamiji Maharaj. And Puja of Sri Satya Narayan Vrata Katha was performed.
At Annual prize distribution ceremony of Gujarat state edjucation group, Shri Morari bapu & Pujya Swamiji both were present. The meeting of the two great saints of Gujarat was a great moment for the devotees to observe.
Shri Morari Bapu & Pujya Swamiji

Alpha TV Gujarati channel shows "Yoga and Health" program of Rev. Swamiji's three times a days and each episode is repeated for three days for the benefits of people.

Also

All India Radio, Ahmedabad aired three talks of Rev Swamiji on the subject of "Women Problems and Yoga".

On January 30, "Bapu Nirvana day " (the punya-tithi) of the most revered and worshipful father of the nation, Pujya Bapuji Mahatma Gandhiji, a public prayer meeting was organized at His Sabarmati Ashram, Ahmedabad, where Vedic prayer and hymns were led by Rev. Sri Swami Adhyatmanandaji Maharaj.

In this month there were many devotees from UK , USA , Canada and Lithuania visited the ashram and stayed in the Ashram.

Devotees come from all over at Sri Chidananda Dhyan Mandir for the Darshan and feel His Divine presence and inner peace .

Regular Activities and Services at the Holy Sivananda Ashram

Latest Additions.........

Please subscribe to Divyajivan Mailing List. We will update you with new uploads of spiritual literature on the web of Holy Master Sri Swami Sivanandaji Maharaj, saints of his lineage and other saints. We will also update you about the Sivananda Ashram, Ahmedabad website and facilitate communication with Sri Swami Adhyatmanandaji Maharaj.

Please enter your email address and click Subscribe button
To manage your subscription, please visit Subscription Page. You can also subscribe and unsubscribe from this page. You may unsubscribe by yourself anytime you wish. You will be required to send confirmation link that you will get in your e-mail to complete this subscription.

[ Home ] [ News ] [ Upcoming Events ] [ What's New? ] [ Services ] [ Swami Adhyatmananda ] [ Multimedia ] [ Publications ] [ Administration ] [Saints & Sages] [ Photo Gallery ] [ Contact ] [ Guestbook ] [ Important Links ]

Webmaster: webmaster@divyajivan.org