News and Activity Report
June -2007
Srimad Bhagvata Katha (in Hindi) (June 7, 2007- June 14, 2007)
As Holy Master Sri Swami Sivanandaji Maharaj writes the Glories of Srimad Bhagavata,
........"All that is noble and inspiring in Hindu Religion, philosophy and culture is found in Bhagavata. The highest truths of religion and philosophy and the highest principles of ethics are beautifully explained in this marvelous and unique book. It teaches all about Bhagavata Dharma or the religion of love. Bhagavata is the solace of life. It is a valuable treasure-house of divine knowledge. A study of this book inspires devotion, instills knowledge and Vairagya.
You should conduct Bhagvata Saptaha in your house once every year. This will contribute to your happiness and prosperity. Every one of you should have a copy of the Bhagavata in your house"......– Swami Sivananda
Fortunate are those who get opportunity to listen to Srimad Bhagvata Katha and that too from Sri Swami Adhyatmanandaji Maharaj. Sitting on a Vyasapith (Vyasa seat), narrating the Lilas and teachings of the Lord Sri Krishna, Swamiji goes in different realm. The kirtan lead by Swamiji in ecstatic mood put others too in the same state, one has to be there to experience it. Ashram's air thrilled with devotion during these seven days. Each day, Sri Lalaji Maharaj (Baby Krishna) was in different Shringar looking so charming. It is hard to take eyes off the beautiful Baby Krishna's darshan.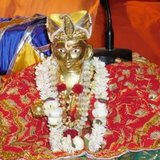 Adorable Sri Lalaji in a special Shringar during Srimad Bhagvata Katha
In sweet memory of late Sri J. N. Maudgil Sahib this Srimad Bhagvata Saptah (in Hindi) was organized at Sivanada Ashram, Ahmedabad. On eighth day, at concluding of Katha feeding to under privileged was performed.
Available on DVD's now......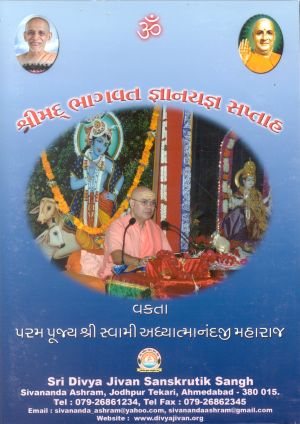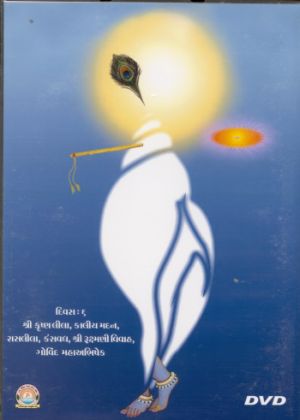 Yoga Camps (May 22, 2007- June 2, 2007 & June 21, 2007- June 30, 2007)
A special Yoga Teaching in two sessions were conducted for 12 core army command at Shahibaug, Ahmedabad by accredited yoga teachers of Sivanada Ashram, Ahmedabad Sri Atul Parikh and Prof. Dr. Shalin. Commandant Col. Ranjeetsingh invited Rev. Sri Swami Adhyatmanandaji Maharaj for lunch at command house 12 core infantry division, Ahmedabad. A tree plantation was done in the campus honouring Swamiji's request.
Regular Ashram Activities
At Ashram regular Yoga classes in seven batches for beginners and advanced yoga students carried out this month as usual.

There were two Reiky seminars were held under the leadership of Reiky Master Mrs. Rupa Majmundar.

On Wednesday and Friday Yoga treatment for health-counselling and acupressure treatment were offered through Sivananda Clinic as usual.

Many devotees participated in regular religious worships at the Ashram namely Guru Paduka Pooja on Thursday, a special evening worship at Sri Ashtalaksmi Bhavan on Friday, Sri Sunderkand Path on Saturday, a special Satsang on Sunday and daily night satsangs. Also Sri Lalita Sahasranam at Sri Ashtalakshmi Bhavan and Sri Satyanarayan pooja on full Moon day were performed.

As always, on first Sunday Grain distributed to needy and on 3 rd of the month feeding to poor were done.
Tours & programs of H. H. Sri Swami Adhyatmanandji during the month of June 2007
"Mauna" Spiritual Retreat at Tithal -Valsad (June 1, 2007- June 6, 2007 )
"Silence is always the most real part of your being.
When you are alone, you are silent.
When you are alone, you are in God and,
you are aware of God in you "- Swami Chidananda
Gujarat Divya Jivan Sangh organized a six days "Mauna"-Spiritual Retreat at the sea shore of Tithal (Valsad) from June 1, 2007 to June 6, 2007. Spiritual Sadhaks from all over Gujarat and Maharashtra joined the retreat. Daily program consisted of one and half hours of group meditation six times a day. For rest of the day sadhaks in total silence spent their time in prayers, japa, and spiritual reading. The best part was to have early morning meditation and evening walk at the sea Shore. All six days, three meals (Breakfast, Lunch and Dinner) consisted of most satvik food Milk and Mangoes were served to all. No rotis, rice, spices or curry. It was wonderful experience.
One session of meditation was organized at the adjacent prayer hall of Shantiniketan of Jain Bandhu Triputi's Ashram. Number of saints and well wishers joined at concluding session and tree plantation was done at the Shanti Kunj of Osho families.
The entire program was guided by Sri Swami Adhyatmanandaji Maharaj. Members of local branches of the Divine Life Society coordinated together with Valsad branch and the owner's of the Osho Shanti Kunj for arranging it.
Khedbrahma- Ambaji (June 15, 2007)
A group of devotees headed by Sri Swami Adhyatmanadaji Maharaj paid homage to holy mother Sri Jagdamba at Ambaji on June 15, 2007. A traditional Yajna was performed and Bhandara was organised for devotees.
On the way, the whole group had a satsang with Rev. Sri Swami Gurukrupanadaji Mahraj at his ashram in Sri Ramnagar (Khedbrahma).
Visit to Delhi (June17, 2007- June18, 2007)
Honouring humble invitation of M/S Hero Honda Automobile Group, Rev. Swamiji Maharaj visited Delhi. On June 17, 2007 evening satsang was organised at Hero Honda House in memory of late Sri Raman Munjal, founder of Hero Honda on the occasion of his Punya Tithi. On June 18, 2007 Rev. Swamiji addressed two gatherings, one at Hero Honda Plant Dharuhera, Haryana in the forenoon and another at production plant of Hero Honda Motor Cycle at Gurgaon in the evening.
Visit to Karnal (June 19, 2007)
On June 19, 2007 Sri Swami Maharaj arrived at Karnal the city of King Karna of the epic Mahabharata fame. Mr. Satish Goel, a chairman of Liberty Shoes arranged a royal welcome to Swamiji. On June 19, 2007 Grand Yoga demonstration function was organised at Sri Nirmal Dham, Karnal from 5.am to 8.am. It was a culmination of 19 days Yoga training program for children arranged by the institute of Sri Swami Amrikdevji Maharaj. Sri Swami Adhyatmanandaji Maharaj together with many monks and visitors witnessed the grand finale yoga demonstration by children. Prizes in cash were awarded to the best yoga students as well as healthy thoughts and inspiring thought competition. A souvenir was released by Sri Swami Adhyatmandandaji Maharaj.
Later on in the day, Sri Swamiji addressed the gathering at M/S Liberty Shoe Company at Liberty Nagar. In the evening at public meeting Swamiji's discourse on the subject of 'Gita in daily life' was well received by all which was followed by lively question & answer session.
Visit to Ambala (June 20, 2007)
Upon very sincere invitation of Dr. Sri Om Prakash Sharmaji, President of the Divine Life Society, Ambala; Sri Swami Maharaj visited Ambala. Swamiji's day long visit was full of programs which included a public satang, inauguration of new dispensary at Sri Guru Granth Saheb Social Service Society, house warming and so on.
Visit to Ludhiana (June 21, 2007- June 24, 2007)
On June 21, 2007 Sri Swami Maharaj arrived Ludhiana in the morning. He gave series of discourses on various subjects pertaining to Daily Spiritual Sadhana at 16 Rakhbaug. During his stay in Ludhiana, Swamiji visited number of industrial houses and graced many devotees' home upon their sincere requests.
Latest Additions.........

Please subscribe to Divyajivan Mailing List. We will update you with new uploads of spiritual literature on the web of Holy Master Sri Swami Sivanandaji Maharaj, saints of his lineage and other saints. We will also update you about the Sivananda Ashram, Ahmedabad website and facilitate communication with Sri Swami Adhyatmanandaji Maharaj.

Please enter your email address and click Subscribe button
To manage your subscription, please visit Subscription Page. You can also subscribe and unsubscribe from this page. You may unsubscribe by yourself anytime you wish. You will be required to send confirmation link that you will get in your e-mail to complete this subscription.

[ Home ] [ News ] [ Upcoming Events ] [ What's New? ] [ Services ] [ Swami Adhyatmananda ] [ Multimedia ] [ Publications ] [ Administration ] [Saints & Sages] [ Photo Gallery ] [ Contact ] [ Guestbook ] [ Important Links ]

Webmaster: webmaster@divyajivan.org