News and Activity Report (June 2008)
Sivananda Ashram, Ahmedabad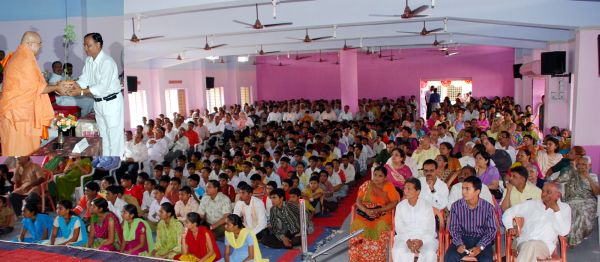 Ahmedabad : Upon the earnest request of the Commandant of the 11th Division of the Indian Army, Shahi Bag Cantonment, Ahemdabad, a ten days long Yogasana, Pranayam and Meditation camp was conducted from May 31,2008 to June 9, 2008 . Sri Swami Adhyatmandaji Maharaj gave the introductory discourse, followed by Sri Atul Parikh, Sri Balram Saha and six other assistants who successfully conducted the rest of the camp. A grand closing ceremony was held and a memento was gifted to Rev. Sri Adhyatmandaji Maharaj. Tree plantation was the main feature of the program.
60th wedding anniversary of Sri. T. S. Srivastav (Retired Director of Flight safety, Indian Airlines) and Mrs. Savitri Srivastav, was celebrated with great enthusiasm by their children and close family members in presence of Sri Swamiji Maharaj at holy Sivannada ashram, On june 24th a grand Yajna (Aayushya Homa) was conducted in the temple followed by feeding to poor and an evening of devotional music.
On June 26, 2008 Sri Swamiji Maharaj addressed the executives of Aroma Industries on the subject of "Stress Managment".
Sri Swamiji also graced "Darpan " a famous Institute of Indian Classical Dance, drama and music run by Mrs. Mrinalini Sarabhai, a wife of late Dr. Vikram Sarabhai.
On the 27, 2008 Sri Swami Adhyatmanandaji Maharaj visited well known Senior Citizen Home at Ahmedabad. He inspired them with his holy presence and with his imple message. He taught the gospel of Sivananda to practice in daily life, "Be simple, be humble, be noble, serve, love, give, purify, meditate and realize, inquire who I am? Know yourself and be free." Sri Swamiji requested them to start their day with prayers, end their day with prayers and fill their day with prayers. Let God be the centre of life, God be the first, God be the last and God for all the time.
On June 28, 2008 Sri Swamiji Maharaj and other saints of the Ashram inaugurated a well known Chennai based Bio Ceramic Product company at Bhopal named Cony Bio Health care India Pvt. Ltd. In the evening Sri Swamiji Maharaj addressed the students of Indian Institute of planning and management. This was followed by interaction session with students and Question answer session.
A farewell get together was organized by well-wishers in honor of Smt. Poonam Mataji, secretary of the Ashram and for dedicated Yoga teacher, Dr. Snehal Amin & his family. They went to USA and UK respectively.
On receiving the unfortunate news of heart attack followed by stroke and paralysis of H. H. Sri Swami Ram Swaroopanandaji Maharaj, from the H.Q. of the Divine Life Society, a special prayer was conducted seeking the blessing for his early recovery, good health and long life.
This month ashram had a number of saints, guests and visitors from Kolkata, Lucknow, Delhi, Gaziabad, Jaipur, Junagadh, Jamnagar, Rajkot, Bhavnagar, Valsad, Sri Jagannath Puri(Nimapada).
Regular yoga teaching, Reiki sharing, feeding the poor, distribution ration to the needy, acupressure, worship services at the temples, prayers and satsangs were conducted as usual.
Spiritual Tour & Satsangs of H. H. Sri Swami Adhyatmanandaji Maharaj
During the month of June 2008
Tithal (Valsad) Spiritual Retreat (June 1, 2008- June 6, 2008) : Sri Gujarat Divya Jivan organized annual spiritual, retreat at the Tithal sea shore. Seventy five sadhaks attended the Retreat, which was hosted by Jain Saint Sri Jinchandraji Maharaj (Bandhu Tripati). Revered Sri. Kiritchandraji Maharaj and Sri Jinchandraji Maharaj extended their generous hospitality to the entire group, looking after every essential need. Each of the participants enjoyed the camp by participating in early morning prayers followed by meditation at the sea shore and performing chanting of "Sri Vishnusahashram." Evening discourses by Sri Swamiji Maharaj on Chapter Thirteen of Srimad Bhagavad Gita were well received by all. On June 2nd Sri Pratap Desai's , secretary and on 3 rd June Sri Yagnesh Desai's, president of the DLS branch, Valsad birthday was celebrated. This was a special treat for the participants.
Mumbai : On June 6, 2008, Sri Swami Adhyatmanandaji arrived Mumbai from Valsad. Sri Swamiji was received cordially at the railway station. A Satsang was organized by devotees and well-wishers at Kandivali Mumbai. Srimati Vishakha and Sri Maulesh Pota hosted the spiritual evening and dinner was served to all.
Karnal : (June 7th & 8th) On the sincere and earnest invitation of Sri Amrik Singhji Maharaj of Nirmal Dham and Sri Satish Goyal, President of Sri Karma Yoga Association, karnal, Sri Swami Adhyatmanandaji Maharaj visited Karnal for a couple of days. A spectacular Yogasana demonstration was performed by hundreds of children under the apt guidance of Yogacharya Sri Vinay Kohliji of Karma Yoga Association.
Sri Swamiji Maharaj gave a couple of discourses in Punjabi language on two public meeting, one at the Nirmal Dham Gurudwara and second at the hotel Reliance Plaza. The public meetings were organized by Bharat Vikas parishad, Karnal.
Sri Swamiji Maharaj share his thoughts on the subject of the need of cultural heritage in the present age. A mammoth crowd attended the discourse. The discourse ended with interactive session of audience and followed by a dinner.
Dholka: On June 9, 2008 Sri Swamiji Maharaj arrived at Dholka directly from Ahmedabad airport to attend an inaugural function organized by Vidyotejak Mandal of Dholka. Rev. Swamiji inaugurated the Grand Assembly Hall, science experimental rooms, laboratories and classrooms. Sri Arun Oza had donated for this development a very generous amount of Rupees eleven lakh in the worthy memory of his late father Sri Devendrabhai Oza. Many dignitaries were present at this function.Sri Swamiji Maharaj awarded prizes to 'the best Educational institutes", ' best principal', 'best teachers' and ' bright student of the district'.
Vadodara : Sri Swami visited Vadodara for five days to attend meetings organized by Sri Mrugank G. Merchant,( Orthopedic MD) at Subheccha Hospital.
Ambaji: On June 16, 2008 a group of devotees and saints from Sivananda Ashram went on pilgrimage to the holy shrine of Ambaji to pay homage to Sri Sri Ma Jagadamba. Satsang. A devotee group had a satsang and prayers after the Darshan with Sri Bharat Maharaj of the temple. The group proceeded to Rampur, Kempo after that.
Rampur, Kempo (Khedbrahma): It was learned that Sri Swami Gurukripanandaji Maharaj of Khedbrahma was seriously ill and not in perfect mental alertness for a week. To the utter surprise of everyone, He became completely alert and conscious on arrival of devotee group with Pujya Sri Swami Adhyatmanandaji Maharaj. After a Satsang with devotees, He sat with them for food. Sri Swamiji Maharaj, fed him mashed chapati, rice and curry along with mango. It was a very happy experience for everyone to witness the miraculous improvement in health of the most beloved Sri Swami Gurukripanandaji Maharaj.
Himmatnagar: The next stop was at Himmatnagr. Sri Swami Adhytamanandaji Maharaj & a devotee group were received by Sri Dilip Shroff & family to his newly bungalow. He was happy to receive Swamiji's blessings. A wonderful Satsang was organized followed by tree plantation.
Samkhiyali (Kutch): Swamji Maharaj paid a short visit to a well-known corporate house of Ahmedabad, M/s Aroma's factory in Samkhiyali in Kutch. Tree plantation was done on a large scale. Sri Swamiji Maharaj addressed to the entire Staff and workers of the factory on the subject of "Key to Happyness". Sri Swamiji talked about unity and elaborated that each one of us is very much a part and limbs of our India, let us make ourselves strong physically, mentally, morally & ethically. Be loyal and faithful to mother India. We may belong to different parts of the country but we belong to the same nation. Let us breath for the nation, work hard, work sincerely, and work with dedication, devotion, determination and commitment. India is a great country. You are the thought, Power and wisdom of India, you are the key of success and will be responsible for the bright future of India.
Upcoming Divya Tour 2008 of Sri Swami Adhyatmanandaji Maharaj
Regular Activities and Services at the Holy Sivananda Ashram
Latest Additions.........

Please subscribe to Divyajivan Mailing List. We will update you with new uploads of spiritual literature on the web of Holy Master Sri Swami Sivanandaji Maharaj, saints of his lineage and other saints. We will also update you about the Sivananda Ashram, Ahmedabad website and facilitate communication with Sri Swami Adhyatmanandaji Maharaj.

Please enter your email address and click Subscribe button
To manage your subscription, please visit Subscription Page. You can also subscribe and unsubscribe from this page. You may unsubscribe by yourself anytime you wish. You will be required to send confirmation link that you will get in your e-mail to complete this subscription.

[ Home ] [ News ] [ Upcoming Events ] [ What's New? ] [ Services ] [ Swami Adhyatmananda ] [ Multimedia ] [ Publications ] [ Administration ] [Saints & Sages] [ Photo Gallery ] [ Contact ] [ Guestbook ] [ Important Links ]

Webmaster: webmaster@divyajivan.org