News and Activity Report
May - 2005
Conclusion of Diamond Jubilee Celebration of H. H. Swami Adhyatmanandaji Maharaj
( April 21, May 3, 2005).
http://www.divyajivan.org/swami%20adhyatmananda/djc_may05.htm

At Lucknow (May 6, 2005 - May 8, 2005)

Dr. Anil Srivastava MD (Cardiogiost) and Dr. Mrs. Renu Srivastava DGO organized three days discourses of Rev. Sri Swami Adhyatmanandaji at Lucknow King George Medical College and Queen Mary Hospital.

Then

Rev. Sri Swami Adhyatmanandaji went to Dehradun for Sri. Swami Chidanandaji Maharaj's darshan. Rev. Gurudev was in delicate health for previous four days. HE expressed His gratitude to Swamiji for traveling all the way from Ahmedabad to see the decaying body. As per Sri Gurudev's instruction, Swami Adhyatmanandaji visited Sivananda Ashram, Rishikesh and had darshan of Holy Master Sri. Swami Sivanandaji Maharaj at Samadhi Mandir. Rev. Sri Swami Vimalanandaji Maharaj, General Secretary of DLS HQ welcomed Swamiji. After over night stay at the Ashram and morning worship at Sri.Vishwanath Temple, Swamiji return back to Ahmedabad.

At Haridwar:

On his way back Rev.Swami Adhyatmanandaji paid his homage to Sri Sri Anandamayi Ashram, visited H. H. Sri Swami Vishwadevanandaji Maharaj & had a darshan of Maha Mandleshwar Sri Swami Satyamitranandaji Maharaj at Haridwar. Also hearing the news of Maha Mandleshwar Sri Swami Ganesanandaji Maharaj, attaining Maha Samadhi Rev. Swamiji attended last rites of the departed soul.

Children's Residential Camp (May 8, 2005 –May 15, 2005)

Sivananda Ashram. A'bad organized a week long residential camp for children. Ninety four children attended the camp. It concluded with grand cultural show by the children and attended by all parents and guardians.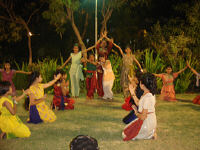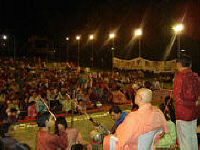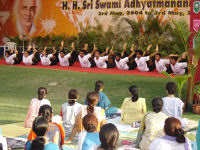 Sixth Yoga Teachers Training Residential Course (May 18, 2005 – June 6, 2005)
The camp was inaugurated on May 18, 2005. Twenty Nine established Yoga students joined this intense and advanced teachers training course.. The faculty members of these course including Dr. Mayur Patel MD (Diabetologist) Dr. Ina Patel MD (Pathologist) Dr. Varsha Dave DGO, Dr.Amish Chauhan MD(Orthopaedic), Dr. Swetang Pancholi MD (Cardiologist) Dr. Snehal Amin, Reiky Master Rupa Majmudar, Ms. Sangeeta Thawani, Sri. Suresh Patel with H. H. Sri Swami Adhyatmanandaji Maharaj. Last week of this camp, all the participants with the teachers together will be attending spiritual retreat at Tithal (Valsad)
642 Yoga and Meditation Camp (May 19, 2005 –May 28, 2005)
Nine hundred novice attended the camp in early hours of morning from 5.30 am - 7.00am. All the participants of this camp were blessed by H. H. Sri Swami Tejomayanandaji Maharaj, President of Central Chinmaya Mission Trust. At concluding ceremony H. H. Sri Swami Vasudevanandaji Maharaj of The Divine Life Society, Calcutta was present.

Latest Additions.........

Please subscribe to Divyajivan Mailing List. We will update you with new uploads of spiritual literature on the web of Holy Master Sri Swami Sivanandaji Maharaj, saints of his lineage and other saints. We will also update you about the Sivananda Ashram, Ahmedabad website and facilitate communication with Sri Swami Adhyatmanandaji Maharaj.

Please enter your email address and click Subscribe button
To manage your subscription, please visit Subscription Page. You can also subscribe and unsubscribe from this page. You may unsubscribe by yourself anytime you wish. You will be required to send confirmation link that you will get in your e-mail to complete this subscription.

[ Home ] [ News ] [ Upcoming Events ] [ What's New? ] [ Services ] [ Swami Adhyatmananda ] [ Multimedia ] [ Publications ] [ Administration ] [Saints & Sages] [ Photo Gallery ] [ Contact ] [ Guestbook ] [ Important Links ]

Webmaster: webmaster@divyajivan.org