News and Activity Report
Sivananda Ashram, Ahmedabad
June - 2006
Yoga Camp at Valsad
On April 29, 2006 Meditation, Pranayama, Yoga camp at Valsad was concluded in the morning. About four hundred people availed the benefit of the camp. Sri Swami Adhyatmanandaji gave series of discourses on the subject of 'Gita Jivan Darshan' at Sri K .D. Desai stadium and sports complex. Swamiji was invited by number of devotees for Bhiksha and home satsang. Trustees of Gujarat Divya Jivan Sangh Sri Arvind Mehta from Surat , Sri Sumant Desai from bharuch, Sri Navnit Asamani from Navasari, and Sri Yagnesh Desai of Valsad attended the camp.
Anand Utsav & Spiritual Retreat (April 29, 2006 - May 3, 2006)
On June 29, 2006 at the Ashram Smt. Monika Shah (Phd.in Music), with her students presented devotional music in praise of Mother Durga, Mahalaxmi from 9:00 pm to 11:30 pm. All the people gathered enjoyed the devotional songs.
A four- day Spiritual retreat from April 30, 2006 to May 3, 2006 was organized at the Ashram. A day began with Morning Prayer, Med, during which, Spiritual activities included were, Gita and Sri Vishnu Sahasranama chanting, discourses by Sri Swami Adhyatmanandaji, Smt. Rupa Majmudar, Dr. Smt Varsha Dave, Sri Suresh Patel and Ms.Sangeeta Thawani.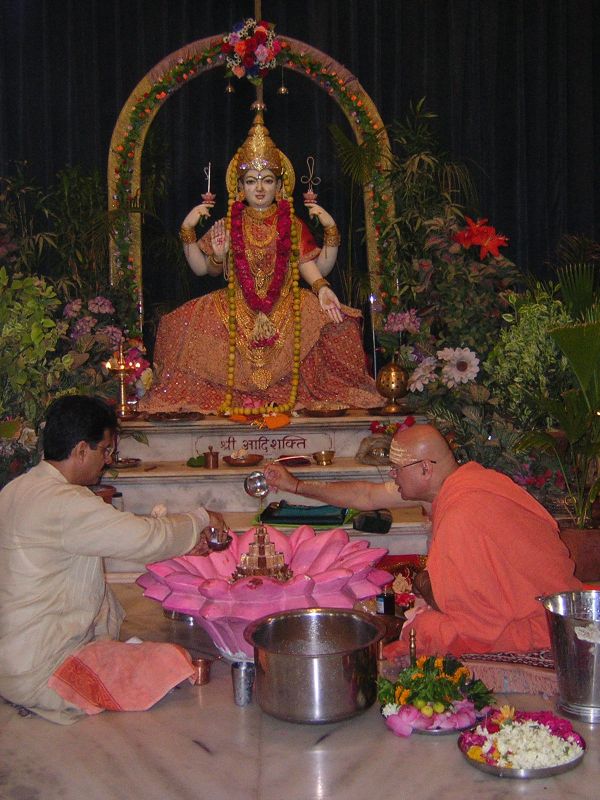 On April, 30 early morning, being a Brahmotsava of Sri Sri Sri Ashtalaxmi Bhavan, sacred Sri Yantra Pooja was solemnly performed by hundreds of devotees [ In "Sri Yantra" reside many Gods (96) and Goddesses(2816)]and through out the day there was sacred Navchandi Yajna at Sri Vishwanath Mandir's Yajnashala. Large numbers of devotees joined in concluding ceremony of Yajna and Aarti at Sri Ashtalaxmi bhavan. It followed Mahaprasad (bhandara) served to about 1200 devotees.
On May 1, 2006 in the evening, devotees participated in Sri Satya Narayan Mahapooja, which was followed by Garba.
On May 2, 2006, a Birthday eve function was highlighted by, august presence of H. E. Governor of Gujarat, Pundit Nawal Kishore Sharmaji and a book release by Sri Sharmaji named 'NITYA SWADHYAY' of H. H. Sri Swami Chidanandaji Maharaj compiled by Sri Swami Nirakaranandaji Maharaj. It contains 366 pages with teachings of Gurumaharaj for each day. Renowned singer Sri Nitin Mukesh had made the evening memorable by singing about sixty- five songs and won the hearts of big crowd gathered at this function. And lastly at 12.00 am, Swami Adhyatmanandji led a mid night meditation, hundreds of lamps were lit and people joined in a happy occasion of Swamiji's 62 nd Birthday. Devotee's felicitated Swamiji by dressing him in "Nathdara" costume, which was a prasad from Sri. Krishna's abode.
| | | |
| --- | --- | --- |
| May 2nd- H. E Governor of Gujarat Sri Sharmaji | May 2nd - at Birthday eve function | May 2ndNitin Mukesh - live entertainment |
| May 3rd- Aayush Homam | May 3rd - Sant Milan- Book release | Blood donation drive -179 donors |
May 3, 2006 commenced with Brahmamuhurta Meditation, Pranayama, Yoga and Ayushya Homam up to midday. In the afternoon Swamiji was invited by all India Radio station and had an interview. The evening was highlighted with "Sant Milan" at the Ashram Lawn. Large gathering received a blessing of many saints including H. H. Sri Swami Brahmatmananda Maharaj (Baroda), H. H. Sri Swami Paramatmanandaji Maharaj (Rajkot), Sri Swami Shankaranandaji Maharaj, Sri Brahmachari Vishnu Chaitanya (H.Q. DLS.Sivananda Ashram), Pujya Sri Jasbhai Sahebji (Anoopam Mission, Mogri). A book by Brahmleen Sri Swami Satchidanandaji Maharaj (Yoga Ville, Virginia), "Know Thy Self"– translated in Gujarati was released on this occasion. The Satsang was followed by Mahaprasad (dinner) serve to all. Lt. General Sri Arun Chopraji P.V.S.M., A.V.S.M. Director of National Defense Academy was the guest at the ashram for all four days during the Ananda Utsav.

660th Yoga Camp (May 1, 2006- May 7, 2006)
About five hundred and thirty one beginners attended Yoga, Pranayama & Meditation camp commenced on May 1, 2006 and concluded on May 7, 2006. BAL Yogasana Camp from May 11, 2006 to May 20, 2006 was organized and attended by one hundred and forty children. It was conducted by Sri Bhavik Swadia an accredited Yoga Teacher of Sivananda Ashram
.

11th Yoga Teachers Training Camp (YTTC)( May 1, 2006 –May 20, 2006)
YTTC started from May 1, 2006 and concluded on May 20, 2006. Sri Swami Adhyatmanandaji Maharaj, Dr. Mayur Patel (Diabetologist), Dr. Varsha Dave (Gynecologist), Dr. Swetang Pancholi (Cardiologist), Dr. Snehal Amin (General Physician), Dr.Smt Ina Patel (Pathologist), Dr.Sri Amish Kshatriya (Orthopedic), Dr. Smt Chidrupini Kshatriya (Dietician), Dr. Sri Vishal Shah (Diabetologist), Smt. Rupa Majmudar (Reiki Master), Sri Suresh Patel (Management Expert) and Ms.Sangeeta Thawani (Yoga instructor) were the faculty for the entire course. Twenty seven established yoga students enrolled in this camp including one from Japan, Switzerland, Triple First Rocket Regiment –Nasirabad, Ajmer, Hyderabad and from other parts of India.A concluding ceremony was held at Ashram's lawn and Dr. Sri Parimal Trivedi, Vice Chancellor of Gujarat University was presided over the function. Certificates were awarded to all participants for the Yoga Teachers Training Course on successful completion of the YTTC. Dr. Smt. Rajal Abhajit Shukla was outstanding in her Yoga posture skills.

10th Brahmotsav of Sri Vishwanath Temple ( May 21, 2006)
On May 21, 2006 10th holy anniversary of Sri Vishwanath Temple of the ashram was celebrated. Large number of devotees participated in Laghurudra Homatmak Yajna, Bhasma Aarti and Bhandara.
Other News
Reiki training level I and II sessions were conducted by Smt.Rupa Majmudar and Sri.Tapan Mankodi at the ashram this month.

Sri Swami Adhyatmanandaji Maharaj was invited for laying the foundation stone of Sri Narayan College of Commerce at Sri Narayana Cultural Mission, Ahmedabad.

Ms. Mansi Modi and Ms. Chaitali Mistri were happy to have Swamiji's presence and to receive His blessing on their Arrangetral program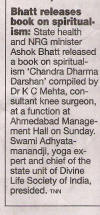 A book was compiled by Dr. K. C. Mehta (Orthopedic Surgeon) on Spiritualism was released by Mr. Ashok Bhatt, Minister of Health, Government of Gujarat at the function held at AMA and Swamiji presided over the this function. Many dignitaries graced this function , including , a writer Sri. Rajani Kumar Pandya and famous television anchor Mr. Jay Vasavada .

RegularYoga and Meditation classes were a part of this month activity as usual

As always, grains were distributed to under privileged families
Latest Additions.........

Please subscribe to Divyajivan Mailing List. We will update you with new uploads of spiritual literature on the web of Holy Master Sri Swami Sivanandaji Maharaj, saints of his lineage and other saints. We will also update you about the Sivananda Ashram, Ahmedabad website and facilitate communication with Sri Swami Adhyatmanandaji Maharaj.

Please enter your email address and click Subscribe button
To manage your subscription, please visit Subscription Page. You can also subscribe and unsubscribe from this page. You may unsubscribe by yourself anytime you wish. You will be required to send confirmation link that you will get in your e-mail to complete this subscription.

[ Home ] [ News ] [ Upcoming Events ] [ What's New? ] [ Services ] [ Swami Adhyatmananda ] [ Multimedia ] [ Publications ] [ Administration ] [Saints & Sages] [ Photo Gallery ] [ Contact ] [ Guestbook ] [ Important Links ]

Webmaster: webmaster@divyajivan.org