News and Activity Report (September 2008)
Sivananda Ashram, Ahmedabad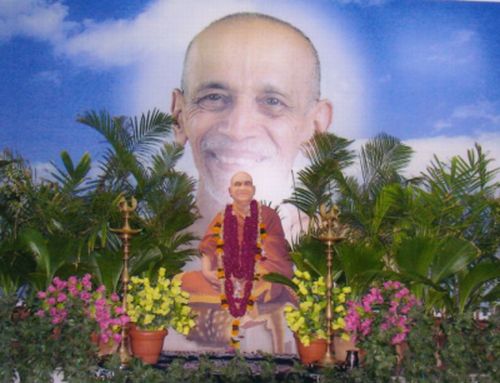 Most Worshipful and Revered Guru Bhagwan, Sri Swami Chidanandaji Maharaj has attained Mahasamadhi and merged into the bliss absolute at the age of 92 years on Thursday, 28th August 2008 at 8:12 PM.
Disciple and Successor of H H Sri Swami Sivanandaji Maharaj and President of the world renowned Divine Life Society for the last four decades, Sri Swami Chidanandaji Maharaj was working and serving the Divine Cause of Sri Gurudev's Mission tirelessly and spreading His Divine Life Message all over the world. He was an embodiment of humility, purity and kindness. He lived a life and ideals of a true renunciate. Service to lepers became His ideal and worship to Lord Narayana. He served them with tender love and compassion. He was inspirer of CHIPKO movement. His work for the protection of Himalaya and Ganges will be cherished for ages to come.
Revered Saint, Mother Teresa considered Him a Living Saint Francis of Assisi. For His own Guru, Sri Swami Sivanandaji Maharaj, He was an incarnation of Buddha.Whereas the entire Europe regarded Him an Uncrowned King. Sri Sri Maa Anandamayi saw in Him Lord Narayana Himself. Most Worshipful and Revered, Sri Pramukh Swamiji Maharaj of BAP'S, has seen in Him His own Guru Pujya Yogiji Maharaj's Holy Presence.
Linguist, perfectionist, full of serenity, divinity, absence of vanity, simplicity, equanimity, non-irritability, humility, integrity and nobility were His laudable virtues that earned Him reverence from the people of all four corners of the world. His service and sympathy to sick and downtrodden, poor and needy, birds and beasts were incomparable. He was oozing love from head to toe forknown and unknown.
His mortal coil was brought to Rishikesh at 1:00 AM and was immersed in holy stream of Ganges before sunrise of 29th August, 2008.
In His will, He has expressed the desire not to make any monument in His name, not to be informed anyone of His passing away, not to organize even any feast and festival traditionally performed when a monk cast away the mortal coil. But in case, if devotees wish, they can feed the poor, sick and street beggars.

Though physically, Beloved & Worshipful Holy Master H H Sri Swami Chidanandaji Maharaj may not be with us, but through His Virat Swaroop, He will be inspiring, guiding and protecting His countless devotees and disciples who are busy serving the Mankind and struggling to achieve the realization of the absolute. OM Shanti !

Swami Adhyatmananda
Prarthnasabha - A Prayer Meeting (August 31, 2008) at Sivananda Ashram, Ahmedabad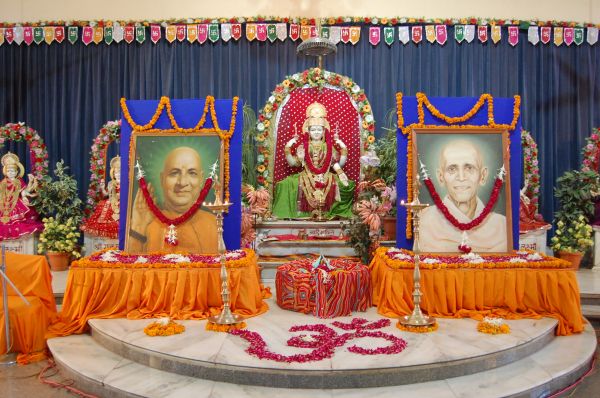 Mahasamadhi of our Beloved Gurumaharaj
On August 26 , 2008, news was received of missing pulse of H. H Sri Gurudev from Dehradun to Sivanand Ashram(Ahmedabad), which was immediately conveyed to Sri Swami Adhyatmandaji, who was on His "Divya Tour 2008" to the west in Milwaukee (USA). Upon Swamiji's instructions, Sri Birendra Das, inmate of Sivananda Ashram, Ahmedabad was sent to Dehradun the same day by air to be for the Darshan and service of Sri Gurudev. At the same time, Rs 100,000 charity was immediately sent to Leprosy Colony near Himmatnagar (Gujarat) and poor feeding was organized simultaneously. Akhand MahaMrityunjaya Mantra Japa was commenced by a large number of devotees at the Ashram Temple. On August 28, 2008, upon receipt of the news of Revered Gurubhagawan's Samadhi, immediately news was announced through Ashram's website as well as to the local newspapers for the information of devotees to join for prayer meetings at the Sivananda Ashram, Ahmedabad.
On July 31, 2008 Divya Jivan Sanskrutik Sangh, arranged a Prarthanasabha, A prayer meeting at 10.00am at Sivananda Ashram, Ahmedabad at Sri Sri Sri Ashta Laxmi Bhawan to pay homage to our Beloved Gurumaharaj Sri Swami Chidanandaji Maharaj. The meeting began with chanting of Ashram's traditional prayer "Jay Ganesh Jay Ganesh………… by devotees. The meeting was conducted by Sri Arunbhai Oza, a Vice President and Trustee of Divya Jivan Sanskrutik Sangh, Ahmedabad. The meeting was attended by renowned saints and large number of devotees. Here are the Tributes from the Saints in their own words.
Sri Swami Atmanandaji Maharaj of Srimat Rajchandra Adhyatmik Kendra, Koba said, 'If you put together the qualities such as devotion to Guru, devotion to God, Universal Love, Service to World and Sadhana (Meditation in Solitude) you will find Sri Swami Chidanandaji Maharaj. It was Sri Swami Sivanandaji, who moulded Sri Swami Chidanandaji. In reality Sri Swami Sivanandaji Maharaj and Sri Swami Chidanandaji Maharaj were two separate physical bodies with one common soul.
Sri Swami Ishwarcharandasji Maharaj of Swaminarayan Sect (BAPS) mentioned that Sri Swami Chidanandaji Maharaj and Sri Pramukh Swamiji Maharaj were very good friends. In his presence one used to feel extreme serenity. Even an act of very minor importance was performed by Sri Swami Chidanandaji Maharaj with utmost patience and devotion.
Maha Mandleshwar Sri Swami Kalyanandaji Maharaj of Bharati Ashram Sarkhej, Ahmedabad said that it is indeed rare to find a saint who has merged himself with God. Sri Swami Chidanandaji Maharaj was one of such saints. His Holiness Sri Swami Chidanandaji Maharaj was blessed by his Guru Sri Swami Sivanandaji Maharaj. Such a favour from Guru is obtainable only through the grace of God. Swami Chidanandaji has resolved back into the cause (Brahman) from the effect (Jiva).
Swami Prashant Swaroop Anandaji of Sri Swami Narayan Gadi Sansthan, Maninagar, Ahmedabad recalled the past and said what Chidanandaji had ordered his own disciples years ago. Sri Swami Chidanandaji had said, 'Whenever you come across even a most juniour saint of Swami Narayan Sect you should bow down to him. This shows the humility of Sri Swami Chidanandaji. He also cited the example of Eklavya of Mahabharata fame and said that just as Eklavya acquired Knowledge of Archery by offering devotion to the idol of his Guru Dronacharya, one can attain knowledge by concentrating on the image of his Guru.
Sri Swami Brahma Vihari of B.A.P.S remembered various occasions during which he chanced to come in contact of Sri Swami Chidanandaji. He recalled Chidanandaji's various qualities such as humility, purity, simplicity, equanimity and said that Sri Swami Chidanandaji Maharaj will remain alive in our life so long as we wish him to remain so, with us and within us.
Sri Bhagavat Rishi from Bhagvat Vidhyapeeth Sola, Ahmedabad recalled how Swami Chidanandaji took care of him while he was a child and suffering from high fever. Sri Bhagavat Rishi was at Sivananda Ashram, Rishikesh as his father Sri Krishna Shankar Shashtriji was doing 'Bhagavat Parayan" there. He said one should always remember three things, Slok (Sacred name of God), Punyaslok (A person of Godly Nature) and Uttamslok (the God). Well, Sri Swami Chidanandaji was a 'Punyaslok'.
Sri Gopalbapa representative of Anoopam Mission, Mogri said, 'The real homage to Sri Swami Chidanandaji Maharaj lies in the fact that we tread the path shown by him and pray to him to sit in our heart and inspire us'.
Sri Swami Viditatmanandaji of Tatva Tirth, Ahmedabad opined that Swami Chidanandaji was a 'Realised Soul'. Once someone questioned Swami Chinmayanandaji "Who according to you are the living beings who have attained Realisation?' Swami Chinmayanandaji promptly replied 'Two, one is Swami Chidanandaji and the other is Sri Sri Sri Ma Anandamayee". Sri Swami Chidanandaji was a unique saint thoroughly straight forward, having transparent personality and an embodiment of devotion, knowledge, action and yoga.
Sri Piyushbhai of 'Wagh Bakri Tea' shared that only after coming in the contact with Sri Swami Chidanandaji Maharaj that he learned how to live a selfless life.
Honorable Shri Naval Kishor Sharmaji His Excellency, the Governor of Gujarat sent his message expressing deep grief.
Sri Swami Adhyatmanandaji Maharaj could not remain present in the meeting as he was away on his "Divya Tour" to the West. He is a direct disciple of Sri Swami Chidanandaji Maharaj. His message on the occasion today was conveyed through telephone and was heard by the audience. In his message Sri Swami Adhyatmanandaji narrated some incidents highlighting the greatness of Sri Swami Chidanandaji. Sri Swami Sivanandaji used to say, it is only due to the effect of past karmas that Sri Swami Chidanandaji is my disciple. Actually, he deserves to be my Guru. Sri Sri Sri Ma Anandamayee found in him Lord Narayan. She believed that Swami Chidanandaji has attained a state of perfection where one is no more subjected to birth and death. Sri Pramukh Swami experienced in him the presence of his Guru Sri Yogibapa.
Shodshi Pujan Sept 12, 2008
After the Gurumaharaj's Mahasamdhi on Aug 28, 2008 till Sept12th for sixteen days Narayan Seva (feeding to poor) was done by the Ashram on daily basis. They were served the nutritious food, sweets, snacks, ice-cream, fruits, chocolates, biscuits, milk, etc. It was extended to various schools, slums; leprosy institute, orphanages, snake charmers, hospitals.Also Narayanseva was extended to wheat & grain ( about 4000kg) distribution to poor & needy families in Surendarnagar district. A group of devotees namely Sri.Marutbhai Dave, Jitu Kaka(greenman) Sri Pravin Gajjar, Sri Vimalbhai Patel, Smt. Nayanaben Dave, Smt.Pramila & Sri Mafatlal Patel, Sri Tejas Bhavsar, Sri Arun Upadhyaya and many more join in this selfless service.

On 16th day, a grand Shodashi Bhandara by worshipping 16 saints and a feeding to poor on large scale, Satsang etc were organized at theAshram on Sept 12, 2008. Other than regular gifts of 16 items to the16 monks namely Srimad Bhagwad Gita, Rudraksha Mala, utensils,(like thaali, katori, glass, kamandal), shawl, pair of clothes, umbrella, walking stick, shoulder bags, etc, a very special gifts were included, i.e. Traveling suitcase with wheels (Pullman), Thermos flasks, tea set, tea leaves, grounded sugar, Gujarati tea masala and Rs 1008/- Dakshina were most humbly offered to all sixteen Saints. This program was attended by a large number of devotees from all corners of Gujarat commencing from Valsad, Navsari, Surat, Bharuch, Baroda, Rajkot, Surendranagar, Jamnagar, Junagad, Bhavnagar, Khedbrahma and ofcourse Ahmedabad. Though worshipful, Gurubhagawan Sri Swami Chidanandji Maharaj, may physically not be with us, but in each brick installed by him, around the globe, HE will be keeping alive, for ages to come. HIS divinity, purity, character and saintly hood was down to earth, which will be cherished by generations to come. Om Shanti.
121st Birth Anniversary of holy Master Sri Swami Sivanandaji Maharaj
On Sept 8, 2008, Sivananda Ashram celebrated 121st Birthday of Holy Master Sadgurudev Sri Swami Sivanandaji Maharaj and also celebrated 15th Punya Tithi of Brahmleen Sri Swami Pavitranandaji Maharaj (founder of Sivananda Ashram, Ahmedabad). During the day Narayan Sewa (feeding to poor) was done to a great number of slum dwellers families. Satsang and Paduka Pujan performed in Sri Chidananda Dhyan Kendra and Prasad was served to a great number of devotees participated on this holy occasion.

93rd Birthday of Gurumaharaj Sri Swami Chidanandaji Maharaj
On Sept 24, 2008 has organized a special satsang and Paduka Pujan on the occasion of 93rd Birthday of Brahmleen Gurumaharaj Sri Swami Chidanandaji Maharaj. Daridra Narayan Seva to the flood afflicted homeless people in Surendranagar district has been planned and whole grains, wheat of about 2000 Kgs will be distributed.

On Sept 13, 2008 Kanakna production of Belgium, made a documentary on 'Tradition and Base of Yoga, Ashram's Life and on the Temple of Sri Sri Maa Ashta Laxmi Bhavan" with significance of Mother Goddess in Hinduism. Ashram's Yoga Teacher Miss. Sangeeta Thawani assisted the crew for yoga and Miss Riddhi Manna for the significance of Mother Goddess in Hinduism. This program will be broadcasted on one of the Europe's most renowned cultural channel 'Canvas' and 12 other European channels as a part of the documentary 'India for Beginners'.
Regular yoga teaching, Reiki sharing, feeding the poor, distribution grains to the needy, worship services at the temples, prayers and satsangs were conducted as usual.Two Reiki Seminars were conducted under the able guidance of Reiki Master Smt. Rupaben Majmudar and Shri. Tapanbhai Mankodi and large number of people attended the seminars. Acupressure treatment is being regularly provided to various types of patients by Dr. Smt. Mona Shah.
>>>>>>>>>>>>>>>>>>>>>>>>>>>>>>>>>>>>>>>>>>>>>>>>>>>>>>>>>>>>>>>>>>>>>>>
Continuing of "Divya Tour 2008" report of H. H. Sri Swami Adhyatmanandji Maharaj (Sept 1,2008 to Sept 23, 2008)
"Divya Tour 2008" In Slide Show
New Jersey program
New Jersey ( Sept 1, 2008 - Sept 8, 2008) From Sep1, 2008 to Sep7,2008 number of Yogasana programs including pranayama, meditation learning & sharing were organized by most respected & blessed Dr.Nick Mehta at Toms River, New Jersey. Early morning Yoga sessions were organized at the residence of Dr.Nick Mehta's beautiful lawns with pine & fur trees. A large number of doctors & paramedical yoga enthusiasts from various medical organizations joined the yoga program.
Sri Swami Adhyatmanandaji Maharaj shared various exercised including those for flexibilities, light yogasanas & essential pranayama to avoid complications that arise from constant computer use, like improper functioning of fingers, thumbs, wrists, upper arms, shoulders and its joints, scapulas, cervical vertebrae and lumbar spine.
On the afternoon of Sept1, 2008 from 3 pm to 4 pm, Swamiji shared wonderful time with Children born in America (2nd generation kids) made them understand the value and goal of their life, may they want to be astronomers, doctors, scientists or businessmen. They should decide at an early age and work hard to achieve it through systemic efforts in the right direction. Swamji played with them fun games and taught them how to sharpen the mental functioning. In the evening Swamiji enlightened a large gathering on the subject of "Gita In Daily Life" from 7pm to 8pm.
Entire week was full with the programs at the various places as following. Evenings 7pm- 9 pm Yogasan, Pranayama & Meditation class conducted at Center for Health & Healing (coordinated by Ms. Dawn Keen). Similar class conducted on Sept 3rd from 9:30am to 11:30 am at the Healing Way Center (coordinated by Ms. Donna Cetroni). Swamiji was invited to Ocean County College to address the community students on the subject of "Stress Management". This program was organized in the Institute of Technology, which was coordinated by Mr. Richard Strada. In the evening from 7pm to 9 pm Swamiji, elaborately discussed the "Patanjali Yogasutras" with very serious yoga loving American audience. On Sept 4th, other than morning yoga class, in the evenings from 7pm – 9 pm, Sri Swamiji Maharaj conducted a big yoga seminar at Kula Kamala Yoga institute Coordinated by Sharon Allitt & Yogi Edward). On Sept 5th a very special discourse was organized by Indian Cultural association at Pleasant Plain Fire Hall on the subject of "Inspiring role models from Indian ancient scriptures." This program was coordinated by Mr. Sunny Dhir at 40 Clayton Avenue of Toms River.
H. E Mayor of Toms River (NJ) Thomas Kelaher Honoring Pujya Swamiji
On Sept 6th & 7th, a special 2-day long Yoga & Health seminar was organized by Dr. Nick Mehta at community medical center, Pecora Auditorium, Toms River, New Jersey. His Excellency Mayor of Toms River, Hon. Thomas Kelaher lit the lamp for the seminar. He said that Yoga is now no more a monopoly of the Indian community, but the property of the world at large. We welcome Swamiji in our county and request him to be with us for many years to share this ancient knowledge of yore. A special citation was presented to Swami Adhyatmandji Maharahj by Honorable Mayor as well as the citizens of the county of Toms River, NJ.
On Wednesday Sept 3, 2008, a special worship and satsang was organized ganesh Chaturthi and on Saturday Sept 6, 2008 heart melting Bhajan Sandhya also was organized where Sri Swamiji poured out his soul stirring Kirtan which was really a memorable evening where number of Americans spontaneously were inspired not only to sing but dance in ecstasy.
On Saturday, Sept 7, 2008 morning a special Yoga session was organized at respected Mrs. Shodhani's residence. In the evening a grand Satsang and Kirtan program was organized at Karni Temple of Hindu community, where Sri Swamiji Maharaj discussed in detail the subject of Meditation, its theory, practice, obstacles & conducted group meditation also. The greatest enjoyment event was potluck lunch with Swamiji on midday Sept 7, 2008.
On Sept 8th morning was the121th Birth Anniversary of Most Worshipful & Revered Holy Master Sri Swami Sivanandji Maharaj, which was celebrated with Sri Guru Paduka Pujan, Bhajan & Kitan and Mahaprasad at residence of Tejal & Amit Shah of New Jersey.
Sincere Thanks and gratitude to Mrs & Dr. Nick (Nikunj) Mehta for organizing this wonderful program with so much commitment, dedication, devotion & with great love for Sri Swamiji Maharaj & His Mission to Mankind. During his stay at NJ, Sri Swamijij Maharaj visited a number of organizations, Sri Satya Saibaba center, Children's Hospital etc and number of Yoga studios run by various organizations & different yoga schools. On midday of Sept 8th Sri Swamiji Maharaj went to Toronto.
Toronto, Canada (Sept 8, 2008 - Sept 16, 2008) Eight days long Yoga Camp & Spiritual discourses of H. H Sri Swami Adhyatmanandji Maharaj was organized at Toronto, ON(Canada). On Monday, Sept 8th, arrival day in the evening , a welcome satsang for Swamiji and also birthday celebration of Sri Sadgurudev Swami Sivanandji Maharaj was organized at Sri Gur Mandir. Program was celebrated with Sri Paduka Pujan. Discourse on the glory of the Guru & how to receive His Grace was so lucidly described by Pujya Swamiji Maharaj that all the devotees got overwhelmed , it was followed by Arati & Mahaprasad to large number of devotees.
Yoga & Meditation and Camp ( Sept 9, 2008 - Sept 16, 2008)
From Sept 9th to Sept 16th there were two simultaneous Yoga Shibir was organized at different location. In the morning 7am to 8am at Sri Gur Mandir 's large premises and in the evening at Sri Vaishnodevi Temple from 6m to 7pm, Yogasana camp followed by discourses (7.00pm - 8.15pm) on Chapter 9th of Bhagavad Gita (kingly science of kingly secret). A special Satsang were organized at Devi Mandir, Pickering,( Ontario) & Ganesh Temple, Richmond Hill,( Ontario) Sri Swamiji Maharaj visited Jain temples on the holy occasion of Samvatsari and also paid his homage to Sri Ramakrishna Vedanta center (Ontario), Toronto
Toronto program at Vaishnvodevi & Gaur Temple (Paduka Pujan Sept 8th on Gurudev's B-day
During his stay, Swamiji addressed number of private gatherings and Satsangs for youth & citizens of Toronto. Thanks to Sri Kunj Biharibhai Dave, Sri Kamlesh Dave & his family, Sri Ram Gogiaji and Mayur Upadhyay for this wonderful program at Ontario, Toronto. Pujya Swamiji expresses a special gratitude to Mrs. Anjali & Mr Naresh Shah of Vaughn to host Sri Swamiji Maharaj during his stay.
ATN Television studios invited Sri Swamiji Maharaj & interviewed him for the telecast three episodes(22 minutes) on the subjects Yoga to be broadcasted later on for the benefit of Canadian community. Swamiji elaborated all different kind of Yoga, Karma, Bhakti, Jnana, Raj, Kundalini, Nad, Sahaja & its modern variations like Hot Yoga etc.
A grand farewell and Bhandara was organized and public farewell was exercised by trustees & president of Vaishnodevi Temple. We are thankful to their learned & scholarly chief priest & devotees of this temple.Sri Umesh Kapitan, Sri Balachandra Lodhia & Sharad Kamdar join to organize Sri Swamiji's trip to Torontto in much planned & better way. They all have decided & planning to invite Swamiji in June/July 2009 and to organize a grand Yoga festival once again. Sri Swamij Maharaj is thankful to all those who offered their time & their services to travel to various programs, it was amount to about 250 miles driving each day. The day started at 5.30am (start from home) and return at around 11.30pm. It shows that Pujya Swamiji does not care for His personal comfort and physical need and spend each breath of His life for the Good of Mankind and working towards the Mission of spreading the message of Gurudev Swami Sivanandaj Maharaj & Gurumaharaj Swami Chidanandaji Maharaj.
Windsor, Canada: (Sept 17, 2008 & Sept 20, 2008) On early morning of Sept 17th Sri Swami Adhyatmandaji Maharaj arrived here, blessed the number of families & business places. He then proceeded to US on midday Sept 17th to reach Toledo and again visited Windsor on Saturday, Sept 20th & conducted a wonderful Satsang for a small Indian community of Windsor. Mrs. & Mr. Jayesh Bhatt need a special thanks to organize Swamiji's program at Windsor.
Toledo, Ohio (Sept 17, 2008 - Sept 21, 2008 ) Most Worshipful & Revered Swamiji Maharaj came to Toledo, OH (USA) by a car from Windsor (Canada) by the courtesy & personal presence of Sri Rajesh Laungani to Mrs. Bindu & Dr. Arvind Mistry's holy abode on Sept 17th midday. From the evening of Sept 17th to midday Sunday, Sept 17th, Satsangs on various subjects like Gita in Daily life, Teaching from Vedas, Introduction to Ishopnishad, Saints & Sages of India, Meditation, etc were discussed at the Hindu Temple of Toledo, Ohio from 7pm- 8:30pm.
Early morning Yoga classes from 7am- 8am were conducted at the auditorium of the Hindu Temple of Toledo with great enthusiasm. Sri Anantbhai Dixit, the head priest & Acharya of the Temple, Dr. Arvind Mistry & Sri Rajesh Laungani need a special thanks & gratitude for organizing 5 day long spiritual retreat at Toledo. During his stay, Sri Swamiji Maharaj was invited to visit number of homes for Bhiksha, blessings & Satsangs. Sri Swamiji proceeded to Bloomington, Indiana on Sunday, Sept 21st midday after the concluding at Toledo program.
Sri Dinesh Patel, a devotee and initiated disciple of Most Revered H. H Swami Chidanandji Maharaj had a comfortable drive from Toledo to Bloomington Indiana on Sunday Sept 21st. Sri Swamiji stayed here 3 nights. His Satsangs were organized at the newly constructed Hindu Temple on the subjects of Sri Hanuman Mahima & Sunderkanda. Other than this Swamiji graced a number of private homes, institutions and visited Indiana University too. Swamiji left for Atlanta on holy & happy 93rd birthday of H. H Sri Swami Chidanandji Maharaj, after birthday Satsang at Bloomington.
Divya Jivan (Gujarati), September 2008 / Divya Jivan (Gujarati) - October 2008
Latest Additions.........

Please subscribe to Divyajivan Mailing List. We will update you with new uploads of spiritual literature on the web of Holy Master Sri Swami Sivanandaji Maharaj, saints of his lineage and other saints. We will also update you about the Sivananda Ashram, Ahmedabad website and facilitate communication with Sri Swami Adhyatmanandaji Maharaj.

Please enter your email address and click Subscribe button
To manage your subscription, please visit Subscription Page. You can also subscribe and unsubscribe from this page. You may unsubscribe by yourself anytime you wish. You will be required to send confirmation link that you will get in your e-mail to complete this subscription.

[ Home ] [ News ] [ Upcoming Events ] [ What's New? ] [ Services ] [ Swami Adhyatmananda ] [ Multimedia ] [ Publications ] [ Administration ] [Saints & Sages] [ Photo Gallery ] [ Contact ] [ Guestbook ] [ Important Links ]

Webmaster: webmaster@divyajivan.org