News and Activity Report (January 2009)
Sivananda Ashram, Ahmedabad

New Release - Yoga, A way of Life
Welcoming New Year 2009: In the evening of Jan 1 2009, a special gathering was held at the Ashram. A devotional music by Smt. Sima Trivedi and Sri Jayesh Naik was enjoyed by all. Light talks of Sri Dinker Mehta relaxed everyone.
"Project Manav Seva" at Divya Jivan Sanskrutik Sangh, Sivananda Ashram, Ahmedabad.
Project Manav Seva is an extensive program guided by Sri Swami Adhyatmananda Saraswati that focuses on holistically helping the needy and indigent populations. Under his guidance, programs specifically geared towards helping the needy and disabled have grown and flourished successfully. Project Manav Seva has been carried out by the Bhagwan shri Vishwanath Mahadev Seva Kendra, Sivanand Ashram for the last 15 years and continues to grow by leaps and bounds in the advancement of current programs which address the alleviation of suffering of the sick, disabled & elderly. The ultimate goal of this program is to further spiritual growth for both those served and those providing service while simultaneously making a difference in people's lives. The continuation of such comprehensive programs has been possible only because of the unstinted devotion and generous financial help provided by selfless devotees of the Lord all over. Through Vishvanath Mahadev Seva Kendra 3rd of each month free distribution of grains to needy Daridra Narayana families is being done. Through Sivananda Swathya Kendra free consultation and holistic way of treating health problems to sick and afflicted. It runs Monday- Wednesday –Friday (6.oo to ). Dr. Snehal Amin and others devote their time for making it possible.
Sivananda Internarional Vedanta-Yoga Academy ( SIVA) - Yoga and meditation camps each month from 1st- 10th morning Yogasana classes for the beginners and for the advanced Yoga studdent has been organized. Also afternoon and evening yoga classes, specially for the benefits of ladies is a regular activity and it is supported by kind seva of Dr. Snehal Amin, Smt. Surekhaben Sonar, Miss Sangeeta Thawani, Smt. Yojna Tandon and Smt. Janki Shah and mnay others.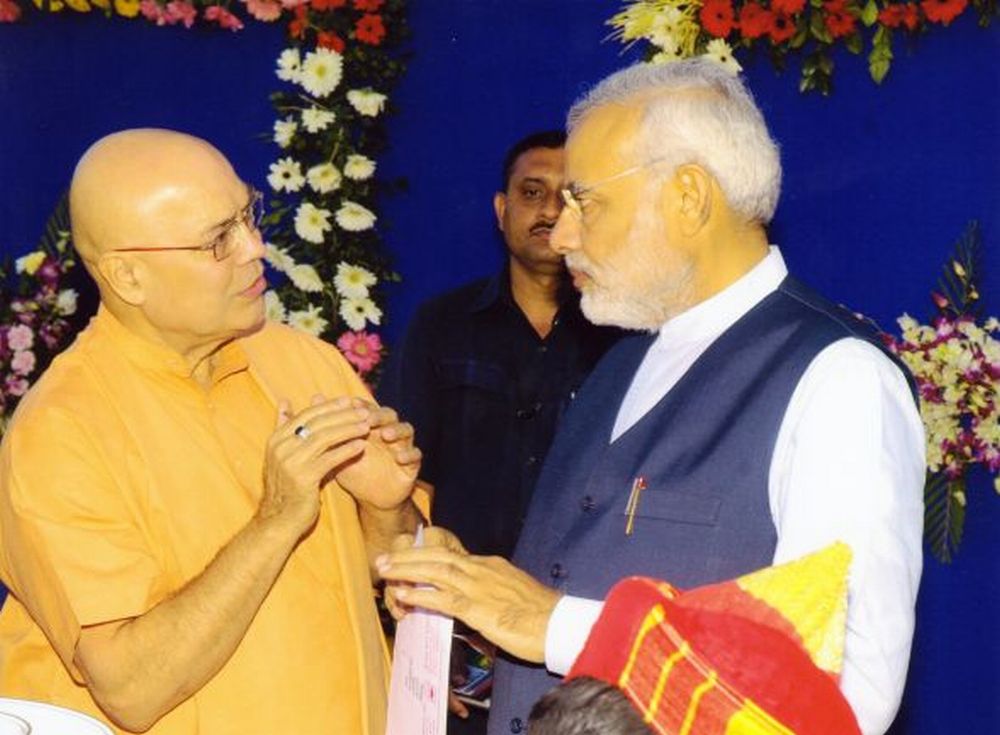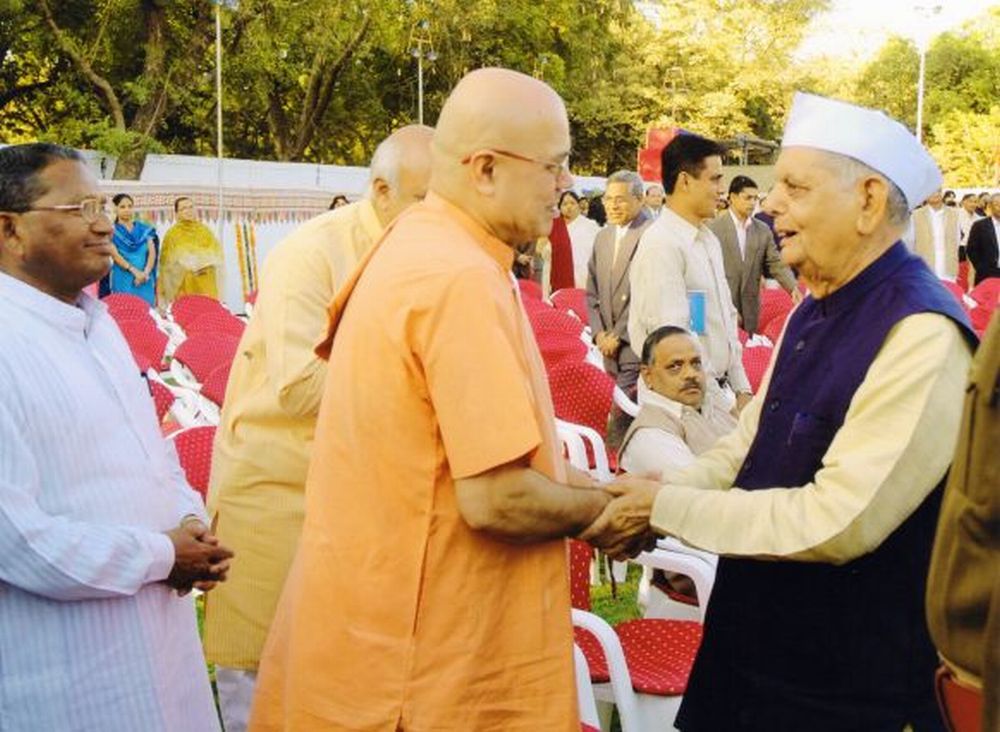 With H.E Chief Minister of Gujarat Sri Narendrabhai Modi & H.E Governor of Gujarat Sri Naval Kishor Sharmaji
At Rajbhavan- on Jan 26, 2009
Inter college Elocution Competition (Jan 4, 2009) Ashram organized inter college elocution competition and 29 college students participated. In final contest Sri Jaymin Thakkar of M.G. Science institute was awarded the first amongst all. Winning trophy was awarded by Smt. Poonam Mataji, secretary of the Ashram. Winning Trophy was awarded also to M. G. Science college. Credit goes to sincere efforts by Dr. Chirag Pandya and Sri Arvindbhai Mehta for the grand success of this annual event.
Sri Swami Chidanandaji Maharaj Smruti Pravachan (Jan 13, 2009) - Sivananda Ashram, Ahmedabad lawn garden was packed on the eve of Makarsankranti as, a special satsang was organized in the memory of Brahmlin Gurumaharaj Sri Swami Chidanandaji Mahraj in august presence of Mahamandleshwar Sri Swami Satyamitranandji Maharaj with many other dignitaries. His Holiness cherished His precious experiences and moments with Holy Master Sri Swami Sivanandaji Maharaj and Gurumaharaj Sri Swami Chidanandaji Maharaj. He expressed his mutual love, regards & reverence for Sri Swami Adhyatmanandaji Maharaj. His words of wisdom & message to the youth to protect motherland inspired one and all.(complete discourse of His Holiness - in Divya Jivan, Febrary- issue, page 10-17))
H. H. Swami Adhyatmanandaji Maharaj shared His precious time and experiences with Gurumaharaj and feeling His Master's presence at each moments of his life, which is the driving force behind all his activities. He emphasized that Gurumaharaj has dropped the body and merged into the Supreme. " Feel His presence, He is Here & Now, with us". HE is protecting, guiding and helping His devotees with many hands now, what's needed is the faith. Many devotees got overwhelmed and rolled up in tears with Sri Swamiji's loving words for His Master.
This event was sponsored by Sri Piyushbhai Desai of "Waugh Bakri Tea" and Sri Shreyas Pandya of famous Sahitya Mudranalaya.
726 Yogasana camp: It was organized at Sri Swami Narayan Gurukul, Chharodi. Tree plantations were done. Sri Swamiji Maharaj addressed a grand assembly of students.All the Monastic members of the institute attended the entire program including H. H. Sri Madhavpriya Swami.
Republic day celebration (Jan 26, 2009) Ashram celebrated 60th Republic day. Flag was hoisted by Sri Ajay Yagnikji of Delhi.
Republic Day get together at Governor's house - Sri Swami Adhyatmanandaji Maharaj was invited at Raj Bhavan, the Governer house of Govt. of Gujarat for Republic day's get together by H.E.Governor of Gujarat Sri Naval Kishor Sharmaji.
Sri Swami Adhyatmanandaji was invited at Gandhinagar Town Hall for Indian Army's South Command's award ceremony.
Patotsav of Sri Ram Mandir (Jan 26, 2009) On Jan 26, 2009 is anniversary of Sri Ram, Hanuman, Dattatreya and Lord Jagannath Temple of the Ashram. On this occasion, Sri Maruti Yagna was performed followed by Bhandara. Sri Ajay Yajnikji graced the holy chanting of "Sri Sunderkand Parayana" with wonderful discourse on Sri Ramcharitmanas.. Large numbers of devotees attended this satsang.
All Religion Prayer Meeting at Sabarmati Ashram – On Jan 30, 2009 the day of Punya Tithi of Pujya Bapuji Mahatma Gandhiji, Sri Swami Adhyatmanandaji Maharaj conducted all religion prayers at Sri Gandhi Ashram.Also present at the meeting H. E. the Lama Ring Ponche, Prime Minister of H.E. Dalai Lamaji.
Spiritual Tours & Programs of H. H. Sri Swami Adhtamanandaji Maharaj during the month of January 2009
727 th Yoga Camp at Hyderabad-Secunderabad (Jan 2,2009 - Jan 9, 2009) Upon Sincere invitation of 'Samarpan friends circle' Sri Swami Adhyatmanandaji Maharaj visited twin city from Jan 2, 2009. Sri Swamiji conducted Yogasan, Pranayam and Meditation camp for the benefits of all yoga lovers.
During his short stay Sri Swamiji Maharaj was invited by Gandhi Society, Hyderabad, Sri Guru Nanakdev Institute of Science and Technology, Sri Swami Narayan Gurukul and education Institute of Gujarati Samaj. Sri Swamiji visited number of devotees' houses, factories & business center. The entire program was organized by Sri Ajit Shah and Sri Amar Shah of Samarpan friends circle.
On final day,( Jan 9th) of the Yoga the camp, H. H. Sri Swami Satyavritanandaji Maharaj of A.P. Divine Life Society, H.H. Sri Swami Vivekrupanandaji Maharaj and Sri Swami Narayanpadanandaji Maharaj of H.Q. of the Divine Life Society, Sivananda Ashram, Rishikesh were all present and 1 week of camp concluded with grand Bhandara to all.
At Junagadh (Jan 14, 2009) - Sri Swami Adhyatmanandaji Maharaj was invited by "Sri Anant Dharmalaya" - 160 years old institute to celebrate a centenary celebration of its founder Late Diwan Sri Anantaji Vasavada on Jan 14th , a holy day of Makar Sankranti. Sri Swamiji graced number of devotees houses upon their request as well. Sri Swamiji paid his homage to Sri Punitacharyaji Maharaj of Sri Punit Ashram and to Sri Mahamandaleshwar Sri Bharati Bapuji Maharaj at Junagadh.Director Vigilance of Hindustan Petroleum Mr. Bhavesh Ranjan Pathak from Mumbai accompanied Sri Swamiji Maharaj for his memorable Junagadh visit.
Khedbrahma – Ambaji (Jan 16, 2009) - Annual Satsang at Sri Ramnagar Campa, Khedbrahma was organized on Jan 16th , in memory of Late Sri Swami Gurukripanandaji Maharaj. Sri swami Narayanswaroopanandaji and Sri Navalbhai Dave from the Divine Life Society, Jamnagar accompanied Sri Swami Adhyatmanandaji Maharaj. Sri Swamiji visited Rajanta, Lakshmipura also on his way back to Ahmedabad.
At Baroda- On Jan 21, 2009 & Jan 22, 2009 - Life Insurance Corporation of India's zonal conference was organized at Dr. C.C. Mehta auditorium of M.S. University Vadodra. Sri Swamiji addressed about 1200 development officers upon self development and stress management matter. During his stay at Vadodara, Sri Swamiji visited H.H. Sri Swami Brahmanandaji Maharaj Gurukulam ashram at Baroda.
Valsad & Vapi – On Jan 23rd to Jan 29th Vapi Industrial expo 2009 was organized by Vapi Industrial Association. Sri Swamiji addressed them on Jan 27th and Jan 29th on the subject of "You are the answer to Your problems" and "Economy- the back bone of the Nation". As the same time Sri Swami Adhyatmanandaji Maharaj addressed the Executive Staff and members of Raymond Suiting and Shirting company at Vapi on Jan 28,2009 . Sri Swamiji stayed at famous Country Club and visited number of devotees houses upon their loving invitation at Valsad.
Navasari (Jan 28, 2009)- Sri Swamiji visited the local branch of The Divine Life Society at Sri Chhotubhai Desaiji's, Ram Mahola, Navsari and had satsang with devotees. The president Sri Sureshbhai Desai, Vice-President Sri Rameshbhai Shah, Sec. Sri Bhupendrabhai Darji and many more members of the branch attended the satsang.
Sri Swami Adhyatmanandaji Maharaj paid visit to most respected and blessed Sri Bhikhubhai Desai (94 years old), an ardent devotee of Gurudev Sri Swami Sivanandaji Maharaj. Pujya Swamiji's surprise visit, darshan & Satsang brought a special joy & solace to him. infact, he was inquiring with his family members about Pujya Swamiji's program & Swamiji's visit to Navsari for the last month. All the family members feel overwhelmed and thankful to Pujya Shree for taking time out from His busy schedule.
Ankaleshwar- UPL Rotary Library and Book Lovers forum of Ankaleshwar invited Sri Swami Adhyatmanandaji Maharaj for addressing their 100th discourse upon the subject "Let us understand our religion and our Science." The question answer session was of great interest. The program was organized by Mr. C. K. Giriya.
At Rajkot – Upon hearing about deteriorating health of Sri Pranbhai Mehta, Sri Swami Adhyatmanandaji Maharaj visited Rajkot. Also Swamiji visited Sivananda Bhavan and graced number of devotees houses upon their request.
>>>>>>>>>>>>>>>>>>>>>>>>>>>>>>>>>>>>>>>>>>>>>>>>>>>>
Maha Shivratri Utsav (February 23, 2009)
The holy Maha Shivratri will be celebrated with great devotion and dedication to Lord Shiva on 23rd of February, at Sri Vishwanath Temple, Sivananda Ashram, Ahmedabad. Brahma muhurta worship will commence at 3.00am starting with Laghu Rudra and will continue throughout the day and night up to 5.00am of 24th dawn. There will be musical feast by very prominent artiest of the Gujarat. Hence devotees those who desire to come and stay in the ashram or desires to attend all worships or desires to request for worship on their behalf are requested to inform about their arrival, number of people etc.
Om Namah Shivaya. !
Latest Additions.........

Please subscribe to Divyajivan Mailing List. We will update you with new uploads of spiritual literature on the web of Holy Master Sri Swami Sivanandaji Maharaj, saints of his lineage and other saints. We will also update you about the Sivananda Ashram, Ahmedabad website and facilitate communication with Sri Swami Adhyatmanandaji Maharaj.

Please enter your email address and click Subscribe button
To manage your subscription, please visit Subscription Page. You can also subscribe and unsubscribe from this page. You may unsubscribe by yourself anytime you wish. You will be required to send confirmation link that you will get in your e-mail to complete this subscription.

[ Home ] [ News ] [ Upcoming Events ] [ What's New? ] [ Services ] [ Swami Adhyatmananda ] [ Multimedia ] [ Publications ] [ Administration ] [Saints & Sages] [ Photo Gallery ] [ Contact ] [ Guestbook ] [ Important Links ]

Webmaster: webmaster@divyajivan.org