News Report for the Month of December 2011
Sivananda Ashram, Ahmedabad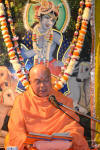 Radiant Immortal Divinity
Most beloved and blessed children of the divine!
Hari Om, Om Namo Narayanaya
Happy New Year!
May Almighty Lord, who is known as Allah, Ahurmazda, Jehowah, Jhande Avasta, Waheguru, Satanam, Jesus, Moses, Buddha, Mahavir, Sri Ram, Krishna, Durga, Kali or Ganesh in any name or form, may He be a father in the heaven; BLESS YOU ALL!
Prayers and best wishes for thy excellent health, long life, joy, peace and spiritual illumination.
May year 2012 bring peace, love and harmony between man and man, nation and nation;
and may we all cherish life of mutual love, harmony and blessedness.
May year 2012 be a year of progress, up lift meant and prosperity. May year 2012 bestow its grace with soul embracing soul and scales the heights of supreme blessedness. May God Gurudev bless you all. May you all shine and prosper. With lots of love, prayer and best wishes.
In the service of Humanity
Servant of Sri Gurudev Sivananda,
Sevak
Swami Adhyatmananda
At Sivananda Ashram, Rishikesh Most worshipful and Revered Gurudev Sri Swami Sivanandaji Maharaj commenced Maha Mantra Kirtan on December 3rd, 68 years ago. Sivananada Ashram, Ahmedabad celebrated this memorable day with Mahamantra chants and holy Hari Nama Kirtan.
Gita Jayanti: Dec 6, 2011 was the holy Sri Gita Jayanti. It was on this day that Sanjaya narrated to King Dhritarashtra the dialogue between Sri Krishna and Arjuna, and thus made the glorious teachings of the Lord available to us, and to people of the world, for all time. The message of the Bhagavad-Gita was given by the Lord Himself on the battlefield of Kurukshetra. The Gita shows a way to rise above the world of duality and the pairs of opposites, and to acquire eternal bliss and immortality. It is a gospel of action. It teaches performance of one's duty in society and a life of active struggle, keeping the inner being untouched by outer surroundings, and renouncing the fruits of actions as offerings unto the Lord. The Gita is a source of power and wisdom.
Gita Jayanti was celebrated in the Ashram with Gita Parayan (group recitation) led by Revered Sri Swamiji.
Sri Dttatreya Jayanti ( Dec 10, 2011 )
O
n holy of Dattatreya Jayanti,

a grand
Laksharchana, Pooja, Sri Dattabavani chanting and Sri Datta Yajana was performed at Sri Dattatreya Temple of the ashram.
Lord Dattatreya - He was a supreme yogi. Like Dakshinamurti, He was the Adi-Guru, the primal world teacher. The name or word 'Dattatreya' is constituted of two terms, 'Datta' and 'Atreya'. In Sanskrit, 'Datta' means one who is bestowed as a gift, and 'Atreya' is derived from the name of a great sage called Atri. The son of Atri is Atreya. A descendent of Atri also is Atreya. One, who is bestowed as a divine child on the great sage Atri, by the Gods Brahma, Vishnu and Siva themselves, is Dattatreya. Tradition holds that he was the divine child of sage Atri born to his famous consort Anasuya, the great queen of chastity, Anasuya Devi.
Yoga teaching through SIVA – Sivananda International Vedanta and Yoga Academy at Sivananda Ashram, Ahmedabad offers daily yoga lessons for Beginners, Intermediate & Established yoga practitioners. The daily Yoga sessions start at early hours of dawn (5.30am) and continue through the day in different groups. In addition to regular Yoga teaching, during the month of December even more Yoga teaching was organized.
Yoga teaching is one of the vital activities at the ashram. Ashram offers more extended programs in all areas of Spirituality, Health Wellness, and Personal Growth, with an emphasis on Yoga and Meditation, under the guidance of Pujya Sri Swami Adhyatmanandaji Maharaj
25th Yoga Teachers Training Course (YTTC) Dec 11, 2011 - Dec 30, 2011: Three weeks (20 days) residential Yoga Teacher Training Course was conducted through Sivananda Institute of Veadanta – Yoga Academy, Sivananda Ashram, Ahmedabad. Twenty five candidates participated for the course, other than India there where students from Brazil, Netherlands and Egypt. A team of qualified doctors conducted classes. Examinations were conducted and successful students were awarded certificates through the worthy hands of Sri Murari Bapuji, a world renowned Ramayana Scholar. Ms. Aneri Haria stood first and Ms.Tomoko Murata (Japan) declared all round best student for the YTTC December 2011.
745th Yoga, Meditation & Pranayam camp was organized at Ashram's premises and 511 yoga lovers joined. In spite of severe cold they continued to enjoy camp conducted by Revered Sri Swami Adhyatmanandaji Maharaj in the open lawn garden of the Ashram. Fifty six candidates donated blood during blood drive organized by Sivananda Ashram, Ahmedabad. Also a free diabetic checkup done during the camp and two hundred and thirty eight people participated.
Other News
Deep Aradhana - On Dec 3 & 4, 2011 Astik Samaj a group of south Indian devotees of the Lord Ayyappa, organized grand 'Deep Aradhana' (worshiping deepam) and Sri Ayyappa worship, through holy chant of Sri Vishnusahasranama and Kirtan by a renowned vocalist from Erode (Tamilnadu). Sri Erode Rajamani and his party presented a feast of devotional music.

On Dec 16, 2011 Revered Sri Swami Adhyatmanandaji Maharaj was invited as a guest of honor at the 18th international Sindhi Sammelan organized at famous Karnavati club of Ahmedabad. H. E. Sri Narendra Modi, Chief Minister of Gujarat inaugurated the function. Mr. Srichand Hinduja and Sri Prakash Hinduja were few names to specify those who came from far and wide places.

On Dec 17, 2011 a large group of Sindhi community people visited Sivananda Ashram. After devotional music by renowned musicians from Mumbai, Revered Sri Swamiji Maharaj shared his words of wisdom to the gathering.

Region IV of Lion club organized their annual conference at Sri Sardar Vallabhabhai Patel Memorial hall, Shahibagh, Ahmedabad, upon a very humble request of Smt. Kumudben Rashmikant Shah,, President of the zone.the meeting was attended by very large number of Lions family and addressed by Revered Sri Swami Adhyatmanandaji Maharaj and past Vice Chancellor of Gujarat University Dr. Chandrakantbhai Mehta. Lion lady Mrs. Kumudben generously donated Rs. 25000/- for Gujarat Divya Jivan Sangh poor children educational fund.

On Dec 23 , 2011 Sri Arvind Joshi Memorial lecture series was inaugurated by Swami Adhyatmanandaji at Hindi Bhavan of Rashtra Bhasha College. After lightening the lamp Revered Swamiji Maharaj gave a very inspiring discourse on the subject "Gita in daily life".

Friday Dec 30, 2011 was a red letter day in the history of Female education society of Gujarat. Pujya Sri Swami Adhyatmanandaji was chief guest and Revered Murari Bapu a renowned orator of Ramayan epic was the main speaker. Awards were presented to five women and one gentleman for their admirable services in the field of women education.

On Dec 31, 2011 all religion conference for "Save India" was organized by All India MILLI Council of India at the Town Hall. Pujya Sri Swami Adhyatmanandaji Maharaj was invited as a Guest of Honor, in His keynote address Revered Swamiji Maharaj laid emphasis on love and duty towards our nation. He said, "until we love our nation, we cannot save nation. Let India be the first, society the next and self the last or least. If, so called religion makes crack between man and man, we should shun that religion. So Love all, hate none, be loyal and faithful to nation, then we can save the nation".

On Dec 31, 2011 10:00 am His Holiness Sri Swami Satyamitranandaji Maharaj visited Sivananda Ashram and carried out tree plantation.
Satsang & Tours of Pujya Swami Adhyatmanandaji Maharaj during the month of December 2011
Hydrabad (Dec 3, 2011) Honoring sincere invitation ofDr. Vikram and Mrs. Jalpa, Sri Swami Adhyatmanandaji visited Hyderabad. In his short visit to Hyderabad Revered Swamiji Maharaj met 'Samarpan Group' which is efficiently working hard to preserve the heritage and culture of India.
Heranj: Upon a very kind and generous invitation of H.H. Sri Swami Asanganandaji Maharaj, disciple of Late Yogiraj Styananda Paramahansa, Sri Swami Adhyatmanandaji and group of devotees visited Heranj Jnana Vihar Ashram. Revered Swamiji conducted small homely Satsang with devotees gathered and made everyone happy.
Dethali: On dec 6, 2011 from Heranj, Sri Swamiji Maharaj and group of devotees arrived at Sri Gujarat Vidyapith, Dethali, it happened to be holy Gita-Jayanti. Sri Swamiji Maharaj paid homage to the statue of Sri Mahatma Gandhi and after lightening the lamp Sri Swamiji addressed to large gathering of students from Dethali as well as nearby villages. Revered Sri Parsadrai Shastri (94 yrs) founder of the institute thanked Swamiji Maharaj for His gracious presence on the occasion.
Baroda: It was delight to all that Graduate of Yoga Teacher Training Course of Sivananda Institute of Vedanta – Yaga Academy, Mrs. Maya Bontra 's "YOGASHALA" was inaugurated by H. H. Sri Swami Adhyatmanandaji Maharaj on Dec 7, 2011. Yogacharya Ms. Sangeeta Thawani and Yogi Vikram accompanied Revered Swamiji Maharaj.
In between His quick and short trip to Baroda Sri Swamiji Maharaj with devotees visited Dr. Merchants in "Adhyatman" and Smt. Kokilaben and Sri Upendrabhai Purohit's holy abode named "Sivananda".
Gandhinagar: On Dec 12, 2011 a meeting was held at Mahatma Mandir, Gandhinagar by Government of Gujarat to plan the programs on the occasion 150th birth anniversary celebration of Swami Vivekananda. Though out the year from 12th of January, 2012 to 12th January, 2013 the programs will be planned. H. E Chief Minister of Gujarat Sri Narendra Modi addressed the meeting, Revered Swami Adhyatmanandaji suggested mass tree plantation and blood donation drives.
Om Shanti!
Latest Additions.........

Please subscribe to Divyajivan Mailing List. We will update you with new uploads of spiritual literature on the web of Holy Master Sri Swami Sivanandaji Maharaj, saints of his lineage and other saints. We will also update you about the Sivananda Ashram, Ahmedabad website and facilitate communication with Sri Swami Adhyatmanandaji Maharaj.

Please enter your email address and click Subscribe button
To manage your subscription, please visit Subscription Page. You can also subscribe and unsubscribe from this page. You may unsubscribe by yourself anytime you wish. You will be required to send confirmation link that you will get in your e-mail to complete this subscription.

[ Home ] [ News ] [ Upcoming Events ] [ What's New? ] [ Services ] [ Swami Adhyatmananda ] [ Multimedia ] [ Publications ] [ Administration ] [ Saints and Sages ] [ Photo Gallery ] [ Contact ] [ Guestbook ] [ Important Links ] Webmaster: webmaster@divyajivan.org