News Report for the Month of March 2011
Sivananda Ashram, Ahmedabad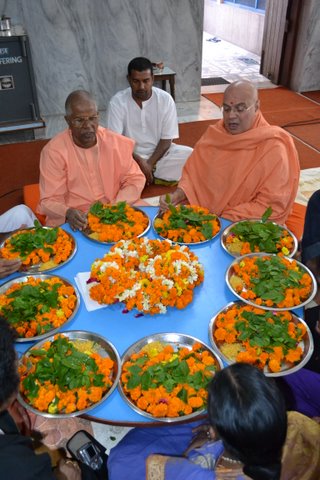 Sri Padukapujan At Sivananda Ashram Rishikesh
On March 1, 2011 Pujya Sri Swami Adhyatmanandaji Maharaj Graced thousands of devotees of Koteshwar Mahadev in his Ashirvachan in Prana Pratishta Mahotsav held from Feb 28, 2011 to March 3, 2011 at Koteshwar Mahadev Temple.
Shivaratri Utsav ( March 2, 2011) Chants of "Om Namah Shivaya" charged the air of Sivananda Ashram with Divine vibrations as they celebrated Sacred Maha Shivratri on March 2nd, 2011. Holy Shri Vishwanath Temple was agog with worship of Lord Shiva. It started with Shodashopachar Pooja at 4.00 am on March 2nd and continued until the next day 4.00 am on March 3rd. Continuous flow of devotees came to the Lord Vishvanath Temple to pray and seek the blessings of Lord Shiva – who is considered Ashutosh, who gets pleased very easily. The Siva Lingam was worshipped by washing it with milk, curd, honey and rose water as the chants of Vedic Hymns, Namakam, Chamakam, Rudram and "Om Namah Shivaya" in praise of Shiva continued. Shiva Lingam was adorned with special Shringar and Sri Swami Adhyatmanandaji Maharaj performed Bhasma Arati. Shiva temple was full of Bel (Bilva) leaves, which were offered to the Lingam. Bel leaves are believed to be very sacred and the best offering to Lord. Also there is a strong belief that sincere worship of Lord Shiva on the auspicious day of Shivaratri, absolves person of sins and liberates him from the cycle of birth and death. Bhakti Sangeet (Devotional Songs) in praise of the Lord from 5.00 pm to 5.00 am throughout the night by outstanding singers Sri Shyam Sankirtan group, Smt. Dr. Monica Shah of Aradhana School of Indian Classical Music, Pandit Sri Niraj Parikh, Sri Vikas Chandra Parikh, Sri Maatang Parikh, Miss. Himali Vyas and Sri Devesh Dvivedi brought a special fervor to already charged atmosphere. On 3rd mid-day a grand Bhandara (Mahaprasad) was served to hundreds of devotees at the ashram.
On March 24, 2011 Revered Sri Patani Saheb's 90th Birthday was celebrated with a special satsang and Paduka pujan. It was a joyous occasion for all at the Ashram. He is an inspiration to all at the ashram. Patani Saheb is a perfect example of Karma Yogi.
Revered Sri Patani Saheb has earned love, respect and admirations of one and all at the Ashram. He is honored as a Grandsire of the ashram. Having served various colleges in the capacity of a professor and retired as a principal of C. U. Shah Science College, Ahmedabad in 1982, Rev Sri Dr. Patani Saheb has been selflessly serving the Divya Jivan Sangh for the past three decades. His contribution to the Divya Jivan Sangh in the form of administrative duties, publication work and over all management of the ashram is immeasurable over all these years and it is still continued even at the age of 90 years. He has been a life member of the Divine Life Society and was given Mantra Diksha by Guru Maharaj Sri Swami Chidanandaji Maharaj. He is also an associate editor of 'Divya Jivan' Gujarati Monthly Journal of Gujarat Divya Jivan Sangh. May God Gurudev bless him for his excellent health, long and blissful life for the rest of the life.
Ashram notes the very sad demise of Mahanta of Sri Jagannath Temple, Saint Sri Ramaeshwardasji Maharaj. He passed away on 25th March forenoon; His last rights were attended by a group of devotees from ashram as well Sri Narendra Modi Chief Minister of Gujarat.
Pujya Swami Adhyatmanandaji's Tour and satsnag program during the Month of March 2011
Haridwar ( March 8, 2011 -March 12, 2011) : Honoring invitation of Respected Dr. Hemendranath & Mrs. Uma Hemendranath, Revered Swami Adhyatmanandaji Maharaj Visited Haridwar. During his stay in Haridwar Swamiji was invited to devotees home for home satsang and blessings. On March 8, 2011 evening Sri Swamiji attended and performed Ganga Aarti, at famous Harki Paudi. Sri & Smt. Minakshi invited Sri Swamiji to grace and bless to their school Wizkids. Mr & Mrs. Minakshi are the blessed devotees who have received blessings from most worshipful and Revered Sri Swami Sivanandaji Maharaj & Sri Swami Chidanandaji Maharaj.
Visit to Sivananada Ashram, Rishikesh: On March 10, 2011 Pujya Sri Swami Adhyatmanandaji paid his respect and homage by attending and performing holy worship of Padukas, puja at Sri Samadhi shrine of H. H. Sri Swami Sivanandaji Maharaj & Sri Vishwanath Temple. After taking Prasad Swamiji blessed and graced the yoga institute of yogi Ravi at Lakshman Jula. After meditation at Holy Sivananda Kutir and bath in Ganga Swamiji returned back to Haridwar.
Mumbai - Honoring invitation of the managing trustee of Sri Prempuri Adhyatma Vidya Bhavan, Sri Madanlal Dalmiyaji, Revered Sri Adhyatmanandaji Maharaj, came to Mumbai for fortnight stay.
Revered Swamiji arrived at Mumbai airport on March 15th afternoon, and made a drive to scotish Hospital, Malad where Smt Indu Bholanath Seth has confined in ICU, Sri Swamiji prayed for her quick recovery and excellent health. His visit brought solace to the family members..
Jnana Yajana at Prempuri Ashram ( March 16, 2011 – March 31, 2011) Sri Swamiji gave series of discourses on the subject of "Akshara Brahma Yoga" , chapter 8th of Bhagavadgita. In the evening He shared the world of wisdom on the subject "Mind, its mysteries and problem" Sri Swamiji guided in science of pranayam and yoga.
During the stay, Sri Swamiji was invited to inaugurate the Holy Bhagavat Katha organized in the Holy memory of renowned musician and singer Padmashri Sri Purushottamdas Jhaloteji.
Upon humble request of number of devotees Sri Swamiji graced their homes and conducted Satsang at Malad, Kandivali, Borivali, Dhobi – Talao and Lonavala etc.,
On March Revered Dr. Baharuddin Saiyadsa Sahib's 100th Birthday was celebrated at famous Saita Palace, Malbar Hill, Revered Swamiji Greeted him upon his 75th Birthday also. And now both saints meeting was cherished by millions of Daudee vohra community, he is 52nd chief of Vohra community follows the very teaching of Prophet Mohammad and Holy Kuran.
Revered Swamiji was left for Baroda on 31st late night.
Latest Additions.........

Please subscribe to Divyajivan Mailing List. We will update you with new uploads of spiritual literature on the web of Holy Master Sri Swami Sivanandaji Maharaj, saints of his lineage and other saints. We will also update you about the Sivananda Ashram, Ahmedabad website and facilitate communication with Sri Swami Adhyatmanandaji Maharaj.

Please enter your email address and click Subscribe button
To manage your subscription, please visit Subscription Page. You can also subscribe and unsubscribe from this page. You may unsubscribe by yourself anytime you wish. You will be required to send confirmation link that you will get in your e-mail to complete this subscription.

[ Home ] [ News ] [ Upcoming Events ] [ What's New? ] [ Services ] [ Swami Adhyatmananda ] [ Multimedia ] [ Publications ] [ Administration ] [ Saints and Sages ] [ Photo Gallery ] [ Contact ] [ Guestbook ] [ Important Links ] Webmaster: webmaster@divyajivan.org