News Report for the Month of April 2012
Sivananda Ashram, Ahmedabad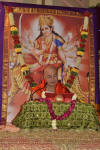 Sri Ram Navmi Utsav ( April 1, 2012) It is Sadhana time during nine days of Chaitra Navaratri at the Ashram. A group recitation of Sri Ramcharit Manas was performed daily for nine days (4.30 pm - 7.30 pm) by Devotees at the Ashram and the nine days worship culminated with Sri Ram Navami festival – rejoicing the birth of Lord Sri Rama. A special worship offered to Lord Sri Rama at Holy Sri Rama Temple of the Ashram. Sri Swami Adhyatmanandaji Maharaj led the Satsang and shared his thoughts on Lord Sri Rama - an Ideal Man.
At noon Sri Swamiji addressed Indian Army officials at Sardar Vallabhabhai Patel Auditorium at Shahibagh. In the afternoon Sri Swamiji presided over fund raising program for helping the Mizoram Girl students for their education. Very special Satsang was organized at night to felicitate Sri Swami Adhyatmanandaji Maharaj's Sannyasa day. As, he was ordained in holy Sannyasa order during Haridwar Kumbha mela on Holy Sri Ramnavami day on 1st April 1974.

Sri Maa Ashtalaxmi Brahmotsav & Devi Bhagawat Saptah (April 22, 2012 - April 29, 2012) On the auspicious occasion of Sri Ashtalaxmi Brahmotsav seven day Jnana Yajana was organized. Before commencing Devi Bhagwat, large number of devotees joined in procession with traditional orchestra and dancing and singing in praise of Maa Sri Ashtalaxmi. Sri Swami Adhyatmanandaji Maharaj graced the devotees the nectar of Devi Bhagawat for seven days daily from 3:30 pm to 7:00 pm. Ganga- puja, Kanya-Puja were performed on holy Sptami day. On April 29, 2012 large number of devotees participated in full day of worship of Maa Sri Ashtalaxmi, Navchandi Yajana and grand Maha Arati, followed by feeding to Daridranarayan and Bhandara to all. In the evening melodious devotional sangeet by Ms. Antara Vaidya, and pundit Vikas Parikh enchanted the devotees.
Gujarat Divya Jivan Sangh organized its annual meet from forenoon to late afternoon on April 29. The evening satsang was highlighted by holy presence of H. H. Sri Swami Paramatmanandaji Maharaj (Rajkot), Sri Swami Asanganandaji Maharaj (Heranj) Sri P.K. Laheriji, former Chief Secretary of Govt of Gujarat, Respected Induben Kathdare and Revered Sri Swami Adhyatmanandaji Maharaj. And they all shared their thoughts on ethical duty towards the self, society and nation.
On April 30, 2012 forenoon Sunderkanda Parayan by Sri Ajay Yagnikji of Delhi brought a special fervor. In the evening, Sri Nitin Mukesh singing songs of legendary singer late Sri Mukesh enchanted large audience at the ashram's lawn garden.
On May 1, 2012 & May 2, 2012 Sri Swami Chidananda Memorial lectures were organized at Sri Sindhu Bhavan. H. H Sri Swami Nikhileshwaranandaji Maharaj (President, Sri Ramakrishna Mission, Baroda) M. M. Sri Swami Vishweshwaranandaji (President, Sanyas Ashram, Vile Parle, Mumbai) H. H. Sri Swami Madhavapriyadasji Maharaj (Sri Swaminarayan Gurukul, Chharodi) Dr. Naresh Ved and Revered Sri Swami Adhyatmanandaji Maharaj shared the words of wisdom with large audience.
May 3, 2012 was 68th birthday of Revered His Holiness Sri Swami Adhyatmanandaji Maharaj. At early dawn day commenced with Sahnai Vadan by famous renowned Gaekwad brothers – entire day was crowded with chanting of holy hymns, Homam, poor feeding, felicitation and blessings by Saints and Sages of all religion. Night Satsang was highlighted with melodious singing by Smt Vibhaben& Sri Rasbihari Desai. The day concluded with mid night meditation and solo flute by Sri Yogi and Revered Swamiji's blessings, arati and prasad.
On May 4, 2012 thirteen day long spiritual festivity was concluded by Swar Sandhya and blissful laughter created by none other than Great solo singer and comedian Sri Sairam Dave.
From April 23, 2012 to May 3, 2012 Maha Mandaleshwar 108 Sri Swami Advaitanandaji Maharaj (Panvel) Mumbai blessed the Vedanta lovers by sharing his words of wisdom every day from 7.00am to 8.00am conducting "Jnan Yajna" on Shankar Bhashya and Ishopanishad.
Sivananda Ashram administrative committee and Sri Swami Adhyatmanandaji Maharaj are highly thankful to one and all who came from far and wide to attend this spiritual festivity or devotees who joined us from far. May Gurubhagawan Sri Swami Sivanandaji Maharaj's and Sri Sri Maa Ashtalakshmi's grace be ever upon all!

Pujya Swami Adhyatmanandaji Satsangs & tour during the Month of April 2012
Ahmedabad:
On Thu, April 19 evening Sri Swami Adhyatmanandaji addressed large group of educationist from Nishkal School of thought.

On April 21 , 2012 Sri Swamiji Maharaj was invited to preside and grace the award presentation program at blind girls association. Those who are serving this wonderful cause such three individuals were recognized for their noble services in presence of Sri P K Laheri, former chief secretary of Government of Gujarat, Dr. Kumarpaul Desaiji (Padmashri) former director of cancer hospital Dr. Pankaj Shah.

Sri Swamiji Maharaj was invited to address Zydus school of excellence to address its senior students and staffs of the institute.

On April 10, 2012 Revered Sri Swamiji addressed a large gathering of Bapunagar's slum areas for their excellent health and hygiene. Sri Swamiji with his team of twelve conducted very special program from April 15 - April 21. 295 enthusiastic young and old man and women benefited by this wonderful work. Mr. Asit Vora, mayor of Ahmedabad city and Sri Vallabhabhai MLA inaugurated the camp and lit the lamp.
Mumbai: Rajasthan University recognized and awarded the H. E. Governor of Gujarat, Mizoram and Assam on April 6 at Sri Bhaidas Hall at Vile Parle (Mumbai) Sri Swami Adhyatmanandaji Maharaj was invited to grace occasion.

Nagpur: On April 8, 2012 Lions club 323 H1's zonal conference was organized at Nagpur with theme of Parivarthan (the Change) more than 1200 delegates joined the occasion

Delhi: A graced gathering of saints was organized by renown Sri Sadhguru Sri Jaggi Vasudevaji, where more than 100 saints came from all over India. This function was organized by 'Gurusangum" group. Revered Sri Swami Adhyatmanandaji Maharaj was invited to join this occasion.
Thanks to Mr. Sanjay Mehta for wonderful hospitality and care of Sri Swamiji and his assistant during his short stay at Delhi.
Latest Additions.........

Please subscribe to Divyajivan Mailing List. We will update you with new uploads of spiritual literature on the web of Holy Master Sri Swami Sivanandaji Maharaj, saints of his lineage and other saints. We will also update you about the Sivananda Ashram, Ahmedabad website and facilitate communication with Sri Swami Adhyatmanandaji Maharaj.

Please enter your email address and click Subscribe button
To manage your subscription, please visit Subscription Page. You can also subscribe and unsubscribe from this page. You may unsubscribe by yourself anytime you wish. You will be required to send confirmation link that you will get in your e-mail to complete this subscription.

[ Home ] [ News ] [ Upcoming Events ] [ What's New? ] [ Services ] [ Swami Adhyatmananda ] [ Multimedia ] [ Publications ] [ Administration ] [ Saints and Sages ] [ Photo Gallery ] [ Contact ] [ Guestbook ] [ Important Links ] Webmaster: webmaster@divyajivan.org