News & Activity Report for the Month of March 2013
Sivananda Ahram , Ahmedabad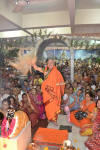 Shivratri Utsav (March 10, 2013): About Eighteen thousand devotees joined in grand Shiva worship that commenced at 3.45 am and continued for twenty five hours at Sivananda Ashram. Continuous flow of devotees came to the Lord Vishvanath Temple to pray and seek the blessings of Lord Shiva. Bhakti Sangeet (Devotional Songs) in praise of the Lord from 5.00 pm to 5.00 am throughout the night by outstanding singers Dr. Jayant Vasavada, Dr. Monica Shah of Aradhana sangeet group, Pandit Niraj Parikh, Sri Devesh Dave, Smt. Mayurika and Sri Ramanlal Rana of Divya Jivan Sangh, Vadodara added a special fervor to already charged atmosphere. A grand bhasma Arti at the dusk by Revered Sri Swami Adhyatmanandaji Maharaj brought the culmination of Shivratri worship. Next day, on March 11th mid-day a grand Bhandara (Mahaprasad) was served to hundreds of devotees at the ashram.
Ashram conducted regular Yoga classes, Reikee classes, worship services in the temple and regular satsangs throughout the month as scheduled.
Ashram regrets the passing away of Revered Dr. Chimanbhai C. Raval Sahebji, an ardent devotee of Sri Gurudev Swami Sivanandaji Maharaj. Dr. Chimanbhai C Raval was a disciple of Brahmleen GuruMaharaj Swami Chidanandaji Maharaj and founder president of Sivananda Yoga Kendra, Ushmanpura. He and his wife Smt Ramaben attended the Shivratri festival at the ashram three days before his departure. May his departed soul rest in supreme blessedness and everlasting peace!
Pujya Swami Adhyatmanandaji Maharaj's Satsang and Tours during the Month of March 2013
758 th Yoga and Meditation Camp (Feb 28, 2013 - March 9, 2013): Pujya Swamiji conducted ten days long Yoga camp at Bapunagar area of Ahmedabad. At the conclusion of the camp, there was a social gathering and "pot-luck" arranged by Yoga attendees, their families and other devotees from the ashram, those who all came to ashram for attending Shivratri Festival. Thanks to Sri Chandraprasad Desai Memorial Foundation for organizing this program.
Dethali (March 3, 2013): A branch of Gujarat Vidhya Peeth, founded by Mahatma Gandhiji in Ahmedabad. This Vidyalaya is catering services and education to underprivileged village children from remote area of Matar taluka of Kaira district, about two hundred residential students and almost of same number of non-resident students study in this school based upon fundamental value based education. The school built a new Goshala having forty cows dedicated for the benefit of this residential school Children. The function was arranged for Goshala's inauguration and Pujya Swami Adhyatmanandaji Maharaj donated one lakh rupees to this noble institute. Revered Sri Swami Asanganandaji Maharaj of Jnan Sadhan Ashram of Heranj, Mr. Sudarshan Ayyangar, registrar of Gujarat Vidyapeeth, Ahmedabad, leading business man and citizens from nearby village and town attended the function.
On March 2, 2013 Annual day of Commerce faculties of Sri C.U. Shah educational institute of Science, Commerce and Arts was celebrated for the farewell of graduating class. The bright students were recognized and awarded prizes; Revered Sri Swami Adhyatmanandaji Maharaj was invited to chair the function. Pujya Swamiji gave inspiring speech and their roll in the society for managing accounting and finance affair in the days ahead. Wished them to shine and prosper!
In the late evening again Sri Swamiji Maharaj addressed another group of students and parents at Sri K R Rawal School & ARKZ coaching class's joint venture. Here, Sri Swamiji's speech brought a theme of advice to the students to be systemic and regular in study from day one and throughout the year. That is a key to be free from anxiety of examination and be successful in life.
On March 5, 61 st convocation ceremony and award presentation program of Gujarat University was organized at senate Hall of Gujarat University. H.E. Governor of Gujarat Dr. Kamalaji Beniwala presided the chair. Revered Swami Adhyatmanandaji graced the function. Bright students with extra ordinary performance in exams with Gold Medal were recognized for their achievements and hard work.
On March 7, 2012 "Sargam", a well-known music recording company released a wonderful CD of Gujarati Gazal's by very prominent poets, composed and sung by prominent Sri Jayesh Nayak and Seema Trivedi. Revered Sri Swamiji released this CD named "PARICHAY". This function was graced by Mr. Pinakin Dixit of Reliance, Mr. Gopani of Sargama, Sri Pandit Vikaschandra Parikh son of Late Sri Pandit Krishnakantbhai Parikh and others alike.
On March 8, 2013 function was organized on the occasion of Shivaratri and "Shivlinga"- seventeen feet height and 507 kg weight was unveiled by Revered Sri Swami Adhyatmanandaji Maharaj. This Shivlinga was made out of Chocolate and was named "Sri Chokolateshwar Mahadev". This function was organized by Brahmakumari group of Thakkarbapanagar and was attended by large number of general public as well as leading dignitaries of government subordinates. Revered Saraladidi head of Brahmakumari's work in Gujarat presided over the function. Revered Swami Adhyatmanandaji Maharaj was a chief guest. Revered Swamiji praised the wonderful work of Brahmakumari organization in Gujarat and around the globe.
Dwarka and Somnath pilgrimage (March 11 & March 13, 2013) Pujya Swami Maharaj with group of devotees from Yamunanagar, Haryana had a pilgrimage to Dwarka , Somnath and Gir area.
Mumbai (March 15, 2013 – March 31, 2013) Trustees and management of Sri Prempuri Ashram, Mumbai organized two weeks of Jnana Yagna by Revered Sri Swami Adhyatmanandaji Maharaj. Pujya Swamiji gave discourses on the subject of Atma Samyam yoga, Chapter six of Bhagawadgita and Karma Yoga, Chapter three of Bhagawadgita. It was very enlightening experience for the devotees to hear Gita Amrutam, on very practical subjects of Karma Yoga & Dhyana Yoga.
Mogri( March 27, 2013): Devotees at Brahma Jyot, Anoopam Mission, Mogri celebrated Birthday of Revered Sri Sahebji. A group of devotees from Sivananda Ashram joined in the festivity. Most worshipful and Revered Sri Swami Ganganandapuriji Maharaj of Gawana (Ganeshpur) Uttarakashi, who is staying at Sivananda Ashram, Ahmedabad also blessed Revered Sahebji on this holy occasion.
Om Shanti !
Latest Additions.........

Please subscribe to Divyajivan Mailing List. We will update you with new uploads of spiritual literature on the web of Holy Master Sri Swami Sivanandaji Maharaj, saints of his lineage and other saints. We will also update you about the Sivananda Ashram, Ahmedabad website and facilitate communication with Sri Swami Adhyatmanandaji Maharaj.

Please enter your email address and click Subscribe button
To manage your subscription, please visit Subscription Page. You can also subscribe and unsubscribe from this page. You may unsubscribe by yourself anytime you wish. You will be required to send confirmation link that you will get in your e-mail to complete this subscription.

[ Home ] [ News ] [ Upcoming Events ] [ What's New? ] [ Services ] [ Swami Adhyatmananda ] [ Multimedia ] [ Publications ] [ Administration ] [ Saints and Sages ] [ Photo Gallery ] [ Contact ] [ Guestbook ] [ Important Links ] Webmaster: webmaster@divyajivan.org