"SIVA" (Sivananda International Vedanta & Yoga Academy)
Sivananda Ashram, Ahmedabad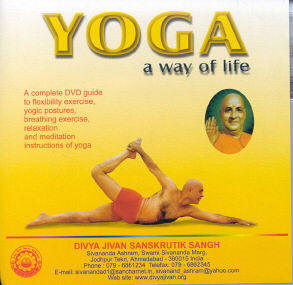 Keeping in front the Ideals and Lofty Teachings of Holy Master Swami Sivanandaji Maharaj "Serve, Love, Give, Purify, Meditate & Realize", the Spiritual and Yoga activities at Sivananda Ashram, Ahmedabad has blossomed into a beautiful Spiritual and Yoga center. People from all over visit the Ashram and evolving in their quest for achieving the Goal of Life, "GOD REALIZATION".
Yoga teaching is one of the vital activities at the ashram. It is possible only because of dedicated members of Yoga Team at the Ashram. Ashram offers daily yoga lessons for beginners & established yoga practitioners, Yoga Camps, Yoga Teacher Certifications Course, weekend Yoga workshop. And more extended programs in all areas of Spirituality, Health Wellness, and Personal Growth, with an emphasis on Yoga and Meditation, as taught by H. H. Sri Swami Adhyatmanandaji Maharaj, a disciple of H. H. Sri Swami Chidanandaji Maharaj, coming from a great linage of H. H. Sri Swami Sivanandaji Maharaj, Doctor Yogi and a Realized Saint. Sri Swami Adhyatmanandaji has conducted 686 yoga camps around the globe. He is author of number of books on yoga and philosophy and is always in high demand. He is a born teacher and his teaching methods are simple but effective.
Yoga workshops and programs at Ashram are designed to integrate all aspects of life - physical, mental, emotional, and spiritual - and help Sadhak finds inner peace and joy. The yoga teachers staff works on volunteer bases. They provide expert instructions on a large number of topics, ranging from the yoga postures, breathing practices, yoga philosophy and meditation to health-related topics.
Yoga Teachers
| | |
| --- | --- |
| Mrs. Rupa Majundar is a Reiki Master. She teaches personality development based on Patanjali Yoga Darshan and REIKI during YTTC to Yoga students. She takes regular Reiky sessions at the ashram over a decade. The word REIKI means Universal Life Force Energy. It is defined as being that power which acts and lives in all created matter. She also serve as a regular Yoga teacher at the Ashram. She is helping people to cure disease in a simple way through science of natural healing of Reiki and science of Yoga. | Miss Sangeeta Thawani is energetic and enthusiastic yoga teacher and has been serving for more than nine years at the Ashram. She has administrative and organizing skill and takes care of many chores of YTTC. She conducts Yoga and Meditation classes for corporate and government officers. Also, periodically she visits internationally to Germany, European continent, Dubai and Taiwan to conduct Yoga camps. |
| Dr. Snehal Amin is a senior Yoga teacher and serving for over ten years at the ashram. He regularly teaches yoga to beginners batch. He is a medical officer in Government Hospital. He is a member of YTTC faculty for many years. He has compassionate heart, He serves patients twice a week at medical clinic at Sivananda Ashram. He teaches linkage of diseases and how to prevent through natural and yogic way. | Ankur Chavada is a young and energetic yoga teacher and charms people with his unique talent of performing yoga postures. He has learnt yoga from H. H. Sri Swami Adhyatmanandaji Maharaj and mastered all yogasana that he accompanies with Swamiji as a successful Yogasana demonstrator. He is doing Master degree in Chemistry. He loves to play Cricket . |
| Ms. Sonal Trivedi holds post graduate degree in commerce and has done certificate course in yoga. She loves Yoga, she practices yoga daily for many years and for last few years she has been teaching yoga at Swastika school and Sivananda Ashram. | Mrs. Yojna Tondon has pleasant and smiling personality. She is sincere and dedicated yoga teacher of the ashram. As a profession, she is working as an insurance advisor for ICICI Prudential. |
| Miss Dhara Upadhyay has charming and bubbling personality. She is a full time Yoga teacher in Swastika Satva Vikas school and teaching at Sivananda Ashram. She is Bachelor of Arts (BA)and Bachelor of education (B.ED), she is very proficient in teaching yoga and liked by all her students. | Ms. Ambica Chavda is very sincere and diligent in teaching yoga. She is doing her masters in commerce degree. Miss Chavada is having interest in yoga and music. She is taking classes at Ashram |
Yoga Classes offered at the Ashram
| | |
| --- | --- |
| Yoga for beginners - for the novice in Yoga field ashram offers classes in two sessions each month from – first to the tenth in the morning 5.30 am - 7.00 am & Fifteenth to twenty-fifth in the evening 6.00 pm to 7.30pm | Yoga for Established Advanced Practitioners - Daily Yoga Classes for the established yoga students are offered in three sessions in the morning, from 5.30 am to 6.45 am, 7.00 am to 8.00 am and 10.30 am to 11.30 am. |
| Yoga for working people – to accommodate the working people a class is held daily in the evening from 6.00 pm to 7.00 pm | Yoga for Women- a special yoga session for women are held every day from 4.00 pm to 5.00 pm |
| Yoga Teacher Certification Course – twice a year intense three weeks residential YTCC is offered. At the completion of this course and passing the examination including theory and practical, graduate will receive a diploma certificate recognized by Gujarat University and will be able to teach Yogasana and Pranayama to others.. | Yoga Camps – other than regular yoga activities (mentioned above), about four times a year H. H. Swami Adhyatmanandaji conducts Yoga camps (a week long) at the ashram, where intense Yogasana and in depth Pranayams & Meditation techniques are taught. |
| Yoga for special need group – A personal consultation and one to one teaching for a special need also be arranged as needed. | Weekend Yoga Workshop- periodically intense capsule course, weekend retreat and Yoga workshop are organized at the Ashram |
| Gentle Yoga for elderly with modification in regular posture to suits the bodily and joints limitation | Yoga Treatment- Wednesday & Friday 7.30 pm |
Yoga Teachers
| | |
| --- | --- |
| Mrs. Surekha Sonar holds Diploma in Education. She successfully completed Yoga Teachers Training Course (YTTC). She teaches yoga for the last twelve years at Sivananda Ashram and also at Satyam School. | Mrs. Nayana Shah is a commerce graduate, practicing yoga for the last five years and also teaches yoga to Women group for last two years at Sivananda Ashram. She has gentle and loving personality. |
| A graduate of Economics and having computer knowledge, Mrs. Bindu Trivedi learnt Yoga at Sivananda Ashram. At present, she teaches yoga at Sivananda Ashram. Her dream is to have a career in Yoga and have a yoga studio of her own. | Ms. Devashree Oza has completed her yoga Teachers Training course and conducting Yoga class in Sivananda Ashram. She obtained her M.Sc. Degree in Botany with distinction in 2006 and pursuing for M.Phil at present. |
| Ms. Brinda Pandya is energetic and enthusiastic.She has learned yoga at very young age and very proficient in all yogic postures. She is a yoga teacher at the ashram for last four years. | Mrs. Janki Shah is a graduate in commerce. She also hold diploma in computer course. She is serving as yoga teacher to Women group for more than four years. She also give personal tuition on one to one bases. |
| Mr. Snehal Bhatia is trained in many fields for physical culture such as sports, NCC, Mountaineering and Yoga. As a yoga teacher, he has worked with many educational institutes, clubs and hospitals. At present, he teaches yogasana, pranayam & meditation to general public through Shibirs and also at Sivananda Ashram. | Mr. Balram Shah is a journalist by profession and he is also interested in yoga. He has done certificate course in Ashtang Yoga at M.S. University,( Baroda). He teaches yoga at Sivananda Ashram. |
| A commerce graduate and serving in Income Tax Deptartment, Mr. Surykant Chhatbar is actively associated with yoga activity for a long time. His interested in TV play and sports. | Mrs. Dharmishtha Patel is the head of Librarian at ISRO, Ahmedabad. She has completed Yoga Teachers Training Course at Sivananda Ashram. She is a teacher of yogasana practice class and a very good demonstrator. She is also a Reiki Master |
Yoga DVD - A complete guide to Flexibilities exercises, Yoga Postures, Pranayam & Meditation compiled & directed by H. H. Sri Swami Adhyatmanandaji Maharaj. It is available at the ashram. email- Sivanandaashram@gmail.com phone # 079-26861234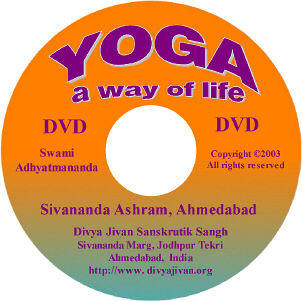 Come, Join any Yoga Group as per your liking and ability and Learn Yoga way of Life.
Contact
Sivananda Ashram <sivananda_ashram@yahoo.com>
# 079- 26861234