Navaratri –The Festival of Self Restrain
by
Swami Adhyatmananda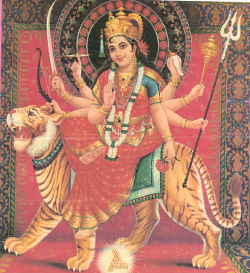 Navaratri is a festival of self- Restrain, a festival of Spiritual upliftment of individual soul to perfection, to the God realization. Mythology of Devi Bhagavatam brings a truth at home that problems of the present mankind simply existed before the creation of the cosmic phenomenon. Durga Saptasati of Sri Markandey-Purana narrates the story of destruction of Madhu, Kaitabha, Raktabij, Mahisashur, Shumbh and Nishumbha. Those Devils were slained by Mother Durga or Mother Kali. All the devas were troubled, distressed by them and when they found themselves helpless, they collectively prayed and worshiped Mother Goddess, the Supreme Power to overcome them. From individual devas a sparkling energy appeared, and that collective energy is known as Shakti, which was capable of destroying the entire race of the devils.
. The story of Devi Bhagavat or Markandey Purana or any of the epics is a great essay on the subject of minding the Mind. Mind is the principal cause of agony, pain, sorrow, and disharmony of disrupted lives. It may be individual, social, national or international. Problems may be economical, physical, mental or so on, but the cause of the problem lies in the individual's mind.
Lust, anger, greed, ego, desires and passions are the devils that rob one of the peace and harmony. What one needs is to restore ones own energy and contemplate whole-heartedly to be free from the undesirable vices. To eradicate vices and gain values of life what one needs is to cultivate a sincere, scientific and earnest habit of self-control. Pujya Bapuji, Mahatma Gandhiji poured out his heart on this subject by following self-restraint versus self-indulgence.
The entire spiritual festivities of Sri Durga Puja spread out in Nine nights called 'Navaratri" and then follows "Vijaya Dashmi" the tenth day of the victory. Why these nights are only nine and not seven or five? The physical frame of human being is known as a city with nine gates. "Nav Dware Pureh Dehi". These gates are two eyes, two ears, two nostrils, one mouth and two lower gates of execratory system, the principal holes from where our energy is being drained out. But if we cultivate a new way of living by which we conserve our energy.
"See but Look not, Touch but Feel not,
Taste but Relish not, hear but Listen not."
This all is possible. What is required is the earnest effort of total individual's energy to divert in one direction only towards the absolute peace and supreme blessedness which is the realization of the absolute. A little moderation in daily routine of getting up at early dawn before sunrise, little balance, harmony and moderation in food habits, essential exercise, prayer, meditation, contemplation, charity, introspection, purity and chastity in conduct in individual and social behavior can certainly rejuvenates and reshapes our lives on this earth planet. One can shine and prosper. This is the secret of Navaratri. This is the meaning behind the Shakti worship. May Mother Durga's abundant grace be ever upon us! Let us realize that we all are children of the Supreme Mother. Let us live and lead our lives in natural love, harmony, peace and happiness.
Om Shanti!
Swami Adhyatmananda
Latest Additions.........

Please subscribe to Divyajivan Mailing List. We will update you with new uploads of spiritual literature on the web of Holy Master Sri Swami Sivanandaji Maharaj, saints of his lineage and other saints. We will also update you about the Sivananda Ashram, Ahmedabad website and facilitate communication with Sri Swami Adhyatmanandaji Maharaj.

Please enter your email address and click Subscribe button
To manage your subscription, please visit Subscription Page. You can also subscribe and unsubscribe from this page. You may unsubscribe by yourself anytime you wish. You will be required to send confirmation link that you will get in your e-mail to complete this subscription.

[ Home ] [ News ] [ Upcoming Events ] [ What's New? ] [ Services ] [ Swami Adhyatmananda ] [ Multimedia ] [ Publications ] [ Administration ] [Saints & Sages] [ Photo Gallery ] [ Contact ] [ Guestbook ] [ Important Links ]

Webmaster: webmaster@divyajivan.org