A Memorable Diwali
by
Swami Adhyatmananda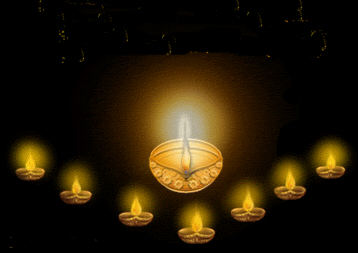 It was Diwali eve. I was at Mussurie, with the Indian Administrative Service Training Institute. I was given information that the most Worshipful and Revered Shri Guru Bhagawan Swami Chidanandji Maharaj was not keeping well, ailing from uncontrollable, undiagnosed fever for more than 40 days. Neither could he eat nor could he tolerate medications. No inmates of the ashram, guests or visitors were allowed to see him. I was told that he could hardly able to speak and his skin and bones had become one. The eyes also had gone so very deep. It seemed as if a living skeleton simply existed in Gurunivas. The whole Ashram was engaged very seriously in the chants of the Mrityunjaya mantra. At the same time, I had a surprise that Revered Gurudev was thinking about me and was asking me to be with him at Gurunivas, Sivananda Ashram, Rishikesh on the holy and happy Diwali day.
To be with Shri Gurudev, Revered Swami Chidanandji Maharaj is to be with the Almighty Himself. But, at the same time, I had a mixed feeling. A part of me feeling ecstatic while the other part having a bit of pain that physically, he was not bright at all, and in spite of taking rest, he was troubling himself to see insignificant person like myself. It was really puzzling.
At around 10:00 a.m. or so, upon my arrival at Gurunivas, whosoever met me urgently conveyed to me that Swamiji was waiting for me anxiously. The instructions to all inmates of Gurunivas was that none of them should stay in the premises when Revered Shri Swamiji was having a conversation with me. This particular instruction gave me another surprise and a feeling of mixed fear as well.
The physical condition of Revered Gurudev was simply terrifying, but His poise of mind and awareness of the Absolute was unimaginable. I prostrated to Him. He blessed me, and then to my utmost surprise, in very feeble yet very clear voice, he kept on inquiring my domestic routine, about my journey, my arrival, the weather at Mussurie, the Diwali crowd at Dehradun, Rishikesh and so on. Then, slowly, he asked, "Do you like fire crackers?". To this, I replied, "Yes, Swamiji, I like them". Then he asked me, "What kind of crackers do you like?". To this, I replied, "I like all kinds of crackers". So he asked," Can you name a few of them?". I wanted to cut short the discussion, so that Swamiji would not strain Himself. So, I gave a simple, concise reply. I replied, "There are two types of crackers, one makes big sound, and the other does not make sound, but is ornamental in operation". But Swamiji Maharaj was not in a mood to cut it short. He was elaborate, as usual and wanted to share His knowledge of crackers with me. I could, at the most, exercise my patience. Though He was lying down on the floor, but with gestures and postures, with accents and dialogues, He explained to me about the different variety of crackers, which he had seen, used, heard about, and which came from South India, Shivakashi and so on. Not even that, he explained to me, the particular names of crackers, describing a kind of sphere, which moves on the floor, another, a wheel, which moves very fast, looks simply gorgeous and one can hold it in the hand with the handle. He also described a variety of flower sticks, which are loved, liked and used by kids. There are a variety of fountains too. There are a variety of colorful rockets, which have to be placed, facing upwards in the bottle. The tail would be facing down and upon lighting it would shoot up. Many a time, it would create a heavenly scenario in the sky, but some of them, would initially burst and make a big sound, creating a spectacular sight. To explain it, they would have to see it themselves.
Although, I loved Swamiji's satsang of a very special kind on the occasion of Diwali, but at the same time, he was so physically exhausted, that I never wanted Him to continue with the same spirit. He had begun to explain to me, all about Rishikesh bazaar, the Dehradun bazaar, the Ghantaghar, the Paltanwala, the Dilaram market, and so on. Believe me, I knew everything about all the places that he was explaining to me about. But, he wanted to personally, all by Himself, verify that I had understood all that He meant. Abruptly, by bringing both his hands together and making a bowl shape out of them, He stopped and asked, "How much money would these many crackers cost?. To this, I replied, "Not less than 100 rupees". "Is it so?" He said. So then, I said, "Maybe a little more, Swamiji". Then he inquired, "What is the cost of the different varieties of sweet cakes? At once I replied, "It is very cheap, just 28 rupees per kilogram". "Huuuumm" He nodded. He said, "Okay, okay, okay". It was like high tide and a low tide. All of a sudden, he would dive deep into the recess of his heart and would come out with some new query. Then He asked me, "How much money have you got with you?". "Just enough to go back to Mussurie" was my reply. He summoned me in His interior Abode and asked me to bring 2 books lying near His pillow on His bed. Then he said, "There are envelopes, open them and see how much money do they contain". There were 8000 rupees. He, most humbly, very sincerely, with all His pious serenity, requested me to go downtown and purchase different varieties of crackers and sweet packets for about 50-60 children. He wanted that each one of them would get to have 500 grams of sweet cakes and 2 handfuls of crackers. This, he wanted me to distribute amongst all the children in the street, in the car parking, from the Tonga stand to the Shivanand Jhula, at the school in front of Gurunivas, and also to a few kids of the Ashram employees. At the same time, very seriously, he instructed me that I should carry out this task in a totally confidential manner, even not allowing it to be known to the inmates of Gurunivas. He also wanted me to bring one simple gift packet of distribution, for his satisfaction, to see and to know that what was being distributed.
Diwali comes every year but this Diwali takes me back to Him and put the things in right perspective. At such a festive time, how many of us have feelings for other fellow human beings? Here is a man, a complete man, a God-Man, even beyond this, a superhuman being who has been living and breathing just to bring solace, peace, happiness, amusement and illumination to the known and the unknown. Once, He said to me, "What can God give you? I have given you everything". More and more that we think of Him, it reminds us the feelings of Saint Tulsidas, which He expressed in one of His devotional compositions, where he says, " O Rama, I have not served you even like a dog, but you have always gifted me an elephant". To us, we have not seen either Rama or Krishna. To us, All Merciful God, Almighty Lord, is He! Revered Gurudev Shri Swami Chidanandji Maharaj only. May His abundant Grace ever be upon us all, to live and lead a life, Divine, of His expectations. We have heard of the prayer of St. Francis of Assisi:
Lord, make me an instrument of Thy Peace,
Where there is hatred, let me sow love;
Where there is injury, let me sow pardon;
Where there is doubt, let me sow faith;
Where there is despair, let me sow hope;
Where there is discord, let me sow unity;
Where there is darkness, let me sow light and
Where there is sadness, let me sow joy.
O Divine Master,
Grant that I may not seek so much
To be consoled as to console;
To be understood as to understand;
To be loved as to love;
For it is in giving that we receive
It is in pardoning that we are pardoned;
And it is in dying of the little self
That we are born to eternal life.
-St. Francis of Assisi
In Revered Swamiji Maharaj, we have a Darshan of St. Francis of Assisi Himself.
At late night, when I was back at Mussurie, little lamps brightened the dark night. But I was thinking that Swamiji has brightened my Inner Core of the Heart with His sincere devotion, dedication, discrimination and determination to do good, good and only good to the known and the unknown, which can make each day, each moment a Diwali. Aum Shanti.
-Swami Adhyatmananda
Latest Additions.........

Please subscribe to Divyajivan Mailing List. We will update you with new uploads of spiritual literature on the web of Holy Master Sri Swami Sivanandaji Maharaj, saints of his lineage and other saints. We will also update you about the Sivananda Ashram, Ahmedabad website and facilitate communication with Sri Swami Adhyatmanandaji Maharaj.

Please enter your email address and click Subscribe button
To manage your subscription, please visit Subscription Page. You can also subscribe and unsubscribe from this page. You may unsubscribe by yourself anytime you wish. You will be required to send confirmation link that you will get in your e-mail to complete this subscription.

[ Home ] [ News ] [ Upcoming Events ] [ What's New? ] [ Services ] [ Swami Adhyatmananda ] [ Multimedia ] [ Publications ] [ Administration ] [Saints & Sages] [ Photo Gallery ] [ Contact ] [ Guestbook ] [ Important Links ]

Webmaster: webmaster@divyajivan.org