Swami Sivananda
" A Man Beautiful Within and Without "
by
Swami Adhyatmananda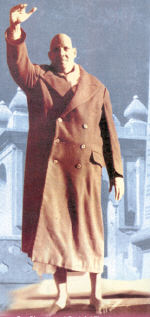 The Himalayas and its peaks mount Everest are known for its heights but it does not have depth, where as pacific ocean has depth but does not have height. Gurudev Shri Swami Sivananadaji Maharaj is worshiped and honored for his Himalayan height of purity, conduct, truth and service to the mankind and pacific depth of knowledge, devotion and abundant love and generosity to the mankind.
He was an unmatched and unparalleled gem. Born in unknown corner of South India in very tiny village named Pattamadai in Tirunelvelly district on the bank of Tampraparani River, today after 116 year, his name has become a household name to the yoga lovers & the seekers of truth. He is light beacon to all who seek guidance in the path of spirituality.
He was an ideal monk. He was able to do everything through his thought vibrations. Never did he become a head of any institution or association but a number of heads and presidents of socio-religious and political institution came to him for his guidance, grace and blessings.
Swami Sivananadaji Maharaj never toured to the west but people from all corners of the world came to him after being inspired by his writings. He preached by his exemplary life. His life was embodiment of teaching. His mere sight elevated the minds of thousands. He was a living assurance for others for the realization of the absolute. Many drew inspiration from the sight of him during his holy presence and even today many more get inspiration from his holy Samadhi shrine from his holy abode at Sivananda Ashram, Rishikesh.
He was beautiful within and without, ever absorbed in His inner being and beyond the realm of his thought vibrations yet controlling everything with it. He was strong indeed; His divine thoughts transmitted to the long distance & purified the world and enter the minds of thousands. The world will rejoice his memory for a long time to come.
He healed by suggestion. In spite of being a doctor, He gave drugfree treatment. By powerful suggestions, he cured many people in the east & the west who sought refuge in him. He cured a variety of diseases. After having learned this great science of healing in his austerity, during his Tapasya, He always preached about the power of sincere prayer, prayers for peace and prosperities of mankind. He prayed for them, those who needed his prayer. He used to say, allopathic, homeopathy, ayurvedopathy or unanipathy may fail but NAMO PATHY- the holy name of the Lord will never fail. Sooner or later all prayers are answered. Such indomitable was his faith in prayers and power of the absolute with which he could move the mountain.
His mission of Divine Life stands for service and love to the mankind for charity, purity for meditation and finally the goal of self-realization. His very life itself was his message. He lived and breathed only for the good of the known and unknown countless people not only on this planet earth but perhaps also many other distant planets.
He lived through his physical and mental presence in small little thatched hut and most of his penance days hardly had square meal to satisfy his need but he has taken very tender care of each of his devotees & visitors providing them with the essential things.
He served sick and poor, cows and dogs, known and unknown, far and wide. His name was Sivananda but widely he was known as Givananda and SEVANANDA (having bliss in service).
Swami Sivanandaji's compassion was boundless. The scorpions, lizards, mice or snakes, used to scroll around fearlessly in his room in front of him. He would not disturb them and they would not bother Him. What an understanding! What compassion! What a care! To him everything was Brahman! He used to say, "Sarvam Braham-mayam re-re ladaka Brahman! Ladaki Brahman! Gadha Ghadhi bhi Brahman!". Everything is Brahman, Boys or Girls, donkey or monkey, everything is bliss bliss bliss! Absolute!!!
These were not merely funny words or attitude, but these were his very realization of the ultimate truth.
His life was a life of illumination and light. Divine qualities such as fearlessness and purity of the heart conferred liberation to him. The effect of Sattwa Guna made him established in truth and made him understand & distinguished between what is real and what is unreal.
Swami Sivananadaji Maharaj was an embodiment of pure Sattawa. Total purity. From head to foot he was heart, oozing with love and only love to serve and love, give and purify, meditate and realize. Though he breathed last on July 14th, 1963 , we experience his very presence even today and will experience it for ever, because his presence is not the presence of mere mortals but the presence of ultimate reality itself. It is said in the scripture that the knower of Brahman becomes Brahman himself. He is here, now, as you read these lines.
OM SHANTI.!
Swami Adhyatmananda
Latest Additions.........

Please subscribe to Divyajivan Mailing List. We will update you with new uploads of spiritual literature on the web of Holy Master Sri Swami Sivanandaji Maharaj, saints of his lineage and other saints. We will also update you about the Sivananda Ashram, Ahmedabad website and facilitate communication with Sri Swami Adhyatmanandaji Maharaj.

Please enter your email address and click Subscribe button
To manage your subscription, please visit Subscription Page. You can also subscribe and unsubscribe from this page. You may unsubscribe by yourself anytime you wish. You will be required to send confirmation link that you will get in your e-mail to complete this subscription.

[ Home ] [ News ] [ Upcoming Events ] [ What's New? ] [ Services ] [ Swami Adhyatmananda ] [ Multimedia ] [ Publications ] [ Administration ] [Saints & Sages] [ Photo Gallery ] [ Contact ] [ Guestbook ] [ Important Links ]

Webmaster: webmaster@divyajivan.org