"Divya Tour 2006" to USA, Canada & UK
of
H. H. Sri Swami Adhyatmanandji Maharaj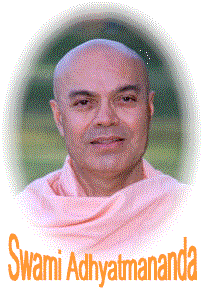 Divya Jivan Sangh, Sivananda Ashram, Ahmedabad is pleased to announce upcoming "Divya Tour 2006" of H. H .Sri Swami Adhyatmanandaji Maharaj to USA, Canada and UK starting from June, 2006.
An invitation was received from Bhartiya Temple of Troy, Michigan through a letter of Smt. Sudha Chalsaniji in Jan 2006. Also there are standing invitations to Pujya Swamiji from last year from Sri. Prakashbhai Desai of Atlanta, Sri Kamleshbhai Dave of Toronto, Sri. Surendrabhai Mehta of Winnipeg, Sri Nirav Patni of Atlanta to name a few organizers and devotees for programs at their centers. So, Swamiji has so kindly accepted their invitations and took time out from His busy itinerary in India for devotees in West.
We are sure that there many more devotees are wishing to have Satsang and Darshan of Swamiji Maharaj at various places. So we urge the devotees and organizers to come forward and organize the program at your places to benefit from Swamiji's wisdom teaching and Yoga classes.

Swamiji's itinerary is getting prepared, so please contact us at divya.tour2006@gmail.com with your preference date and convenience, so that there will be enough time for preparations, publicity and related work to organize the programs. Time is short, so get in touch with us as soon as possible.
Latest Additions.........

Please subscribe to Divyajivan Mailing List. We will update you with new uploads of spiritual literature on the web of Holy Master Sri Swami Sivanandaji Maharaj, saints of his lineage and other saints. We will also update you about the Sivananda Ashram, Ahmedabad website and facilitate communication with Sri Swami Adhyatmanandaji Maharaj.

Please enter your email address and click Subscribe button
To manage your subscription, please visit Subscription Page. You can also subscribe and unsubscribe from this page. You may unsubscribe by yourself anytime you wish. You will be required to send confirmation link that you will get in your e-mail to complete this subscription.

[ Home ] [ News ] [ Upcoming Events ] [ What's New? ] [ Services ] [ Swami Adhyatmananda ] [ Multimedia ] [ Publications ] [ Administration ] [ Saints and Sages ] [ Photo Gallery ] [ Contact ] [ Guestbook ] [ Important Links ] Webmaster: webmaster@divyajivan.org