H. H. Sri Swami Adhyatmanandaji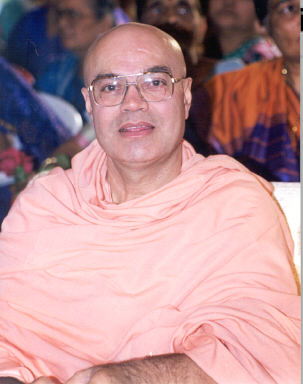 The Divine Life Society was founded by H. H. Sri Swami Sivanandaji Maharaj in the year 1936. Sri Swami Adhyatmanandaji Maharaj is the beloved disciple of Society's present president Sri Swami Chidanandaji Maharaj. Swamiji embraced the life of mendicant on 1st January 1971 and was initiated in the Holy order of Sanyasa in the year 1974. Since then as per His worshipful Gurudev's instructions he is continuously spreading the message of sages of the yore and sharing the knowledge of ancient cultural and scientific heritage of ancient India through Yoga, Pranayama, and Meditation. So far he has conducted over 700 Yogasana camps around the globe. Very recently in his celebration of diamond jubilee, having all the love for poor, sick and down-trodden he organized 230 blood donation camps with 69,542 blood donors with 2,08,62,600ml.of blood collected. His great deep love for the ecology made him plant more than 70,000 saplings all around the world.
His discourses on the subjects like Gita, Upanishads, Srimad Bhagavat, etc. in most simple language has touched and inspired millions of listeners in last thirty five years of his monastic life. Swamiji is a living example of the teaching of Gurudev Swami Sivananda and integrates the cultivation of Head, Heart and hands through pursuits of knowledge, devotion and selfless service respectively. His sincere contribution to modern youth to make them free from the vices of the drugs and it's addictions in the east and the west has brought him in great limelight. A monk with sympathy and kind heart and holy touch has shown these youngsters a dawn to their doomed life. His services to the nation through his yoga camps in the universities, colliery mines, Indian armed forces, Indian administration services not only in the planes but also at Leh (Laddakh), Kargil, Punch etc., has given him a great satisfaction of his Karma Yajna in uplifting the individual beings through the dissemination of science and yoga of synthesis. His life is a life struggle for perfection. He is always eager to serve the mankind known and unknown. At present, he is the president of Sivananda Ashram, Ahmedabad as well as of Gujarat Divya Jivan Sangh.
Latest Additions.........

Please subscribe to Divyajivan Mailing List. We will update you with new uploads of spiritual literature on the web of Holy Master Sri Swami Sivanandaji Maharaj, saints of his lineage and other saints. We will also update you about the Sivananda Ashram, Ahmedabad website and facilitate communication with Sri Swami Adhyatmanandaji Maharaj.

Please enter your email address and click Subscribe button
To manage your subscription, please visit Subscription Page. You can also subscribe and unsubscribe from this page. You may unsubscribe by yourself anytime you wish. You will be required to send confirmation link that you will get in your e-mail to complete this subscription.

[ Home ] [ News ] [ Upcoming Events ] [ What's New? ] [ Services ] [ Swami Adhyatmananda ] [ Multimedia ] [ Publications ] [ Administration ] [ Saints and Sages ] [ Photo Gallery ] [ Contact ] [ Guestbook ] [ Important Links ] Webmaster: webmaster@divyajivan.org