Media Coverage
Press Release in India Journal, Los Angeles

Swami Adhyatmananda Stresses Prayer and Calm During Southland Discourses

LOS ANGELES, CA - "Prayer is the only answer for peace. Pray frequently. Pray sincerely. Pray from the depth of your heart. Prayer is not asking or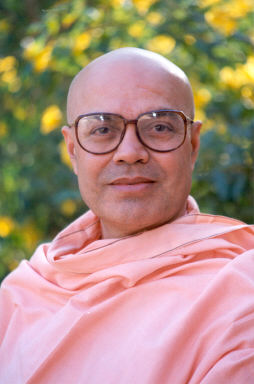 demanding anything. Prayer is a bridge between the individual and cosmic soul. No prayers are unanswered, sooner or later all prayers are answered. So pray and pray, night and day; and without prayer do not pass the way." This was the essence of the message conveyed by Swami Adhyatmananda, President, Sivananda Ashram, Ahmedabad, during his recent visit to the Southland.
He continues his peace mission "Shanti Yatra" in Canada and UK.
Swami Adhyatmananda a well-known yoga expert in the lineage of Swami Sivananda gave a number of private and public addresses. In his discourses at Glendale, Garden Grove, Cerritos, Norwalk, Diamond Bar, Rancho Palos Verdes, at the Sanatan Dharma temple, Radhak-rishna Temple and various Rotary Clubs among others, he told the audiences over and over again that in this time of conflict it was imperative to be clam, quite, give up lust, greed and anger.


^ TOP

Toledo Blade

Religion | Article published Saturday, March 22, 2003
Swami returns for yoga, spiritual teaching at temple

Swami Adhyatmanandaji Maharaj, a monk and renowned yoga and meditation teacher from India, will return to Sylvania's Hindu Temple, 4336 King Rd., next week for a retreat and classes.

Swami Adhyatmanandaji is known for making Hinduism practical and relevant to modern life. A holy man credited with bringing about a spiritual awakening through his teachings, he has helped young people caught up in drug addiction as well as business leaders seeking greater meaning in their work.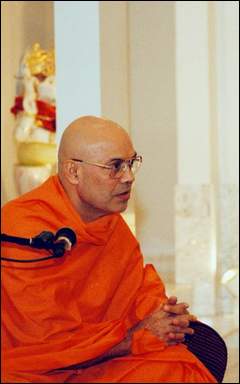 On previous visits to the Toledo area, he has given classes for children and talked with adults about improving their parenting skills.

While in the area next week, Swami Adhyatmanandaji will give classes on yoga, pranayama, and meditation from 6:30 to 7:30 a.m. Thursday and Friday and from 7 to 9 a.m. March 29.

Pranayama is a breathing exercise that is said to cleanse the body of impurities, improve concentration, calm thought processes, and alter circulation by increasing the amount of oxygen to the brain.

In addition to these classes, Swami Adhyatmanandaji will give lectures on stress management through yoga from 7:30 to 9 p.m. Wednesday, on "Mrityunjaya Mantra - Life-giving Mantra" from 7:30 to 9 p.m. Thursday, and on "Gita in Daily Life," from 7:30 to 9 p.m. Friday.

On March 29 he will give lectures on two shloka, or philosophical hymns, written by Sri Sankaracharya, who lived from 788 to 820. From 10:30 a.m. to noon, he will speak on "Nirvana Shatakam," and from 5:30 to 7 p.m. on "Bhaja Govindam." The sessions will conclude with "Arati," or prayer from 7 to 7:30 p.m.

The lectures are free, but a $10 daily fee, or $25 for all three days, will be charged for the yoga classes. Yoga students should wear loose clothing and bring an exercise mat or blanket. Children under 6 should not attend and students will be asked to maintain silence and a prayerful mood.

For Hindus, yoga is more than a physical discipline and is regarded as a way of life and means of practicing the spiritual truths found in all religions.

- JUDY TARJANYI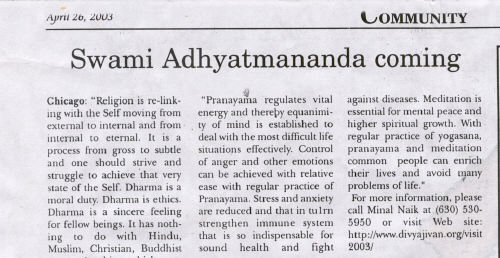 Latest Additions.........

Please subscribe to Divyajivan Mailing List. We will update you with new uploads of spiritual literature on the web of Holy Master Sri Swami Sivanandaji Maharaj, saints of his lineage and other saints. We will also update you about the Sivananda Ashram, Ahmedabad website and facilitate communication with Sri Swami Adhyatmanandaji Maharaj.

Please enter your email address and click Subscribe button
To manage your subscription, please visit Subscription Page. You can also subscribe and unsubscribe from this page. You may unsubscribe by yourself anytime you wish. You will be required to send confirmation link that you will get in your e-mail to complete this subscription.

[ Home ] [ News ] [ Upcoming Events ] [ What's New? ] [ Services ] [ Swami Adhyatmananda ] [ Multimedia ] [ Publications ] [ Administration ] [ Saints and Sages ] [ Photo Gallery ] [ Contact ] [ Guestbook ] [ Important Links ] Webmaster: webmaster@divyajivan.org