Ramanavami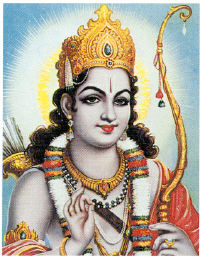 Sri Rama was Lord Vishnu's seventh avatar (incarnation) on earth. Sri Rama was portrayed as being the ideal man, and his wife Sita, was the ideal woman. Sri Ramanavami is the birth of Sri Rama on this earth. This festival usually occurs between March or April in the Christian calendar. The festival is celebrated on the ninth day of the bright fortnight of the Hindu month of Chaitra. In some parts of India, it is a nine-day festival, coinciding with the Vasanta Navaratri.

The story of Rama was first written by the Sage Valmiki. The epic known as the Ramayana. The public worship starts with morning ablutions, chanting Vedic mantras dedicated to Vishnu, and offering flowers and fruits to the god. People keep a fast throughout the day, breaking it only at midnight..
Ramayana is one of the great epics of India. This story of Sri Rama by the great sage Valmiki is referred to as the Adi Kavya. Other famous versions of Ramayana include Shri Ram Charit Manas in avadhii by Goswami Tulasidas and Kambarís Kambaraamayanam in Tamil.
The Ramayana has been a perennial source of spiritual, cultural and artistic inspiration, not only to the people of India but also to the people all over the world. It has helped to mould the Hindu character and has inspired millions of people with the deepest of love and devotion.
"Rama, the ancient idol of the heroic ages, the embodiment of truth, of morality, the ideal son, the ideal husband, and above all, the ideal king, this Rama has been presented before us by the great sage Valmiki. No language can be purer, none chaster, none more beautiful, and at the same time simpler, than the language in which the great poet has depicted the life of Rama."
-- Swami Vivekananda
Latest Additions.........

Please subscribe to Divyajivan Mailing List. We will update you with new uploads of spiritual literature on the web of Holy Master Sri Swami Sivanandaji Maharaj, saints of his lineage and other saints. We will also update you about the Sivananda Ashram, Ahmedabad website and facilitate communication with Sri Swami Adhyatmanandaji Maharaj.

Please enter your email address and click Subscribe button
To manage your subscription, please visit Subscription Page. You can also subscribe and unsubscribe from this page. You may unsubscribe by yourself anytime you wish. You will be required to send confirmation link that you will get in your e-mail to complete this subscription.

[ Home ] [ News ] [ Upcoming Events ] [ What's New? ] [ Services ] [ Swami Adhyatmananda ] [ Multimedia ] [ Publications ] [ Administration ] [ Saints and Sages ] [ Photo Gallery ] [ Contact ] [ Guestbook ] [ Important Links ] Webmaster: webmaster@divyajivan.org