Yoga and Health
by
Swami Adhyatmananda
Dedication
God is Truth - Introduction by Guru Maharaj Sri Swami Chidanandaji
Confession - by Sri Swami Adhyatmananda
Yoga Itself is Health - Forward by Dr. H. L. Trivedi, M.D.; FRCP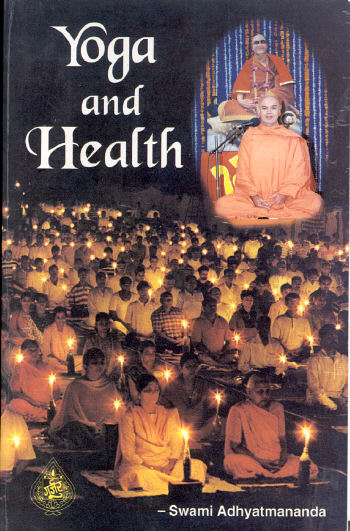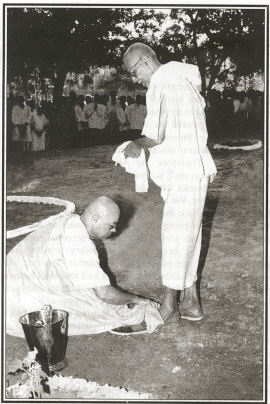 Dedicated
At the holy feet of Sri Gurudev,
the light of my path
and
life of my life

\
Swami Chidananda
Sivananda Ashram
P. 0. Shivanandanagar - 249 192
Disti. Tehri-Garhwal, U.P.
Health and strength of the body is of utmost impor­tance to all human beings. Because our body is the only instrument we have in which to dwell and through which to act in this world in its diverse fields of human vyavahara. Our Worshipful Sadgurubhagawan Swami Sivanandaji Maharaj always used to declare "Health is real Wealth." Therefore he wrote many books on yogasanas, pranayama, suryanamaskar, diet and fasting and produced books like Health and Long Life, Health and Happiness etc. We also have the western saying in the Latin language which means a healthy mind in a healthy body', in order to bring out the interconnection between mind and body thus giving us this inner secret of ensuring a healthy body by keeping the necessary positive and desirable state of our psychological interior. To bring out the-importance of health our ancients had this well known saying, "Dharma - Artha - Kama - Mokshanaam Arogyam Mulam Uttamam."
Revered Sri Swami Adhyatmanandaji Maharaj, has a good knowledge of anatomy and Physiology and so is able to explain the benefit of yogasanas, bandhas, mudras etc. in a scientific manner. As such this book will be of benefit to all sections of the general public, especially because Swamiji has treated a subject from the point of view of therapeutics, meaning thereby, the disease curing properties and results of yoga practice. I wish your pub­lication wide circulation so that much benefit may be obtained by the public.
Jai Sri Gurudev!
— Swami Chidananda

Swami Adhyatmananda is not a Yogi. He is definitely not a Yoga-Acharya. He is one of the servants of Shri Gurudev Swami Sivanandaji Maharaj.
An invitation was presented to Sadgurudev Swami Sivanandaji Maharaj's Ashram by Lal Bahadur Shastri Na­tional Academy Administration situated in Massourie to instruct trainees undergoing administrative training, in Yogasana, Pranayama and Meditation. At this juncture, most worshipful and revered Gurudev Sri Swami Chidanandaji Maharaj instructed me in Yogasana and Pujya Shri Swami Krishnanandaji Maharaj imparted training in Pranayama. This Yoga class was conducted for about an hour for three days for Asanas. While on a walk Rev. Sri Swami Krishna­nandaji instructed details on the science of Pranayama just for 3 minutes only Sowing of these seeds in Himalayan Valley by these great dignitaries have to-day assumed great proportions. Having obtained such a great asset, a start was made by a Yogasan camp at Calcutta in an army unit. Thereafter, beginning from Lal Bahadur Shastri National Academy of Administration, Massourie and Indian Military Academy, Dehradun to many administrative training insti­tutes, ground forces of Indian Army, Airforce wing, Naval wing, Universities, Branches of the Divine Life Societies, coal mines located in Andhra Pradesh, Japan, Mauritius, Ger­many, Amsterdam, Britain, America and Canada etc, were covered by such Yogasana camps. In the initial stages such class did not charge any fees. Subsequently deposit of Rs. 5/- was introduced. Now-a-days a fee of Rs. 250/- for period of a camp is usually levied. More than 575 Yoga retreats are already covered.
For Yoga training, besides practice of Yaugic exercises by a person himself, knowledge of physiology is also quite essential. Seeds were sown in me by well-known orthopedic surgeon Dr. Gopal V. Merchant of M. S. Medical College Baroda, by teaching fundamentals of physiology On seeing various columns covering 'NEWS' of Pranayama and Yogasans by Radio and Television; Shri Tushar Bhatt, prin­cipal editor of Newyork edition of 'Gujarat Times' published from Newyork (U.S.A.), encouraged me to write personally a series of articles covering 'Yoga and Health'.
Gurjar Grantha Ratna Karyalaya has undertaken to publish these serialized columns in a book form in Gujarati.
Dr. Jyotiben Mankad of Ahmedabad has examined correctness of medical terminology described in these series of columns. Chapter on diabetes has drawn support from literature published by Dr. Mayur Patel, President, Ahmedabad Medical Association and General Secretary of all India Diabetes Association. Publications by Dr. Jayesh Sheth, Dr. Bipin Shah, Dr. Niranjan Shah of Ahmedabad are the sources of information on 'Thyroid'. A multitude of general information of medical and physiological informa­tion is procured from Dr. Bhavnaben Sheth and Dr. Raju Sheth of Bharuch.
Whether one spends life in a mundane world or in an army cantonment, one and all are tired of awaiting their turn, sitting on Hospital benches. Each craves nature-based and full-blown life. That is why widespread dissemination of nature cure, Yoga and Ayurveda is in hands the world-over and good results are also observed. In our world no science has reached perfections yet new researches are continuously introduced. So far many Yoga Acharyas and also doctors have written on this subject, but this book is not of a similar nature. It is an essence of experiments of past twenty five years.
Original columns of this book were meant for Gujarati readers, residing in America. Hence illustrative examples are brought in for easy appreciation of American Gujaratis. Indian families are requested to have this aspect in mind and excuse me for such a catering. This book 'Yoga and Arogya', it is hoped will surely bring sound health,long life and good hope for living and zest for life, to readers.
Photographs appearing in the book are by Shri Rajubhai Shah, modelling for Yogasanas is by Shri Devendra Arora of Jalandhar, Shri Jitendra Ray of Chandigarh, and our Ahmadavadi Dear Shri Mehul, Umang, Bhavik, Harit and Hardik. Deep appreciation for their contribution.
English version of this book is done by Rev. Sri P. C. Mankodiji (Ex. Chief Eng. of Gujarat Electricity Board and Trustee of the Divine Life Society H.Q. Rishikesh, Chairman of Gujarat Divya Jivan Sangh). Sri Mankodi Saheb's ever ready. and untiring service will be cherished by entire English reading generation. Inspite of his ill health Sri Mankodiji has done this wonderful service! We are indebted to him. God-Gurudev bless him.
We are also indebted to revered venerable Dr. Swetang Pancholi, M.D. (Cardiologist) for expert medical knowledge provided and for proper guidance for this English version. At the same time we are highly obliged to revered and venerable Dr. Mafatbhai Patani Saheb for his untiring labour to see this book a bright day light. Shri Manubhai Shah and type-setter and publisher have taken care of very seemingly small matters. They have done superb printing with their bountiful nature and kept within desired time schedule. I heartily feel obliged to them. This servant expresses grati­tude to all friends and well-wishers who have knowingly or indirectly helped in the publication of this book.
This book is dedicated at the lotus feet of Sri Gurudev. Book is His, May He accept it!!
OM SHANTIH...
- SWAMI ADHYATMANANDA

Spirituality has its own significance in the cultural ethos of Bharat. Many "spiritualists" stay in the proximity of Himalayan forests throughout their lives to achieve salvation and reach the Almighty. It is difficult to imagine what they derive out of an activity that keeps them unconcerned with the internal problems of the society as well as the nation. Such an existence becomes irrelevant vis-a-vis solutions of problems related to the society and the country. A broader perspective reveals it to be an escapist attitude in facing these problems and trying to bring their solution. This type of unfruitful spiritual activity has not and will not do any good to society and, country. Shree Ramkrishnadev presented altogether a different type of spiritualism. Swami Vivekananda grasped this thought and preached this ideol­ogy He declared, "There is no greater Yoga or spiritualism than feeding the hungry and giving medical aid to the sick. This thorough process gave birth to a new wave of "Arise and Awake".
Spiritual activity got into the main stream of the society and spiritualists then started taking active interest in the problems of the society as well as the country Swami Adhyatmanandaji's activity very much supports this ideology He has appropriately defined "Yoga" in this book and has purported that Yaugic activity could possibly be an important instrument to Sadhus staying in Himalayas for attainment of the Lord by understanding and practice of Yoga. Its practice not only is limited to those aspirants of the Himalayas but, it certainly has more appropriate place in the daily life of a common man facing mental and physical stress of the modern times.
Medical science has defined a "perfectly healthy indi­vidual" as one having diseaseless body, happy and poised mind, steady and calm intellect, capacity to differentiate right from wrong, justice from injustice, and to identify the family and social problems. Such an individual must possess capability to wage conflicts without deviating from the path of truth and justice; besides he must possess a mind bent upon accomplishing the work undertaken. Thus Sadhana undertaken to attend the perfect acumen is itself a process of Yoga. One's own body happens to be the most important instrument to achieve this perfection. Hence it is essential to possess a sound, diseaseless healthy body This whole idea is an integral part of "behavior science" a branch of medical science. I personally believe that Yaugic activity is the prescription to attain perfection in an individual. Thereby the society will remain healthy and thus the country will also prosper.
Life is replete with conflicts, which are bound to create ups and downs in an individual mind thereby leading to stress. It is but natural that mind and body will be disturbed under stress. It is here that the mind and body trained under 'Yoga' will be able to remain healthy and steadfast and thereby be able to confront all the difficult situations in life.
The secret of longevity of a person is his ability to develop the disease fighting capacity (immunity). As a result of an experience of millions of years based on immunity, the human body has acquired a capacity to fight microbes and yet survive. Every cell of the human body is packed with this immune memory. We also know that cell injury is caused by chemical mediators. There is a possibility that control over our internal biochemical environment can be attained by Yaugic processes. We have now started understanding that spiritualism, Yoga and Science are all beads of the same rosary and in future it will possible to arrive at a simple understanding about each of these rosary beads.
It is expected that this book written by Swami Shree Adhyatmanandaji, who has a deep craving to do something useful for the society and who also possesses such a capacity and the expertise, will provide not only a very useful and interesting reading but will naturally take us near "Yoga and Yaugic processes".
March 14, 2001
Dr. H. L. Trivedi, MD, FROPO
Director, Institute of Kidney Diseases and Research Centre (IKDRC), Civil Hospital Campus, Ahmedabad, Gujarat, India.
Latest Additions.........

Please subscribe to Divyajivan Mailing List. We will update you with new uploads of spiritual literature on the web of Holy Master Sri Swami Sivanandaji Maharaj, saints of his lineage and other saints. We will also update you about the Sivananda Ashram, Ahmedabad website and facilitate communication with Sri Swami Adhyatmanandaji Maharaj.

Please enter your email address and click Subscribe button
To manage your subscription, please visit Subscription Page. You can also subscribe and unsubscribe from this page. You may unsubscribe by yourself anytime you wish. You will be required to send confirmation link that you will get in your e-mail to complete this subscription.

[ Home ] [ News ] [ Upcoming Events ] [ What's New? ] [ Services ] [ Swami Adhyatmananda ] [ Multimedia ] [ Publications ] [ Administration ] [ Saints and Sages ] [ Photo Gallery ] [ Contact ] [ Guestbook ] [ Important Links ] Webmaster: webmaster@divyajivan.org