Blessings from GuruMaharaj
"Hari Bol" forward
We start with listening to the Blessings of GuruMaharaj Sri Swami Chidanandaji Maharaj for HIS Adhyatm...............(audio Clips)
What could be better time than now to cherish those blessed moments!
Blessed Immortal Atman! Beloved children of the divine! I am extremely happy and rejoice immensely to give this few words as a forward to this beautiful recording of the chanting of the Divine name, select few kirtans and bhajans and also certain important Sanskrit verses suitable for repeated daily as a part of your daily prayers and daily worship. This chants, sanirtan as well as sanskrit slokas have been recorded by Sri Swami Adhytmananda Saraswati belonging to the monastic order of beloved and worshipful Gurumaharaj Sri Swami Sivanandaji Sarashwati, Sivananda Ashram, Rishikesh, Headquarters of Divine Life Society.
Swami Adhyatmanandaji is a great devotee of Shree Swami Sivanandaji Maharaj and also very enthusiastic pracharak and propagator of Gurudev's Divine Life message yoga Vedanta and spiritual life and sadhana. And also especially in training people in ancient psychophysical science of Hatha yoga. He is expecting teaching asanas, Pranayama, Surya Namaskar, Relaxation techniques and Kriyas. And he is very much in demand though out India in all the branches of Divine Life Society where he is called to conduct courses on yoga and also Spiritual Retreats and to give talks on Bhagawat Gita, Spiritual life in general and Sadhana in particular. Also he has been teaching yoga at Lal Bahadur Shastri National Academy of Administration, Mussoorie, Bharat Heavy Electricals Limited (BHEL), IDPL and other such public sector places.
This recording is done spontaneously I am very happy to give this forward because Swami Adhyatmanandaji has dedicated his entire life for this cause of spreading the Gurudev mission through out India and maybe also abroad if, the time comes and Gurudev so wills. I am very happy to recommend this cassette to you, Listen with rapt attention, be benefited and elevated! Hari OM Tatsat! God Bless you all !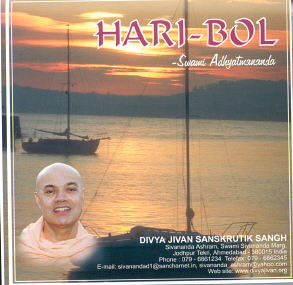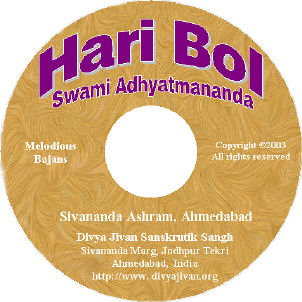 For the purchase of CD, please contact Sivananda Ashram, Ahmedabad
Telephone # 079-26861234 Fax # 079-26862345
email: sivanand_ashram@yahoo.com
Latest Additions.........

Please subscribe to Divyajivan Mailing List. We will update you with new uploads of spiritual literature on the web of Holy Master Sri Swami Sivanandaji Maharaj, saints of his lineage and other saints. We will also update you about the Sivananda Ashram, Ahmedabad website and facilitate communication with Sri Swami Adhyatmanandaji Maharaj.

Please enter your email address and click Subscribe button
To manage your subscription, please visit Subscription Page. You can also subscribe and unsubscribe from this page. You may unsubscribe by yourself anytime you wish. You will be required to send confirmation link that you will get in your e-mail to complete this subscription.

[ Home ] [ News ] [ Upcoming Events ] [ What's New? ] [ Services ] [ Swami Adhyatmananda ] [ Multimedia ] [ Publications ] [ Administration ] [ Saints and Sages ] [ Photo Gallery ] [ Contact ] [ Guestbook ] [ Important Links ] Webmaster: webmaster@divyajivan.org