ATLANTA COMMUNITY CELEBRATED
150TH BIRTH ANNIVERSARY OF MAHATMA GANDHI
By Ravi R Ponangi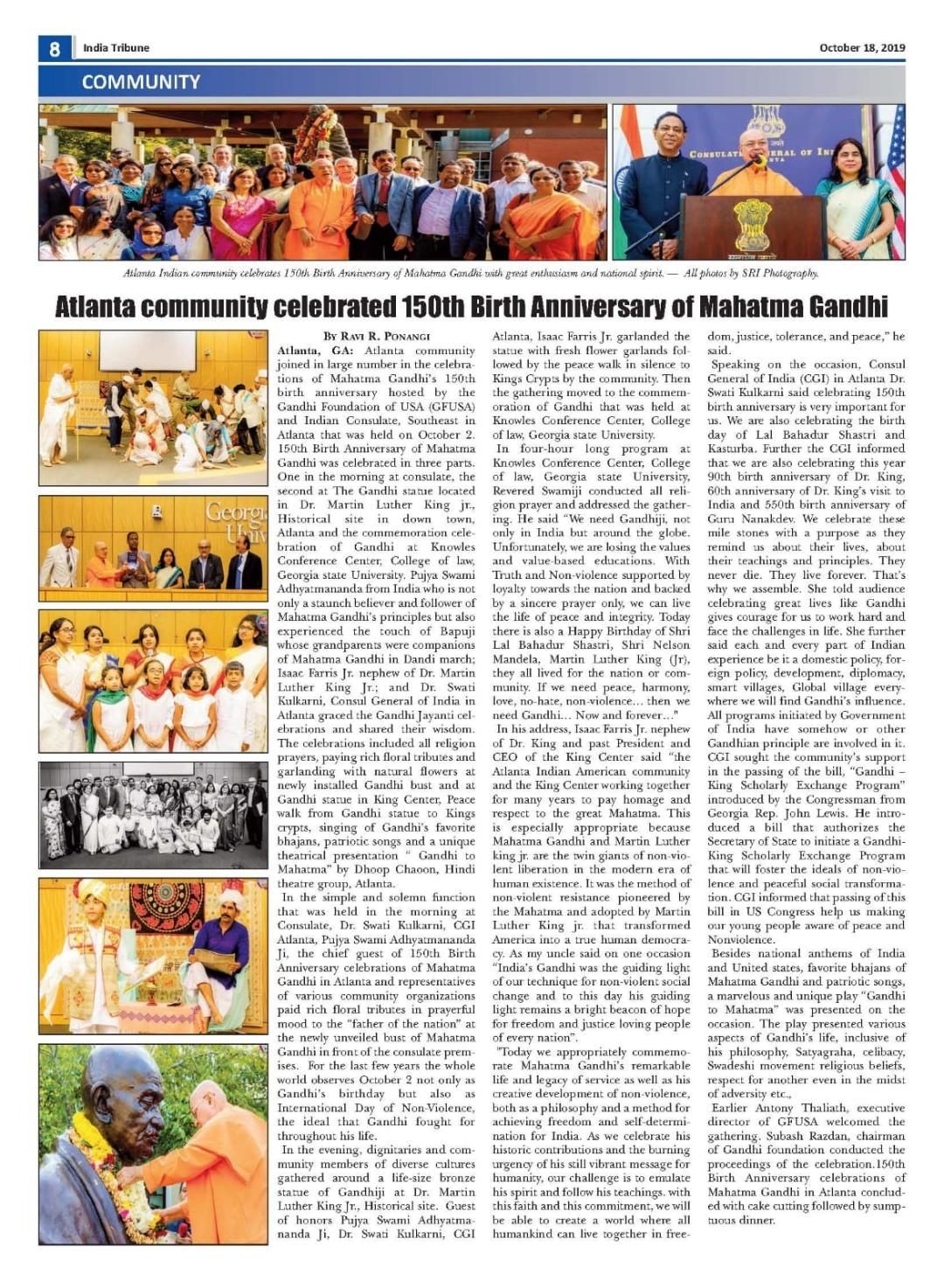 Atlanta, GA: Atlanta community joined in large number in the celebrations of Mahatma Gandhi's 150 th birth anniversary, Gandhi Jayanti hosted by the Gandhi Foundation of USA (GFUSA) and Indian Consulate, Southeast in Atlanta that was held on Wednesday, October2. 150 th Birth Anniversary of Mahatma Gandhi was celebrated in three parts. One in the morning at consulate, the second at The Gandhi statue located in Dr. Martin Luther King jr., Historical site in down town, Atlanta and the commemoration celebration of Gandhi at Knowles Conference Center, College of law, Georgia state University. Pujya Swami Adhyatmananda from India who is not only a staunch believer and follower of Mahatma Gandhi's principles but also experienced the touch of Bapuji whose grandparents were companions of Mahatma Gandhi in Dandi march, Isaac Farris Jr. nephew of Dr. Martin Luther King Jr., and Dr. Swati Kulkarni, Consul General of India in Atlanta graced the Gandhi Jayanti celebrations and shared their wisdom words. 150 th Birth Anniversary celebrations of Mahatma Gandhi in Atlanta included all religion prayers, paying rich floral tributes and garlanding with natural flowers at newly installed Gandhi bust and at Gandhi statue in King Center, Peace walk from Gandhi statue to Kings crypts, singing of Gandhi's favorite bhajans, patriotic songs and a unique theatrical presentation " Gandhi to Mahatma" by Dhoop Chaoon, Hindi theatre group, Atlanta.

In the simple and solemn function that was held in the morning at Consulate, Dr. Swati Kulkarni, CGI Atlanta, Pujya Swami Adhyatmananda Ji, the chief guest of 150 th Birth Anniversary celebrations of Mahatma Gandhi in Atlanta and representatives of various community organizations paid rich floral tributes in prayerful mood to the "father of the nation" at the newly unveiled bust of Mahatma Gandhi in front of the consulate premises. For the last few years the whole world observes October 2 not only as Gandhi's birthday but also as International Day of Non-Violence, the ideal that Gandhi fought for throughout his life. In the evening, dignitaries and community members of diverse cultures gathered around a life-size bronze statue of Gandhiji at Dr. Martin Luther King Jr., Historical site. Guest of honors Pujya Swami Adhyatmananda Ji, Dr. Swati Kulkarni, CGI Atlanta, Isaac Farris Jr. garlanded the statue with fresh flower garlands followed by the peace walk in silence to Kings Crypts by the community. Then the gathering moved to the commemoration of Gandhi that was held at Knowles Conference Center, College of law, Georgia state University. In four-hour long program at Knowles Conference Center, College of law, Georgia state University, Revered Swamiji conducted all religion prayer and addressed the gathering. He said "We need Gandhiji, not only in India but around the globe. Unfortunately, we are losing the values and value-based educations. No plane can fly without 2 wings as well as wheels to run on runway for takeoff and landing.With Truth and Non-violence supported by loyalty towards the nation and backed by a sincere prayer only, we can live the life of peace and integrity. Parents of Gandhiji Res. Mother Putalibai, father Karamchand, chest wife and life- long partner Kasturba, they all need applause because of making Gandhiji life sublime. Today there is also a Happy Birthday of Shri Lal Bahadur Shastri, Shri Nelson Mandela, Martin Luther King (Jr), they all lived for the nation or community. There was no selfish motive and because of that only, they are adored after so many years. Before going to the UK for higher education Gandhi was given vow by his mother. "No meat, woman or wine" midst of in all temptation Gandhi stuck to these vows. Because he had a high aim in his life. Years will roll Gandhiji would be known as incarnate divinity. In case we need peace, harmony, love, no- hate, non-violence… we need Gandhi… Now and forever…"

In his address, Isaac Farris Jr. nephew of Dr. King and past President and CEO of the King Center said "the Atlanta Indian American community and the King Center working together for many years to pay homage and respect to the great Mahatma. This is especially appropriate because Mahatma Gandhi and Martin Luther king jr. are the twin giants of non-violent liberation in the modern era of human existence. while the two men never met there is a spiritual bond between the two. This is the case even though my uncle was a Christian and the Mahatma was a Hindu but both men were militant ecumenicists who believed that all religions had something valuable to contribute to making our world more just and humane. He informed that if not for Mahatma Gandhi's courageous example America might still be mired in dehumanizing legal racial segregation. It was the method of non-violent resistance pioneered by the Mahatma and adopted by Martin Luther King jr. that transformed America into a true human democracy. As my uncle said on one occasion "India's Gandhi was the guiding light of our technique for non-violent social change and to this day his guiding light remains a bright beacon of hope for freedom and justice loving people of every nation". My aunt, King Center founder Coretta Scott King traveled to India on 3 occasions to meet with disciples of Gandhi. Her commitment to promoting the teachings of the Mahatma included the establishment of the Gandhi room in the King Center's freedom hall building and the approval of placing the stature of Mahatma Gandhi at the entrance of the king historic district park where it greets all visitors who come. Today we appropriately commemorate Mahatma Gandhi's remarkable life and legacy of service as well as his creative development of non-violence, both as a philosophy and a method for achieving freedom and self-determination for India. As we celebrate his historic contributions and the burning urgency of his still vibrant message for humanity our challenge is to emulate his spirit and follow his teachings. Mahatma Gandhi's teachings have been emulated by freedom movements all over the world. A world that has been awakened to the power of his teachings as a means for winning freedom and justice through peaceful resistance. So, on this 150 th birthday anniversary of his great irreplaceable life, let us resolve here and now that we will continue to teach the non-violent philosophy he pioneered and Martin Luther King Jr. adopted to new generations so they will have the tools to create a more loving and compassionate world. let us enkindle in their hearts a flame of commitment to non-violence and a glowing vision of unity. with this faith and this commitment, we will be able to create a world where all humankind can live together in freedom, justice, tolerance, and peace." Speaking on the occasion, Consul General of India (CGI) in Atlanta Dr. Swati Kulkarni said celebrating 150 th birth anniversary is very important for us. We are also celebrating the birth day of Lal Bahadur Shastri and Kasturba. Further the CGI informed that we are also celebrating this year 90th birth anniversary of Dr. King, 60th anniversary of Dr. King's visit to India and 550 th birth anniversary of Guru Nanakdev. We celebrate these mile stones with a purpose as they remind us about their lives, about their teachings and principles. They never die. They live forever. That's why we assemble. We drive and tell everybody how their life, what exactly their teachings are? She told audience celebrating great lives like Gandhi gives courage for us to work hard and face the challenges in life. She further said each and every part of Indian experience be it a domestic policy, foreign policy, development, diplomacy, smart villages, Global village everywhere we will find Gandhi's influence. All programs initiated by Government of India have somehow or other Gandhian principle are involved in it. CGI sought the community's support in the passing of the bill, "Gandhi – King Scholarly Exchange Program" introduced by the Congressman from Georgia Rep. John Lewis. He introduced a bill that authorizes the Secretary of State to initiate a Gandhi-King Scholarly Exchange Program that will foster the ideals of non-violence and peaceful social transformation. CGI informed that passing of this bill in US Congress help us making our young people aware of peace and Nonviolence.

Besides national anthems of India and United states, favorite bhajans of Mahatma Gandhi and patriotic songs, a marvellous and unique play "Gandhi to Mahatma"was presented on the occasion. It was liked, appreciated and commended by everyone attended. Very successful presentation beyond expectation. Every artist participated in the drama did a fantastic job in dialogue delivery. "From Gandhi to Mahatma" is a short play that walked through the period of Mahatma Gandhi's life time from 1869 – 1948. The drama is a depiction of episodes and happenings from Gandhi's life. The play presented various aspects of Gandhi's life, inclusive of his philosophy, Satyagraha, celibacy, Swadeshi movement religious beliefs, respect
for another even in the midst of adversity etc., Earlier Antony Thaliath, executive director of GFUSA welcomed the gathering. Subash Razdan, chairman of Gandhi foundation conducted the proceedings of the celebration. 150th Birth Anniversary celebrations of Mahatma Gandhi in Atlanta concluded with cake cutting followed by sumptuous dinner.
Latest Additions.........

Please subscribe to Divyajivan Mailing List. We will update you with new uploads of spiritual literature on the web of Holy Master Sri Swami Sivanandaji Maharaj, saints of his lineage and other saints. We will also update you about the Sivananda Ashram, Ahmedabad website and facilitate communication with Sri Swami Adhyatmanandaji Maharaj.

Please enter your email address and click Subscribe button
To manage your subscription, please visit Subscription Page. You can also subscribe and unsubscribe from this page. You may unsubscribe by yourself anytime you wish. You will be required to send confirmation link that you will get in your e-mail to complete this subscription.

[ Home ] [ News ] [ Upcoming Events ] [ What's New? ] [ Services ] [ Swami Adhyatmananda ] [ Multimedia ] [ Publications ] [ Administration ] [ Saints and Sages ] [ Photo Gallery ] [ Contact ] [ Guestbook ] [ Important Links ] Webmaster: webmaster@divyajivan.org