Amrut Mahotsav (75 th Birth Anniversary) Souvenir
of
H. H. Sri Swami Adhyatmanandaji Maharaj
Please find the link of Complete Book (PDF)
Amrut Mahotsav Celebrations Photos (May 3, 2019)
Amrut Mahotsav Celebrations Tour 2019 ( Sept 10, 2019 to Oct 22, 2019)
Zoom Meet Photos (May 3, 2020)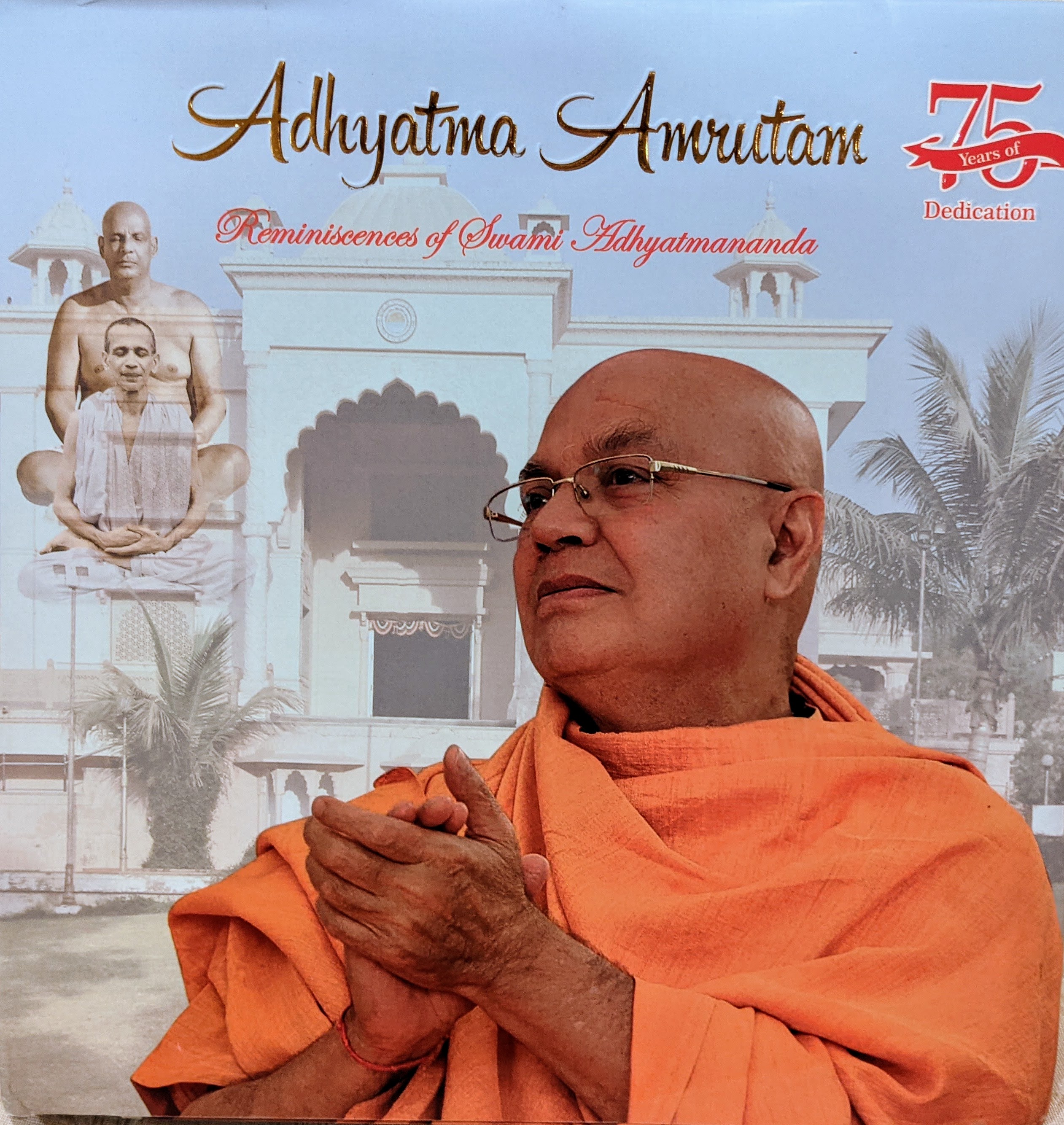 Amrut Mahotsav Souvenir was released Silently at Sri Sri Ashtalaxmi Maa's feet by His Holiness Brahmleen Sri Swami Adhyatmanandji Maharaj, Himself on His Birthday May 3, 2021 & Lokarpanam of souvenir was on Gurupurnima day, July 24, 2021 by Sivananda Ashram, Ahmedabad..... Please contact the Ashram for the purchase of the treasure volume
"A treasure volume", compiled by a devoted couple Smt. Rupa & Sri Manish Majmundar, an ardent devotees of Pujya Swamiji on the occasion of Amrut Mahotsav Celebrations year (May 3, 2019 - May 3, 2020) of H. H. Sri Swami Adhyatmanandaji Maharaj. The book was released on September 8, 2020 on Holy Master's Birth Anniversary. It contains the core sentiments of love & gratitude by devotees of Pujya Swamiji Maharaj from the East & the West. Simply Heart touching.....will be remembered for ever.
Thanks to all the Devotees from all over India, Taiwan, USA, Canada & UK for their contribution and thanks to Smt. Rupaben for her wonderful gesture of love & gratitude.
Please find the link of Complete Book (PDF)
Latest Additions.........

Please subscribe to Divyajivan Mailing List. We will update you with new uploads of spiritual literature on the web of Holy Master Sri Swami Sivanandaji Maharaj, saints of his lineage and other saints. We will also update you about the Sivananda Ashram, Ahmedabad website and facilitate communication with Sri Swami Adhyatmanandaji Maharaj.

Please enter your email address and click Subscribe button
To manage your subscription, please visit Subscription Page. You can also subscribe and unsubscribe from this page. You may unsubscribe by yourself anytime you wish. You will be required to send confirmation link that you will get in your e-mail to complete this subscription.

[ Home ] [ News ] [ Upcoming Events ] [ What's New? ] [ Services ] [ Swami Adhyatmananda ] [ Multimedia ] [ Publications ] [ Administration ] [ Saints and Sages ] [ Photo Gallery ] [ Contact ] [ Guestbook ] [ Important Links ] Webmaster: webmaster@divyajivan.org