H. H. Sri Swami Adhyatmanandaji Maharaj Blessings
On His Birthday (May 3, 2020)
through " Amdavadtak" TV Media
Amrut Mahotsav Celebration Year ( May 3, 2019 - May 3, 2020)
Devotees' core feelings expressing their Love & Gratitude
Amrut Mahotsav Celebrations through ZOOM Meet ( May 3, 2020)
Amrut Mahotsav Celebrations Tour 2019 ( Sept 10, 2019 to Oct 22, 2019)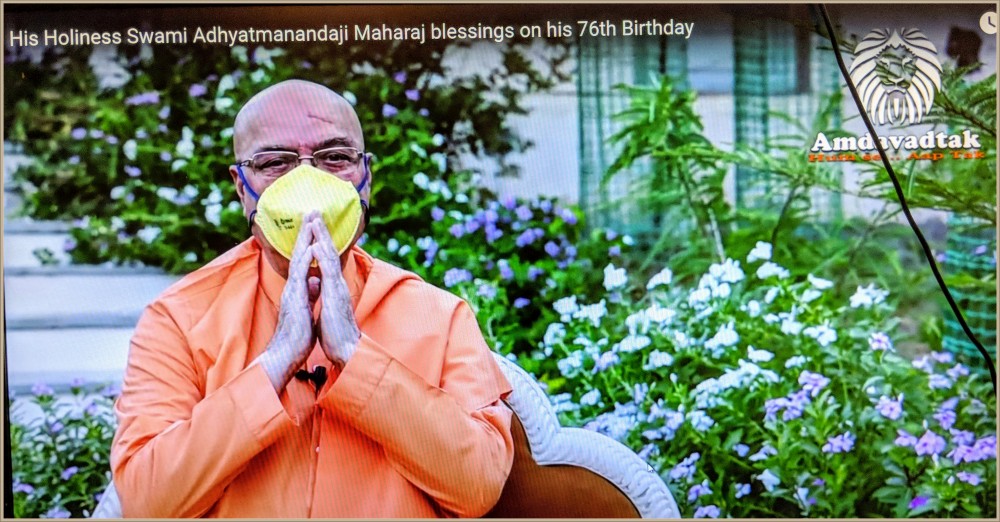 My loving pranam to all! May you all be blessed with joy, peace, and illumination!.

Today, this physical body has completed 75 years of sojourn on earth. On this day, with all humbleness, I offer my loving pranam to my mother and father who gave birth to this body. My pranams to all my ancestors, the lineage of that extend to Bhakta Kavi Narsinh Mehta.

I offer my heartfelt pranam at the Holy Feet of Most Revered & Worshipful Guru Bhagavan Sri Swami Sivananda Ji Maharaj and Bhagavat Swaroop my Gurudev Sri Swami Chidananda Ji Maharaj. And I offer my pranam to Great Saints who inspired me in my spiritual path, Bhagavan Sri Ramakrishna Paramhansa Dev, Purna Brahma Swaroop Sri Sri Maa Anandamayi Maa, Pujya Sri Yogibapa and Sri Pramukh Swami and the Saints in their lineage and many others whom I have the good fortune to be in Satsang with.
What can I share about my life journey at this age of 75? What is my message? "My Life is My Message."........."Don't be afraid of adversities, they make you strong"

Just as the deep-rooted tree stands tall in spite of the calamities in the form of severe storms, tornadoes, hail storms, or torrential rain, I have faced many adversities, ups & downs, impediments, agony, along the journey of 50 years of my monastic life and came out strong. Life has given me exuberance, joy, bubbling energy. Awakening of inner SELF lead me to spread the Glories of the DIVINE. Look at Nature, there is Fall & Spring, there is Sunrise & Sunset, there is Ebb & Flow. It is the Law of Nature. Ups & down is a part of Life. Don't be afraid of adversities, they make you strong. In all situations, be rooted in the Absolute Truth, Abide in the SELF, sing HIS Glories, Surrender at the holy feet of your Guru. Stick to the path guided by your Guru. Chant the Guru Mantra with unwavering faith. Hold on to Hari-Nama, the Lord's name is the solution for all the trials and tribulations of Life. Intensify your faith only on one thought " I am Thine, Thou art Mine, Thy will be done". "O God, I am Thine, Thy wish is mine as I have none". Guru's Grace is unfailing; it is ever ready to help you. I have experienced in my life, you can too.
What more can I talk to you? Yes, I urged you to be safe, stay healthy, and do your part in the whole in the current COVID -19 Crisis.
We are passing through Global COVID Pandemic. It has caused a threat to human existence, millions of people are sick and suffering from the Virus, loss of human lives in a few lakhs. It is an urgent need for us to do our part at the individual level to overcome this crisis and think about what can I do to prevent the Corona virus disease at home and the people around me ? Follow the rules diligently. Keep safe social distancing. Wear a face mask.
And most importantly, think positive "WILL Power Wins ALL Powers". Maintain your mental poise, and stay cheerful, have no fear even in difficult circumstances. Enhance and build a strong immune system. Practice Yoga and Pranayama regularly. Find time to do simple Pranayama namely Anuloma Viloma or Sukh-Puravak Pranayama. Do a few rounds of Kapalbhati and Bhastrika Pranayama (if you don't have an underlying medical condition like high blood pressure or heart disease), which will boost up your energy level and enhance lung capacity. Also use lemon juice which is a rich source of Vitamin C. The simple homemade herbal drink made of lemon water with turmeric powder, ginger, and black pepper is known to be good for your immune system. Drink 8 to 10 glasses of lukewarm water during the day, good hydration is very important.
I pray for the peace of departed souls and recovery of all who are afflicted with Corona virus. I pray for the protection of frontline workers, all the doctors, paramedical staff, police force on duty, and local administration serving the society.
I feel very sad that a few days back, unfortunately, two Sannyasin in Palghar, Maharashtra area were the victim of mob lynching and they were cruelly killed. May God grant their departed souls to rest in eternal peace! We all are born as a human being divided into Hindu, Muslim, Christian or Sikh, etc, as per religious faith. But we should never forget that humanity is at the roots of all religions; humanity means love, compassion, generosity, forgiveness, peace towards all living beings, plants and trees, mountains, and rivers with who we all remain in harmonious co-existence. I pray God that may people rise above religious bias, respect every religion, and retain humanity as a core value of all religions for peaceful and harmonious coexistence.
Once again I say, Be cheerful. Be peaceful. Be Blissful. Enjoy your present moments and be with your family, eat together, pray together. Pray fervently, sincerely, and wholeheartedly. Prayer elevates the mind. It fills the mind with purity. Have perfect faith in the Lord's name. His name is your sole support and refuge. Whatever name you believe in, Ishwar, Allah, Jehovah, Ahura Mazda, Zande vats, Waheguru, Jesus, Moses, Buddha, Rama, Krishna, Durga, Kali, Ganesh or Shirdi Saibaba .......whatever name you like, remember Him. In case you are initiated into Guru Mantra, do Japa of Guru Mantra with faith and sincerity.

"Divine Name is a safe boat that can take you to the other shore of fearlessness, freedom and bliss Immortal", "In all conditions, I am Bliss, Bliss, and Bliss Absolute," says Swami Sivananda. Have Yearning for God-Realization.
What more can I say? The secret of my joy in life (of 75 years) is unbroken Guru Smarana, faith in my GURU, abiding at the Holy feet of my GURU. Ever flowing Grace & Blessings of my Guru is the supreme joy of my Life.
I am happy today for this opportunity to meet you all through the "Amdavadtak" TV media. I am thankful to Shri Harshendu Oza Ji, who is also a devotee of Sivananda Ashram, who requested me to give my message on this day.

Namaskar and Vande Mataram!
Latest Additions.........

Please subscribe to Divyajivan Mailing List. We will update you with new uploads of spiritual literature on the web of Holy Master Sri Swami Sivanandaji Maharaj, saints of his lineage and other saints. We will also update you about the Sivananda Ashram, Ahmedabad website and facilitate communication with Sri Swami Adhyatmanandaji Maharaj.

Please enter your email address and click Subscribe button
To manage your subscription, please visit Subscription Page. You can also subscribe and unsubscribe from this page. You may unsubscribe by yourself anytime you wish. You will be required to send confirmation link that you will get in your e-mail to complete this subscription.

[ Home ] [ News ] [ Upcoming Events ] [ What's New? ] [ Services ] [ Swami Adhyatmananda ] [ Multimedia ] [ Publications ] [ Administration ] [ Saints and Sages ] [ Photo Gallery ] [ Contact ] [ Guestbook ] [ Important Links ] Webmaster: webmaster@divyajivan.org