Centenary Celebrations
of
GuruMaharaj Sri Swami Chidananda
Srimad Bhagwat Katha ( April 21, 2015 - April 27, 2015)
by H. H. Sri Swami Adhyatmanandaji Maharaj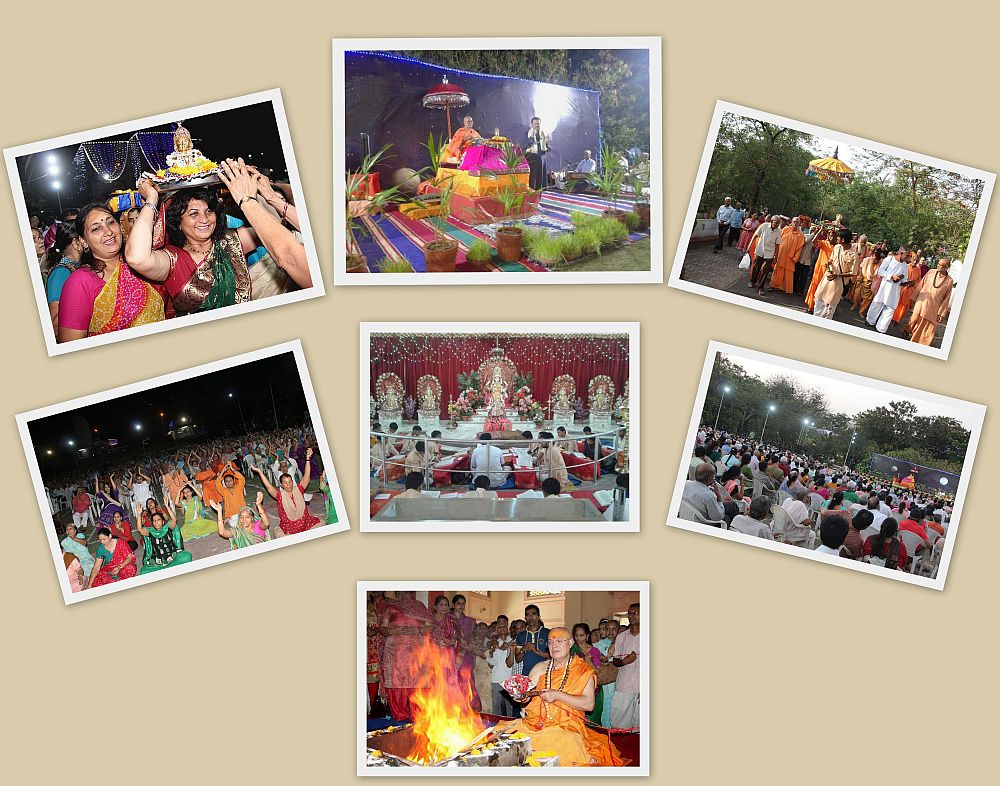 Before Srimad Bhagawat Katha commenced devotees joined in for "Pothi Yatra" carried Sri Bal Krishna in procession with traditional orchestra and dancing and singing in praise Sri Lallaji Maharaj. Thirty one young students of Bhagavata learning rendered their services by reading Bhagavata very systematically every day. From the Vyasa Peeth, Sri Swami Adhyatmanandaji Maharaj graced the devotees, the nectar of Srimad Bhagawata for seven days daily from 5:30 pm to 9:00 pm.
The Srimad Bhagavata Maha purana describes the various Avatara of Vishnu. It is the most important among the eighteen Puranas and it is in poetry form. There are ten Avataras of Vishnu. The aim of every Avatara is to save the world from some great danger, to destroy the wicked and protect the virtuous. The ten Avataras are: Matsya (The Fish), Kurma (The Tortoise), Varaha (The Boar), Narasimha (The Man-Lion), Vamana (The Dwarf), Parasurama (Rama with the axe, the destroyer of the Kshatriya race), Ramachandra (the hero of the Ramayana—the son of Dasaratha, who destroyed Ravana), Sri Krishna, the teacher of the Gita, Buddha (the prince-ascetic, founder of Buddhism), and Kalki (the hero riding on a white horse, who is to come at the end of the Kali-Yuga)
The aim of life as being devotion and the realization of God is emphasized. The whole of this Purana is a continuous hymnology on a spirited form of ardent love of God, sung in a variety of ways through stories, mythology, illustration and philosophy. From the Vyasa Peeth Sri Swamiji Maharaj presented the essence of the Srimad Bhagavata in His own unique style, in-depth and illumining listeners with stories and narrations easy to understand. Pujya Swamiji gets absorbed in a different realm while narrating and singing the Glories of the Lord and make others experience the same.
Devotees also, in their overwhelming joy expressed and thanked Revered Swamiji Maharaj. They presented Swamiji a special turban from Mysore, Karnataka. It symbolizes a special honor to "Vidwan" meaning a learned & scholarly being. President of Ahmedabad Dental Surgeon Association, Dr. Jayant Vasavada with devotee group presented Swamiji Shawl, silver necklace and Rs. 2.5 lakhs as a token of their love. Sri Swamiji, graciously donated the money for H. H. Sri Swami Chidanandaji Maharaj's Birth Centenary Celebration fund. Sri Arunbhai Oza, trustee of Divya Jivan Sanskrutik Sangh conveyed thanks to every one for their august presence and time sharing. A special thanks were conveyed to Revered Sri Swami Adhyatmanandaji Maharaj for valuable sharing of Srimad Bhagawata.
On April 26, 2015 Blood Donation Drive was organized at the ashram ans and sixty six people donated blood.
On April 28, 2015 a special Yajna was performed at holy Sri Ashta Lakshmi temple for completion of Sri Bhagavat Katha, which followed Bhandara and serving food to all.
2) The recording of entire seven days discourses have been done for the benefits of devotees at large. Soon, complete DVD set will be available to all ......
Latest Additions.........

Please subscribe to Divyajivan Mailing List. We will update you with new uploads of spiritual literature on the web of Holy Master Sri Swami Sivanandaji Maharaj, saints of his lineage and other saints. We will also update you about the Sivananda Ashram, Ahmedabad website and facilitate communication with Sri Swami Adhyatmanandaji Maharaj.

Please enter your email address and click Subscribe button
To manage your subscription, please visit Subscription Page. You can also subscribe and unsubscribe from this page. You may unsubscribe by yourself anytime you wish. You will be required to send confirmation link that you will get in your e-mail to complete this subscription.

[ Home ] [ News ] [ Upcoming Events ] [ What's New? ] [ Services ] [ Swami Adhyatmananda ] [ Multimedia ] [ Publications ] [ Administration ] [ Saints and Sages ] [ Photo Gallery ] [ Contact ] [ Guestbook ] [ Important Links ] Webmaster: webmaster@divyajivan.org