Divya Atman,

Namo Narayana
!
OM Namo Bhagavate Sivanandaya!
OM Namo Bhagavate Chidanandaya!
OM Namo Bhagavate Krishnanandaya!
Once again, Gujarat has been under the grip of natural calamity. Surat in particular has been struck with devastating flood tragedy since August 8, 2006. Lakhs of people have been stranded and become homeless. For days together there have been no electricity, food, drinking water or milk. We pray for the peace and well-being of the flood victims.
Sivannada Ashram, Ahmedabad immediately initiated to undertake relief efforts, under the guidance of Sri Swami Adhyatmanandaji Maharaj, to alleviate the sufferings of the distraught. About 10,000 packages of food and snack were made by the people at the ashram and dispatched to affected areas to start with. Gujarat Divya Jivan Sangh, through its branches namely Valsad, Surendranagar, etc. have also sent food packages and doing their best. Gujarat Divya Jivan Sangh, Jamnagar branch jointly with "Aanda Seva Sanstha" have given a medical aid of Rs.5 lakhs towards the flood relief. A team of doctors from Jamnagar will be looking after this work.
All these have been possible only because of the generous donations to Sivananda Ashram, Ahmedabad made by selfless devotees of the Lord like yourself and we humbly request for your continued support towards these efforts of the Gurudev's Mission. "Service of humanity is worship of God" has been the fundamental teaching of Holy Master Sri Swami Sivanandaji Maharaj and Guru Maharaj Sri Swami Chidanandaji Maharaj.
We realize that the magnitude of the problem is so great that all efforts will amount to just a drop in the bucket. However, every little effort has its own value. The ultimate goal is to further spiritual growth for both those served and those providing service while simultaneously making a difference in people's lives.
Some of the flood affected area
Helping Hands at Sivananda Ashram, A'bad
"Selfless Service" -By Sri Swami Sivananda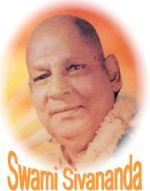 "God's plan for man's evolution is work.
Love of God and service of man is the secret of true life. The meaning of true life is service and sacrifice.Life is meant for service, and not for self-seeking Sacrifice! Do your duties well, sincerely. Your privileges will follow unasked.
Hold your life for the service of others. The more the energy you spend in elevating and serving others, the more the divine energy which will flow to you. Serve. You will rule. Serve humanity with divine Bhava. The cancer of individuality will be dissolved.
Selfless Service Purifies
What is the object in Seva or service? Why do you serve poor people and the suffering humanity at large? Why do you serve the society and the country? By doing service, you purify your heart. Egoism, hatred, jealousy, idea of superiority vanish. Humility, pure love, sympathy, tolerance, and mercy are developed. Sense of separateness is annihilated. Selfishness is eradicated. You get a broad outlook of life. You begin to feel oneness or unity of life. You develop a broad heart with broad, generous views. Eventually, you get Knowledge of the Self. You realise the 'One-in-all' and 'all-in-One'. You feel unbounded joy. "
<< More>>
We have uploaded various articles of Holy Master Sri Swami Sivanandaji Maharaj and Gurumaharaj Sri Swami Chidanandaji Maharaj, stressing importance of service to the humanity for the spiritual growth and enlightenment.
Selfless Service - By Sri Swami Sivananda
Serve Humanity and Seek Divinity - By Sri Swami Sivananda
Serve to Purify - By Sri Swami Chidananda
Service - By Sri Swami Sivananda