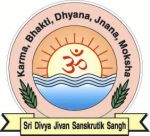 Home
News
Upcoming Events
What's New?
Services
Multimedia
Publications
Administration
Saints and Sages
Photo Gallery
Contact

Worship of Lord Shiva on auspicious Mahashivratri ( Feb 12, 2010)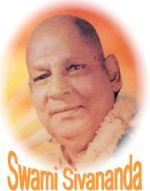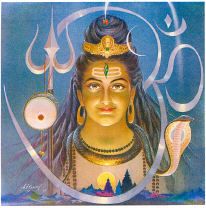 "The formal worship consists of bathing the Lord. Lord Shiva is considered to be the Form of Light (which the Shiva Lingam represents). He is burning with the fire of austerity. He is therefore best propitiated with cool bathing. While bathing the Lingam the devotee prays: "O Lord! I will bathe Thee with water, milk, etc. Do Thou kindly bathe me with the milk of wisdom. Do Thou kindly wash me of all my sins, so that the fire of worldliness which is scorching me may be put out once for all, so that I may be one with Thee—the One alone without a second."

Offer this inner worship to Lord Shiva daily: "I worship the jewel of my Self, the Shiva residing in the Lotus of my heart. I bathe Him with the water of my pure mind brought from the river of faith and devotion. I worship Him with the fragrant flowers of Samadhi—all this so that I may not be born again in this world."

Here is another formula for the supreme worship of the Lord: "O Shiva! you are my Self. My mind is Parvati. My Pranas are your servants. My body is your house. My actions in this world are your worship. My sleep is Samadhi. My walk is circumambulation of you. My speech is your prayer. Thus do I offer all that I am to you."" - Swami Sivananda << More>>
The significance of Satrudriyam - Sri Swami Krishnananda
Satarudriyam or Rudram, Namakam

Early Morning Meditation talks from" Ponder These Truths" by Sri Swami Chidananda

Brahma Satyam Jagan -Mithya
The highest ultimate declaration, the quintessential truth, declared by people of the supreme absolute experience is brahma satyam jagan-mithya jivo-brahmaiva naparah (Brahman alone is real, the world is unreal. Jiva is not other than Brahman).
I shall tell you within the compass of half a verse the quintessence, the heart, the very essence of the teachings expounded in innumerable scriptures and that is: Brahman alone is real. This phenomenal appearance before us is only a relative reality, ever-changing, unstable, unreliable, never dependable, limited, subject to time and space, subject to decay and dissolution, having a beginning and an end. Characterized by these defects and shortcomings, everything here seen, perceived by the human individual consciousness, is but a mere temporary relative reality. And the individual soul that thinks of itself as the knower of this, or the seer of this, or the experiencer of this ever-changing phenomenal flux, which is called samsara or the universe, is a non-entity, for Brahman alone is real and the jivatman, the individual, is Brahman plus upadhis (limiting adjuncts or additions).- Swami Chidananda << More>>
Yoga Learning through a book , " Yoga , A way of Life " of Swami Adhyatmananda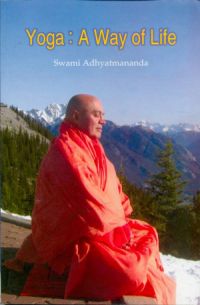 Primary & Main Yogasana (Yoga Postures)
The Physical techniques of Yoga are the stepping stones to meditation. According to Patanjali, Yoga is the cessation of the modifications of the mind.
In the beginning the primary prerequisite to peace of mind is posture. Yogasana practiced to gain steady posture, health and lightness in the body. All Yoga postures are intended to directly or indirectly quiet the mind. The majority of Asana have been devised to build up different parts of the body and to develop the strength required by the more advanced

Physical disciplines. The purpose of the yogasana is to recondition the system, both mind and body, and to develop the nervous and glandular systems. The different Yoga postures have been devised to bring a rich supply of blood to the brain and to the various parts of the spinal column. The yogasana work by stretching, bending and twisting the spinal column in different directions to promote the health of the nerves. When the body is purified, Prana (vital energy) can be conserved and the individual becomes healthy and conscious. << More>> News & Activity Report for the Month of January 2010

Join us for upcoming Maha Shivaratri celebration ( Feb 12, 2010)

Divya Jivan January 2010 / Divya Jivan Gujarati
Sadhana -The secret of Success. Persevere. Plod on in your Sadhana.
Through introspection, analysis, discrimination, vigilance, enquiry and prayer, you can understand the tricks and jugglery of the mind and escape from its deception.
To make the mind obey you, is Spiritual discipline.
Still the mind. Here in lies freedom and bliss eternal.
Where there are kindness, humility and purity, there spirituality springs up, saintliness shines, divinity descends and perfection manifests itself.