OM Namo Bhagawate Sivanandaya!
OM Namo Bhagawate Chidanandaya!
OM Namo Narayanaya!
==================================================================
"Foundation of Yoga" - By Sri Swami Sivananda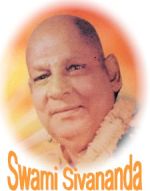 "Develop virtues like generosity, forgiveness and love. Mere Yogic Kriyas alone will not help you much. Do self-analysis daily and eradicate your faults and evil, slavish habits. Rectify your defects such as selfishness, pride, jealousy and hatred. You must cultivate a compassionate and loving heart first. At all times you must share what you have with others and practice selfless service. Then only will you get purity of heart.
Yoga is unity, identity, homogeneity, oneness and sameness with God.
Many aspirants neglect these preliminaries and jump, out of curiosity, to Yogic Kriyas for getting psychic powers. It is really a serious blunder. They will have a hopeless downfall. Therefore, be careful. Mere Yogic Kriyas cannot bring about the desired results. The purification of the heart is of paramount importance.
It is a blessing to be a Yogi. Practice Yoga and preach. Hatha Yoga ensures good physical and mental health. You must utilize this to the best advantage by deep meditation on the Atman or inner Self. Self-realization should be your goal. This should be achieved by the constant remembrance of God, by righteousness, by a life of virtue and by the practice of Yoga.
Every activity - from the rearing of children to the management of the home - can be readily converted into Yoga. Kindly study the first six chapters of the Gita again and again. Merely running away from crowds is not a sign of Yoga. The performance of all actions as an instrument in His hands, and with the consciousness that this world is pervaded by Him, the Supreme Spirit, is called Yoga". - Swami Sivananda << More>>

==================================================================
"Guru Darshan" - through Life incidence of Guru Maharaj Sri Swami Chidanandaji Maharaj
Birth Centenary Celebration of Guru Bhagawan Sri Swami Chidanandaji Maharaj (Sept 24, 2015 -Sept 24, 2016)

"Hail Hail Swami Chidananda"

The sun was up today and the cloudless open blue sky was gazing at the cosmic panorama. The murmuring sound of the Bhagirathi was simply soothing the environment. Sky touching trees of Deodar and Pine were singing the glory of purity and ringing bells like; the blowing breeze was very firm in its message " March Forward, you will obtain your aim". Now and then a holy sound of blowing conch was only a little amusement in the absolute silence of Gangotri. We were just sitting surrounding Swamiji Maharaj at our Ashram's small little Kutir at Gangotri.

It was just after our All India Tour that he wanted us to have a little physical rest and rejuvenate ourselves, to boost up once again for the holy Birth Centenary Celebrations of our Pujya Gurudev Sri Swami Sivanandaji Maharaj.
Like the external surrounding environment, the revered Swamiji's health and mood were simply illuminating and vibrating with supreme bliss.

In this blessed mood he narrated this episode: " It was winter. With the kind permission of revered Guru Maharaj I decided to go on a pilgrimage of Sri Tungnath. En-route, I arrived at Rudraprayag at the very late dusk, when practically all persons had gone inside their small huts and were confined to retirement or to warming up in front of little wood or charcoal fires. But the old pujari of the small little temple was busy winding up his evening service to get back to his home. At that moment I entered the temple where only 2 or 3 kids were present in the hope of receiving a little prasad from the temple worship............................" << More>>

- From the diary of Swami Adhyatmannda

==================================================================
Learning of "Jeevan Yog" from a Yoga Acharya Sri Swami Adhyatmananda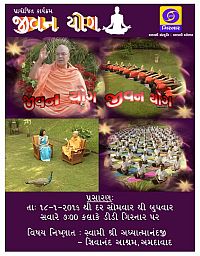 Doordarshan TV Girnar has been telecasting the 'Jeevan Yog Series" on Monday, Tuesday and Wednesday at 7.00 am -7.30 amfrom Jan 18, 2016. Team of yoga teachers of Sivananda Ashram has demonstrated yoga postures and Smt. Rupa Majmudar has coordinated the program. Here, we bring for the benefits of our website viewers the Jeevan yog series. It is like Yoga Teacher comes to your home, a "must watch series" for not only Yoga lovers but for everyone .

"We are born, death is inevitable. Journey between birth and death is not Life, it is a slow journey towards death. Life we have to find. Life lived in the pursuit of SELF realization is the Goal of Life and can be achieved by "Jeevan Yoga" or Yoga, a way of LIFE. It brings peace and happiness of sound mind in sound body. Yogic living implies discriminative living. Yoga is equanimity, equipoise or equilibrium. It is skill in the performance of actions. Yoga is disconnection from union with pain and freedom from attachment and desires it is turning away of the senses from the objective universe and concentrating of the mind within." - Swami Adhyatmananda

Doordarshan TV Girnar has done wonderful Seva to Mankind by telecasting of " Jeevan Yoga Series" (containing 65 episodes) by Sri Swamiji Maharaj. People will be greatly benefited. Pujya Swamiji has step by step covered a new dimension of Yoga learning, not just the Yoga postures but a key to integrate all aspects of life physical, intellectual and spiritual through Yogic living to maintain sound body and peaceful mind that enables sincere students to go deeper and subtler aspect of their being there by live and lead harmonious, purposeful and Divine Life. It is a complete guide to Yogic living filled with systemic, scientific and yet simple & useful yoga teachings for the beginners as well as for the advanced Yoga students. Swamiji has talked about holistic approach to deal with most common medical problems, useful Yoga postures pertaining to individual diseases, benefits of various kinds of Pranayam, Yoga Nidra, Meditation and more....the presentation is in Gujarati but, all will gather the essence. << More >>

==================================================================
Highlighting News & Upcoming Events
Birth Centenary Celebration of Guru Bhagawan Sri Swami Chidanandaji Maharaj Continues...
16 th Brahmotsav of Sri Sri Ashtalaxmi Bahvan & Sri Chidananda Dhyana Mandir/Sri Ashtalaxmi Darshan (April 29, 2016)
A Birthday Greetings : Join with us in "Aayush Homam" & satsang with Mahatmas organized on happy occasion of 72 nd Birthday Celebration of Pujya Sri Swami Adhyatmanandaji Maharaj on May 3, 2016.
"A great son (sun) of India Adhyatma-Jyoti Sri Swami Adhyatmananda Saraswati an "adarsh" yati & Saint of holy Matrubhoomi Bharatvarsha." - H. H. Sri Swami Chidanandaji Maharaj

These are the words of His Master. Pujya Swamiji's devotion, loyalty and obedience to the HIS Master is unparallel. He is a tireless karma yogi who utilizes every second of His day in rendering the highest service to Mankind. Pujya Swamiji is the embodiment of the teachings of Holy Master Sri Swami Sivanandaji Maharaj. He is a yogi, vedantin & devotee all in one.
We pray to the Almighty Lord, Gurudev Sri Swami Sivanandaji Maharaj and Gurumaharaj Sri Swami Chidanandaji Maharaj for Pujya Swamiji's good health and long life so that He could be a guiding light to spiritual aspirants all over.
Upcoming 37th YTTC (May 21, 2016 - Jun 9, 2016) : YTTC at Sivananda Ashram, Ahmedabad is organized under the guidance & leadership of Pujya Sri Swami Adhyartmanandaji Maharaj, who has conducted over 770 Yoga camps in the East & the West. Ashram's holy atmosphere is ideal for enhancing your spiritual growth as well as the skill in the science of Yoga. You can still enroll. Contact the ashram for the details - sivananda_ashram@yahoo.com / Registration form ( Please note the change in the dates from earlier post). On completion of three weeks residential YTTC and successfully passing the test including theory and practical, the graduate will receive a diploma certificate recognized by Gujarat University.

News & Activity report for the Month of April 2016
Divya Jivan / April 2016
==================================================================
Gitamrutam


Perform action, O Arjuna, being steadfast in Yoga, abandoning attachment and balanced in success and failure! Evenness of mind is called Yoga ( 2:48)

Endowed with wisdom (evenness of mind), one casts off in this life both good and evil deeds; therefore, devote thyself to Yoga; Yoga is skill in action. (2:50)


Let that be known by the name of Yoga, the severance from union with pain. This Yoga should be practiced with determination and with an undesponding mind. (6:23)
A Birthday Blessings from Gurumaharaj
How Wonderful!