OM Namo Bhagawate Sivanandaya !
OM Namo Bhagawate Chidanandaya !
OM Namo Narayanaya!
===============================================================================
Lord Ganesh - "Embodiment of Wisdom" on auspicious Ganesh Chaturthi Sept 9, 2013)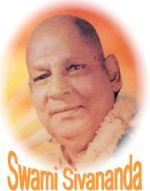 "Remover of all obstacles,
Pranava Swaroopi,
Embodiment of wisdom,
Devata of Muladhara Chakra!
O Lord Vinayaka,
The bestower of happiness
Who has Modaka in hand!
O Elephant-headed Lord!
Salutations unto Thee.
Om Gam Ganapataye Namaha."
Lord Ganesha is an embodiment of wisdom and bliss. He is the Lord of Brahmacharins. He is the foremost among Brahmacharins or celibates. He is the Lord who removes all obstacles on the path of the spiritual aspirant, and bestows upon him worldly as well as spiritual success. Hence He is called Vigna Vinayaka. His Bija Akshara (root syllable) is Gung, pronounced to rhyme with the English word "sung". He is the Lord of harmony and peace.
- Swami Sivananda <<More>>
Ganesh Vandana ( Video clip)
===============================================================================
Adoration & Prostrations Holy Master Swami Sivanandaji Maharaj on HIS Birth Anniversary (Sept 8, 2013)
Swami Sivananda - "The Man for the Mankind"

"Gurudev Sri Swami Sivanandaji Maharaj was the Man for the Mankind. Each breath of his life He breathed to serve, love and give the best what He could give or the best He could do for the Mankind. He was a Godman, filled with wonderful love in his heart. From head to toe he was oozing with divine nectar of love, love and love only. He lived all his life for the good of mankind and He became a person beloved by countless people all over the world. He was himself a personification of joy and enjoyed to laugh and make other people laugh too. He was a man of wit and radiated cheerfulness, made visitors forget all their sorrows and troubles and brought joy and hope into their lives. He did not discriminate between East and West, this country or that country, this race or that race, this religion or that religion. He was also a person of great compassion, understanding and sympathy. His personality was such that He immediately made everyone feel that they belonged to Him and He belonged to them." - Swami Adhyatmananda << More>>
===============================================================================
Early Morning Meditation Talk from " Ponder These truths" by Swami Chidananda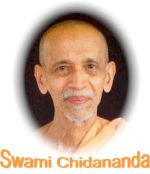 "Knowledge is Meant to be Lived"
Philosophy and spirituality, of which you are all students, are to be known, but more than acquiring knowledge, a student of philosophy and spirituality must also try to acquire the practical wisdom of how to fit this newly gained knowledge into his daily life, thoughts, words and actions. In short, "how can I live in the light of this philosophy? how can I base my life upon this philosophy? whatever I have learned in Yoga, how can I turn it into a new form, into my day-to-day life and actions?" This you must know.
Philosophy and Vedanta are both for knowing and for living. If they are only known, you become a pundit, a scholar, a professor, a lecturer. You will be highly regarded. You will be able to teach philosophy to others, impart the knowledge of Yoga to others, but you yourself will not be a Yogi, a sadhak. For it is whether the philosophy, which has made you a learned person and pundit, is seen to manifest in your everyday life and actions, philosophy in action, philosophy in application—that determines whether or not you can be regarded as a spiritual person.
What is the purpose in knowing? This has to be well thought out. The correct attitude towards all philosophy, all Vedanta, all Yoga has to be cultivated, and it should be constantly, actively applied in daily life. << More>>
Remembering birth Anniversary GuruMaharaj Swami Chidanandaji Maharaj (Sept 24, 2013 )

===============================================================================
On Health Topics from a book " Yoga and health " by Swami Adhyatmananda

Osteoporosis : What Is Oseoporosis ? How Does the Osteoporosis Treated & Prevented? Does Practice of Flexibility exercises & Yogasana help ? Which Yogasana is recommended?
Osteoporosis is a condition characterized by the loss of the normal density of bone, resulting in fragile bone. Osteoporosis leads to literally abnormally porous bone that is more compressible like a sponge, than dense like a brick. This disorder of the skeleton weakens the bone causing an increase in the risk for breaking bones (bone fracture). Here the importance of proper nutrition can't undermined. Regular practice of flexibility exercises, Yogasana and Pranayama is essential for prevention and treatment of Osteoporosis. <<More>>

Satsang with H.H. Swami Adhyatmanandaji / Chapter 7 th of Bhagwad Gita (audio clips)

===============================================================================
Highlighting the News & upcoming Events
Adhyatma Tour 2013 to the West ( USA, Canada & UK June 28, 2013 - Aug 28, 2013)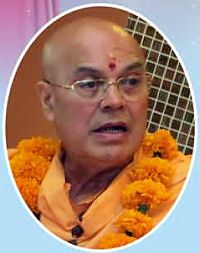 "Being with Him in close proximity, you observe how immeasurable devotion Pujya Swamiji has for His Gurudev! At every moment whether he is thinking, talking, delivering discourses, eating, you observe that Guru Smarana is unbroken. He is breathing and living for Gurudev. You feel that as if, SIVA is working through HIM. Then, you start seeing SIVA's presence in your life at each step of way and that HE assumes different forms for you. It is such a wonderful experience. It is all Guru's Grace. That is the Glory of Guru."- sevak

"Swami Adhyatmananda carries the gift of Love and Light wherever he goes. During his time with our community in South/Central New Jersey, Swamiji touched the hearts of all, bringing Healing Blessings to all. We are forever grateful for the time we spend with Him." - Sharon (Sudha) Alitt

Adhyatma Tour 2013 got initiated with invitation from a few organizations on the occasion of Temple's Mahakumbhabhishek Mahotsav, Brahmotsav, Maharudra Yajna, Youth camp and more. A few of the organizers & devotees of Revered Swamiji enthusiastically grabbed this divine opportunity to receive Pujya Swamiji Maharaj. They joined together and beautiful Adhyatma Tour 2013 shaped up for the benefits of many. It is all the Grace & Blessings of Gurudev Swami Sivanandaji Maharaj & Gurumaharaj Swami Chidanandaji Maharaj.

Adhyatma Tour 2013 of H. H. Pujya Swami Adhyatmanandaji Maharaj was peaceful and joyful, and has done lot of good to people in the West. All devotees of Revered Sri Gurubhagawan Sri Swami Sivanandaji Maharaj are thankful to spare Revered Swami Adhyatmanandaji to share Gospel of Sivananda during His Adhyatma Tour 2013.
Swamiji's inspiration for healthy and positive thinking will leave long lasting effects in people's mind, In His words," Think positive, Be Bold, Fear Not, Abide in Truth, Stand by Truth and Rest will follow naturally. Pray fervently and ceaselessly. Remember God and Gurudev. Do your daily Spiritual Sadhana. Abide in the Supreme"
<< More>>

Indian community at Atlanta celebrates India's Independence Day with patriotic fervor - by Ravi Ponangi

Atlanta Siva Temple Celebrates First Ever Brahmotsavam amid Religious Fervor

Satsang &Seva Activities for the Month of August 2013 / Adhyatma Tour 2013
Divya Jivan / July August 2013 / September 2013

===============================================================================
Gitamrutam



Freed from attachment, fear and anger, absorbed in Me, taking refuge in Me, purified by the fire of knowledge, many have attained to My Being.( 4:10)


He whose undertakings are all devoid of desires and (selfish) purposes, and whose actions have been burnt by the fire of knowledge,—him the wise call a sage.(4:19)



Even if thou art the most sinful of all sinners, yet thou shalt verily cross all sins by the raft of knowledge.(4:36)



As the blazing fire reduces fuel to ashes, O Arjuna, so does the fire of knowledge reduce all actions to ashes!(4:37)



Verily there is no purifier in this world like knowledge. He who is perfected in Yoga finds it in the Self in time.(4:38)



The man who is full of faith, who is devoted to it, and who has subdued all the senses, obtains (this) knowledge; and, having obtained the knowledge, he goes at once to the supreme peace. (4:39)



Because he who sees the same Lord dwelling equally everywhere does not destroy the Self by the self, he goes to the highest goal.(13:29)



Just as the one sun illumines the whole world, so also the Lord of the Field (the Supreme Self) illumines the whole Field, O Arjuna!(13:34)
Ganesh Vandana ( Video Clip)
Sri Ganesh Sahsranama (Sanskrit) / Sri Ganesh Sahsranama (English)