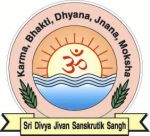 Home
News
Upcoming Events
What's New?
Services
Multimedia
Publications
Administration
Saints and Sages
Photo Gallery
Contact

Lord Sri Krishna- Divine Incarnation, Purna Avatara
On auspicious Janmashtami ( Aug 23, 2008 )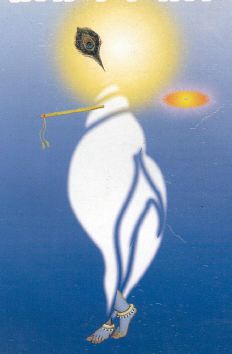 "Bhagavan Sri Krishna is the immortal manifestation of God in all His splendour, that man was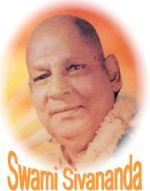 ever given the fortune to behold. Man! Blessed thou art, that hast visualised with thy fleshly eyes the mighty Dignity of the Supreme Sovereign of the Universe! Thou art purified; thy birthright is to realise Him; thy fortune is a part of His Greatness! Sri Krishna may be called the "Collective Man", who represented all beings hungering and thirsting to gain the Highest Freedom and who voiced forth their deepest aspirations in the loudest possible tone. He came to release man from the thraldom of vice and correct his vision so that he could walk along the ever-illumined path to perfection. Sri Krishna is the articulation of the pure longings that are buried in the hearts of people. Sri Krishna is not merely a historical man who came and went, like others, but the Eternal Purusha who dwells even now and shall live in the everlasting future, in the core of all manifestation. It is the Symbol of the Absolute descended into relativity that we call Krishna, the ever-beloved protector of all that breathe and air."- Swami Sivananda << More>>



Early Morning Meditation talks from "Ponder These Truths" by
Sri Swami Chidananda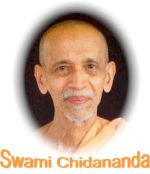 Temptation: "Kamah krodhascha lobhascha dehe tisthanti taskarah jnanaratnapaharaya tasmat jagrata jagrata—Lust anger and greed, they are dacoits to rob and plunder the pearl of wisdom, not coming from outside to assail or invade you, but residing within your own body. Therefore, be awake, be awake," says Sankaracharya in Vairagya Dindima."
"We invite temptations; we go into that area where we are tempted. We cultivate the company of such persons who are our temptation, who are our downfall, who are the ones through whom these lower propensities assail us, by whom they are stimulated and made manifest".......

"Turn to God for help and you will receive it without fail, unfailingly. Turn to Him every day in meditation—meditation with faith, meditation with love, meditation with humility. And be on guard against these inner enemies to which you are host, inner enemies dwelling within your self, meaning you no good. This is the mystery of God and His creation, the great maya which is duratyaya (difficult to cross). Be on guard, never lay down arms, never give way. Always know that one day you have to overcome and you will overcome".- Swami Chidananda << More>>


Health Topics" from a Book " Yoga & Health " by
Swami Adhyatmananda


Asthma: Asthma is a chronic disease that affects your airways. Your airways are tubes that carry air in and out of your lungs. If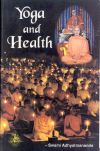 you have asthma, the inside walls of your airways become sore and swollen. That makes them very sensitive, and they may react strongly to things that you are allergic to or find irritating. When your airways react, they get narrower and your lungs get less air. This can cause wheezing, coughing, chest tightness and trouble breathing, especially early in the morning or at night.
Regular practice of Bhujangasana, Dhanurasana, Shavasana, Ujjai, Kapalbhati, Bhastrika, Omkar, Jalneti, Sutraneti and Kunjal processes can be very beneficial in managing the disease of asthma but proper medical consultation should be obtained. Management includes avoiding asthma triggers and tracking your symptoms. You may need to regularly take long-term control medications to prevent flare-ups and short-term "rescue" medications to control symptoms once they start. . << More>>

Highlighting Upcoming Events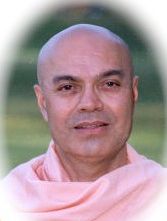 "Divya Tour 2008"of H. H. Sri Swami Adhyatmnandaji Maharaj to UK, USA & Canada ( July 29, 2008 -November 22, 2008).


Sri Swami Adhyatmanandaji Maharaj belongs to a great lineage of Holy Master Sri Swami Sivananda & H. H. Swami Chidananda of Divine Life Society, Rishikesh, India and has dedicated his entire life to the goal of spiritual enlightenment. Swamiji is a living example of the teaching of Gurudev Swami Sivananda and integrates the cultivation of Head, Heart and hands through pursuits of knowledge, devotion and selfless service respectively. He is Karmayogi, Vendantin and Bhakta all in one.

Swamiji is a world-renowned yoga teacher. He has been teaching yoga for more than thirty years and has conducted about seven hundred Yoga & Meditation Camps. His yoga classes are always crowded as his teaching of yoga is simple and filled with many useful tips. He explains the benefits of various yoga postures and demonstrates each. It's a wonderful experience.

Swamiji has been the spiritual head of Sivananda Ashram, Ahmedabad (Gujarat) over a decade. In addition to spiritual teaching, yoga and meditation, the center is actively involved in charitable work benefiting the poor and needy. Swamiji has inspired thousands of his devotees to donate blood and He, Himself has donated blood 117 times, mainly for the armed forces.

Swamiji stresses the need for maintaining self-discipline and following a regular daily Sadhana. He stresses the Yoga way of Living to reach the Goal of Life - "The God Realization."

Morning Yoga sessions & evening satsangs are getting organized all across. Contact your local organizer for the details of the program in your area and get benefited from Swamiji's wisdom Teachings.
You can find Swamiji's tour related information's @ " Divya Tour 2008

Recent write up about Swamiji appeared in Times of India July 2008

News & Activity Report for the Month of July 2008

Lord Sri Krishna -Where to be Found?



"I am the Self, O Gudakesha, seated in the hearts of all beings! I am the beginning, the middle and also the end of all beings."

"Having become the fire Vaisvanara, I abide in the body of living beings and, associated with the Prana and Apana, digest the fourfold food."

"And, I am seated in the hearts of all; from Me are memory, knowledge, as well as their absence. I am verily that which has to be known by all the Vedas; I am indeed the author of the Vedanta, and the knower of the Vedas am I."

"Abandoning all duties, take refuge in Me alone; I will liberate thee from all sins; grieve not."

"Wherever there is Krishna, the Lord of Yoga, wherever there is Arjuna, the archer, there are prosperity, happiness, victory and firm policy; such is my conviction."