Sivananda Ashram, Ahmedabad
News & Activity Report for the Month of September 2015
Month of September began with greeting Pujya Swami Adhyatmanandaji Maharaj on Sept 1, 2015. Devotees were in jubilant mood to receive their beloved Sri Swamiji Maharaj after three months (June 1, 2015 - Sept 1, 2015) of His tour to the West.

Krishna Janmotsav ( Sept 5, 2015) : The holy Sri Krishna Janmashtami was celebrated with great devotion and enthusiasm. Bhakti sangeet by Sri Vasavda group and Smt Mayurikaben Oza added already charged divine atmosphere. The culmination of the evening was mid-night Krishna kirtan, just before Pragtya of the Lord Krishna; Sri Swami Adhyatmanandaji Maharaj overwhelmed the devotees with Krishna Nama kirtan and Mahanisha meditation. All the devotees had divine Darshan of Sri Lalaji Maharaj in his decorated cradle.
On Sept 8, 2015 Most worshipful and Revered Gurudev H. H. Sri Swami Sivanandaji Maharaj Birth Anniversary was celebrated with satsang and Guru Paduka Pujan at Sri Ashta Laxmi Bhawan. Large number of devotees participated in the worship.

Shravan Month Festivity : Hundreds of devotees have offered to Lord Vishwanath a special pooja, Rudrabhishek, Rudripath, Prathiveshwar Pooja, Prahar Pooja during the month of Shravan. Srimad Bhagwat Katha discourses in the evening by Pandit Sri Vinod Pandya ji Maharaj were organized through out the holy month, which concluded on September 12, 2015 in holy presence of Pujya Swamiji Maharaj with grand Aarti at Sri Sri Sri Ashta Laxmi Bhawan. Pujya Swamiji thanked Sri Pandyaji for the divine satsang to all.

On the last day (Ammavayasya) of Shravan, September 13, 2015 Holy Laghu Rudra Yagna was performed through out the day at Sri Vishwanath Temple of the ashram. Sri Vishwanath mahadev was adorned a special Shringar and mammoth gathering had come for the darshan and receiving the blessings. About fifteen hundred devotees were served Maha Prasad.
Sri Chidnanda Birth Centenary Celebrations (Sept 24, 2015 - Sept 24, 2016): Sri Chidananda Birth Centenary Celebrations commenced with three days satsang programs in holy company of Mahatmas, starting from Sept 24, 2015. Large number of devotees joined satsang and Paduka pujan in the morning which followed a ground breaking ceremony by Pujya Sri Swami Adhyatmanandaji Maharaj to commence construction of Swami Chidananda Centenary Memorial Yoga Bhawan at Sivananda Ashram, Ahmedabad.
Mid day nutritious meal was served to Daridra Narayanas. Evening satsang (from 6.30pm to 8.00pm) was graced by Revered Acharya Maha Mandaleshwar Nirvana Peetha Deeshwar H. H. Sri Swami Vishokanandaji Maharaj and Jain Saint Revered Namra Muni. Dr. Monicaben Shah enchanted devotees with her melodious singing in praise of Gurudev Sri Swami Chidanandaji Maharaj.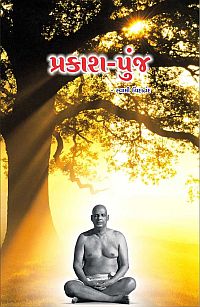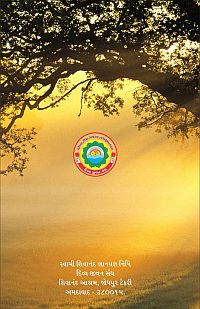 The highlight of the evening satsang was the release of the book "Prakasj Punj" a Gujarati Translation (by Pujya Swami Adhyatmanandaji Maharaj) of book "Light Fountain" by H. H. Sri Swami Chidanandaji Maharaj. The book originally priced Rs.100/ but it was distributed for the token price of Rs.10/- only and 1900 copies were purchased out that evening alone.
All India Radio and vividha bharti program of Indian broadcasting station Telecasted Pujya Swamiji's thoughts on this occasion and Tribute to Revered Sri Swami Chidanandaji Maharaj. D D Girnar TV channel of Government of India also telecasted special tribute to GuruMaharaj Sri Swami Chidanandaji Maharaj.
On Sept 25, 2015 Sri Navchandi Yagna was performed through out the day at pandal in front of Sri Vishwanath Temple of Ashram. Today Smt. Mayurikaben Oza sang bhakti sangeet. Revered Swamini Ananta Nanda Mataji of Anantananda Ashram, Velad and H. H. Sri Swami Asanganandaji Maharaj of Jnan Sadhana Vihar, Heranj shared the thoughts of "Greatness of Guru"
A silent prayer was offered in memory of H. H. Sri Swami Dayananda Ji Maharaj who breathed his last on Sept 23, 2015 at his Ashram at Rishikesh.

On Sept 26, 2015, three days Jnan Yajna concluded with holy presence the galaxy of Saints from reputed ashrams of Ahmedabad, Gandhinagar and nearby cities. Mr. Chandan Thakor, director of Nrutya Bharati presented very spectacular classical dance performance with his large group of performing arts students. Well known poet, artists and scholar Sri Madhav Ramanuj Ji graced the occasion today.

On Sept 28, 2015 in the evening Holy Sri Sunderkand Parayan by Sri Ajay Yagnik Ji of Delhi filled divine vibrations. H. H. Sri Swami Vidhitatmanandaji Maharaj of Tattva Tirth Ashram blessed the audience.
Celebration continues .... "Jnan Yajna" (November 25, 2015 - December 6, 2015)
About 60 learned Saints, Sages, Scholars and Mandleshwars from all over India will perform Jnan Yajna everyday for eight hours commencing from November 25, 2015 to 2015 to December 6, 2015 encompassing Prasthan Trayaee Parayan ( Brahma Sutra, Ten Principal Upanishads and Srimad Bhagavad Gita). For the details refer to Upcoming Event page . If you plan to stay at the ashram, please contact the ashram # 079-26861234 email : sivananda_ashram@yahoo.com
Please join us for the various programs, seva activities, satsangs and more for general benefits and spiritual uplifting.... During the Chidananda Birth Centenary Year ( Sept 24, 2015 -Sept 24, 2016). "Be a part of it and Be benefited"
Other News
Gandhinagar : On Sept 12, 2015 in the afternoon Reverd Sri Swamiji Maharaj was invited in the Catholic Church - Dias of Gujarat on the occasion to celebrate the Revered Father Joseph Macwan's ascending as an Arch Bishop of Dias. Representatives of H. H. Pope from Vatican presided over the function. It was a grand gathering of Clergies, Revered Fathers, Sisters, Children of the holy Father and the son of Mother Mary.

Tribute to His Holiness Sri Swami Dayanandji Maharaj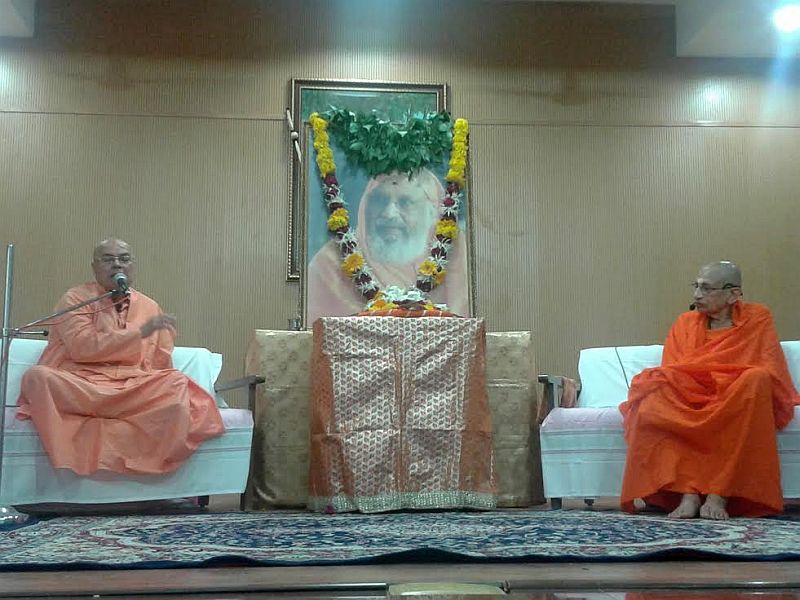 A stalwart of learning of wisdom, knowledge of ancient indian system most Worshipful Rev. H. H. Sri Swami Dayananda Maharaj breathed his last on 23 rd September 2015 at 2.18 pm at Rishikesh in his cottage at the banks of Holy Ganga and at the foot hills of the Himalayas. Physically his body was shrinking since last few months, but his eternal divinity was blossoming with each breath of his nearness of his departing soul.
Author of great work on Brahma Sutras, Upanishads and Bhagawad Gita, Master of Sanskrut pronunciation, Gem of Vedanta, has left a big band of about 225 learned scholarly Sannyasi and Sannyasins behind him to continue his work of preaching and sharing vedanta, science of Indian Classical Music, Ayurveda and Astronomy.

His eternal zeal and kinship made him move all over the global world. He shook and knock each door to make people aware of their own real nature "You are born Divine, know this and realize the supreme blessedness."

For protection and promotion of Hinduism he started number of organizations like Acharya Sabha and many more. His physical body has been given "BHU SAMADHI." burying in the ground at his ashram but his soul is immortal and will live in divine work through number of his monks and disciples around the globe. A saint of mercy, kindness, generosity, purity and character, Swami Dayananda will be remembered forever for his divinity. We can say just Vici-Vini-Vidhi.
OM Shanti!
- Sri Swami Adhyatmanandaji
Latest Additions.........

Please subscribe to Divyajivan Mailing List. We will update you with new uploads of spiritual literature on the web of Holy Master Sri Swami Sivanandaji Maharaj, saints of his lineage and other saints. We will also update you about the Sivananda Ashram, Ahmedabad website and facilitate communication with Sri Swami Adhyatmanandaji Maharaj.

Please enter your email address and click Subscribe button
To manage your subscription, please visit Subscription Page. You can also subscribe and unsubscribe from this page. You may unsubscribe by yourself anytime you wish. You will be required to send confirmation link that you will get in your e-mail to complete this subscription.

[ Home ] [ News ] [ Upcoming Events ] [ What's New? ] [ Services ] [ Swami Adhyatmananda ] [ Multimedia ] [ Publications ] [ Administration ] [ Saints and Sages ] [ Photo Gallery ] [ Contact ] [ Guestbook ] [ Important Links ] Webmaster: webmaster@divyajivan.org