Sivananda Ashram , Ahmedabad
News & Activity Report for the Month of January 2017
Event photos during the Month of January 2017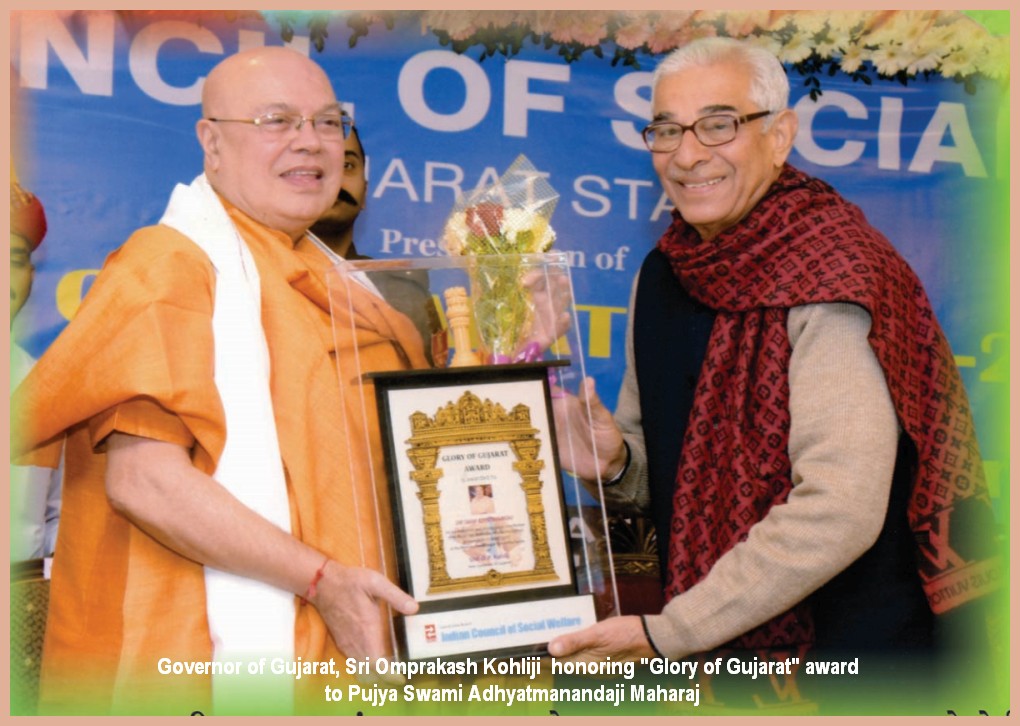 The New Year 2017 began with satsang and prayers here at sacred ashram of Gurudev Sri Swami Sivanandaji Maharaj. Prayers for the peace and harmony of the world at large, Peace in the East & West, Peace in the North & South, Peace abides amongst the individuals as well as the Nations.
Yoga Through ( SIVA) Sivananda institutes of Yoga-Vedanta Academy: Ashram regular Yoga classes in seven batches for beginners and advanced yoga students carried out this month, as usual. A team of dedicated yoga teachers conduct and coordinate all the classes.
Food for children through Narayana Seva, monthly grain distribution to the needy families through Vishwanath Seva Kendra, Daily Satsang & Puja Archana in the temples were performed at Ashram. Sunday satsang, Purnima's Sri Satyanarayan Vrat Katha and Sri Lalita Sahasranam Parayana are regular part of the Ashram's activities.
On Jan 26 2017, National Republic Day Flag was hoisted in the morning at Ashram lawn garden by H. H. Sri Swami Ramswaroopanandaji Maharaj, a senior disciple of Sri GuruMaharaj Sri Swami Chidanandaji Maharaj. Pujya Swami Sri Swami Adhyatmanandaji Maharaj addressed to the people assembled. He gave inspiring speech on this occasion to work together for unity and strength of our great Nation. Sri Swamiji said that pray for unity of our Nation. Be loyal to the Nation. Support Respected Prime Minister, in his efforts for better India, Clean India and play your part diligently. Work hard and never support unethical people in your society. Think good and reflect wise. Tthink Nation first and self - last or least.
In the evening, Sri Swamiji Maharaj, with Ashram devotee group Sri Arun Oza, Smt. Poonam Thawani, Sri Vijay Soni were invited to the gathering at Raj Bhavan, Governor's Bungalow at Gandhinagar.
16th Pathotsav of Sri Dukhbhanjan Hanuman, Sri Ram durbar, Sri Dattatreya and Sri Jagannath Maha Prabhu Temple of the Ashram is celebrated with great enthusiasm. Maruti Yajna was performed from morning to noon. Concluding was performed by Sri Swami Adhyatmanandaji Maharaj. A great number of Devotees participated in Maruti Yajana. Dinner was served to devotees after Yajna. Evening was graced by Sunderkand recitation by Sri Ajay Yajnikji of Delhi. Every body enjoyed his melodious singing in praise of Lord Sri Rama.
Indian Council of Social Welfare (Gujarat State) organized a function on Jan 21, 2017. H. H. Sri Swami Adhyatmanandaji Maharaj was honored an award, "Glory of Gujarat" (rightly so) with the worthy hands of H. E. Governor of Gujarat, Mr. Om Prakash Kohliji at the Governor House. Pujya Sri Swamiji Maharaj has embraced service to the humanity above the self through imparting the knowledge of ancient cultural and spiritual heritage of Yogic Science encompassing Asanas; Pranayama and Meditation. Swamiji's discourses on ancient Holy Scriptures and spiritual deliveries on the subjects of Gita, Upanishads, Srimat Bhagavat are in simple and lucid language which has touched and inspired millions during last forty years of his monastic life. Sri Swamiji is Yoga Guru of global repute. Countless people have learned Yoga through HIS Yoga camp. Yoga aspirants from across the globe have attended HIS Yoga Teachers Training Course and more than 1000 yoga teachers have been trained.
An icon of inspiration and service to Youth, Swamiji's profound contribution to modern youth to free them from the vices of the drugs addictions in the east and the west has brought Him in great light. Swamiji is great missionary on blood donation front and affirms his faith in "Donate blood and save life". Swamiji was honored by the Governor of Gujarat as centurion blood donor.
On Jan 29, 2017 a special Satsang was also organized at the residence of Sri Prakashbhai Soni, (a trustee of the ashram) in honor of Pujya Swamiji Maharaj. Trustees and board members attended the function and felicitated Pujya Sri Swamiji Maharaj.
Shivaratri Utsav ( Feb 24, 2017) - Join with us in Shiva Pujan, Archana, Abhishek, Aarati, Bhajan- Kirtan, prasad & more continuous throughout twenty four hours on sacred Shivaratri Utsav. If, you plan to stay at the ashram during the Shivaratri festival, please let us know ahead and help us make proper arrangements for our Guests. For the details visit the Guest information page on the Divya Jivan Website.

Upcoming Yoga Teachers Training Course (38th YTTC) is organized from May 11, 2017 - May 30, 2017. Plan ahead and Register in time. For the details, visit our SIVA Yoga Center page.
Satsang and Tours of H. H. Swami Adhyatmanandaji Maharaj during the Month of January 2017
Gandhinagar (Jan 2, 2017): Pujya Sri Swami Adhyatmanandaji Maharaj was invited to grace; gathering of monks at Dholeshwar, Gandhinagar organized by Sri Niranjani Sadhu Akhada.
Naradipur, North Gujarat (Jan 3, 2017): Revered Sri Swamiji Maharaj attended inaugural ceremony of Sri Bhagvat Saptah festival organized at Lambe Hanuman Math, Naradipur.

Ahmedabad (Jan 7, 2017): All India Paper Merchants Federation annual meeting was graced and blessed by Revered Sri Swami at St. Lawrence Hotel, Ahmedabad.

Anand, Khaira (Jan 8, 2017): Sri Swami Adhyatmanandaji Maharaj visited Anoopam Mission at Anand and had Satsang with Revered Sri Sahebji at early morning on Sunday. In the forenoon, Sri Swamiji Maharaj graced and addressed large gathering of saints, sages and devotees of Lord at Sri Omkar Math, Lambhvel at Anand. Afternoon, Dr. Nilkanth Chhatrapati awards for service to the blinds were awarded with worthy hands of Sri Swamiji Maharaj at Gujarati Vishwakosh Bhavan. At night, Lions club celebrated its golden jubilee festival with the blessings of H. H. Sri Swami Adhyatmanandaji Maharaj.

Mogri, Anand : Anoopam Mission, India organized festival to mark fifty years of renunciation of founder, H. H Sri Sahebdada. It was a grand satsang and religious festivities with cultural dance drama Saptakala Sangam by children.
Rojant, Ramnagar kampo (Khedbrahmao), Ambaji and Himmatnagar (Jan 14, 2017): Early morning at 5.30 am, a large devotee group accompanied by Sri Swamiji Maharaj visited Rojanto and had worship of grazing cows, a tradition especially on this day. At forenoon, driving to holy temple of Sri Durga temple at Ambaji, entire group came to Ramnagar Kampo, had satsang with devotees of Late Sri Swami Gurukrupanandaji Maharaj. At dusk, group had satsang and traditional makar sankranti dinner with the family of Sri Dilip Gandhi at Himmatnagar. Late evening, the group returned to Ashram having joy of great satsang for the full day.
Ahmedabad (Jan 16 to Jan 18, 2017 ) : H. H. Sri Swami Adhyatmanandaji Maharaj was invited by Sri Chinmaya Mission, Ahmedabad for their new temple and class rooms opening ceremony. H. H. Sri Swami Tejomayanandaji Maharaj, H. H. Sri Swami Swaroopanandaji Maharaj, president of Chinmaya Mission and Swamini Vimalanandaji all attended this function.

Kada, North Gujarat (Jan 17, 2017) : New library building at Kada village was inaugurated by H. E. Governor of Gujarat and Revered Sri Swami Adhyatmanandaji Maharaj. Past Chief Minister of Gujarat, Dr. Mrs. Anandiben Patel also graced the occasion, happened to be her village.
At this occasion, in his address to public, Sri Swamiji Maharaj said that cultivate the habit of reading and study our rich Indian ancient literature. Swadhyaya is a must. It is a food for the soul. Study of good literature in turn results in good thinking, reasoning and wide range of understanding that unfolds within you the Truth and God Realization..
Gandhinagar (Jan 21, 2017): Indian Council of Social Welfare (Gujarat State) honored H. H. Sri Swami Adhyatmanandaji Maharaj with the award "Glory of Gujarat" with the worthy hands of H. E. Governor of Gujarat, Mr. Om Prakash Kohliji, at the Governor House, number of other people were honored and awarded for their selfless services in holy presence of Revered Sri Swamiji Maharaj.
At night, Sri Swamiji graced the function jointly organized by J. G. School of Excellence and leading News Paper "Divya Bhaskar". Ghazal Maestro's new album was released by Sri Swamiji and Sri Bhupendrasingh Chudasama, Education Minister, Government of Gujarat.

Valsad (Jan 22, 2017): Revered Sri Swamiji Maharaj had a visit to Valsad upon request of the President and members of the branch of the Divine Life Society, Valsad. Satsang was organized at club resort and public meeting place.
Ahmedabad( Jan 29, 2017): In the afternoon, Sri Swamiji Maharaj graced newly constructed Yakshini Devi temple at Lekawada (Gandhinagar, Chiloda). H. H. Sri Swami Ramswaroopanandaji Maharaj of Sri Dholeshwar Mahadev, Sri Bhupendrasinh Chudasama, Education Minister, Gov. of Gujarat and many more prominent figures were present for the function.
Rajendranagar, Himmatnagar: World Leprosy Day (Jan 30, 2017)celebration at Leprosy Colony with Thousand and twenty nine inmates was graced and blessed by Sri Swamiji Maharaj.

Ahmedabad (Jan 30, 2017 to Feb 1, 2017) : A three day function was organized on the occasion of inuguration of newly constructed "Upasana Dham" of Anoopam Mission. Revered Swamiji Maharaj graced all the three days long festival and blessed the devotees.
OM Shanti!
Latest Additions.........

Please subscribe to Divyajivan Mailing List. We will update you with new uploads of spiritual literature on the web of Holy Master Sri Swami Sivanandaji Maharaj, saints of his lineage and other saints. We will also update you about the Sivananda Ashram, Ahmedabad website and facilitate communication with Sri Swami Adhyatmanandaji Maharaj.

Please enter your email address and click Subscribe button
To manage your subscription, please visit Subscription Page. You can also subscribe and unsubscribe from this page. You may unsubscribe by yourself anytime you wish. You will be required to send confirmation link that you will get in your e-mail to complete this subscription.

[ Home ] [ News ] [ Upcoming Events ] [ What's New? ] [ Services ] [ Swami Adhyatmananda ] [ Multimedia ] [ Publications ] [ Administration ] [ Saints and Sages ] [ Photo Gallery ] [ Contact ] [ Guestbook ] [ Important Links ] Webmaster: webmaster@divyajivan.org