News & Activity Report for the Month of June 2017
Sivananda Ashram, Ahmedabad
June 1, 2016 marks holy Sannyas day of Most worshipful and Revered Guru Bhagawan Srimat Swami Sivanandaji Maharaj. It was Srimat Swami Vishwanandaji Maharaj from Varanasai gave Sannyas diksha and Virja homam was done by Acharya Mahamandaleshwar Srimat Swami Vishnudevanandaji Maharaj of Kailash Ashram. At the ashram special satsang was organized. Large number of Devotees participated in satsang, kirtan & mahaprasad. Smt. Rupa Majumdar shared her thoughts on life and teachings of Sri Gurudev Swami Sivanandaji Maharaj.
787th Yoga shibir (May 29, 2017 - June 7, 2017 ) Pujya Swami Adhyatmanandaji Maharaj conducted the yoga camp and attended by large number of Yoga enthusiasts.
Khedbrahma - Ambaji (June 11, 2017) Birth centenary of Srimat Swami Gurukrupanandaji Maharaj was celebrated on June 11, 2017 at Ramnagar Kampo, Khedbrahma. Pujya Shri Swami Adhyatmanandaji Maharaj with devotee group of forty from the Ashram visited Ramnagar Kampo. Dhun, Bhajan, Satsang was done there and then group moved to Ambaji first and after Darshan and Satsang here at the shrine they return back to Ramnagar Kampo. After lunch there was good satsang for two hours from 5.00 pm to 7.00 p.m. After Ashram prayers Rupaben Majmudar talked about Guru Bhakti of Swami Gurukrupanandaji Maharaj. Pujya Swami Adhyatmanandaji Maharaj also described life divine, loving and generous nature, meditation and achieved atmasakshatkar in this very life of Shri Swami Gurukrupanandaji Maharaj. And Swamiji talked about Swami Gurukrupanandaji Maharajís eyes & body donation, Sanyas life and his lotus like nature was untouched by outer life. After the holy satsang and mahaprashad the group returned to Ahmedabad at midnight.
The World Yoga Day Celebration (June 21, 2017) - On this day, there were four programs arranged at the Ashram during the entire day starting from 5.30 am. People of all age, women, business men, college students and Divyang people participated. It was unique to have so many programs arranged on one day.
"Yog divas hey" (audio) International Yoga Day & "Jeevan Yog" (audio) lyrics by Sri Swami Adhyatmananda
It started with morning Yoga class at (5.30am to 6.45 am) conducted by dedicated Yoga teacher MS. Sangeeta Thawani- today it was a combined class of all different yoga groups at Sivananda Ashram. Two more yoga classes were arranged between 7.00 am to 8.00 am. In one class, 110 members of Company Secretary Association participated and in other class, 349 students from four institutions like Andhajan Mandal and Apang Manav Mandal participated. Yoga teacher Shri Vikram Mistry conducted this class. Both the classes were arranged very enthusiastically. Teachers and administrative staff of these institutions also participated. Enthusiasm seen in the students even with so many problems and difficulties was eye catching and note worthy. Twenty two yoga teachers went to these four institutions for ten days to train them. Tea and healthy breakfast was served to all the participants of three morning yoga classes by Ashram devotees namely Shri Ashwinbhai Pancholi, Shri Niravbhai, Shri Nandibhai, Shri Jigneshbhai and Smt. Upalibem. All were very happy and satisfied with the arrangements made.
Yoga Competition: Yogasan competition was arranged jointly by Shri Divya Jivan Sanskrutik Sangh, Sivananda Ashram, Ahmedabad and Gujrat Technological University from 3.00 pm. to 5.00 pm. Prizes, mementoes and certificates were distributed on conclusion of the competition. Executive Chairman of Gujarat State Text Book Board & Principal of Viramgam college, Shri Nitinbhai Pithani presided over the function. Dr. Chandrasinhji Zala, Vice chancellor of Lakulish University and Shri Bipinbhai Bhatt, Registra of Gujarat Technological University were present as Chief Guests. Prizes, mementoes and certificates were issued by their worthy hands. Guests and Judges were also honored on the occasion. Three winners among the girls are Ms. Jinal Patel of Akar Physiotherapy College, Ms. Mansi Virpara of M. G Science College, Ms. Bhagyashri Margnevarof Lakulish University and among the boys are Dhrumin Dabhi of L. D. Engineering College, Dipen Shah, Sivananda Ashram, Ahmedabad, Jignesh Makwana of Government Polytechnic College
Vice Chancellor Shri Chandrasinji Zala gave very informative and interesting speech and stressed the importance of Yoga in daily life. Shri Nitinbhai told that he and his family have participated in 10 days Yoga Shibir conducted by Swamiji 7 years ago and they have been visiting the Ashram and spend time in the holy atmosphere of Sivananda Ashram, Ahmedabad. Sivananda Ashram, Ahmedabad has contributed well in Yoga, Education, Social services and Character building in people 's lives.
The detail of the program with appeal from Pujya Swami Shri Adhyatmanandaji Maharaj was uploaded in the website of The Gujarat Technological University. Executive President Shri Pravinbhai, Trustee Shri Marutbhai Dave and Smt. Varshaben dave attended the program.
Trustee Shri Arunbhai Oza, Shri Atulbhai Parikh, Secretary Shri Vijaybhai Soni, Dr. Chaitanyabhai Sanghavi and yoga teachers of the Ashram contributed for the successful planning and execution of the entire programme.
Chariot Festival (Ratha Yatra) of the Lord Jagannatha at the Ashram ( June, 25 2017 )
At our ashram, we had a graceful Ratha Yatra on June 25, 2017. The Idols of Lord Sri Jagannatha, brother Balaramji & sister Subhadraji were adorned splendidly after ceremoniously worshipped by temple priest. Then the idols wer mounted on the silver thrown in decorated chariot and brought out for the procession. It was a joyous occasion for all. Devotees were singing and dancing in the praise of the Lord. Devotees present on the occasion experienced the Divine Presence of the Lord. Traditional prasad of Mung & Jamun and Malpua & Doodhpak were distributed whole heartedly.
(June 25, 2017 - June 26, 2017) 60 Province Executives of Sanskrut Bharti, Gujarat stayed in Shivanada Ashram, Ahmedabad for two days. Province Coordinators also remained present. Vice Chancellor of Gujarat Vishva Vidyalaya Shri Himanshu Pandya and Trustee of Sivananda Ashram, Ahmedabad Shri Arunbhai Oza were present in the inauguration program. They discussed Sanskrut and legacy of the cultural history. All India Coordinator Shri Dinesh Kamat and Regional Coordinator Shri Shirish Bhedasgaonkar motivated the participants.
June 26, 2017 -Today evening, Pujya Shri Swami Adhyatmanandaji Maharaj left for his tour of two months for America, Canada and England.
Tour to Taiwan of H. H. Sri Swami Adhyatmanandaji Maharaj ( June 13, 2017 - June 25, 2017)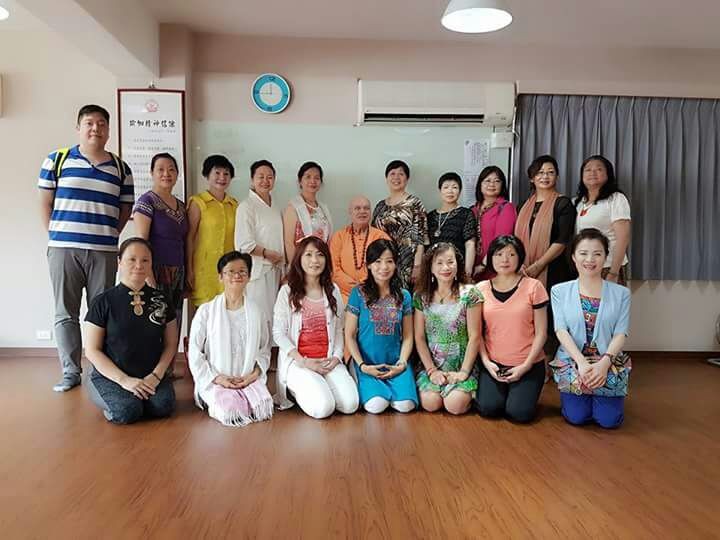 Honoring invitation of founder Yogi James Law of Sivananda Yoga, Taipei (Taiwan), Pujya Swami Adhyatmanandaji Maharaj Toured to Taiwan. On June 13, 2917 morning Swamiji arrived at Delhi airport. Satsang was arranged with the officers of Indira Gandhi International Airport, Delhi followed by lunch. In the late night, Swamiji arrived at Taipie, Taiwan by Air China. After prayer with a group of devotees, they reached to Shivannada Yoga Ashram.
During the stay here, Satsang was done at the Ashram itself on Tuesday and Thursday. Besides this, two detailed work shops of eight hours each from the morning to evening were arranged at Ren-ai Studio on June 16, 2017 & June 18, 2017 for Yoga Teachers Training Shibir students.
Tree plantation was done on June 21, 2017 on the occasion of the World Yoga Day at Youth Park of new Taipei city. During the tree plantation program, Municipal Mayor Mr. Enjelaing and Ambassador of Taiwan from Delhi Mr. Huie Shin Chen also remained present. Indian Business forum president Sri Vijay Kapadia also remained present..
As there was rain during the entire week, The World Yoga Day program of June 21, 2017 was organized in Kausing city by China Yoga Association ( CYA ) on June 17, 2017. Three thousand devotees participated.
On June 24, 2017, there was big Yoga Rally in Taipei by Indian Embassy. In the evening, Pujya Swamiji delivered a public speech on "Geeta Amrutam" from 7.00 pm to 8.00 pm. in the auditorium of Taipei University which was attended by big crowd. On June 22, 2017 Pujya Swamiji visited New Taipei on the invitation of China Yoga Association. Every body was happy to meet old friends.
In the first out of three public lectures, Swamiji spoke on the subject of "You are the problem and You are the solution". The big enemy of the man kind is his ego. Man changes his nature led by the problems like water gets shape of the vessel in which it is poured in. You leave the world, you leave the wealth, but, your inner ego and much bigger ego of your so called "Tyag" ever fight with your inner soul. Some times, you feel that you are well educated and doing every kind of services that will be a cause of ego. To make your self free from that you do Shastang Namaskar to all, that would be a new ego of being the most courteous person. All such types of ego may surface any time any where. So, be alert "
Second lecture : It was on the subject of Guru Dattatreya and his twenty four Gurus. Third was on Geeta Amrutam in which he talked on karma Yoga . By doing selfless service you purify your heart. Egoism, hatred, jealousy, ideas of superiority and all the kindred negative qualities will vanish. You will develop humility, pure love, sympathy, tolerance and mercy. Sense of separateness will be annihilated. Selfishness will be eradicated. You will get a broad and liberal outlook on life. You will begin to feel oneness and unity. Eventually you will obtain knowledge of the Self. You will realize One in all and All in one.
June 26, 2017 evening, Pujya Shri Swami Adhyatmanandaji Maharaj left for his tour of two months for USA, Canada & UK.
Om Shanti !
Latest Additions.........

Please subscribe to Divyajivan Mailing List. We will update you with new uploads of spiritual literature on the web of Holy Master Sri Swami Sivanandaji Maharaj, saints of his lineage and other saints. We will also update you about the Sivananda Ashram, Ahmedabad website and facilitate communication with Sri Swami Adhyatmanandaji Maharaj.

Please enter your email address and click Subscribe button
To manage your subscription, please visit Subscription Page. You can also subscribe and unsubscribe from this page. You may unsubscribe by yourself anytime you wish. You will be required to send confirmation link that you will get in your e-mail to complete this subscription.

[ Home ] [ News ] [ Upcoming Events ] [ What's New? ] [ Services ] [ Swami Adhyatmananda ] [ Multimedia ] [ Publications ] [ Administration ] [ Saints and Sages ] [ Photo Gallery ] [ Contact ] [ Guestbook ] [ Important Links ] Webmaster: webmaster@divyajivan.org